Quick Links
The next big Magic: The Gathering set, Wilds of Eldraine, will pick up the storyline of the fairytale-inspired Throne of Eldraine set, a plane rife with mischievous fairies, noble knights, and witches and goblins galore. Eldraine has seen some major changes since the Phyrexian invasion of March of the Machine, and fans are chomping at the bit to see what the next installment has in store. In addition to brand-new cards and returning characters like Ashiok, Wilds of Eldraine features some beautiful new art for some of the best Magic cards in history. Standard, Modern, Commander, and Legacy players alike will find something to love in the Wilds of Eldraine.
Wilds of Eldraine is unique as the first set to explore the multiverse following New Phyrexia's invasions. To counter these enemies, a plane-wide curse called the Wicked Slumber caused friend and foe alike to fall asleep. Instead of focusing primarily on the noble houses and knightly exploits of the plane's inhabitants, Wilds will focus on Eldraine's wilderness and the mysterious forces that inhabit it. This will be alongside the ongoing quest to cure the Wicked Slumber with a fun cast of characters.
Today's WIlds of Eldraine Previews
Wilds of Eldraine Previews 08/16/2023

Specter of Mortality

Hardened Scales

Agatha's Soul Cauldron

Fraying Sanity

Spellbook Vendor

Dawn of Hope

Stonesplittler Bolt

Lord Skitter's Butcher

Callous Sell-Sword

Skybeast Tracker

Torch the Tower

The End

The Huntsman's Redemption

Break the Spell

Troublemaker Ouphe

Kindred Discovery

Defense of the Heart

Scalding Viper

Unnatural Growth

Intruder Alarm

Garruk's Uprising

Twisted Fealty

Restless Cottage

Edgewall Inn

Ice Out

Farsight Ritual
Noteworthy New Cards
Talion, The Kindly Lord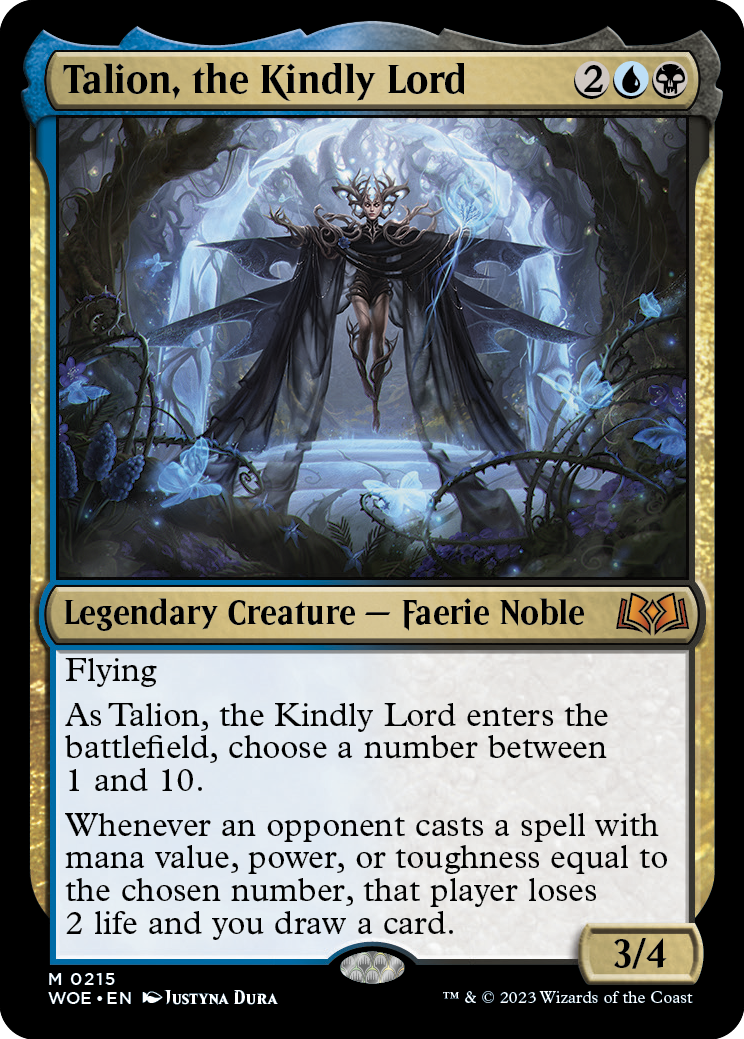 Talion, the Fae Lord of the Wilds and three witch sisters are behind the curse; however, they did initially set it off to defend the plane, not harm it. Talion seeks to protect both their own people in Eldraine's fae population and the plane's other inhabitants. Now the Wicked Slumber affects their own child, spurring Talion and their allies into action.
Expel the Interlopers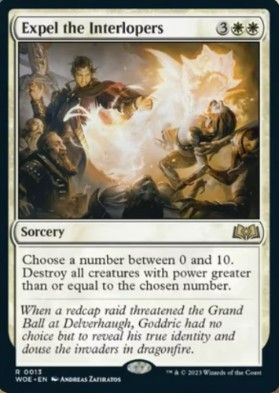 Several of Wild's cards require players to pick a number between 0 and 10, including the Legendary Creature Talion himself. The mechanic works when the selected number matches a value on the opponent's field. For Talion, when the number matches a rival spell's mana value, power, or toughness, the opponent loses two life and players draw a card.
In Expel the Interlopers, all creatures with power greater or equal to the selected number are destroyed. This is an interesting mechanic to see repeated throughout the set, because it indicates a level of modality to cards not often seen. Expel the Interlopers could be used as a one-sided board wipe in aggro decks with lots of small creatures, or as an almost unilateral one in a more control oriented archetype. Either way, this mechanic is sure to have even more cards throughout Wilds of Eldraine.
Ashiok, Wicked Manipulator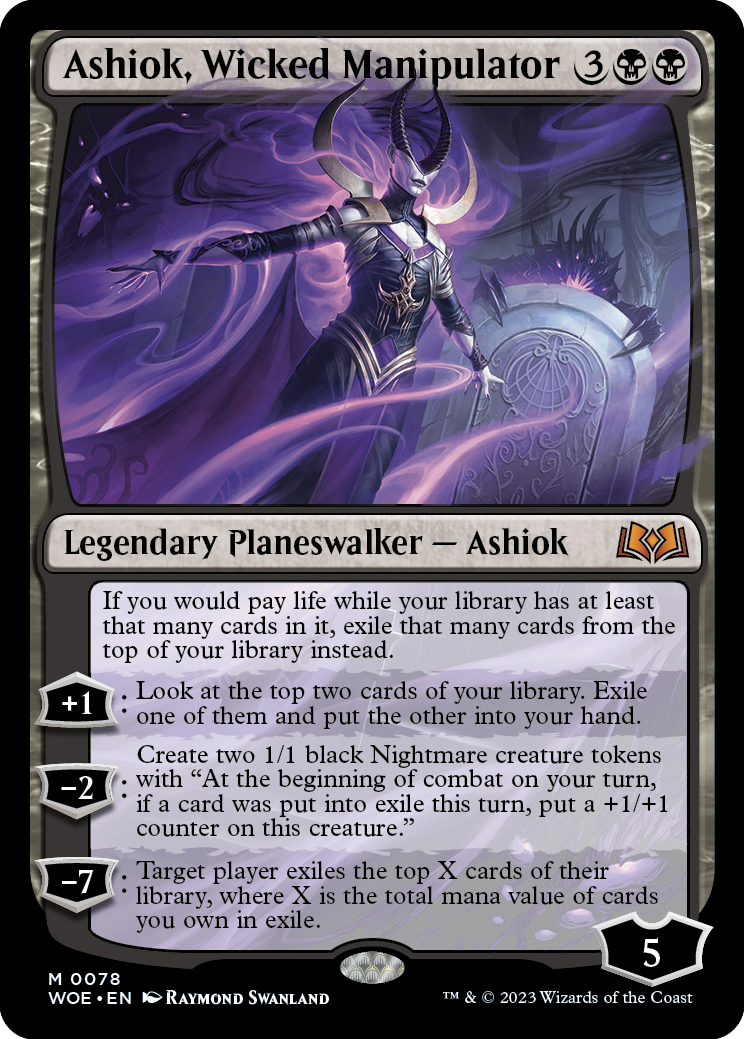 Ashiok the planeswalker also appears in Wilds of Eldraine. This is fitting, as the inhabitants are all slowly falling into an endless sleep — perfect for Ashiok to work their evil nightmare magic. Ashiok, Wicked Manipulator works by combining exiled cards and Nightmare creature tokens. The Nightmares grow stronger for cards exiled in the same turn, connecting to the planeswalker's nightmare-fueled powers.
RELATED: MtG: CBR's Official Commander Masters Draft Guide
Roles
Roles are a brand-new mechanic introduced for Wilds of Eldraine. They are represented by six unique Aura Tokens, each with different names and effects. They are: the Sorcerer, the Royal, the Young Hero, the Monster, the Wicked and the Cursed.
Roles are added to creatures through various means and represent classic archetypes found throughout traditional fairytales. For example, the "Royal" Role grants +1/+1 and Ward 1, whereas the "Wicked" gives +1/+1 and takes one life from all opponents on its destruction. This shows the classic battle between the virtuous royals and their wicked counterparts commonly seen in fairy tales. Further, only one Role can be attached to a permanent at a time. Roles are considered Tokens and will come in booster packs.
Tanglespan Lookout and Besotted Knight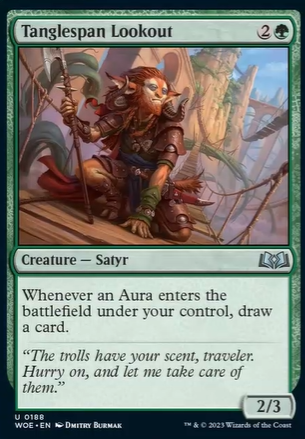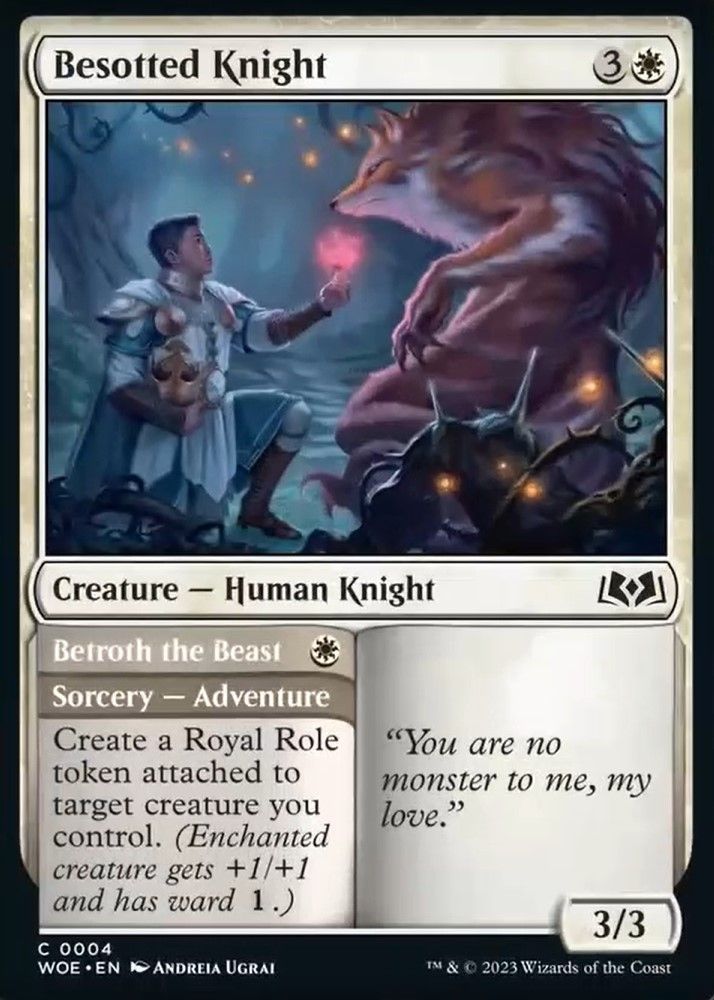 Tanglespan Lookout is an excellent example of an Aura/Role working as a passive ability. Roles are not necessarily limited to specific creatures, nor to their motivations. For example, a Knight does not have to stick with classically "good." Every time an Aura enters the field under a player's control, no matter the source, a card can be drawn with Tanglespan Lookout as an ally.
Conversely, Besotted Knight shows that Roles can be applied through other interlocking mechanics, found across the set. The Roles that are assigned via these means are chosen to best represent the fairy-tale archetypes the card is portraying. Besotted Knight takes inspiration from The Beauty and the Beast. Due to this, attaching a Royal Role to a chosen creature could reflect the original fable's storyline of a beast turning into an attractive royal.
Cruel Somnophage

Wilds of Eldraine returns to a "classic" high fantasy, spurring gorgeous art and interesting mechanics. Additionally, Wilds will include fun nods towards its fairytale inspiration. Cards like Cruel Somnophage will offer alternate-art storybook frames, making them look like classic fables.
Beluna Grandsquall
Similar to Cruel Somnophage, Beluna Gransquall also demonstrates the returning Adventure mechanic. Creatures can be sent on optional "adventures" as shown in the lower left-hand side of the card. Adventures work just like Instants or Sorceries, but instead of going to the graveyard, they go into exile. The adventuring creatures can then be cast straight from exile at any appropriate time.
The Adventure mechanic is meant to simulate classic fables and fairytales with similar stories, much like the Bargain mechanic. A character goes on an epic quest with high stakes in order to return with a treasure. As with many Eldraine's mechanics, Adventure can be high-risk, high reward. Wild of Eldraine is also the first set to include Legendary Creatures with the Adventure mechanic; while Legendary Creatures with the Adventure mechanic can be used as Commanders, information regarding format-specific mechanics is currently limited.
Realm-Scorcher Hellkite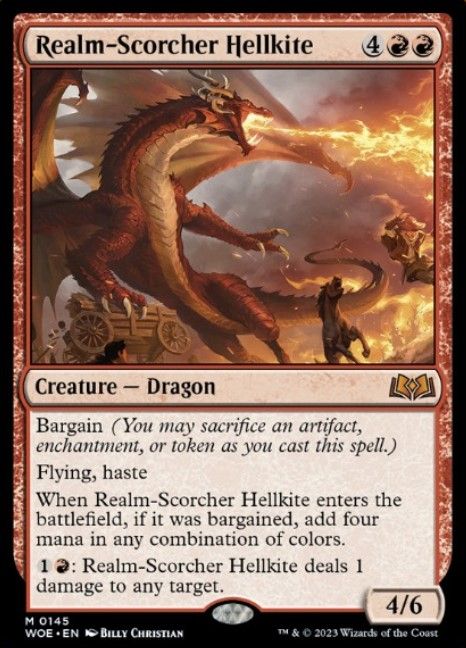 Realm-Scorcher Hellkite demonstrates another mechanic in Willds that uses traditional fables as inspiration. Bargain allows players to sacrifice an artifact, enchantment or token for added effects. Wilds of Eldraine's focus on enchantments and tokens alike could make Bargain a cheap bonus for many plays and decks. Thematically, Bargain invokes classic stories like Faust, wherein players must sacrifice something valuable in order to gain a boon. Realm-Scorcher Hellkite adds an impressive four mana in any combination of colors if it is bargained. If players have the option of sacrificing a low-value token for this prize, it is well-worth the price.
Tough Cookie
Leaning further into the fairy tale inspiration, Wilds features some more lighthearted designs based off classic stories. Tough Cookie features Syr Ginger, a gingerbread warrior/Food Golem in a nod towards the fable The Gingerbread Man. Fittingly, Tough Cookie generates Food tokens. Players gain life by sacrificing these tokens like how a cookies give energy in real life.
Notable Reprints
Blood Moon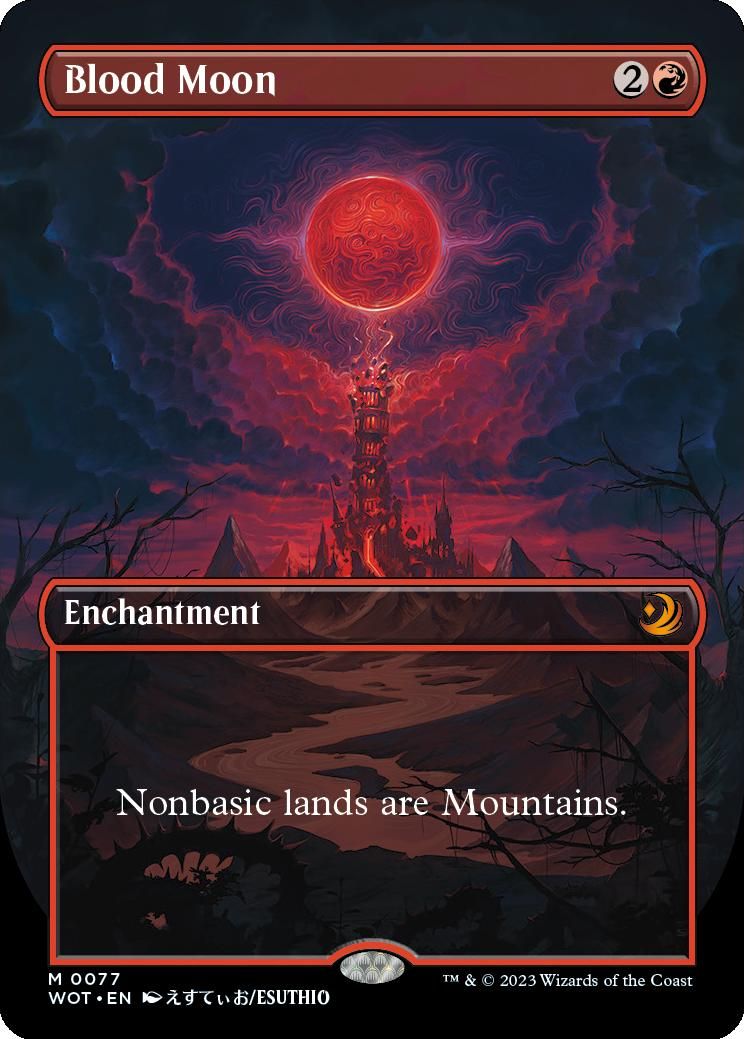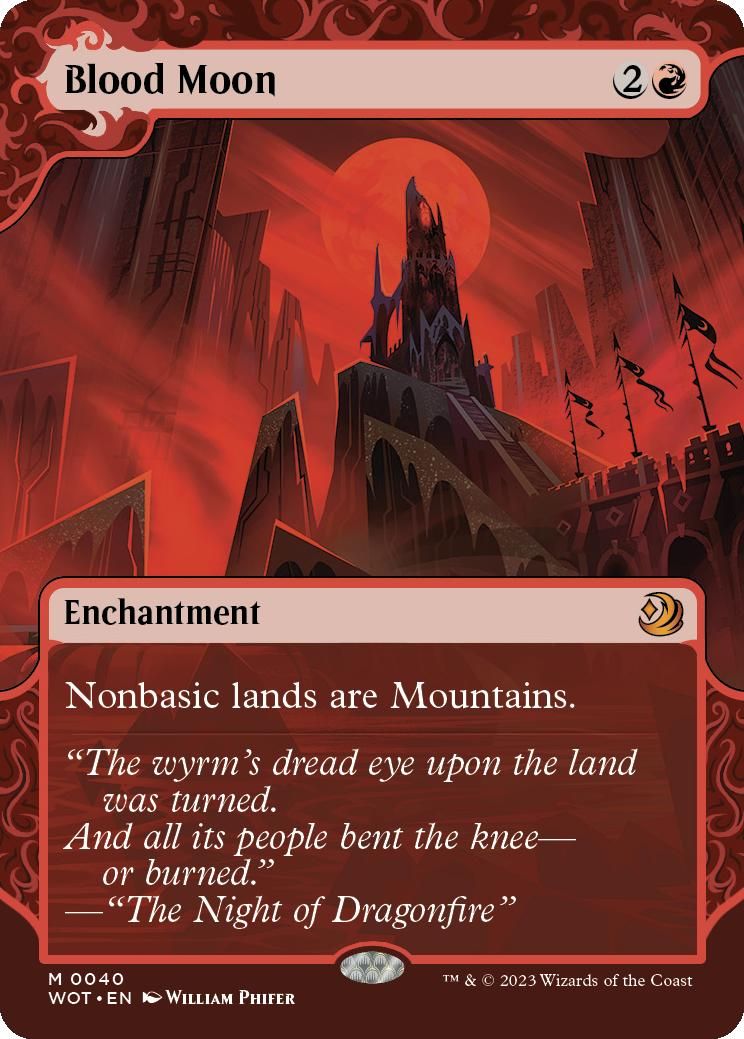 Blood Moon is a notorious enchantment among seasoned players. At first look, it may seem manageable, as Blood Moon only affects nonbasic lands. However, considering the popularity of such cards across all formats, this enchantment stands to rock many strategies. First seen in 2005, Blood Moon punishes a variety of decks and color stories. Without an effective counter, it can completely overturn an opponent's well-crafted strategies. Considering the so-far amount of non-red cards released for Wilds, Blood Moon is an interesting if potentially frustrating addition to the set. Blood Moon won't be legal in Standard, but it will be legal in draft, so even new players will get to understand why it's so notorious.
Greater Auramancy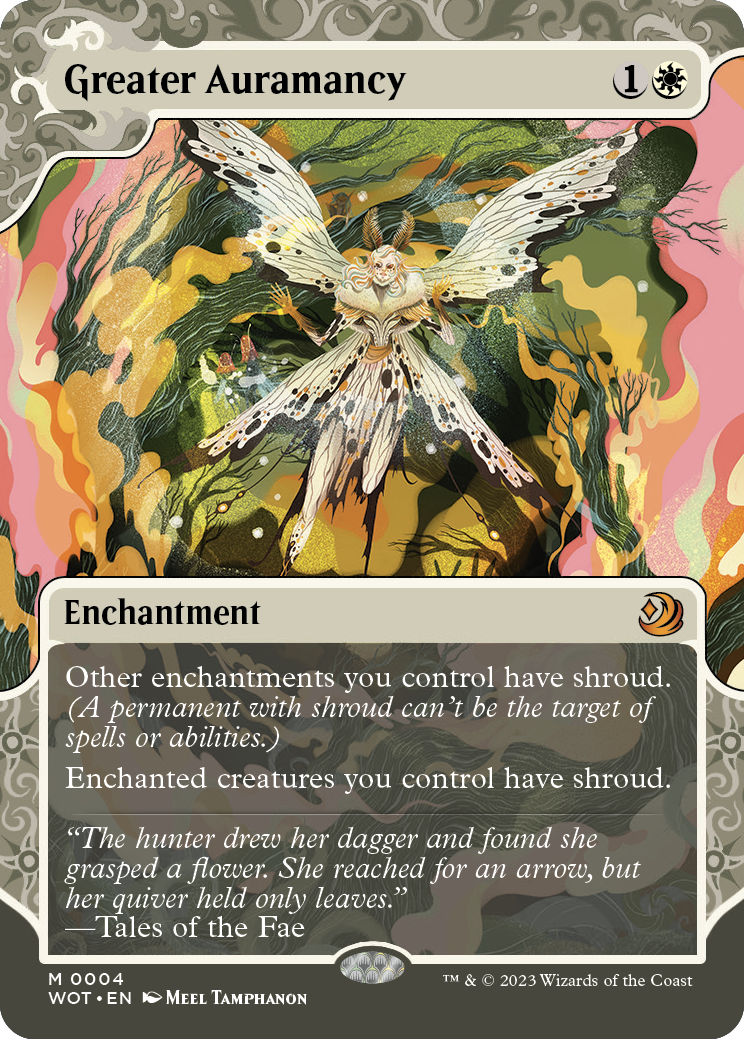 Every booster of Wilds will include one of several Enchanting Tales cards. Though non-Standard legal, these cards will be alternate-art versions of iconic Magic enchantments. Greater Auramancy features a stunning fairy-like figure in place of its original artwork, tying into the ethereal worldbuilding of Eldraine.
Full Previews
White
| | |
| --- | --- |
| Card Image | Card Name |
| | Moonshaker Cavalry |
| | Smothering Tithe |
| | Greater Auramancy |
| | Glass Casket |
| | Expel the Interlopers |
| | Knight of Doves |
| | Besotted Knight |
| | Expel the Interlopers |
| | Moonshaker Cavalry |
| | Cursed Courtier |
| | Break the Spell |
| | Stroke of Midnight |
| | Gallant Pie-Wielder |
| | Three Blind Mice |
| | Griffin Aerie |
Blue
| | |
| --- | --- |
| Card Image | Card Name |
| | Sleight of Hand |
| | Curiosity |
| | Rhystic Study |
| | Farsight Ritual |
| | Virtue of Knowledge |
| | Living Lectern |
Black
| | |
| --- | --- |
| Card Image | Card Name |
| | Cruel Somnophage |
| | Ashiok, Wicked Manipulator |
| | Necropotence |
| | Polluted Bonds |
| | Beseech the Mirror |
| | Rowan's Grim Search |
| | Faerie Dreamthief |
| | Rat Out (via ScreenRant) |
| | Warehouse Tabby (via ScreenRant) |
| | Lord Skitter's Blessing (via ScreenRant) |
| | Sweettooth Witch |
| | Lich-Knights' Conquest |
| | Oppression |
| | Conceited Witch |
Red
| | |
| --- | --- |
| Card Image | Card Name |
| | Aggravated Assault |
| | Realm-Scorcher Hellkite |
| | Decadent Dragon |
| | Ratcatcher Trainee (via ScreenRant) |
| | Torch the Tower |
| | Embereth Veteran |
| | Twisted Fealty |
| | Monstrous Fury |
| | Kellan, the Fae-Blooded |
| | Blood Moon |
Green
| | |
| --- | --- |
| Card Image | Card Name |
| | Tough Cookie |
| | Doubling Season |
| | Prismatic Omen |
| | Tanglespan Lookout |
| | Beanstalk Wyrm (via TheGamer) |
| | Tough Cookie |
| | Return from The Wilds (via TheGamer) |
| | Rootrider Faun (via TheGamer) |
| | Blossoming Tortoise |
| | Thunderous Debut (via TheGamer) |
| | Troublemaker Ouphe |
| | Elvish Archivist |
| | |
Multicolored
| | |
| --- | --- |
| Card Image | Card Name |
| | Talion, the Kindly Lord |
| | Beluna Grandsquall |
| | Ash, Party Crasher |
| | Tegwyll, Duke of Splendor |
| | Ellivere of the Wild Court |
| | Sharae of Numbing Depths |
| | Will, Scion of Peace |
| | Rowan, Scion of War |
| | Obrya, Dreaming Duelist |
| | Faunsbane Troll |
| | Agatha of the Vile Cauldron |
| | Eriette of the Charmed Apple |
| | Neva, Stalked by Nightmares |
| | Greta, Sweettooth Scourge |
| | Totentanz, Swarm Piper |
| | Frolicking Familiar |
| | Johann, Apprentice Sorcerer |
| | Troyan, Gutsy Explorer |
| | The Goose Mother |
| | |
Artifacts
Lands
| | |
| --- | --- |
| Card Image | Card Name |
| | Restless Fortress |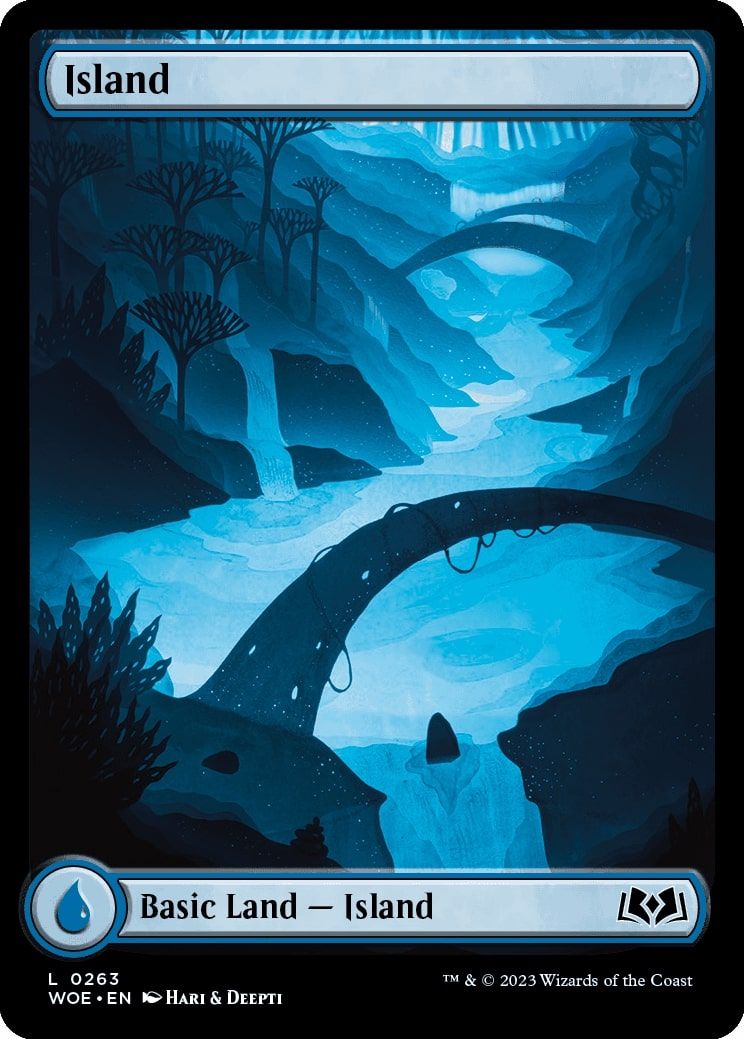 on bbc news
on hindi news
on the news today
on channel 7 news
ôrf news
campo grande news ônibus
ôpera news
campo grande news greve de ônibus
l1 news horário dos ônibus
l1 news ônibus
lago azul news ônibus
news österreich
news österreich heute
news österreich aktuell
news öffentlicher dienst
news österreich corona
news öl
news österreich orf
news ö3
news österreich heute aktuell
news österreich sport
ö24 news
ölpreis news
öbb news
ösv news
österreich news krone
övp news
özil news
öffentlicher dienst news 2023
österreich promi news