Fifteen years ago, Tropic Thunder took aim at Hollywood in a way that felt ahead of its time. Directed and co-written by Ben Stiller, with an assist from Justin Theroux and Ethan Cohen, the film poked fun at the studio system, actors wanting acclaim at all costs, and filmmakers in search of respect in the industry. What makes it stand out now is that from a comedic standpoint, it walked a fine between laughs and jokes that could offend, but in 2008, comedy could still take those chances. Despite the film's take on Hollywood being even more relevant today, Tropic Thunder now lives in a landscape where there is a desire not to cross the line. Basically, they don't really make these like they used to.
Starring Stiller, Jack Black, Jay Baruchel, Brandon T. Jackson, and Robert Downey Jr., Tropic Thunder follows a set of prima donna actors making a Vietnam War film. The film's director (Steve Coogan), growing frustrated, drops the actors in the middle of the jungle, where they are forced to rely on their skills as actors to survive the very real danger they're actually in. On paper, this all sounds a bit serious, but the movie is a hilarious parody of various war films, method acting, and the Hollywood studio system. Driving these jokes home are more appearances by other actors, including Tom Cruise, Matthew McConaughey, Nick Nolte, Bill Hader, and Danny McBride.
Tropic Thunder Serves a Very Honest and Funny Send-Up of the Hollywood Machine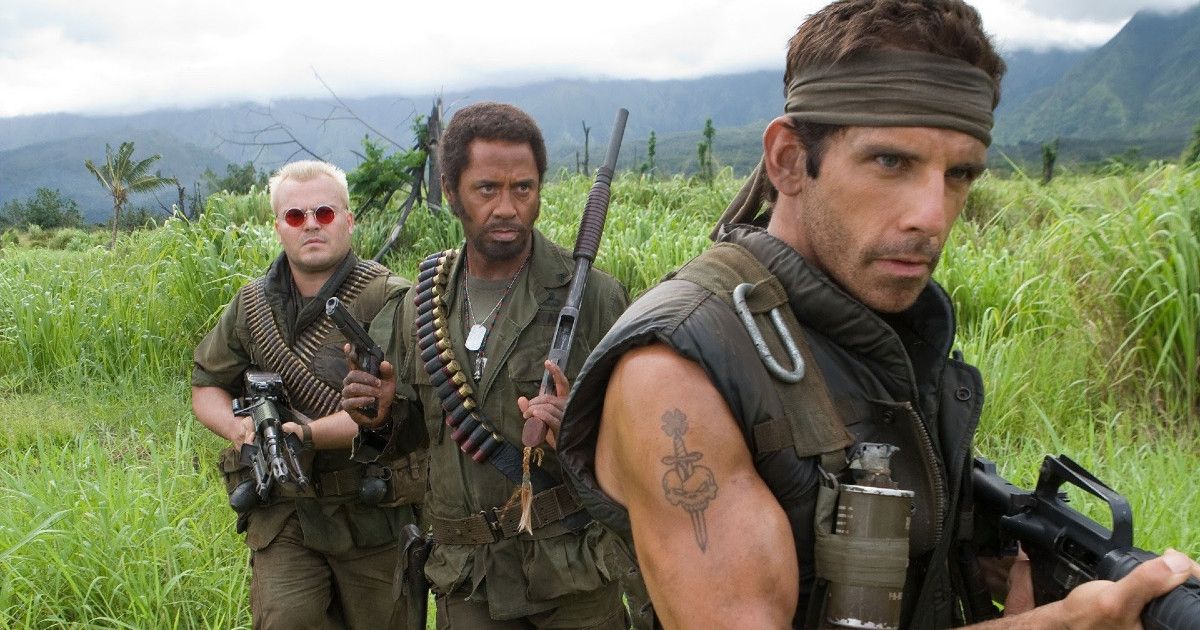 As a look into the Hollywood machine, Stiller and his team fire on all cylinders lampooning how some of the biggest names in Hollywood can use war films as a way to gain prestige in the industry. Some could very well be viewed as Oscar bait, and it's something that Tropic Thunder is hyper-aware of while also speaking on ballooning budgets on the projects and the egos that come along with it.
Some actors feel like literally putting themselves through the trenches will get them noticed by critics and the Academy, and the movie had fun toying with that self-seriousness. Mixed in with all the parodies are a series of controversial moments that still get spoken about today. They were universally celebrated for hitting all right notes in 2008, but if time has done a number on a particular genre the most, it's comedy, and it's clear that a movie like Tropic Thunder most likely wouldn't be able to be made today.
Related: Robert Downey Jr. Is Open to a Tropic Thunder Sequel
The role that generated the most conversation is that of Kirk Lazarus, expertly played by Downey Jr. in one of his best showings as a performer. Method acting in the industry has been the subject of conversation for years, but it has hit a new level with the likes of Jared Leto and Jeremy Strong taking it to new heights.
Every new role they take comes with stories about how they have immersed themselves in their characters so much that you don't get to meet the real ones while on set. Kirk Lazarus takes this several steps further than most by darkening his skin to play a Black character. Even though the character is clearly a parody of actors that insist on "transforming" to portray a role, the choice by Stiller and his writers to touch this subject in this way has turned into a bone of contention.
There was talk about Downey Jr.'s Australian method actor being racially offensive in 2008, but the film was released during a time when a studio would be braver to embrace the joke because they trusted the audience to get it. Today, a studio wouldn't touch this out of fear of the potential backlash.
The joke continued in real life when Downey Jr. was nominated for Best Supporting Actor at the Academy Awards, Golden Globes, BAFTAS, and SAG Awards. A character he played that donned blackface for potential Oscar glory actually put him in that very real position. It's tough not to get a chuckle that this role led him here, but even his awards attention for the role sparked its own bit of controversy that continues today.
Tropic Thunder also came under fire from the disability advocacy community for the film's portrayal of Simple Jack, played by Stiller's Tugg Speedman in another movie. Speedman is trying to reboot his career after appearing in a film about a mentally-disabled farm boy, and while the main joke is that some actors will play roles like this for Oscar attention (think Sean Penn I Am Sam), that didn't stop 20 disability advocacy groups for calling the movie out for its repeated use of the offensive "R" word that is often used to describe someone who is mentally challenged.
Everyone is entitled to their own opinion about the intended use of a joke, but Tropic Thunder isn't making fun of the mentally disabled through the use of Simple Jack. Actors that try to use serious subjects to gain awards attention are the real target, and that's why the joke works.
Some of the Film's Controversial Jokes Might Not Fly Today
There have also been complaints about the film casually using anti-Semitic undertones in order to generate laughs. Les Grossman, the profanity-laced studio executive played by Tom Cruise, has references made about his 'Jewface' while other criticisms were leveled at the film for portraying some of its South Asian cast as caricatures.
There is a running joke that there are a lot of Jewish people in positions of power in Hollywood, and Les Grossman is just a funny play on that notion. That's not to say that the use of harmful Jewish stereotypes isn't warranted, but it's important to realize that the film isn't seeking to be offensive. It's just commenting on an aspect of Hollywood that many in the industry discuss. Some are just louder than others.
Related: Tropic Thunder Writer Says The Film Isn't Controversial To Him Because of Who The Jokes Are Aimed At
Despite perceived controversies, Tropic Thunder was incredibly successful upon release. The film is 82 percent fresh on Rotten Tomatoes, and the movie knocked The Dark Knight out of the top spot after that film spent four weeks at number one during the summer of 2008. Tropic Thunder spent three weeks at number one and ultimately grossed over $110 million at the domestic box office, becoming Stiller's most successful release as a director.
In the years since its release, R-rated comedy has taken a definite hit at the box office. It's a genre that no longer guarantees financial success, and you're seeing less and less of them getting made. There is a significant opinion that comedy has been hurt recently due to potentially hurt feelings and making sure you don't make any waves that might paint your film in a negative light.
Tropic Thunder certainly feels like one of the last of its breed. A comedy brave enough to take chances even if it made the movie a topic of more serious debate. What's refreshing is that Stiller still stands by the film today, even if there is an attempt to view it through a condemned lens.
Speaking on the film via Twitter, when someone suggested he apologized for the use of blackface in the film, Stiller said, "I make no apologies for Tropic Thunder. Don't know who told you that. It's always been a controversial movie since when we opened. Proud of it and the work everyone did it." As you should be, Mr. Stiller.
on bbc news
on hindi news
on the news today
on channel 7 news
ôrf news
campo grande news ônibus
ôpera news
campo grande news greve de ônibus
l1 news horário dos ônibus
l1 news ônibus
lago azul news ônibus
news österreich
news österreich heute
news österreich aktuell
news öffentlicher dienst
news österreich corona
news öl
news österreich orf
news ö3
news österreich heute aktuell
news österreich sport
ö24 news
ölpreis news
öbb news
ösv news
österreich news krone
övp news
özil news
öffentlicher dienst news 2023
österreich promi news