The Big Picture
Jamie Lee Curtis's role in the iconic horror film Halloween catapulted her into stardom and established her as America's "scream queen."
After taking on a series of horror films, Curtis sought to expand her acting range and shed the "scream queen" image.
Curtis's decision to resurrect the Laurie Strode character in Halloween H20: 20 Years Later and subsequent films was influenced by her desire to commemorate the franchise's 20th anniversary and work with the original team.
She unashamedly owned her "nepo baby" status at the 2023 Screen Actors Guild Awards ceremony, but even though she's the daughter of Hollywood power couple Tony Curtis and Janet Leigh, Jamie Lee Curtis didn't exactly walk easily through the doors of fame and fortune. At age 18, she made her small screen debut in an episode of the Jack Klugman medical series Quincy M.E. as "girl in dressing room," followed by an appearance in the Peter Falk detective classic Columbo playing "waitress." In 1977, she landed a recurring role in TV's Operation Petticoat, a sitcom based on the 1959 film starring her father, but was dropped from the series after just one season. One year later, she snagged the lead in a horror movie with the rather innocuous title of Halloween. It had a budget of just $325,000 and was helmed by a relatively unknown writer-director named John Carpenter. Curtis was paid $8,000 for her role as high school innocent Laurie Strode and given a minuscule allowance to shop for her character's clothing.
"All the sudden, I was going to JC Penney and buying Laurie's wardrobe with $200," Curtis recounted in a 2018 People magazine interview. No one, least of all Curtis, expected the film to be a success, but Halloween became the 10th highest-grossing film of 1978. Since its release 45 years ago, Halloween has earned over $70 million worldwide, spawned a franchise that includes 12 additional films, and affirmed Curtis as America's reigning "scream queen." In a 2023 CBS Sunday Morning interview, Curtis embraced the importance of Halloween in her film career. "Every time I talk about it, I cry because of what it's given me," Curtis acknowledged. "My entire life is because of Laurie Strode." Curtis reprised her role as the terrorized girl from Haddonfield, Illinois in 1981's Halloween II, but shortly after this, she was absent from the Halloween franchise for 15 years, missing three of the film's installments and not appearing again until 1998's Halloween H20: 20 Years Later. She disappeared from three more movies, finally resurfacing as Laurie Strode in 2018's Halloween and its two most recent chapters, 2021's Halloween Kills and 2022's Halloween Ends. If Halloween meant so much to Curtis, why did she take so many extended leaves from the franchise that made her a star? Why didn't Laurie Strode make an appearance in every Halloween installment? The reasons are varied, and in some cases, surprising.
RELATED: Why Jamie Lee Curtis Demanded That Laurie Strode Die in 'Halloween: Resurrection'
The Original 'Halloween' Made Jamie Lee Curtis a Star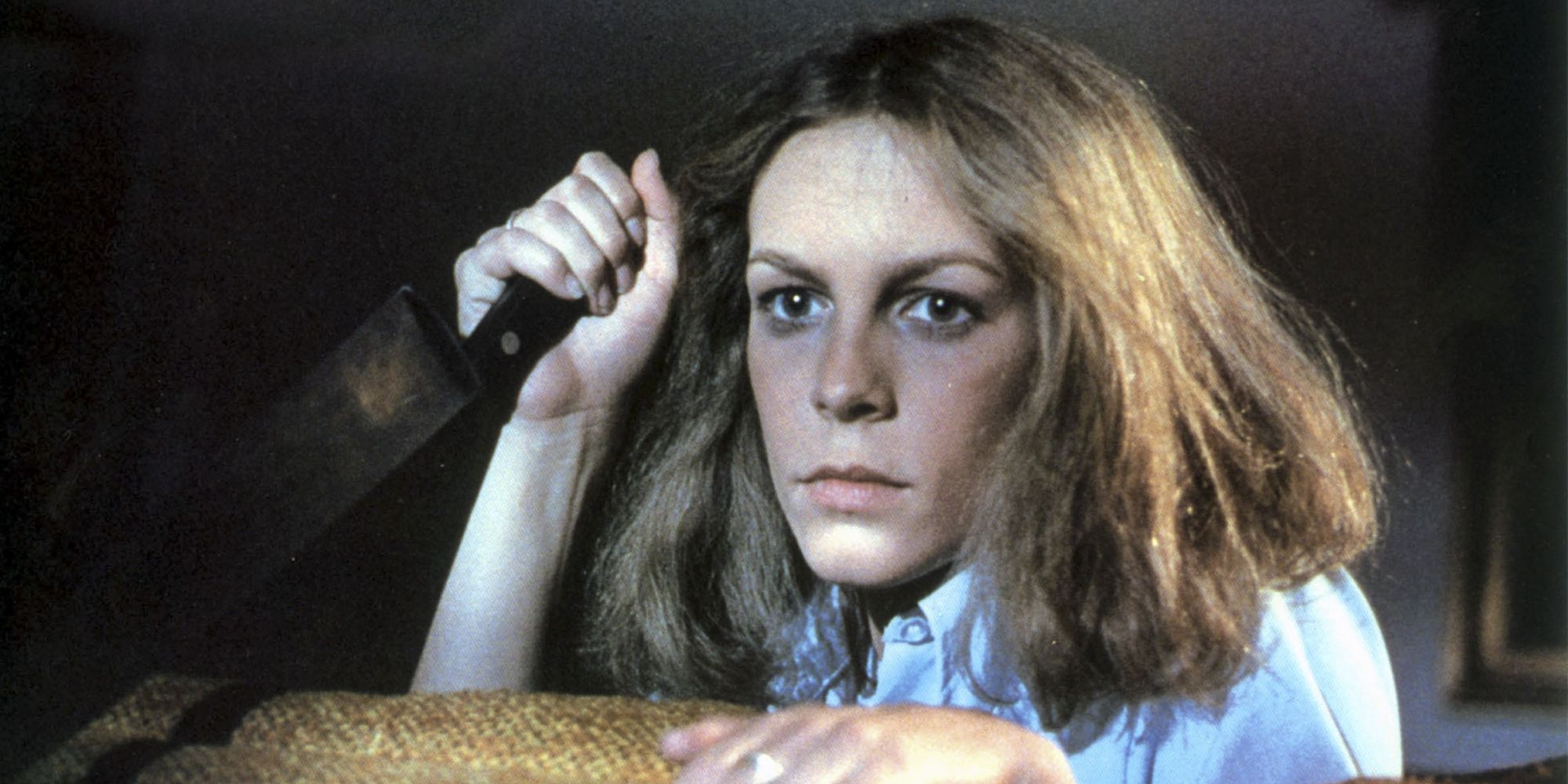 The original Halloween became a phenomenon, and Curtis' performance as the teenage babysitter who manages to take on and survive the masked maniac Michael Myers was so loved by audiences that they begged for more. Over the next two years, Curtis appeared as the shrieking goddess in a succession of horror films, including The Fog, Prom Night, and Terror Train. In each movie, Curtis played a version of Laurie Strode — a young innocent unwittingly thrust into situations involving pursuit by knife-wielding monsters among a sea of slashed bodies, with Curtis' character the unlikely warrior who ends up being the last one standing. Curtis became a 1980s horror movie heroine, a fright flick icon. It was only natural that she would return as Laurie Strode in 1981's Halloween II.
Taking place immediately after the bloodbath of the original film, Halloween II finds Curtis' Laurie in the hospital, once again trying to escape Michael Myer's murderous rampage, and once again succeeding. But after appearing in five crazed slasher-themed movies in three years, Curtis was ready to show audiences she could do more than just run and scream. She did provide a brief voice-only cameo in 1982's Halloween III: Season of the Witch, a film that completely abandoned the original film's characters and premise, but by now, Curtis was taking on new acting challenges. She played the late Dorothy Stratten in a 1981 TV movie about the Playboy Playmate's life, Death of a Centerfold: The Dorothy Stratten Story, shedding her innocent teen girl image. But it was her role as Ophelia, the street-wise sex worker, in John Landis' 1983 comic blockbuster Trading Places that finally allowed Curtis to shed her "scream queen" image once and for all. The role earned her a 1984 BAFTA award for Best Supporting Actress, and more importantly, sent her career on a whole new trajectory. Curtis became an in-demand leading lady, appearing in critical and box office successes like 1985's Perfect and 1988's A Fish Called Wanda, the latter of which earned her a second BAFTA nomination.
It Was Jamie Lee Curtis' Idea to Resurrect Laurie Strode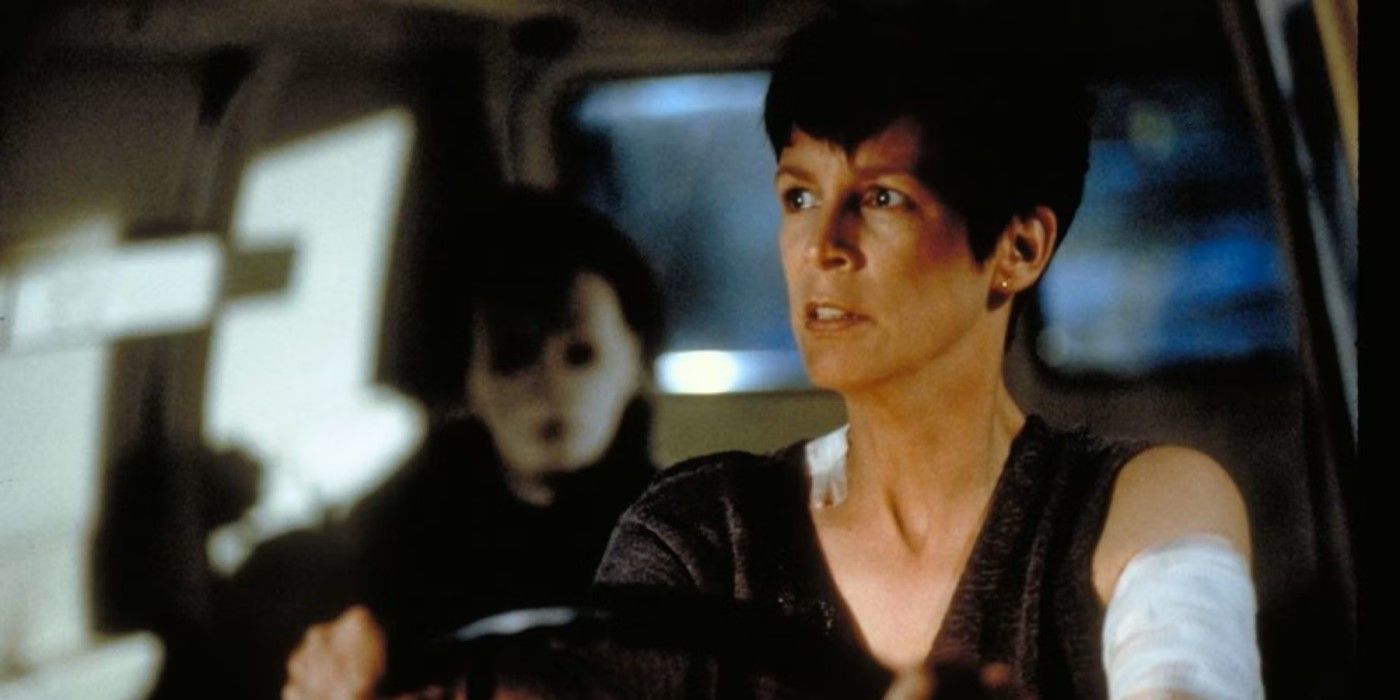 Meanwhile, plans were being made to resurrect the killer in the bleached William Shatner mask for Halloween 4: The Return of Michael Myers. Having found a new and blossoming movie career outside the horror genre, Curtis didn't return for this installment, and screenwriter Alan B. McElroy killed off the Laurie Strode character altogether, effectively ending Curtis' affiliation with the Halloween franchise for good. The Halloween films continued without Curtis' character for two more installments following Halloween 4, then in 1996, a funny thing happened. Curtis herself came up with the idea of resurrecting Laurie Strode. "It was me calling John (Carpenter) and Debra (Hill) and saying, 'Hey, you know, in two years, the movie is gonna be 20 years old,'" Curtis recounted. "'Nobody has ever made a movie 20 years later using the same actor and writer, director, or producer. Let's do it.'"
And with that, 1998's Halloween H20: 20 Years Later was born and Laurie Strode was brought back to life, with audiences discovering Laurie had faked her death in the car accident from Halloween 4. Curtis had wanted Halloween H20 to be the final film in the franchise, with Laurie killing Michael once and for all. However, during filming, Curtis discovered that there was a contractual obligation preventing the actual murder of Michael, according to the film's DVD commentary. So, although it appears that Laurie truly, really, finally finishes off Michael at the end of the film, it's all just a setup for Laurie's return in 2002's Halloween: Resurrection. It wasn't Michael's head Laurie chopped off in H20's finale, but an innocent paramedic Michael had dressed up to look like him. Curtis reluctantly agreed to return for Resurrection with certain conditions. According to Buzzfeed, on the behind-the-scenes tales of the Halloween franchise, Curtis said, "You have to pay me a lot of money in the next movie," she said, "and you have to kill me in the first 10 minutes of the movie because I've now killed an innocent man. And I can't live with that." And that's exactly what happened. Michael Myers lived on, but Laurie Strode was really, most sincerely dead, and so was Curtis' involvement with the Halloween franchise.
Jake Gyllenhaal Helped Persuade Curtis to Come Back for the Final Halloween Movies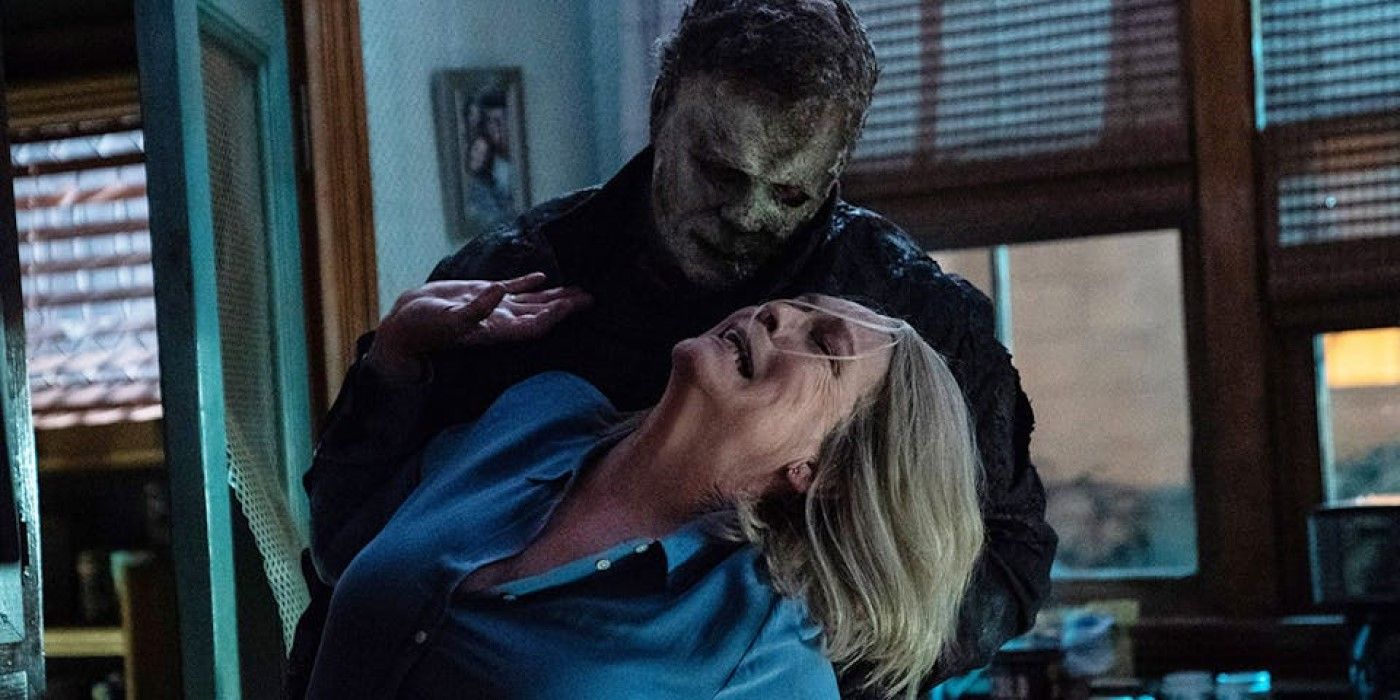 That is until Curtis got a call from her friend Jake Gyllenhaal. Following Halloween: Resurrection, writer-director Rob Zombie re-imagined the Halloween saga with two films of his own, neither of which involved any of the original films' producers or writers. According to the same Buzzfeed feature, Gyllenhaal's friend, producer-director David Gordon Green, had the idea to refresh the franchise on his own and bring back Laurie Strode in a series of films, so Gyllenhaal called Curtis and floated the idea. Curtis was intrigued by the prospect of ditching the plot contrivances of some of the franchise's sequels, going back to the simplicity of the original film's premise, and imagining Laurie Strode's life 40 years after surviving an unimaginable tragedy from which she had never truly healed.
With John Carpenter on board as producer, Halloween was rediscovered in 2018. Curtis' Strode was now a paranoid grandmother living a broken life within a fortress, awaiting the inevitable return of her nemesis. "It was this incredibly beautiful film about Laurie and her trauma," Curtis remarked. Part of her agreement to appear in the film included a commitment to participate in two additional installments, Halloween Kills and Halloween Ends. In the latter movie, it seems that Laurie finally, truly manages to do away with Michael Myers and get on with her life. Director Green has adamantly said Halloween Ends truly is the final chapter, with Curtis seeming to confirm this. "Halloween Ends is the inevitable conclusion of a 44-year trip that started with this little girl in Haddonfield, Illinois, who had her life interrupted by this incredibly violent act…now we've created the final confrontation, that final battle between the final girl and her monster, and it's incredible."
Curtis is one of a few actors to play the same character in multiple films over multiple decades. Now an Oscar winner whose career is hotter than ever, Curtis has never turned her back on the character who started it all. In a Variety interview for the final Halloween film, Curtis said, "What I've gotten from her is way more than she's gotten from me. Because when I'm gone, her legacy will become mine…in a film character, there's not one you could name that I would rather be than Laurie Strode." And though she's had her ups and downs with the Halloween franchise and strayed from its legacy over the years, Jamie Lee Curtis has always managed to find her way home to Haddonfield again.
on bbc news
on hindi news
on the news today
on channel 7 news
ôrf news
campo grande news ônibus
ôpera news
campo grande news greve de ônibus
l1 news horário dos ônibus
l1 news ônibus
lago azul news ônibus
news österreich
news österreich heute
news österreich aktuell
news öffentlicher dienst
news österreich corona
news öl
news österreich orf
news ö3
news österreich heute aktuell
news österreich sport
ö24 news
ölpreis news
öbb news
ösv news
österreich news krone
övp news
özil news
öffentlicher dienst news 2023
österreich promi news