This article contains spoilers for Five Nights at Freddy's and Willy's WonderlandWhat initially started as an indie-horror game, Five Nights at Freddy's has since become a cultural phenomenon, and one of the most successful and beloved video games of all time. Since its 2014 debut, the franchise has amassed a total of 12 sequels, with the latest, Five Nights at Freddy's: Help Wanted 2, set to release sometime in December of this year. With the franchise's large fan base, fans have been clamoring for a live-action movie or TV show set in the Five Nights at Freddy's universe for just shy of a decade. It wasn't until this year, however, that fans eventually got their wish in the form of the Blumhouse Five Nights at Freddy's movie. A PG-13 horror that gained a mass following from fans, despite its negative reviews from critics. Currently, the video game movie has grossed a whopping $215 million on a $20 million budget.
However, fans of the hit video game may have missed the modern cult movie, Willy's Wonderland. Predating the Five Nights at Freddy's movie, Willy's Wonderland draws much inspiration from the hit video game series. The film centers around a speechless Nicolas Cage, as he goes toe-to-toe with homicidal animatronics. Sound familiar? While Willy's Wonderland isn't as scary as the Five Nights at Freddy's video games, it is tons of '80s slasher movie fun. So, with the Five Nights at Freddy's movie's recent release, and the untapped cultural admiration for Willy's Wonderland, the question has to be asked. Which killer animatronic movie is better?
Story and Lore
Similar to the plot of the video game, the Five Nights at Freddy's movie follows a security guard tasked with taking care of Freddy Fazbear's Pizzeria. But after a troubled first night, he soon realizes that the late shift won't be as easy as he thought. While the story of the film is fairly simple, it's the fascinating video game lore and Easter eggs that elevate the Five Nights at Freddy's movie.
The video game lore is fairly confusing, especially if you've only played the first one, which doesn't give much context or backstory to its characters. But as the series later suggests, the animatronics become possessed by the victims of William Afton, a security guard who used to work at Freddy Fazbear's Pizzeria. The movie offers a very similar but much darker backstory to the animatronics. While William Afton is still a child murderer, Afton instead places the corpses of his victims inside the animatronics, a place the police would never think to look.
In terms of Easter eggs, keen-eyed fans will notice the appearances of YouTubers like MatPat, the creator of The Game Theorist YouTube channel. Deserving of his appearance in the film, MatPat has been dissecting Five Nights at Freddy's theories for years, and even solved some of the games' biggest mysteries, like The Bite of '87. Fans may also recognize the infamous Five Nights at Freddy's YouTuber, CoryxKenshin, in two important scenes in the film. On top of that, fans may also recognize the likes of Balloon Boy, and Mike's book about dream theory. A subtle hint at the fact that there's a huge theory suggesting that the video games are all a dream. It's these theater-popping Easter eggs and deep lore connections that put Five Nights at Freddy's higher than Willy's Wonderland, in terms of story.
Five Nights at Freddy's is currently in theaters worldwide, and also streaming in the US on Peacock.
Related: How the Five Nights at Freddy's Movie Expands the Lore
The plot of Willy's Wonderland is very similar to the game it's unofficially based on. Willy's Wonderland instead follows a janitor tasked with cleaning up a condemned family fun center. However, after discovering that the animatronics are alive, the janitor is thrust into a war with the possessed animatronic mascots. Willy's Wonderland doesn't have the same scope of lore or Easter eggs that Five Nights at Freddy's does, which does give the film a lack of complexity.
Differing from the video games it's unofficially based upon, the animatronics in Willy's Wonderland are possessed by the souls of Satanists, after a successful Satanic ritual. It's simple and doesn't offer many theories. But where's the fun in that?
Willy's Wonderland is now streaming in the US on HULU
Characters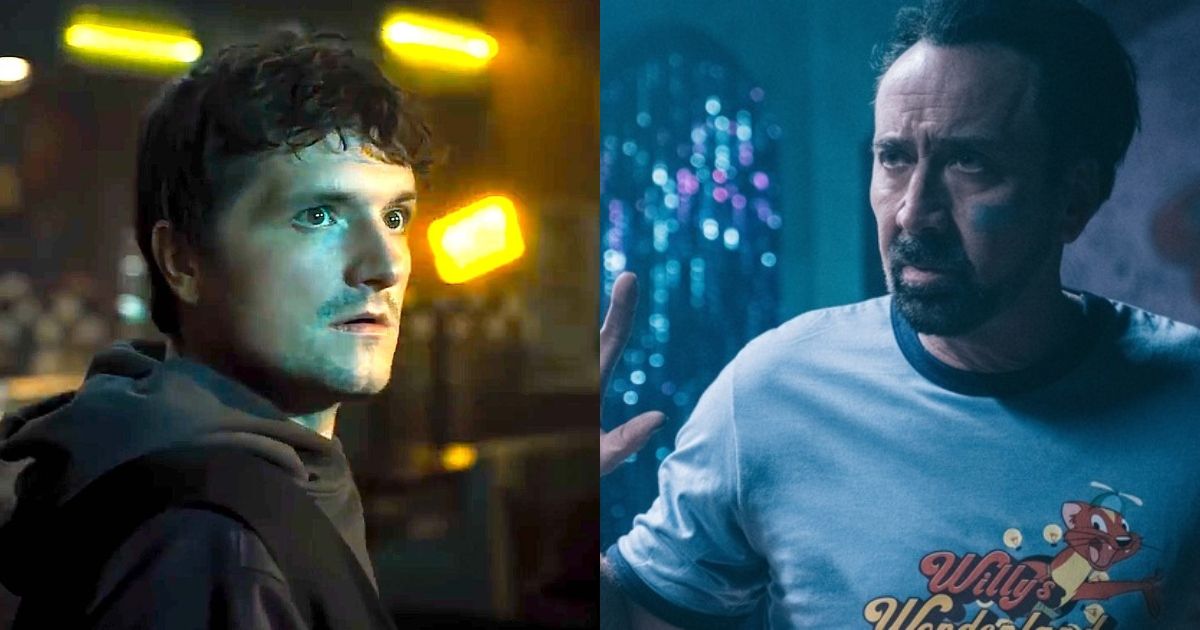 Both Five Nights at Freddy's and Willy's Wonderland aren't necessarily remembered for their great character work. The human characters in Five Nights at Freddy's are much more layered than those in Willy's Wonderland, with the film very heavily dealing with themes of grief and guilt. However, while these themes were interesting on paper, Five Nights at Freddy's doesn't offer interesting enough characters for us to root for, and it offers arcs we just don't care about.
On the other hand, the majority of the characters in Willy's Wonderland are kill fodder, lacking depth. With that said, the nameless janitor, played by Nicolas Cage, is utterly fascinating. He doesn't say a single word in the film, but his lack of fear, and confusion when he sees a moving animatronic for the first time, are both hilarious and compelling. He uses random weapons scattered around the rundown family fun center to nonchalantly butcher any animatronic that tries to prevent him from doing his job.
Scares and Kills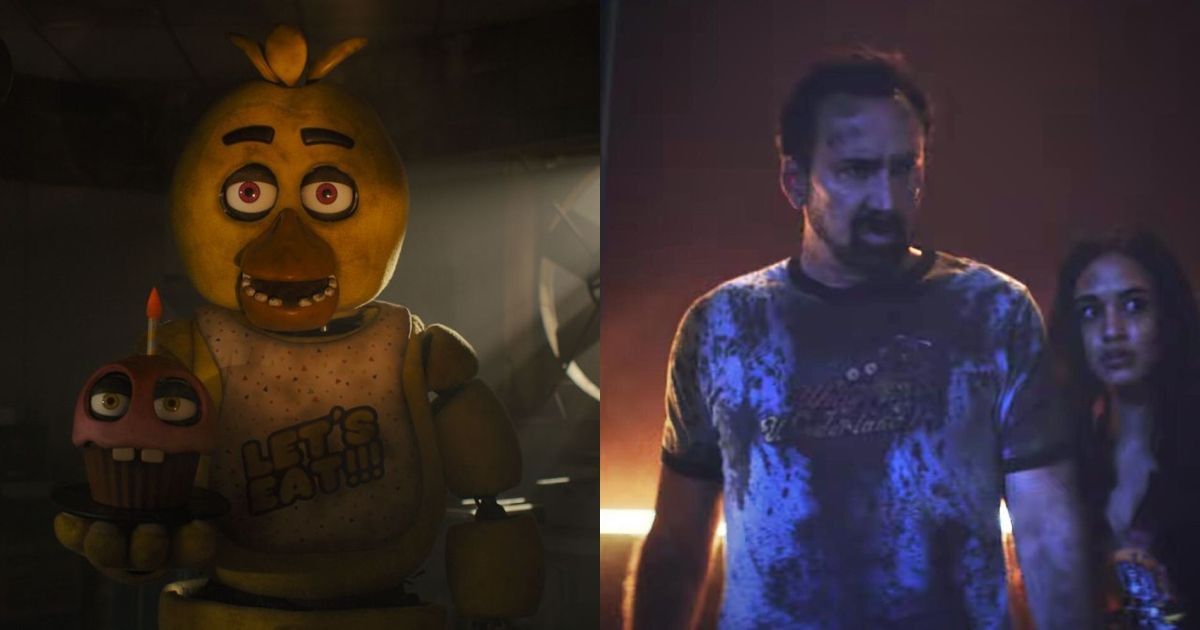 With Five Nights and Freddy's being a PG-13 horror, Blumhouse really painted themselves into a corner. Some of the scares are creative, but the kills aren't necessarily memorable. The only memorable kill was when Max got cut in half by Freddy. But that was projected onto a shadow, which lost a lot of its impact.
Willy's Wonderland, however, offers a blood-soaked slasher full of hilarious and over-the-top kills. Whether it's seeing the animatronics slice characters in two, or feast on their insides, Willy's Wonderland does not disappoint. Yet, it's not necessarily the animatronics that get the best kills; instead, Nicolas Cage's character releases his inner beast mode, beating, curb-stomping, and bashing broken mops into the animatronics' skulls. While Willy's Wonderland is light on scares, it's the film's over-the-top and blood-soaked brutality that make it so great, giving the throwback to '80s slasher movies the edge above the Five Nights at Freddy's movie.
Energy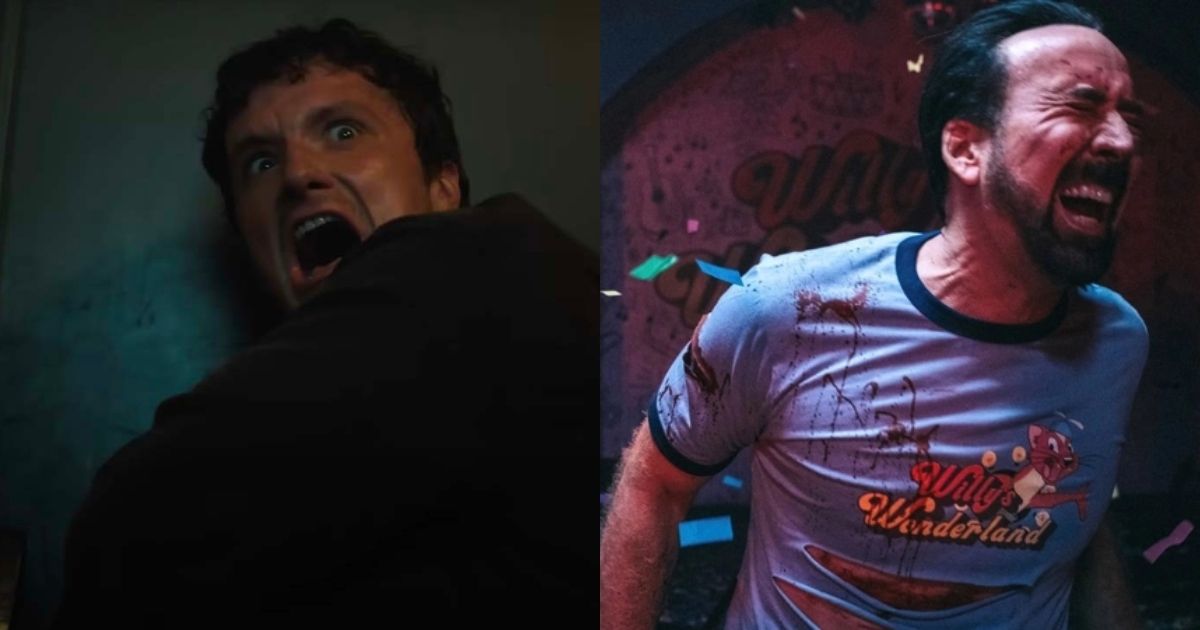 One of the major criticisms of Five Nights at Freddy's was how seriously the film took itself. While it made way for a far more unnerving atmosphere, it came at the cost of the fun horror movie that many were expecting. There is very little fun to be had. Its kills aren't particularly great, the characters aren't entertaining, and the film is centered around a crew of murdered children. Not a particularly fun premise. But, if you're looking for a ridiculously fun killer animatronic movie, then look no further than Willy's Wonderland.
Willy's Wonderland is one of the most ridiculously entertaining horror movies of the past few years. It's silly nonsense, with tons of creative and brutal kills to boot. Willy's Wonderland, unlike Five Nights at Freddy's, never takes itself too seriously, leaving audiences with an ear-to-ear grin for the entire wild ride. Its kills are ridiculous, the characters are over-the-top genre tropes, the editing is lively, and Nicolas Cage is an absolute joy to watch. Willy's Wonderland oozes with the stimulating energy many were looking for in Five Nights at Freddy's.
Cast and Performances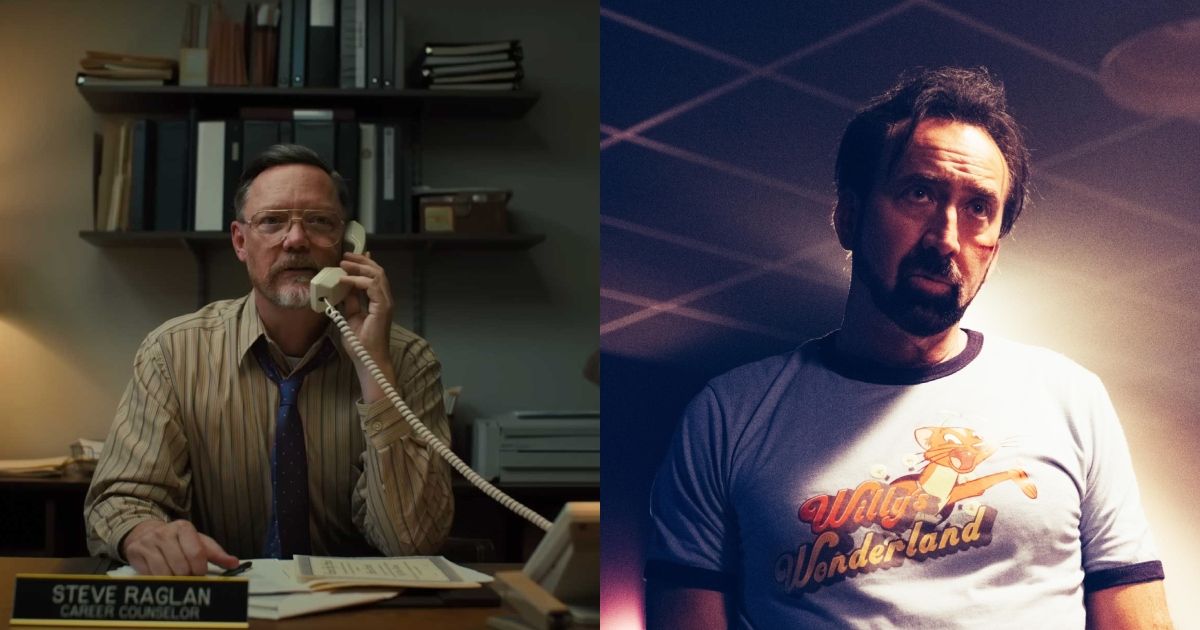 The Five Nights at Freddy's cast may have been small, but it boasts a plethora of great A-list names who all gave great performances. Josh Hutcherson was engaging as the main protagonist, drawing audiences in with his tortured character, and Elizabeth Lail gave a confident and nuanced performance as a police officer with a secret. But it was Matthew Lillard who effortlessly stole the show. Drawing much inspiration from his other serial killer character in the Scream franchise, Lillard's performance is over-the-top and tyrannical. At first, he plays an overly creepy work coach, who then stoops to pure villainy by the end. He laughs about murdering the children, with a giddy excitement about killing his next victims.
Nicolas Cage headlines the cast of Willy's Wonderland, delivering a silent performance that truly represents the power of eyebrow acting. Cage, like the audience, is having a blast. Whether he's beating the living daylights out of giant animatronics, or taking his numerous breaks, so he can play pinball, the legendary actor never takes his role too seriously, allowing for an utterly engrossing performance. Alongside Cage, Willy's Wonderland sees appearances by Caylee Cowan, Beth Grant, and the Vine star, Christian Del Grasso.
Related: Five Nights at Freddy's: What We Want From William Afton in a Potential Sequel
Nic 'Freaking' Cage
After a minor downward career trajectory that started with the 2006 remake of The Wicker Man, Nicolas Cage returned better than ever with classics like Mandy, Pig, and, of course, The Unbearable Weight of Massive Talent. Among these films was the cult classic Willy's Wonderland. Although the film is a fairly strong film on its own, without Cage as the main protagonist, it's hard to imagine that the film would have been as extravagant. Cage's grandiose performance enhances the film's outrageous nature, and offers one of the most underrated and understated performances of his entire career.
What's the Verdict?
Ultimately, we have to give the belt to Willy's Wonderland for being the best killer animatronic movie out there. While Five Nights at Freddy's offers more depth with its lore and characters, Willy's Wonderland offers the ridiculously entertaining energy many were searching for with Five Nights at Freddy's. The film's over-the-top kills, lively editing, and, of course, Nic Cage's flamboyant performance, cement Willy's Wonderland as the more brilliant of the two killer animatronic movies.
on bbc news
on hindi news
on the news today
on channel 7 news
ôrf news
campo grande news ônibus
ôpera news
campo grande news greve de ônibus
l1 news horário dos ônibus
l1 news ônibus
lago azul news ônibus
news österreich
news österreich heute
news österreich aktuell
news öffentlicher dienst
news österreich corona
news öl
news österreich orf
news ö3
news österreich heute aktuell
news österreich sport
ö24 news
ölpreis news
öbb news
ösv news
österreich news krone
övp news
özil news
öffentlicher dienst news 2023
österreich promi news