Summary
Ringu and Ju-On: The Grudge led the Japanese horror craze of the late 1990s and revolutionized the horror genre.
Ringu and Ju-On updated horror movie clichés surrounding ghosts and haunted houses, effectively cementing Sadako Yamamura and Kayako Saeki as iconic horror movie monsters.
Both Sadako and Kayako have impressive kill counts, but only one of these vengeful ghosts has the widest reach, effectively making her the deadliest ghost.
The J-horror craze of the late 1990s changed the face of the genre as profoundly as contemporaries like The Blair Witch Project. It was led by a pair of films centered around vengeful ghosts: 1998's Ringu and 2002's Ju-On: The Grudge. Both films introduced Japanese horror to a larger international audience, opening the doors for horror movies from other Asian countries, notably South Korea. Both films resulted in popular American adaptations — 2002's The Ring and 2004's The Grudge — that helped the genre escape the rut of slasher films that had dominated it for decades. Both spanned lengthy franchises with sequels and spin-offs of varying quality in both Japan and the US.
Both franchises successfully updated two of the horror genre's oldest clichés — ghosts and haunted houses — for the 21st century. With all of that in their corner, the two films' respective spirits have racked up quite an impressive kill count, including implied murders that are never seen and make a raw body count impossible. That beggars the question of which monster — Ringu's Sadako Yamamura or Ju-On's Kayako Saeki — is the deadliest. Their comparative similarities result in very different modus operandi, which lends some heft to the debate. The two characters have even faced each other onscreen in the gimmicky 2016 movie Sadako vs. Kayako, where they ultimately combine into a single entity, Sadakaya. The issue goes beyond simple body count.
Halloween Ends vs Thorn Curse: Which Had the Silliest Origin for Michael Myers' Murders?
Sadako Yamamura's Curse Is Viral in The Ring Franchise
In the Japanese Ringu franchise, Sadako Yamamura is the daughter of a woman with psychic abilities. Her father feared the girl's power and trapped her in a well where she lingered for some time before perishing. Her angry spirit is then projected onto a video tape, and will murder anyone who watches it unless they show it to another person within seven days. The original Ringu depicts an investigative journalist named Reiko Asakawa who uncovers the story after her niece Tomoko is killed by the "cursed" video tape. By forcing potential victims to pass the video on in order to save themselves, Sadako ensures that her story will continue to circulate.
Among its other innovations, Ringu predicted the birth of viral images and videos at a time when the internet was in its infancy. More to the point, it freed the notion of evil ghosts from their old-fashioned trappings. Spooky old houses and overgrown cemeteries no longer held any terrors for the modern world. A VHS tape was still reasonably modern technology at the time, and a common sight in any household in the world. Ringu cleverly brought the terrors of classic ghost stories into the modern world by attaching Sadako to a workaday object that everyone was familiar with.
Sadako's signature move of coming out of the television screen to claim her victims similarly invests an ordinary object with supernatural terror. Sadako's story is already an urban legend when the events of Ringu begin, meaning that there's no limit to the number of potential victims she's claimed. That also gives her the flexibility to support an entire franchise, which includes eight movies, two TV series, three American remakes, and one South Korean adaptation.
Michael Myers May Be Pure Evil – But He's Not Horror's Most Sinister Killer
Kayako Saeki's Curse is Relentless in The Grudge Franchise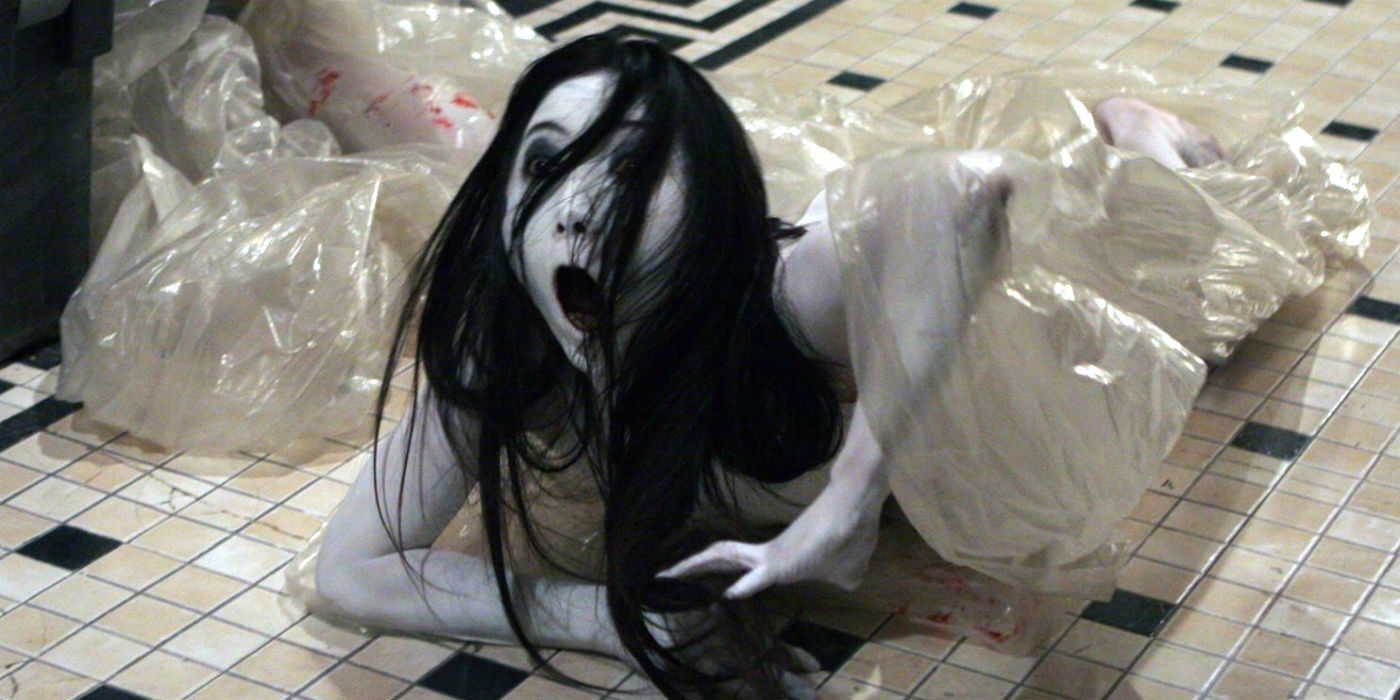 Ringu's success helped foster the Ju-On series, which began as a pair of Japanese TV movies before its first theatrical release, Ju-On: The Grudge in 2002. Like Ringu, it centers around a vengeful spirit who died violently. In this case, Kayako Saeki's husband Takeo murders her in a jealous rage, as well as their son Toshio and the family cat, all inside the family home. Their ghosts return to kill him, creating a curse that will engulf anyone who enters their house.
On the surface, there's nothing to indicate something is wrong with the location. Though the Saeki house is slightly rundown, it's not actively sinister; it's located in an otherwise ordinary Tokyo residential neighborhood. Kayako's curse, however, will destroy anyone who enters the house, as she and Toshio claim their souls. The curse also spreads to other locations when someone who has entered the house dies elsewhere, freeing it from the confines of a single location.
The franchise has endured justified criticism for failing to explain how it's all supposed to work. Like Ringu, it implies that numerous victims have been claimed offscreen, leaving the exact number of Kayako's murders unknown. The franchise's entries — nine Japanese movies, four American movies, and a TV series — often shuttle back and fourth in time, further obscuring the count.
Michael Myers vs. Jason Voorhees: Who Is More Evil?
Sadako From The Ring Franchise Is the Deadliest Vengeful Ghost
Ju-On stems directly from the success of Ringu, and in fact Ringu screenwriter Hiroshi Takahashi helped Ju-On creator Takashi Shimizu develop the theatrical release after the first two movies debuted on television. Both franchises center on the unjust death of a woman or child, and the way their spirits' righteous anger distorts into monstrosity. Both franchises also emphasize a viral or infectious nature to the curses, passing along from one victim to another either by viewing the tape (in the case of Ringu) or entering the house (in the case of Ju-On).
That informs the question of which of them is the deadliest. For while, Kayako's curse ultimately spreads beyond her former home, making anywhere a potential haunted house. On the other hand, videotapes are portable, transferrable and easily passed on. The spirits in Ju-On are still bound to the place where they died, slowing their spread and limiting the potential pool of victims. By contrast, Sadako is in the ether and can move to new victims with ease. In fact, a little extrapolation increases her reach even further. For instance, a copy of Sadako's cursed tape transferred to a website could make the entire internet vulnerable. All anyone needs to do to fall victim to her is push "play."
Ironically, the two franchises spread largely by word of mouth, at least in their early stages, making them ghoulish examples of art imitating life. The fact that Ringu set the pace and Ju-On merely followed is pertinent as well, since Ju-On still relies on the haunted house notion for its story. Ringu finds a much more original way to deliver its monster, leaving almost anyone a potential victim. Both are appropriately frightening, and they're bound together both onscreen and off. But with a better concept — and a much easier way to spread the horror — Sadako remains undeniably the deadliest ghost among equals.
on bbc news
on hindi news
on the news today
on channel 7 news
ôrf news
campo grande news ônibus
ôpera news
campo grande news greve de ônibus
l1 news horário dos ônibus
l1 news ônibus
lago azul news ônibus
news österreich
news österreich heute
news österreich aktuell
news öffentlicher dienst
news österreich corona
news öl
news österreich orf
news ö3
news österreich heute aktuell
news österreich sport
ö24 news
ölpreis news
öbb news
ösv news
österreich news krone
övp news
özil news
öffentlicher dienst news 2023
österreich promi news