Summary
Denny O'Neil began writing for DC in 1968 and his first comic book story featuring Batman was during this period.
O'Neil first wrote Batman in Justice League of America #66
In this story, O'Neil explored the ways Batman and Green Arrow were different from their teammates, emphasizing their vulnerability and humanity.
In "When We First Met", we spotlight the various characters, phrases, objects or events that eventually became notable parts of comic lore. Today, we look at the first time that Denny O'Neil wrote Batman in a comic book.
While he wrote a number of acclaimed and popular comic book titles over the years, Denny O'Neil is definitely best known for his run on Batman, both as the main writer of the Batman comics during the 1970s, but also later as the editor of the Batman line of comic book titles from the mid-1980s until the turn of the 21st Century. However, O'Neil had been around the block a few times before he ever got to actually write the Dark Knight.
After a stint in the Navy, O'Neil began working for a small newspaper in his home state of Missouri. O'Neil had a bi-weekly column about youth culture, and he would often use the column to discuss the then-recent boom in the comic book superhero industry, with the "Marvel Age" of comics leading to a number of other comic book companies doing superhero revivals, as well. O'Neil's columns caught the eye of another Missouri native, Roy Thomas, and when Thomas started working for Marvel Comics, he had O'Neil take the writer's test, as well. O'Neil did so, and began getting work for Marvel on a few titles. O'Neil also started freelancing at Charlton Comics, using the pseudonym Sergius O'Shaugnessy. When Charlton's star creator, Steve Ditko, moved to DC, Ditko's editor, Dick Giordano, was also hired by DC, and Giordano brought over guys like O'Neil with him, and, so O'Neil began writing for DC in 1968. It was during this period that O'Neil wrote his very first comic book story featuring Batman!
When Were Siegel and Shuster Stripped of Their Creator Credit on Superman?
What was the first comic book written by Denny O'Neil to feature Batman?
After working with Ditko on the new creation, The Creeper, O'Neil was given the assignment of writing Justice League of America from longtime writer, Gardner Fox, with 1968's Justice League of America #66, with a story drawn by Dick Dillin and Sid Greene. Interestingly, the cover of the issue was drawn by Neal Adams, making it one of the earliest comics that both Adams and O'Neil worked on (before their very memorable collaborations on both Batman and Green Lantern/Green Arrow).
The issue, titled "Divided — They Fall!" was a bit of a political satire, with the General of a small European island nation deciding to conquer the United States of America with just six men total (himself included). However, he had a hidden advantage
Meanwhile, when we meet the Justice League, they're having a meeting, and Superman and Wonder Woman are bizarrely being super jerks to their teammates, with Superman especially pulling off a big ol' "We're the Justice League, we can't concern ourselves with minor crimes!" What other possible crimes are they getting from answering letters to the Justice League?! "Dear Justice League, there is a nuclear bomb next door about to go off. Please help me whenever you get this letter."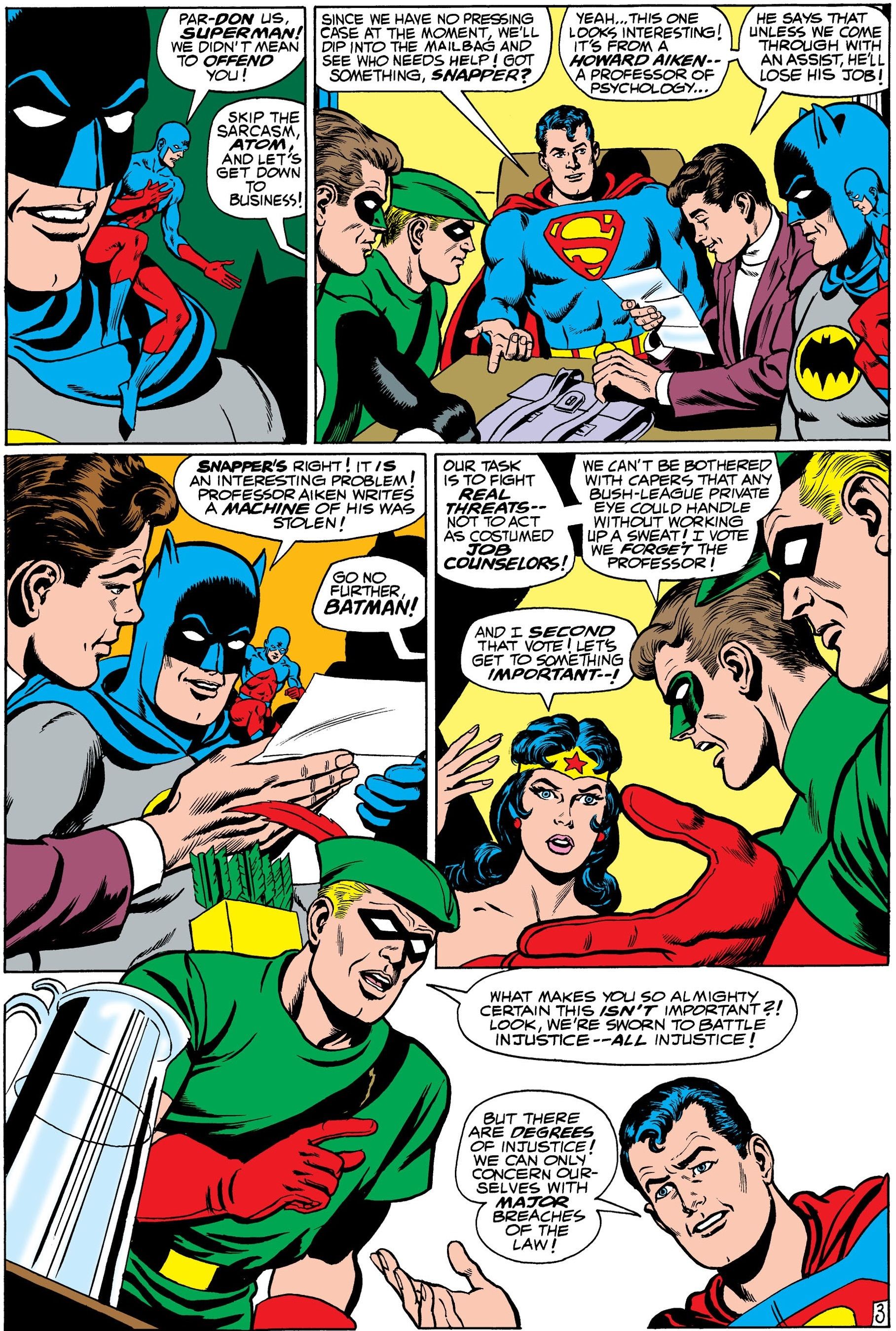 This then leads to a fascinating split in the group, as Green Lantern, Wonder Woman and Superman and Green Arrow, Batman and Atom are at odds over how to handle the letter (which Batman quickly realized was written by Snapper), and the split is strange because, well, Green Lantern is not super-powered himself, he just has a fancy ring. The Atom, meanwhile, DOES have superpowers from is size-changing belt, so…I don't get how they are splitting up these six heroes, unless it's just a "Cool powers" vs. "Minor powers and no powers"….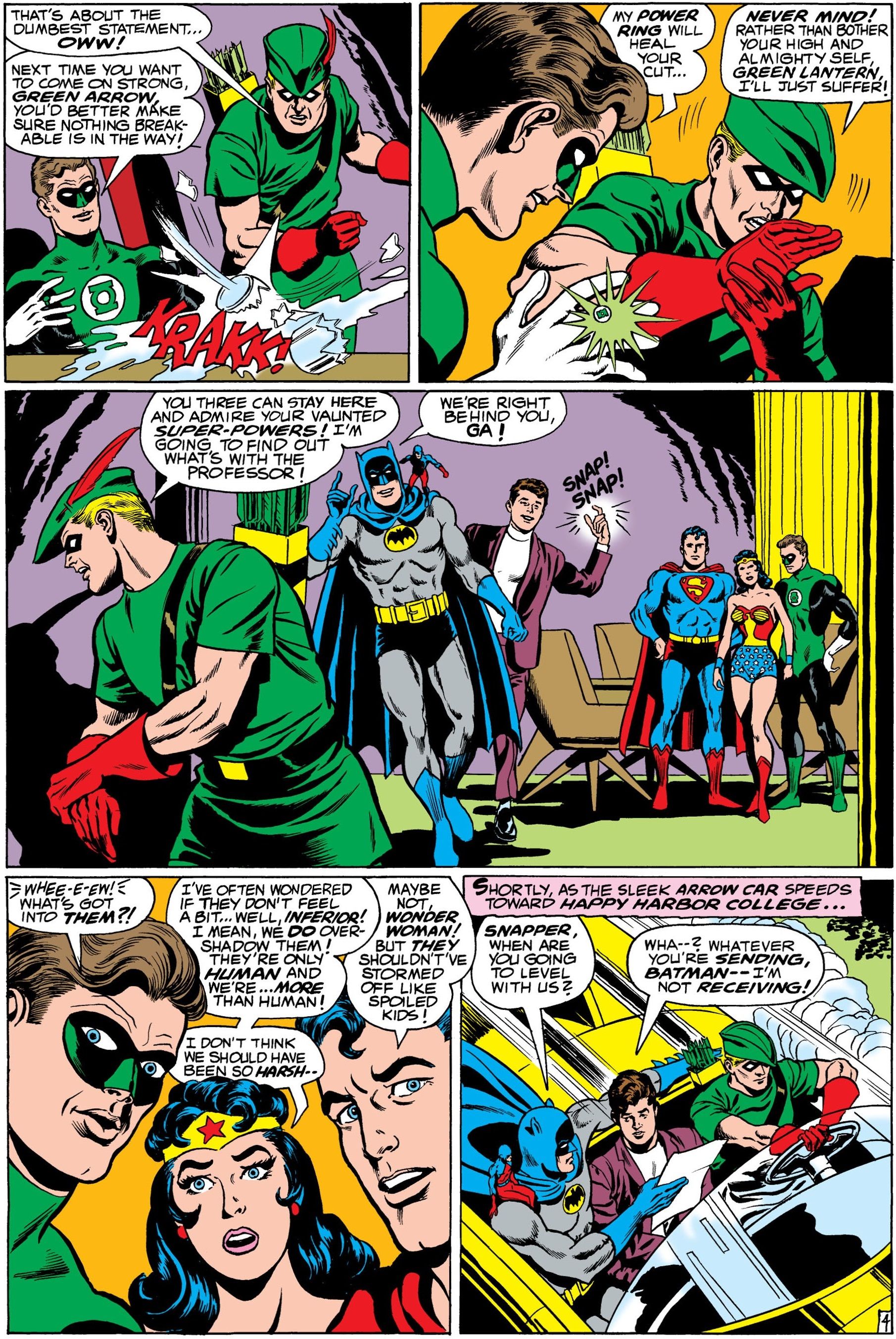 So they head to the college, and sure enough, the device that the professor had been working on is what the Generalissimo (whose name is Demmy Gog – get it, demigogue?) has stolen, and the device ruins people's morale, so it robs you of your will to fight back against him, which is how he plans to conquer the United States with just six men…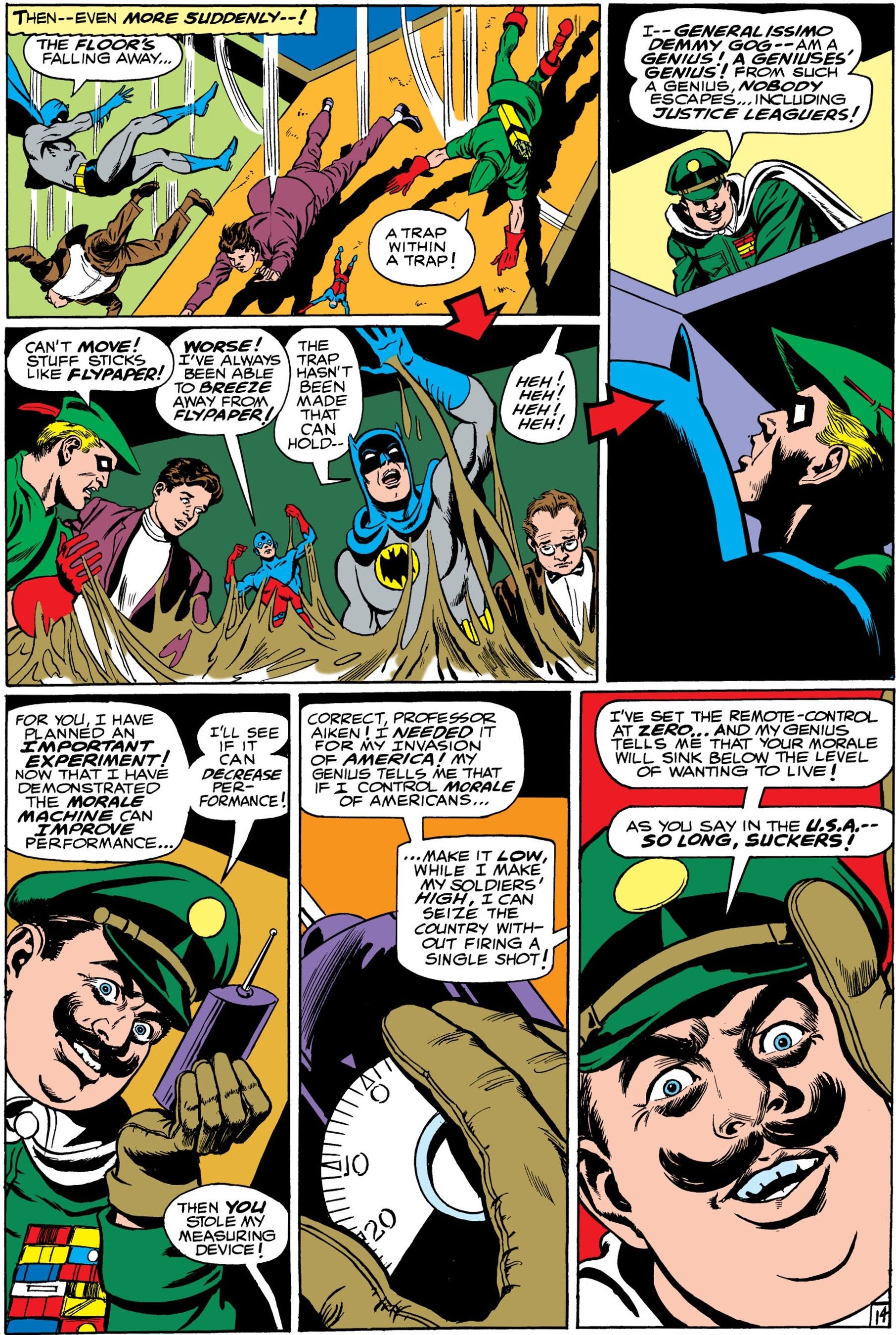 He captures the three heroes, and when Green Lantern, Wonder Woman and Superman show up, the device has sapped them of their will to fight. Luckily, while Demmy Gog uses the device on the other three heroes, a normal state of morale Atom then uses his powers to escape, and turns the device off, snapping the heroes out of it, and the others are freed. Demmy Gog then uses the morale machine on himself, boosting UP his morale so that he could take on the Justice League singlehandedly. Amusingly, that faulty logic is quickly proven silly…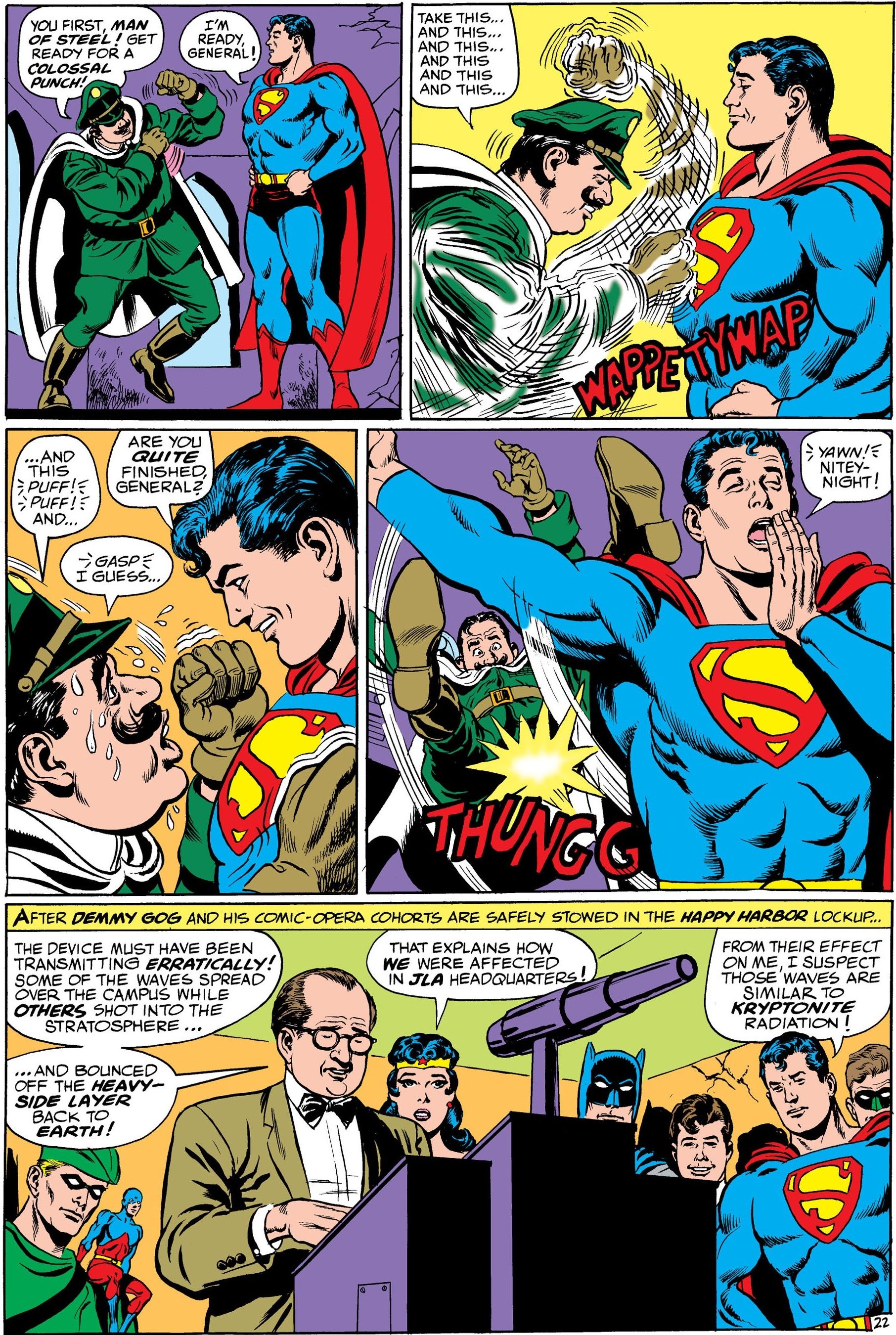 The League then all make up with each other at the end of the issue…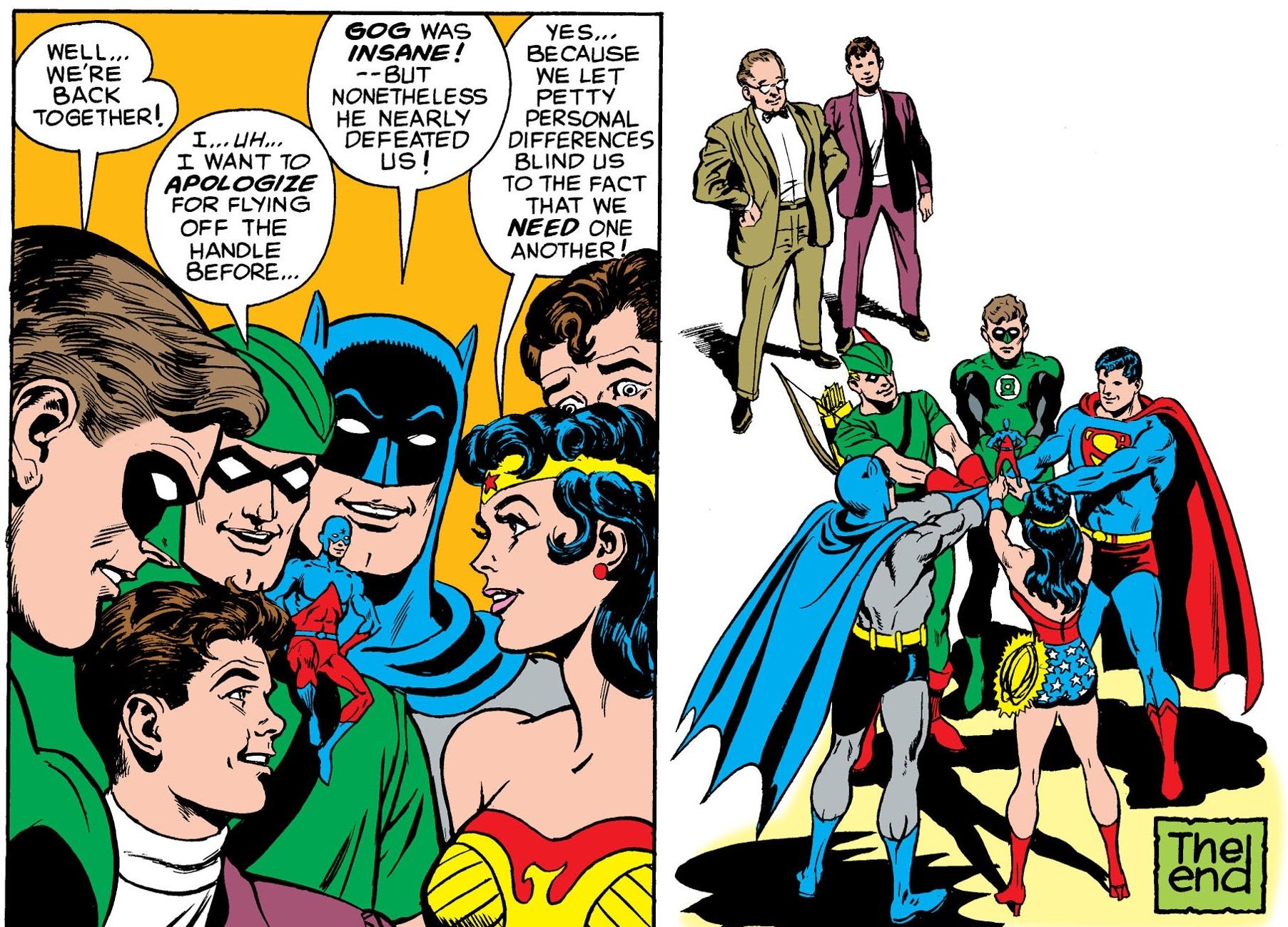 Awwwwwwww.
What Was the First Two-Part Story of the Marvel Age of Comics?
What did this comic book tell us about Denny O'Neil's take on Batman?
What strikes me about this story is that right off the bat, Denny O'Neil is exploring the ways that Batman and Green Arrow ARE very different from their teammates. We all know how O'Neil's Green Arrow eventually became a sort of firebrand, especially in the "Hard Travelin' Heroes" storyline, but we see that he's like that from the moment that O'Neil started writing him! It's not hard to read these pages with Green Arrow as if they are part of those later Green Lantern/Green Arrow issues easily.
Similarly, something that I've always noted about O'Neil's Batman that made him standout is the fact that he IS a very human hero, he is vulnerable, and that vulnerability adds a level of danger to O'Neil-penned Batman comics that isn't always present in Batman stories. And so to see his first comic with Batman in it touch on that very notion (that Batman is a human hero without superpowers, contrasting him with his teammates) is fascinating. So while this first Justice League of America issue by O'Neil looks so old-fashioned, in reality, it was right in keeping with O'Neil's more famous, later works.
If anyone wants to know about an interesting comic book first, just drop me a line at brianc@cbr.com!
on bbc news
on hindi news
on the news today
on channel 7 news
ôrf news
campo grande news ônibus
ôpera news
campo grande news greve de ônibus
l1 news horário dos ônibus
l1 news ônibus
lago azul news ônibus
news österreich
news österreich heute
news österreich aktuell
news öffentlicher dienst
news österreich corona
news öl
news österreich orf
news ö3
news österreich heute aktuell
news österreich sport
ö24 news
ölpreis news
öbb news
ösv news
österreich news krone
övp news
özil news
öffentlicher dienst news 2023
österreich promi news