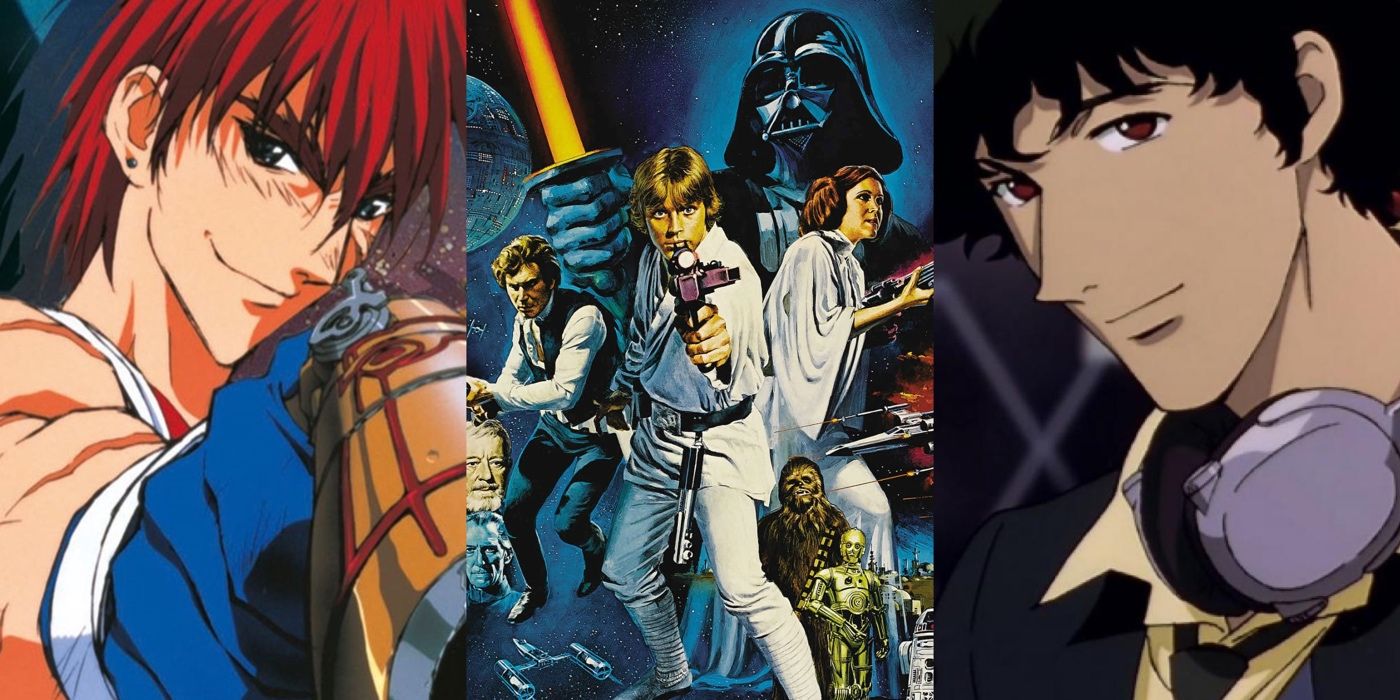 Space operas are a subgenre of science fiction dedicated to galaxy-wide adventures through the cosmos brimming with drama, action, and risky conflict. There's hardly a more influential and well-known example of this beloved genre than Star Wars, a revolutionary sci-fi franchise that changed the entertainment landscape forever. Yet, few know that Star Wars has a direct tie to Japanese culture, with George Lucas taking inspiration for his iconic trilogy from Edo-period history and samurai movies, namely Kurosawa's The Hidden Fortress.
The influence goes both ways, as countless sci-fi anime clearly took a page out of Star Wars' book. Even if not directly inspired by Star Wars, many sci-fi anime series bear a strong resemblance to the genre's timeless classic, be it in themes, setting, plot structure, or general adventurous atmosphere. These science fiction anime are perfect for Star Wars fans looking for new content that captures the magic of exploring outer space.
RELATED: 45 Best Sci-Fi Anime To Watch Right Now
10
Knights Of Sidonia
Knights of Sidonia's story takes place a thousand years after the Earth was annihilated by a race of shapeshifting aliens called Gauna. The Gauna are the pitiful remains of humanity escaping to space in a fleet of seed ships.
Similarly to Luke Skywalker, the hero of Knights of Sidonia, Nagate Tanikaze, is a simple, inexperienced kid who, after a childhood of hardship and seclusion, becomes the hero of Sidonia and fulfills his destiny as the Chosen One. Knights of Sidonia is a space opera guaranteed to keep Star Wars fans engaged with its touching underdog narrative, ruthless cosmic combat, and thrilling, existential battle for survival without a single dull moment.
9
Macross
Alongside other mecha Goliaths, such as Gundam and Full Metal Panic, the Macross universe counts myriads of shows, light novels, and games that explore the struggles of the human race in space. Yet, instead of fighting other humans for power, the people of the Macross universe grapple with extraterrestrial beings, doing everything to keep the inhabitants of the titular spacecraft safe.
Despite the setting and themes of Macross being different from Star Wars, the two franchises share a similar desire to explore how different people cope with warfare, paying close attention to the struggle and triumph of an individual in the environment of ongoing space conflict.
RELATED: 10 Ways Macross Embraces Shonen Clichés
8
Code Geass: Lelouch Of The Rebellion
Star Wars has always been capable of poignant social and political critique, weaving nuanced political allegories into its plot and worldbuilding. Code Geass: Lelouch of the Rebellion doesn't have as clear a distinction between good and evil in its political structure as most Star Wars properties.
Yet, fans of the more morally ambiguous political theater of Star Wars: The Clone Wars and Andor will find excellent food for thought in the tale of Lelouch vi Britannia. Despite the setting of Code Geass being a militant futuristic Earth instead of space, the series still features plenty of familiar sci-fi elements on top of an incredibly tense and divisive political plotline, which makes it even more reminiscent of Star Wars.
7
Space Battleship Yamato
When it comes to anime's most influential space operas outside of the mecha genre, 1974's Space Battleship Yamato is often regarded as the one series that pioneered sci-fi in the medium. Countless future sci-fi works, including Gundam and Evangelion, took inspiration from this iconic series, and its legacy in anime is the most comparable to what Star Wars did for Western science fiction.
Yamato's story is just as timeless as its Western counterpart's — attacked by an expansionist alien race, humanity finds its last beacon of hope on a planet light years away. The technology to restore Earth is offered by a distant planet Iscandar, and people pour their last resources into a risky mission to retrieve it.
RELATED: 10 Best Space Opera Anime of All Time
6
Space Dandy
While most space operas are notorious for their seriousness, the sci-fi adventure comedy Space Dandy takes a different approach to depicting intergalactic escapades. The show follows the mishaps of its titular fashionable hero, a careless yet endearing bounty hunter whose missions across the galaxy never go according to plan.
Fans of Star Wars' more easygoing elements, such as charming characters, witty banter, and exploration of unorthodox cosmic locations, will find Space Dandy's take on space opera sci-fi undoubtedly winsome. And Dandy's frivolous allure and nostalgic style will win over any Han Solo admirer.
5
Outlaw Star
For many, the Star Wars universe fulfills an indulgent fantasy of taking off on a wild space adventure, traveling among the stars with a crew of closest friends. The '90s sci-fi classic Outlaw Star brings the same dream to life through the story of Gene Starwind and his ragtag team.
Gene searches the galaxy on his titular ship for a legendary treasure, coming in contact with vibrant otherworldly cultures, peculiar individuals, and a fair share of tense battles on his boundless adventure. Unfortunately for fans of Star Wars' expansiveness, Outlaw Star received only a single 24-episode season, which is far from enough to explore all corners of its universe.
RELATED: 10 Best Anime To Watch If You Liked Trigun Stampede
4
Mobile Suit Gundam
The golden age of the mecha genre aligns with the worldwide period of fascination with sci-fi. Released just two years after A New Hope, mecha masterwork Mobile Suit Gundam worked together with George Lucas' iconic trilogy to popularize science fiction through the late '70s and early '80s. In Gundam, the Jedi and Sith are replaced by giant robots battling for victory in vast space, yet the two franchises bear many similarities.
Just like Star Wars, Gundam is a multifaceted and complex universe bursting with never-ending content, all focused on the timeless struggle of different ideologies caught up in a cycle of war. Gundam also wraps its heavy themes in an engaging package of adventure and bombastic action.
3
Star Wars: Visions
Star Wars: Visions is, by far, the most obvious anime pick for the fans of the iconic franchise, as it literally expands the canon Star Wars universe in an anthology format. With each episode handled by a different studio and director, Star Wars: Visions is a blast of creative freedom that explores never-seen-before aspects of the familiar universe.
From a Star Wars take on samurai battles to classic clashes between Sith and Jedi elevated through stylized animation, Star Wars: Visions doesn't shy away from exploring all kinds of ideas. Yet, despite being so refreshingly different from the franchise's mainline entries, Visions masterfully captures the feel of the original universe.
2
Cowboy Bebop
While seemingly very different on the surface, Cowboy Bebop and Star Wars share much more than the space Western aesthetics and retrofuturistic allure. The story of Cowboy Bebop is much more intimate than the world-shifting epic of Star Wars, following a group of bounty hunters trying to hide from their pasts in the emptiness of space.
Yet, in its quieter moments, be it exploring a new planet brimming with culture or building lasting connections with yesterday's strangers, the two sci-fi cult classics become eerily similar. Just like Star Wars, Cowboy Bebop creates worlds and characters brimming with nuance, making the unknowns of space seem cozier and more familiar.
1
Legend Of The Galactic Heroes
One of the most critically acclaimed space operas not only in anime but in all of media, Legend of the Galactic Heroes is a military sci-fi epic famed for its in-depth political commentary, realistic writing, and monumental plot. Both the narrative and the politics of LOTGH are much more complex than that of Star Wars, which makes it an obvious pick for fans looking for a more mature take on the space opera genre.
An intergalactic struggle between a corrupt democracy and a monocracy led by an anti-aristocracy ruler is, conceptually, close to some of Star Wars' most thematically profound entries. Yet, LOTGH is willing to dive infinitely deep into the ideas only briefly explored in the Star Wars franchise.
on bbc news
on hindi news
on the news today
on channel 7 news
ôrf news
campo grande news ônibus
ôpera news
campo grande news greve de ônibus
l1 news horário dos ônibus
l1 news ônibus
lago azul news ônibus
news österreich
news österreich heute
news österreich aktuell
news öffentlicher dienst
news österreich corona
news öl
news österreich orf
news ö3
news österreich heute aktuell
news österreich sport
ö24 news
ölpreis news
öbb news
ösv news
österreich news krone
övp news
özil news
öffentlicher dienst news 2023
österreich promi news