My normal October fun of skulking around dark and misty forests has been somewhat waylaid this year (and not just by my early Christmas movie bonanza) but I'm trying to find that Halloweeny mood. First step, catching up with horror movies. My favourite new one so far is Dark Harvest (on Amazon Prime), a nice bit of folk horror colliding with the 1960s American dream. But what are you playing this weekend? Here's what we're clicking on!
Alice Bee

There's another new Poirot in town. To complement the hot, young, hip version of Poirot from Blazing Griffin's games, Agatha Christie – Murder On The Orient Express (a title which makes it sound like Ags herself is involved) is out now and stars an older Poirot with the aura of the guy in the retirement village who seduces all the single ladies so he can live there for free. But! This version takes place in the present day, which makes it very funny when Poirot is like 'I must return to London at once!' and his friend is like 'Come with me on this luxury train that takes several days.' I played some of it last night and there's a scene where you deduce that there are raspberries on a cake, so I'm really excited for the murder.
Alice0

You know I mentioned trying to make replicas of the neon pagers worn by the kewl dudes of Hackers for a friend's Hackers-themed birthday party? Well, I finished them, and they turned out okay (one Lord Nikon green, one Phantom Phreak-inspired hot pink with leopard print stencil), and they did actually both survive a night of dancing. But I think I could do better. So I've bought another pager to convert and am starting again. Better process. Better tools. Better details. Fresh new colour. I do not know what I will do with this but it feels good to work on something tangible, y'know?
Ed

Having spent most of my evenings this week with Cyberpunk 2077, I've decided I should probably leave my den and do something. That something is seeing pals, then getting myself ready for an exciting trip I can't talk about…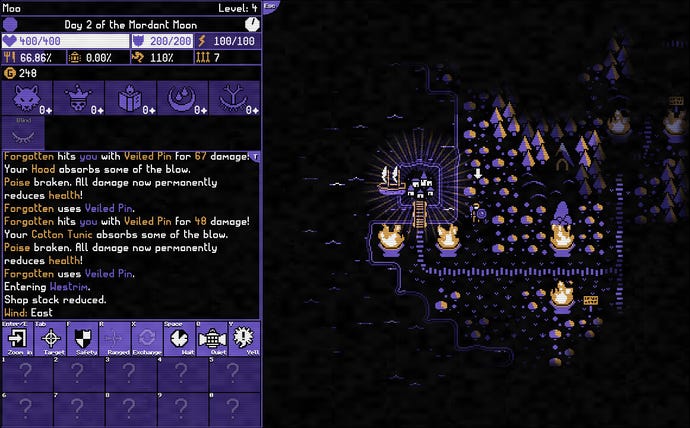 Edwin

This weekend I am going to play Moonring, a turn-based roguelike RPG from one of the creators of Fable. It's free on Steam, and is so far a fabulous blend of weird gods and angry beetles. I've also stumbled on a WIP Doom mod, Siren, which plays like a mixture of Dead Space and Signalis. Beyond that, I'll might try to make headway with one of the many triple-A games I've left half-finished – probably Baldur's Gate 3.
James

I have committed to some kind of hardwarey Cities: Skylines 2 coverage, which means I must push through my utter lack of citybuilding knowledge to play Cities Skylines 2. Next week: how well can an RTX 4060 render an abysmally zoned helltown with more power plants than schools and the highest dysentery rates in the developed world? RPS investigates.
Katharine

My copy of Super Mario Wonder is being delivered today, wahoo! I do have other secret review games on the go, but cor, all those glowing Mario reviews have got me excited for Wonder in a way that I haven't been excited about a 2D Mario game in a very long time. I'm excited!
Ollie

I recently picked up Forza Motorsport on Game Pass, after bouncing off Forza Horizon 5 slightly and realising it's because what I want right now is a more linear track-by-track racing game. So far, so good. I know absolutely nothing at all about cars so I just let the game pick all the upgrades and tuning settings for me, and then make vroom noises while I crash into walls. It's all I want from a racing game.
---
But you, reader dear, what are you playing this weekend?

on bbc news
on hindi news
on the news today
on channel 7 news
ôrf news
campo grande news ônibus
ôpera news
campo grande news greve de ônibus
l1 news horário dos ônibus
l1 news ônibus
lago azul news ônibus
news österreich
news österreich heute
news österreich aktuell
news öffentlicher dienst
news österreich corona
news öl
news österreich orf
news ö3
news österreich heute aktuell
news österreich sport
ö24 news
ölpreis news
öbb news
ösv news
österreich news krone
övp news
özil news
öffentlicher dienst news 2023
österreich promi news