Final Fantasy XIV's latest Fan Festival took place in London over the weekend, running two days of panels with the MMO's development team, its director Naoki 'Yoshi-P' Yoshida and legendary series creator Hironobu Sakaguchi. In-between announcing a new job for expansion Dawntrail, revealing anecdotes from the early days of Final Fantasy and a whole bunch of crossovers on the way, Yoshi-P and Sakaguchi found time to kick back with some very silly hijinks during the game's boss battles.

Sunday's on-stage events opened with 'A Stroll with Yoshi-P', billed as a fun way for Yoshida and Sakaguchi – a noted XIV fan, who has apparently cleared several of its hardest Ultimate fights – to play some of XIV's trials together while providing some insight into the creation of iconic Final Fantasy monsters and how they were adapted for XIV. That was the plan, anyway.

Things went off the rails almost immediately as Yoshi-P and Sakaguchi were joined by a party of players to go up against Golbez, Final Fantasy IV's big bad who recently appeared in A Realm Reborn's post-Endwalker questline. With Sakaguchi as a lalafell tank and Yoshi-P as a black mage, the party – including a character literally called Alan Partridge, which seemed to fly over both developers' heads – got to work on battling the armoured villain.

Within minutes, Sakaguchi was targeted by a tankbuster which he proceeded to drop on Yoshi-P, killing him – the first casualty of the run. Not long later, Sakaguchi himself went down, all while rejecting questions about the wider series thrown his way by persistent XIV producer-turned-host Toshio 'Foxclon' Murouchi, as the veteran developer insisted he needed to concentrate on playing. (Using an Xbox controller with a custom keyboard adjusted to remove all of the button except specific hotkeys, no less – Sakaguchi doesn't mess around.)

Just before Golbez fell, the revived Yoshi-P was sent flying off the edge of the arena by a combination of his own Aetherial Manipulation ability and a healer's cast of Rescue, leaving him KO'd as the victory cutscene played and the crowd roared.

"I was gonna say Golbez, but now this has left me in a trauma," Sakaguchi wisecracked in a response to being asked his favourite bosses from the series, as Yoshi-P asked, "Why the hell did I fall there?"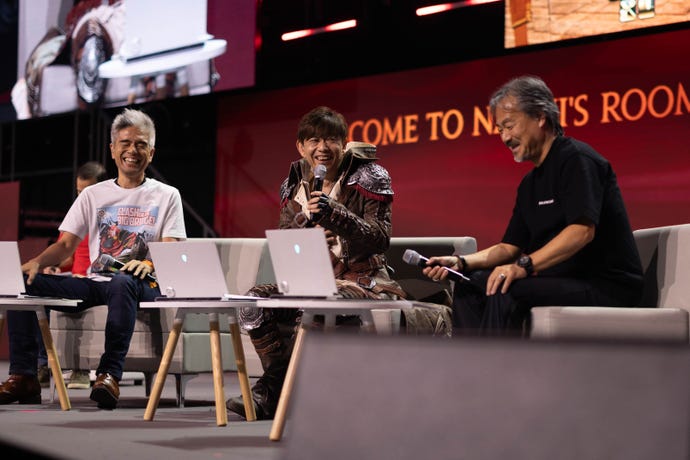 A second fight against Proto-Carbuncle went a little smoother, despite Sakaguchi pleading for his fellow tank to provide cover against the reimagined Final Fantasy V boss.

With the chaos subsided, Sakaguchi found time to reveal that tabletop RPG Dungeons & Dragons influenced the creation of iconic Final Fantasy summon Bahamut, with Yoshida adding that the eikon's key role in A Realm Reborn's story was inspired by his love of the summon in Final Fantasy VII.

It didn't last long, though. With the option to sync items to the minimum level of the duty turned on for a tougher challenge, Yoshida and Sakaguchi formed a new party to find Final Fantasy V's Exdeath. Sakaguchi exclaimed as a muscled topless character – topped with a tonberry head – appeared behind him in the new group.

The legendary creator of one of the most beloved video game series of all time then proceeded to stand his short character under the towering figure's spread legs… and repeatedly prod the character, named Chunchunmaru Gigachad, in the arse with the /poke emote.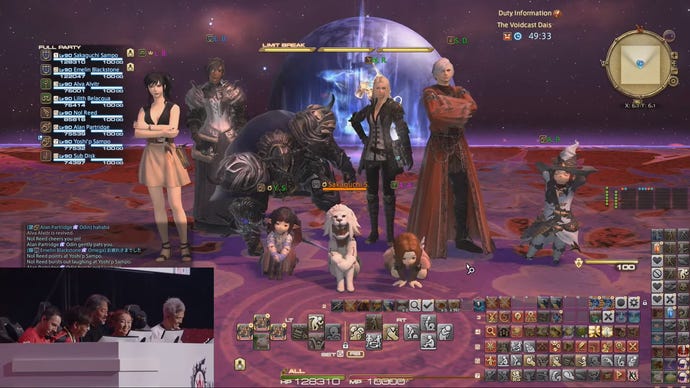 Exdeath proved even more of a challenge for the group, wiping the entire party by blasting them over the edge with a Vacuum Wave and forcing a reset. A chuckling Yoshida excused the mistake by saying he had mixed up the trial's black hole mechanics with its harder Savage difficulty.

Last up on the gauntlet of Final Fantasy icons was Gilgamesh, who first appeared in Final Fantasy V. Managing to offer a little more insight while battling at minimum item level once more, Sakaguchi said that the boss' lore had been created by the game's battle designers and was a surprise to even him – he discovered it only when he played the game during testing.

The Gilgamesh fight saw another party wipe, and Sakaguchi fall to the multiple slashes of the boss' Sword Dance attack.

The veteran developer managed to eke out a few more anecdotes, though, revealing that FFV's Blue Magic was another concept created by the battle team as they worked around the limited processing power of the Super Famicom.

As for the Final Fantasy series' various recurring characters – including Cid, Biggs and Wedge – Sakaguchi offered that it was originally the result of wanting to surprise players by having characters with the same name appear in different forms and situations.

Sakaguchi and Yoshida also offered some insight on behalf of series composer Nobuo Uematsu and XIV's sound director Masayoshi Soken, agreeing that some of the games' most popular and memorable songs are the fastest to write – including Gilgamesh's backing track Battle on the Big Bridge. Sakaguchi had revealed the day before that he had initially rejected all of Uematsu's now-iconic songs for the first Final Fantasy.

Gilgamesh defeated, the developers brought their chaotic boss run to a close to cheers and laughter from the Fan Fest crowd.

"I was able to successfully Shirk my tankbuster, so I am very happy, thank you very much," Sakaguchi said in his closing words, teasing Yoshida with his use of the tank ability that aggros enemy attacks towards a party member.

You can watch the full panel at around the hour mark of Fan Fest London's Day 2 stream. It's highly recommended if you enjoy watching two beloved devs mess around with each other and have a clear blast playing their own games.

on bbc news
on hindi news
on the news today
on channel 7 news
ôrf news
campo grande news ônibus
ôpera news
campo grande news greve de ônibus
l1 news horário dos ônibus
l1 news ônibus
lago azul news ônibus
news österreich
news österreich heute
news österreich aktuell
news öffentlicher dienst
news österreich corona
news öl
news österreich orf
news ö3
news österreich heute aktuell
news österreich sport
ö24 news
ölpreis news
öbb news
ösv news
österreich news krone
övp news
özil news
öffentlicher dienst news 2023
österreich promi news