Summary
The original concept for Matt Fraction's Hawkeye series was a James Bond-esque spy adventure with international travel and glamorous casinos, but Fraction decided it wasn't right and took a different approach.
The new approach to Hawkeye, inspired by the TV series The Rockford Files, portrayed Clint Barton as a down-on-his-luck private detective who would eventually win the day but not before getting knocked around a bit.
The down-to-earth take on Hawkeye's character made the series stand out in the comic book industry and inspired other great series over the years.
Welcome to the 912th installment of Comic Book Legends Revealed, a column where we examine three comic book myths, rumors and legends and confirm or debunk them. This time, in our third legend, see how Matt Fraction's original approach to Hawkeye was very different than what was eventually published.
One of the most influential Marvel runs of the past couple of decades was definitely Matt Fraction and David Aja's brilliant Hawkeye series (colored by Matt Hollingsowrth and lettered by Chris Eliopoulos – and notable issues drawn by Javier Pulido, Steve Lieber Jesse Hamm, Francesco Francavilla, Annie Wu and Eliopoulos – Jordie Bellaire colored Eliopoulos' issue), which launched in 2012. I've written about it before, but just to recap, the conceit of the Hawkeye series was that the series would show us what Clint "Hawkeye" Barton did in his time off from the Avengers. The guys who owned the building where he lived (dubbed "The Tracksuit Mafia") were driving Clint's neighbors out by tripling their rent, so Clint offers to pay all of their rent. This was not taken well by the Tracksuit Mafia's boss. Meanwhile, two of their goons had a dog. Clint was nice to the dog and fed it pizza. Since its owners were abusive jerks, when Clint was nearly shot by the goons, the dog attacked its own owners to save Clint. The dog was then thrown into traffic and hit by a car. Clint rushed it to a vet clinic, and then forced the head of the Tracksuit Mafia to allow Clint to just purchase the building outright.
At the end of the issue, the dog survives the surgery, and Clint learns that it is named "Arrow," but he decides to call it Lucky, instead, but fans soon just called him "Pizza Dog"…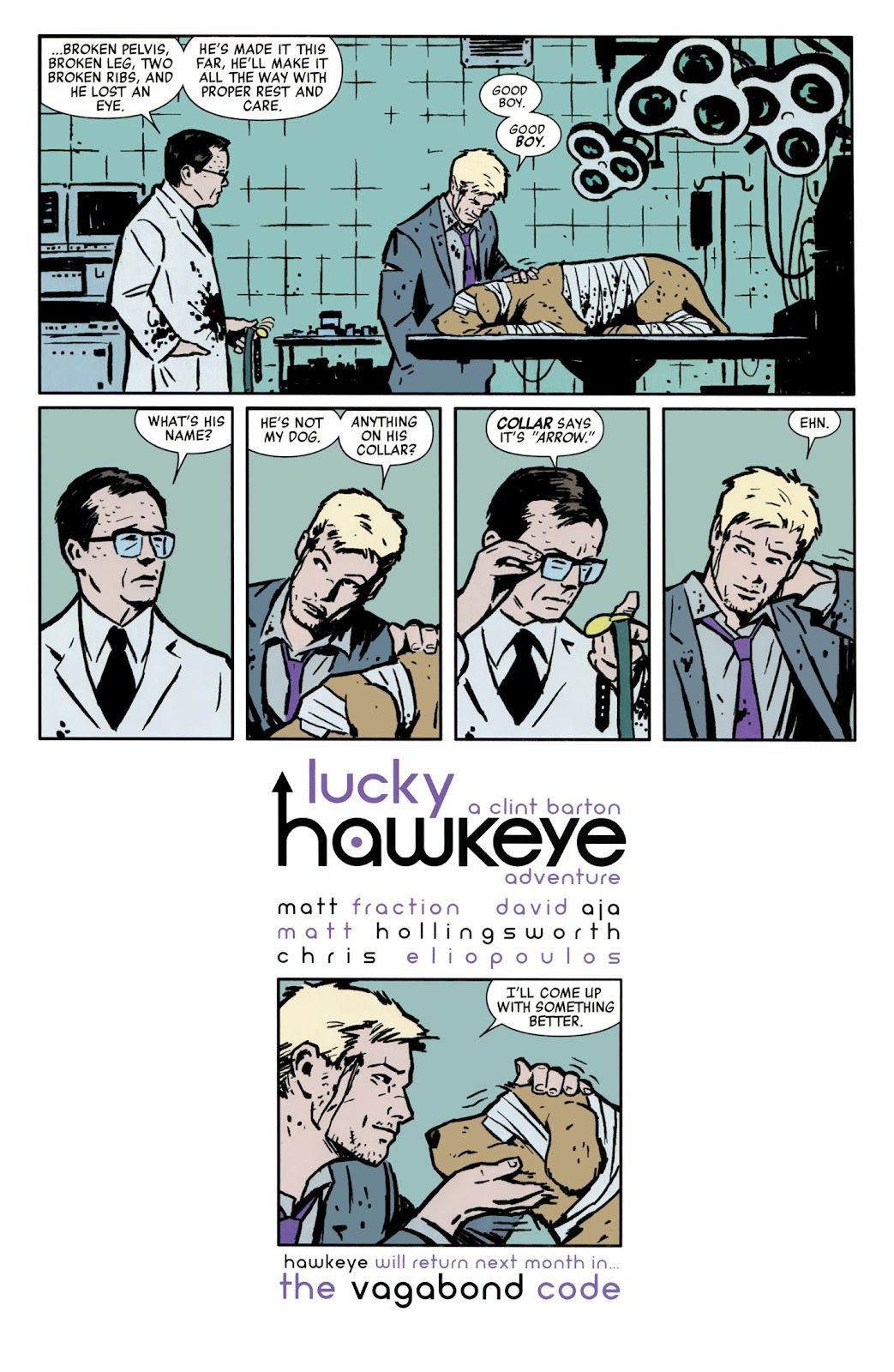 So the status quo of the comic was now Clint having to deal with the Tracksuit Mafia, who are now naturally mad at him, and so Clint has to protect the building and his now tenants. Meanwhile, he has struck up a sort of mentor/mentee partnership with Kate Bishop, a young hero also known as Hawkeye. In the second issue of the series, you can see that David Aja was putting SO MUCH DETAIL into the art for the series…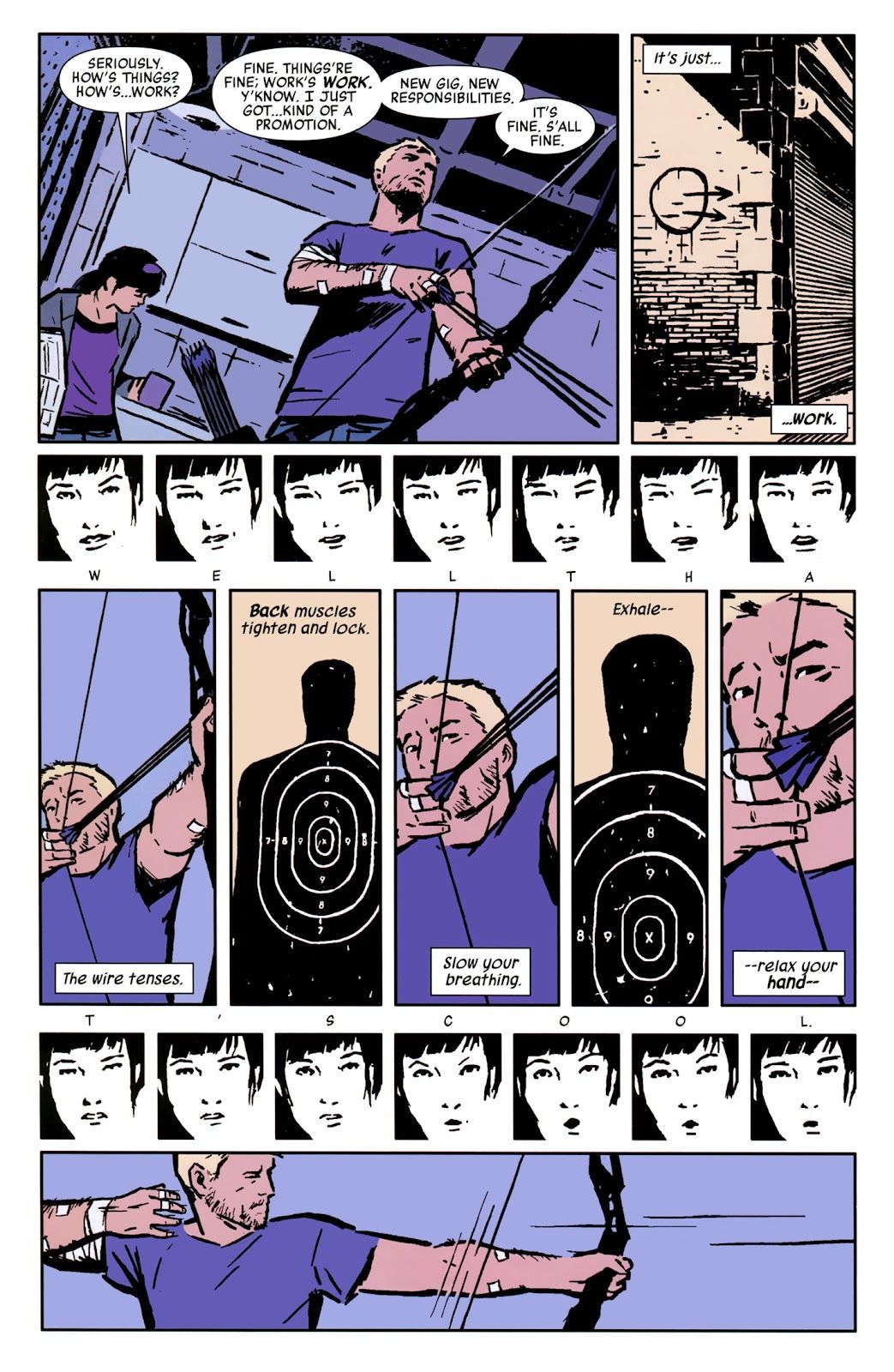 However, that was not originally the concept AT ALL!
RELATED: Was Ms. Marvel Always Meant to Die in Amazing Spider-Man #26?
Hawkeye once worked with S.H.I.E.L.D. to find an incriminating tape
After three one-shot stories to start the series, the first two-part arc in Hawkeye was with guest artist Javier Pulido joining Fraction and Hollingsworth on a story where a tape showing Hawkeye assassinating a bad guy on behalf of the government was stolen, and being sold to super criminals…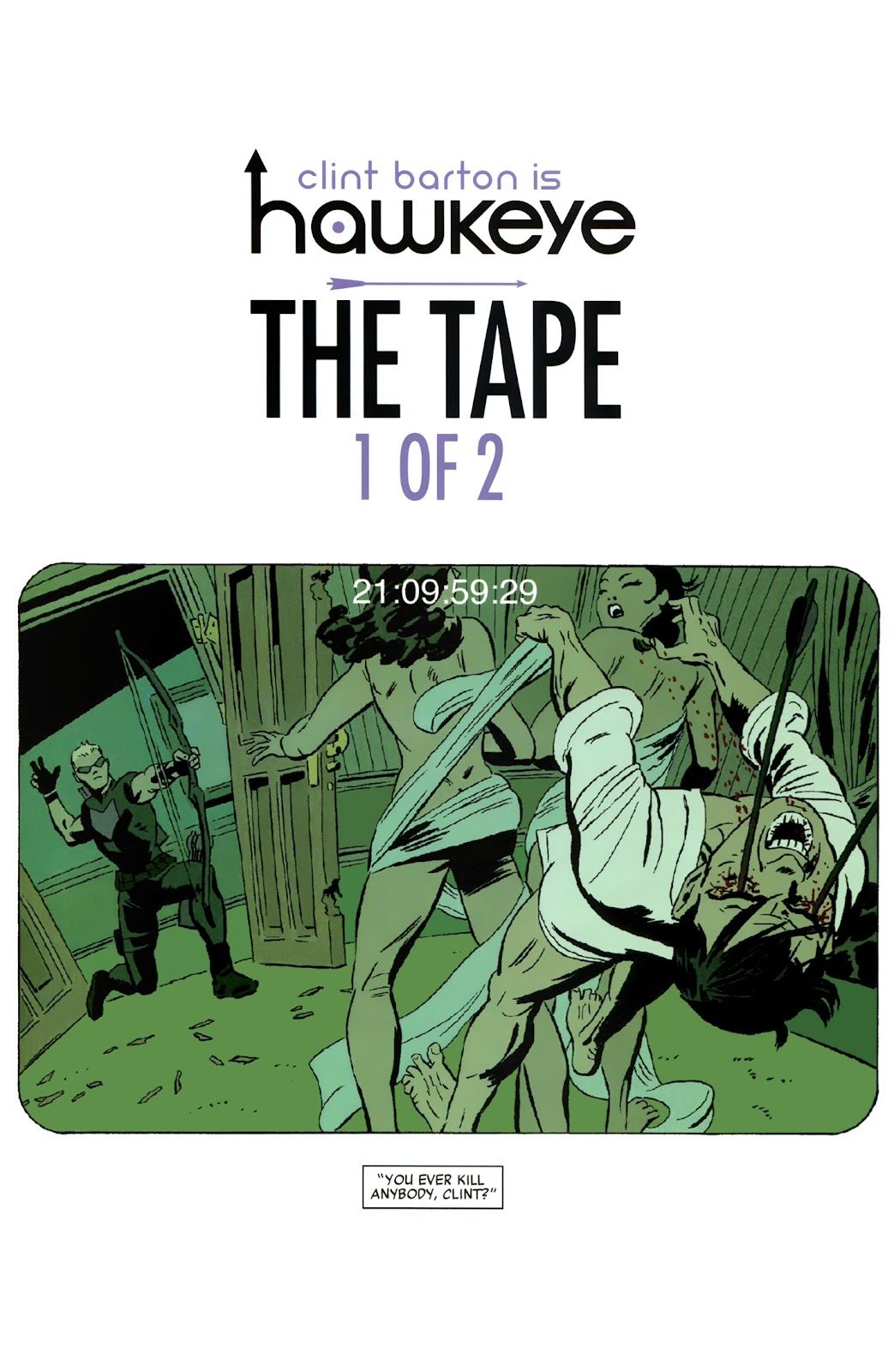 S.H.I.E.L.D. lets Hawkeye know that the tape was stolen, and so they told him he had to go to get the tape back from the auction in Madripoor. He leaves Kate Bishop behind, but he doesn't know that she followed him, and takes over Madame Masque's identity in the auction.
The second part has a sequence where Hawkeye is being attacked by ninjas, and crashes through a window in an awesome sequence…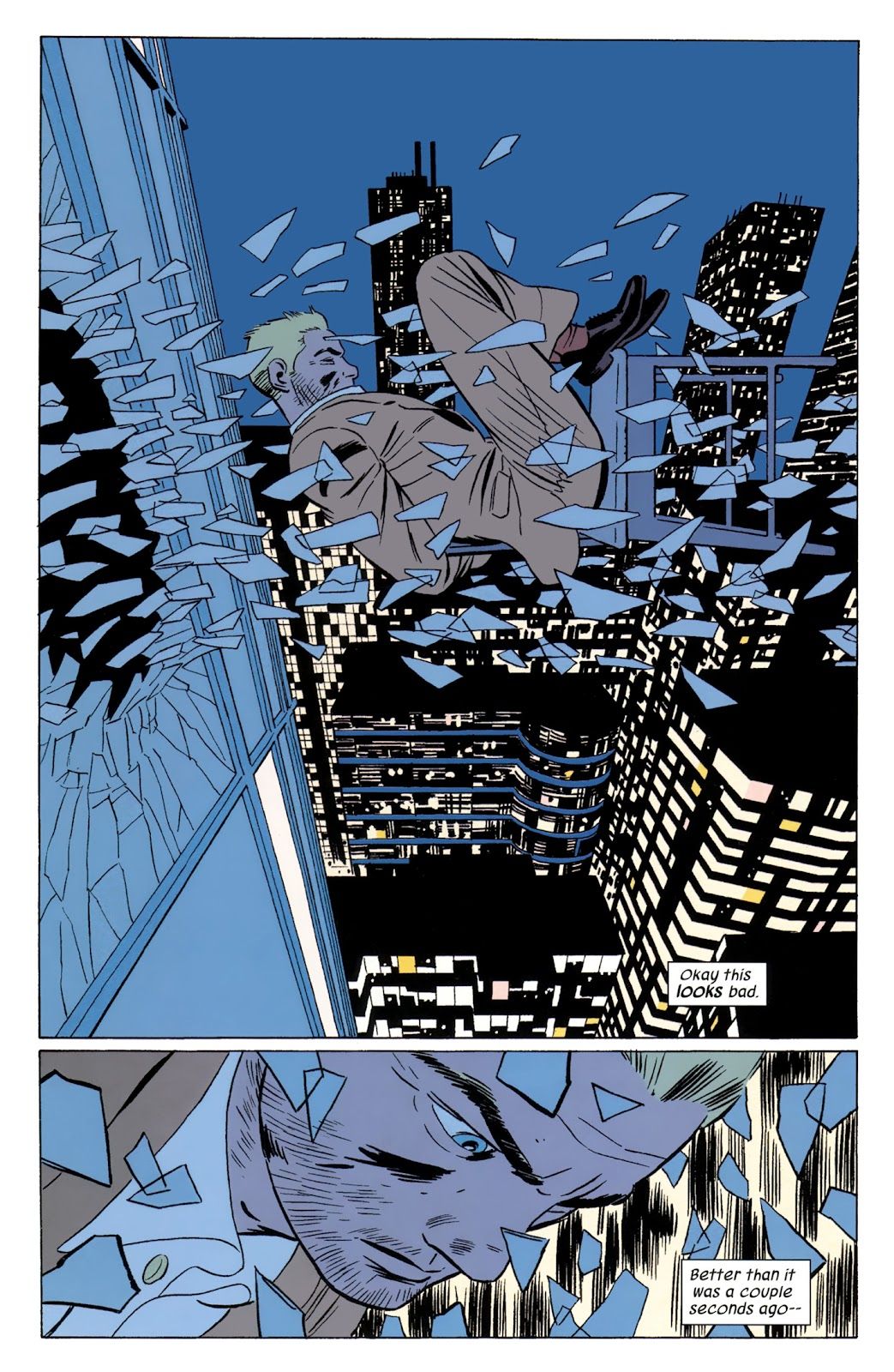 He is luckily saved by S.H.I.E.L.D. agent Maria Hill…
This is good timing, as Kate was discovered, and she was about to be torn apart when Clint shows up to save her…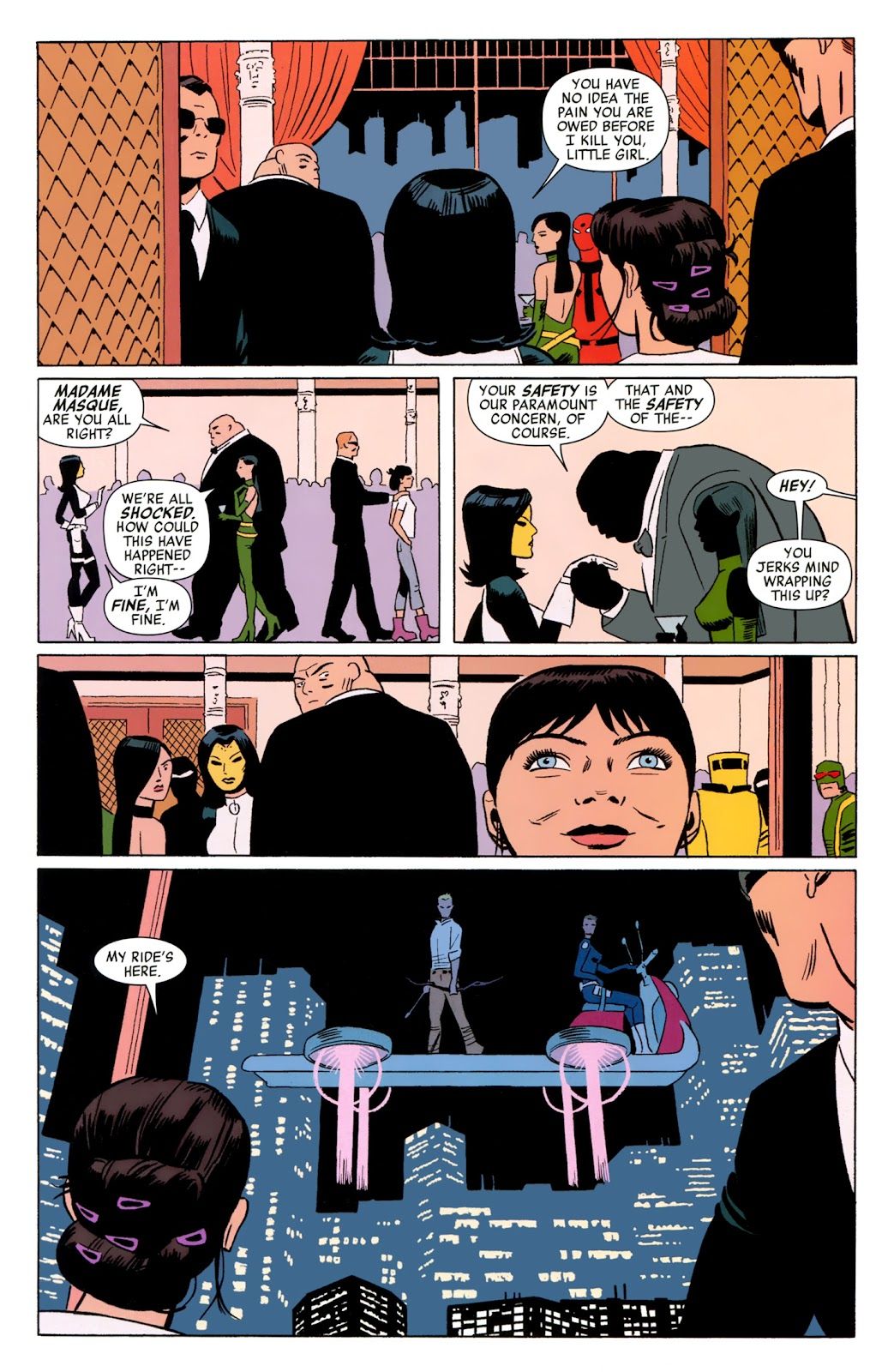 What an awesome shot, right?
Kate and Clint then fight their way out of the auction…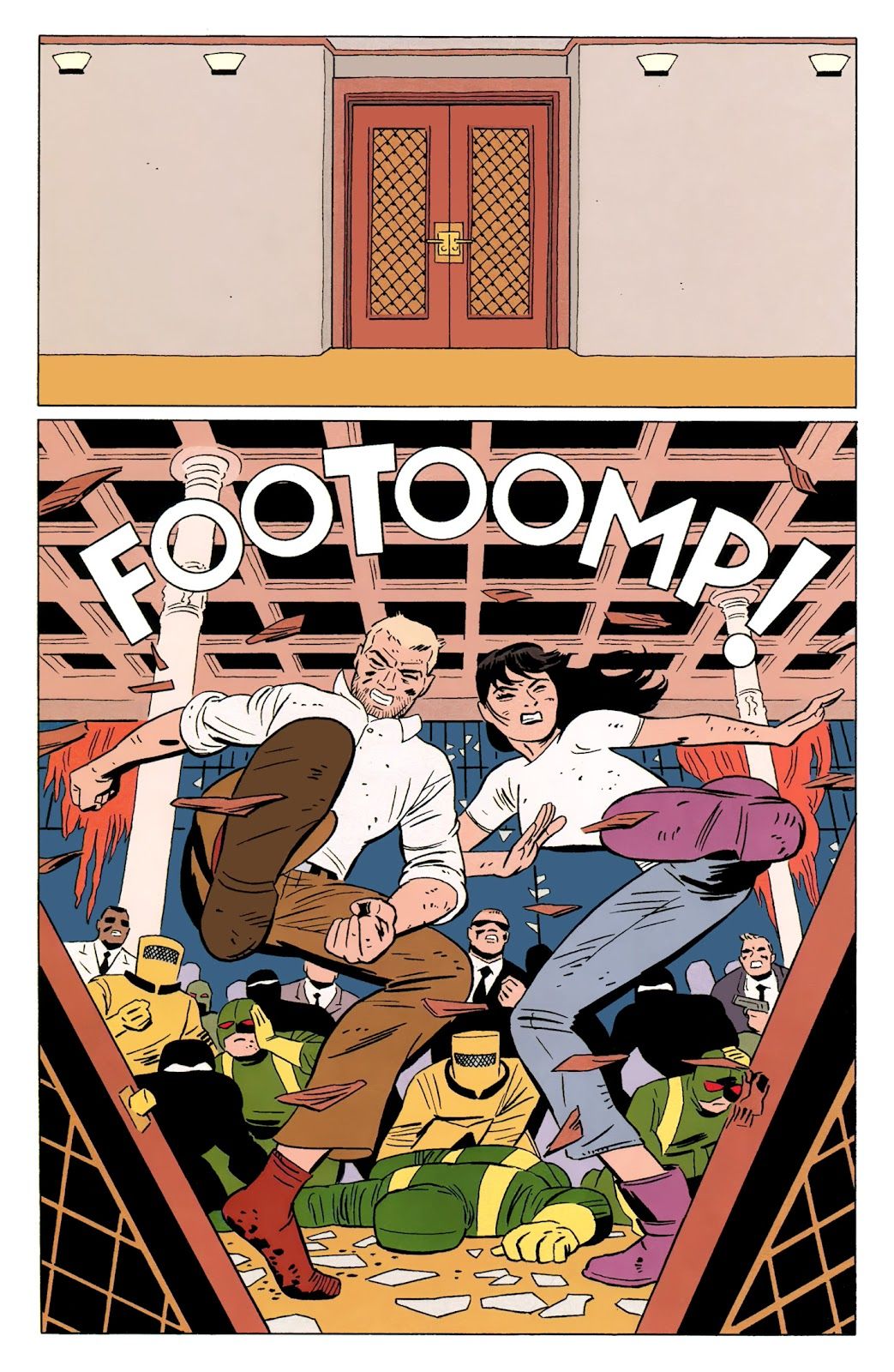 Awesome stuff, but it really isn't the vibe of the series overall, right? And yet, that's precisely the original pitch for the comic!
RELATED: What Classic Black Panther Story Was Originally Meant as a Crossover?
How was "The Tape" connected to the original Fraction take on Hawkeye?
In Brian Michael Bendis' 2014 book Words for Pictures: The Art and Business of Writing Comics and Graphic Novels, Fraction explained that those issues were actually his original pitch to Marvel when he was asked to pitch for a Hawkeye series. He explained that it…
ended up being published as issues 4 and 5. It's our first two-part storyline and is very different than the issues on either side: international travel, glamorous and exotic casinos, international cabals of evil. Clint-as-Bond, where he's in a tux more than a supersuit. Marvel said okay—remember, we just needed like nine of these—but I pulled out because it wasn't right. When I sat down to write it, it wasn't right, and I had to leave. I had a story, not a book, and so I stopped.
Fraction then took another approach to the series, and took inspiration from the classic TV series, The Rockford Files, starring James Garner as a brilliant, but a bit down-on-his-luck, private detective. The whole concept of Rockford is that he would eventually win the day, but not before getting knocked around a bit. He was the underdog that you could always root for, and so Fraction took that approach to Clint Barton, as well, and it obviously worked really well.
Hawkeye as a James Bond-esque spy adventure by Fraction and Aja would have been amazing, as well, no doubt about it, but I think we can all agree that the new approach to the character was much better, and that down-to-Earth take was what made the series really stand out in the comic book industry, and inspired a number of other great series over the years.
Thanks to Matt Fraction for the excellent information about the origins of the series.

Check out a Movie Legends Revealed!
In the latest Movie Legends Revealed – Did Karate Kid Part II open with a scene that was originally filmed for the ending of the original Karate Kid?
That's it for Comic Book Legends Revealed #912! See you next time! Be sure to check out my Entertainment Legends Revealed for more urban legends about the world of film and TV.
Feel free to send suggestions for future comic legends to me at either cronb01@aol.com or brianc@cbr.com.
on bbc news
on hindi news
on the news today
on channel 7 news
ôrf news
campo grande news ônibus
ôpera news
campo grande news greve de ônibus
l1 news horário dos ônibus
l1 news ônibus
lago azul news ônibus
news österreich
news österreich heute
news österreich aktuell
news öffentlicher dienst
news österreich corona
news öl
news österreich orf
news ö3
news österreich heute aktuell
news österreich sport
ö24 news
ölpreis news
öbb news
ösv news
österreich news krone
övp news
özil news
öffentlicher dienst news 2023
österreich promi news