I've been really excited to play Wargroove 2 because I liked the original game, but I wanted to love it. It was a blend of Advance Wars and early Fire Emblem games, a turn-based tactics affair that saw you spreading out across dinky grid-based maps, gathering resources, turning them into units and exploring the dense rock-paper-scissors potential of the various ensuing matchups. It was a loving and thoughtful thing, but it felt a little dry to me – a little too studious when it came to its inspirations.

That's just me, of course! Other more intelligent reviewers absolutely adored it. And as for me, I still want to adore it. So here comes Wargroove 2. It's another chance for me to fall in love. I've had a pretty generous demo build for a few days that I've been tinkering around with. So far I've had a brilliant time.

Wargroove 2 is an incremental sequel. New factions, new commanders, and new multi-tier Grooves, which was the original game's name for CO powers. But moment-to-moment there's lots to find familiar. You move about the map, factoring in the range of movement and the range of attack of each unit. There's fog of war – and night, now, which I believe is new. It's still about using the correct unit you have against the enemy unit it's most effective against, while making sure that you have resources coming in from your village that allow you to spit out new units faster than you lose old units.

The tutorial campaign was a lovely refresher in all this stuff, and also introduced the Faahri Republic, a mouse army that I've been controlling in the first main campaign. One of Wargroove's greatest ideas is critical hits, which are the chance to do extra damage with a unit if you deploy it in a certain way. Archers go critical if you fire them without moving them. One of my melee units went critical if I positioned it next to my hero. It was lovely to re-learn all this stuff which I had completely forgotten about, and discover afresh what felt like a secondary puzzle layer to every encounter. (A third layer, if you take into account the terrain puzzles each map represents.)

The main campaign itself has been a treat so far. It's been mice against wood folk, but while I like the Faahri's new commanders and their Grooves – one can fling enemy units around, another can chain electricity and the third gets a boost to movement, strength and defence – I'm mostly struck by the degree of freedom in the missions. A lot of levels start off with a choice of which units to begin with – do I want extra cavalry or extra pikemen, say – and most missions also include two or even three victory conditions to flit between. None of this stuff is wildly inventive, but it allows me to head out onto the battlefield and keep my options open.

Returning units have a lot of charm too. I'm particularly taken with the cavalry, which for the wood folk comes in the form of a bunch of sheep. Cavalry do massive damage if they can run at you over six tiles, which makes them absolutely terrifying. They had a brilliant weakness, though: pikemen take them down very quickly. As such they're less a glass canon and more a sort of battlefield poison, requiring careful deployment of antidote.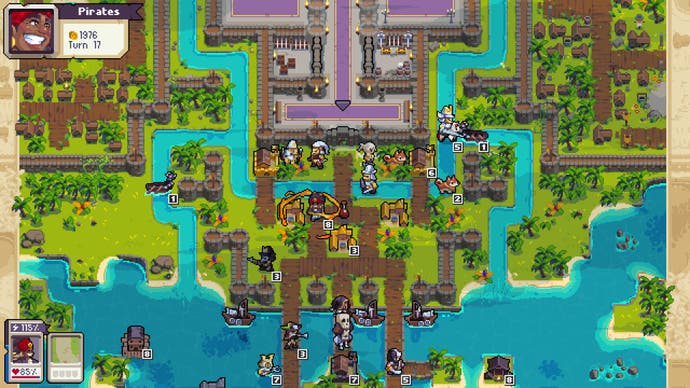 Mission design is brisk and fun too. The first mission is still probably my favourite: protect the HQ for nine turns, while enemies appear from all directions. I started slowly here, taking as many villages as I could, and then trying to anticipate enemy waves. By the end I was using units to block all movement on the HQ, a desperate maneuver to keep me alive for just one more turn.

It's here I first saw the new tiered Groove system too. Each hero unit can use its special attack when it reaches 100 percent on a gauge which is built up by your army doing good stuff – killing enemy units and taking villages, for example. But if you hold on and take it to 200 percent, you can unleash massive Groove attacks. I love this, because it's just the kind of feature I tend to forget about in the midst of battle, remembering only at the last minute and giving me that feeling of having just gotten away with stuff.

Elsewhere Wargroove 2 will have a new roguelike mode and an extensive new editor, and if the first game is anything to go by the campaign, with its three acts and interlocking stories, will be massive and generous. I liked the first Wargroove, but I think I may end up loving this one. Fingers crossed.


To see this content please enable targeting cookies.



on bbc news
on hindi news
on the news today
on channel 7 news
ôrf news
campo grande news ônibus
ôpera news
campo grande news greve de ônibus
l1 news horário dos ônibus
l1 news ônibus
lago azul news ônibus
news österreich
news österreich heute
news österreich aktuell
news öffentlicher dienst
news österreich corona
news öl
news österreich orf
news ö3
news österreich heute aktuell
news österreich sport
ö24 news
ölpreis news
öbb news
ösv news
österreich news krone
övp news
özil news
öffentlicher dienst news 2023
österreich promi news