Image Comics presents W0rldtr33 Vol 1. TP is a full-blooded horror comic for the digital age that weaves a tale of nightmare and apocalypse, waiting to be unleashed by secret internet architecture that lurks beneath the fabric of modern society. This trade paperback collects issues #1 to #5 of the smash-hit ongoing series W0rldtr33, which will resume next month with its next installment.
W0rldtr33 Vol 1. TP is written by James Tynion VI, a writer on an incredible streak of hit series, winning five Eisner Awards over the past three years and the highly coveted Award for Best Writer three consecutive years. Tynion got his start co-writing the DC series Talon with his mentor Scott Snyder, as well as writing for Marvel and BOOM! Studios, penning Death of Wolverine: The Logan Legacy and the three-part series Memetic, respectively. After Talon, Tynion became a central Batman writer, contributing hundreds of issues across Batman, Batman Eternal, Batman & Robin Eternal, Detective Comics, and other more limited runs between 2012 and 2021.
Within that time, Tynion also released several original series, including The Nice House on the Lake, Wynd, The Woods, and The Closet, which all received notable critical acclaim. His ongoing slate boasts writing Nightmare Country for DC, The Deviant, and The Department of Truth for Image, Something Is Killing The Children and its spin-off House of Slaughter for BOOM! Studios, Blue Book, co-writing The Oddly Pedestrian Life of Christopher Chaos for Dark Horse, and his ongoing collaborative horror magazine Razorblades.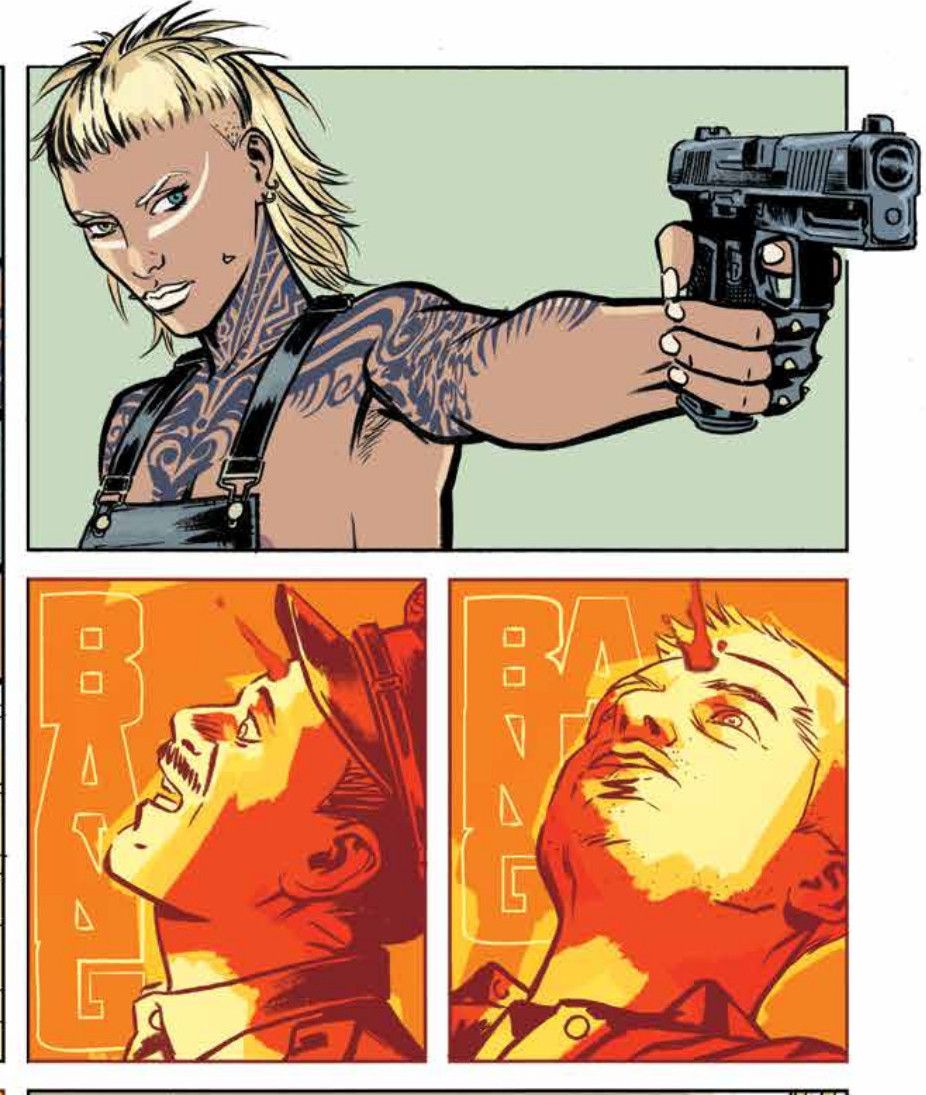 Fernando Blanco illustrates W0rldtr33 Vol 1. TP, with an illustrious career stretching back to the mid-nineties. Blanco worked extensively for Dark Horse in his early years, his breakout collaboration coming in 2007 with Marvel Zombies/Army of Darkness, a role he would reprise later with Marvel Zombies 5 and Marvel Zombies: Supreme. Blanco has since worked for DC on numerous series, including Catwoman, Manhunter, Midnighter and Apollo, and Batwoman. Blanco and Tynion collaborated closely while producing issues of Batman Eternal, Detective Comics, and Batman & Robin Eternal, symptomatic of this synergetic and interconnected creative team.
Jordie Bellaire is the colorist of W0rldtr33 Vol 1. TP, who originally worked with Tynion at a different stage in his Detective Comics run at DC, did all the coloring work for the award-winning The Nice House on the Lake. Bellaire has worked extensively across DC, contributing to flagship series like Wonder Woman, Batgirl, John Constantine: Hellblazer, and Catwoman, along with Blanco. She has been utilized with equal gusto by Marvel, her work appearing in Hawkeye, Black Widow, Deadpool, Magneto, and two separate runs of Moon Knight. Letters are by Aditya Bidikar, another consistent collaborator of Tynion's, whose letters appear in The Department of Truth, The Oddly Pedestrian Life of Christopher Chaos, Blue Book, and Wynd. Bidikar also worked with Bellaire on Detective Comics and John Constantine: Hellblazer, forming a close cohort within this creative team. His recent work includes Dan Mora's Batman/Superman: World's Finest, Batman Beyond: Neo-Year, and DC Pride 2023.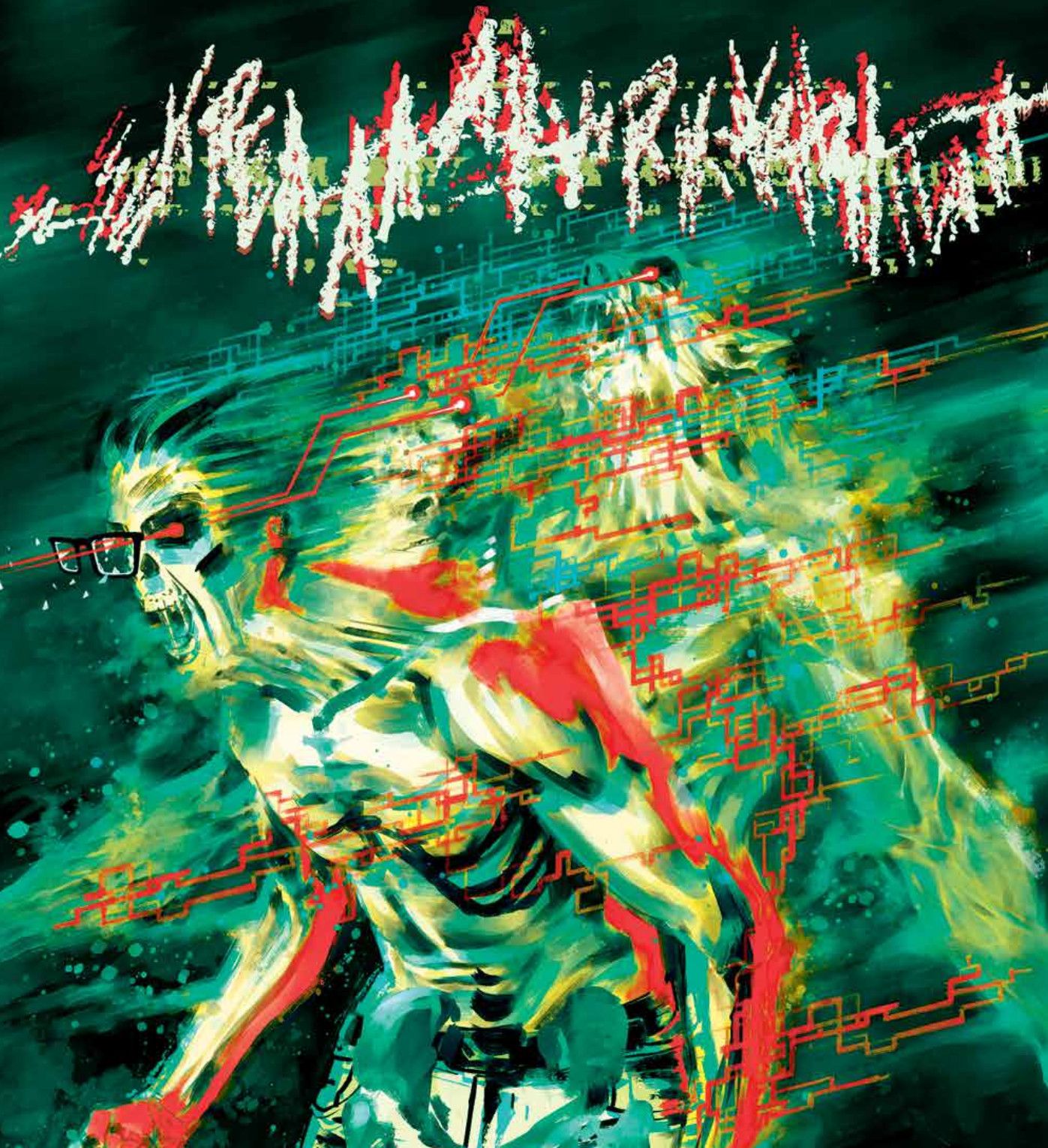 W0rldtr33 Vol 1. TP begins when a lonely but unassuming teenager, Gibson Lane, kills sixty of his neighbors in an unprecedented spree, all documented through livestreams. Elsewhere, a CEO reconvenes a group of former proto-hackers for the first time in twenty years. Ellison Lane is left to pick up the pieces of his younger brother's former life, thrusting him into a mysterious and dangerous orbit that revolves around the Undernet — and what lives there, just beneath the World Wide Web.
W0rldtr33 Vol 1. TP is somewhat Tynion in excelsis: complex, dark, queer, violent, and intriguing, with a characteristic veneer of esotericism. A writer earlier in their career could possibly conceive of W0rldtr33 on a conceptual level, but to pretend this story would be anything less than a car crash if undertaken by a less capable and experienced writer is utterly counterfactual. W0rldtr33 Vol 1. TP is chaotic, pretentious, gratuitous, and totally un-selfconscious — all qualities that make it a better book in the hands of a writer like Tynion, who unapologetically writes ambitious stories, knowing he has the skill and acumen to deliver on their operatic tones. W0rldtr33 Vol 1. TP demonstrates that the limits of his imagination remain unplumbed with a novel and exciting premise that captures a reader's curiosity with its audacity and barbarity. It is a taut and atypical thriller packed with violence and intrigue, populated with ideas of hacking culture, esoteric science fiction, and the internet age. Tynion excavates himself space to build new and interesting connections between the digital and the supernatural in W0rldtr33 Vol 1. TP, giving form and breath to a new subgenre of cyber-occultism. The central conceit of W0rldtr33 is a fascinating adaptation of the idea of a computer virus sublimated into the physical world that feels intuitive and a little obvious but absolutely under-utilized in the modern horror landscape. There is some interesting work being done at the thematic level as well, this first volume sketching the beginning of a meaningful meditation on online shock culture, tapping into the commonalities of a world where everyone is a child of the internet by some extension.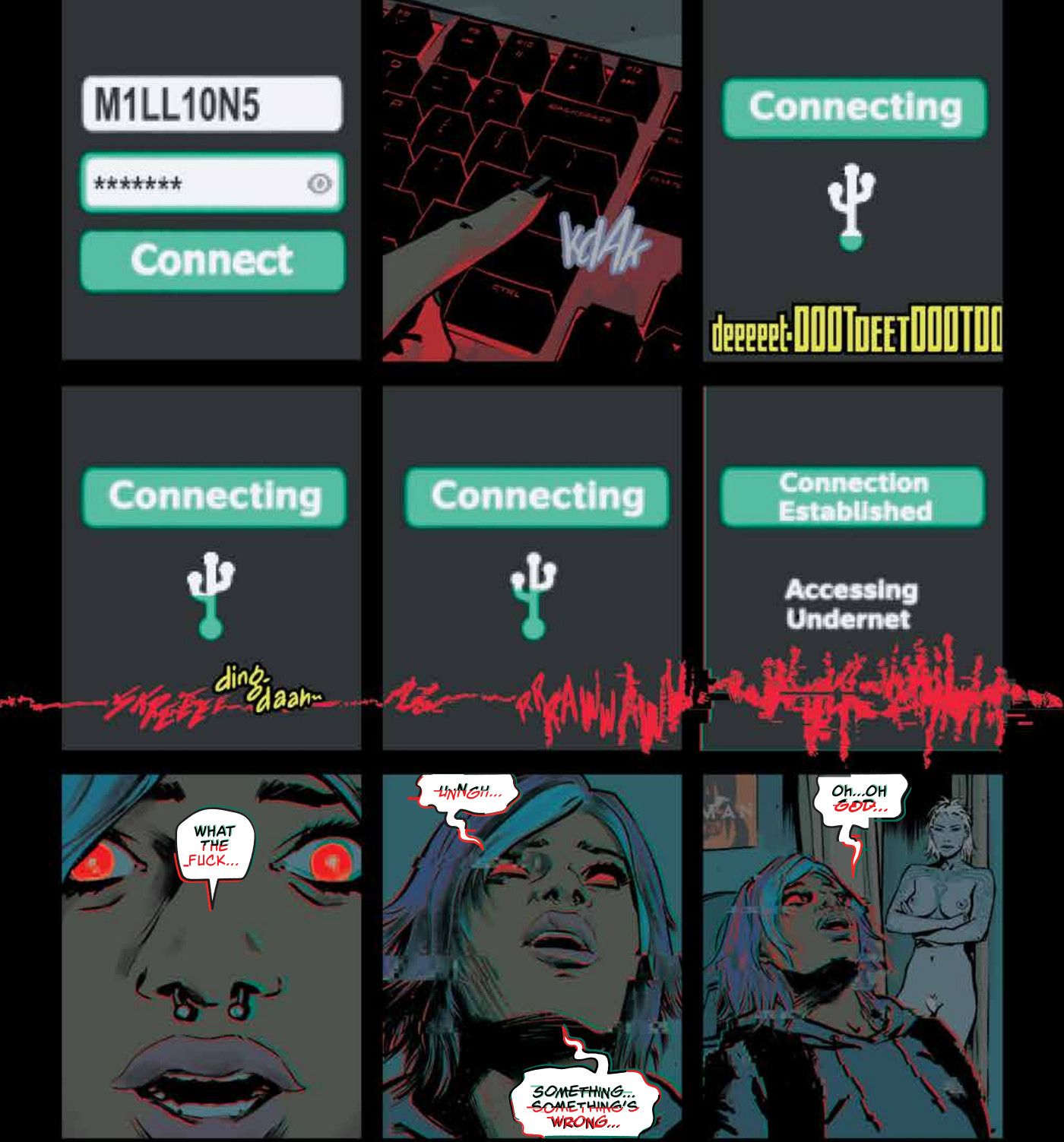 RELATED: Image Comics Gives James Tynion IV's W0rldtr33 Another Reprint
W0rldtr33 Vol 1. TP flourishes on a macro-level, its own scope and ambition giving it plenty to play with conceptually and thematically, but its real joy is to be found in the microcosms. Tynion writes fantastic dialogue, naturalistic and fluid, that incisively creates individual voices in the narrative through vocabulary, tone, and rhythm. He also finds massive economy in using dialogue to do the lion's share of exposition, striking a careful balance between advancing the plot and keeping the dialogue feeling organic and plausible. Much of the work done in introducing and developing characters is also enfolded in their dialogue, building well-defined personalities with thoughtful nuances and meaningful flaws. Tynion runs the gauntlet of human emotions in this first volume — packing in moments of stunning human tenderness amongst unspeakable horror and brutality. W0rldtr33 Vol 1. TP is an astonishingly well-structured comic, moving effortlessly through space and time to tell a story through disparate elements that only build the intrigue and mystery at the heart of the narrative. The gradual construction of the cast and timeline creates the feeling of a vast, interconnected world of characters, all with individual and conflicting agendas. The plot twist in the 11th hour is powerful and unexpected, pulling off a jaw-dropping surprise that doesn't feel contrived or far-fetched due to subtle narrative groundwork and Tynion's impeccable sense of timing.
Blanco's beautiful and haunting illustration massively elevates W0rldtr33 Vol 1. TP, imbuing the book with enough worldly mystique to deliver its more abstract and hypnagogic elements. Blanco intersperses a soft, naturalistic style with neon surrealism, constantly oscillating along the spectrum between flowing, lineless forms and harshly inked geometry. The art closely tracks the material of the text, moving into a lighter style to catalog the vulnerability of humans and a harsher, heavier, pixelated style that speaks to the impassiveness of technology. Constantly shifting and ebbing, the art is as mercurial and impossible to predict as the writing, keeping the reader on perpetually fluctuating ground and creating exponential levels of tension. Blanco delivers some great character design, keeping each individual figure feeling distinctive, interesting, and novel, packing a little insight into their personality within every visual choice. Their depictions are hyper-expressive, with lots of excellent decisions made in terms of poses and pivotal tableaus, protracting the climactic writing choices with stunningly emotive characters that carry and hold the imagination in their raw animacy.
Blanco also delivers some gorgeous backgrounds, sweeping cities, and shattered skylines, with a real sense of depth unlocked by their incredible level of detail. The most impressive work of W0rldtr33 Vol 1. TP is undoubtedly his full-page panels depicting the Undernet, enormous and intricate horror tableaus filled with obscure imagery and symbolism. Undoubtedly some of the most intense and mind-melting visuals of the year, Blanco smashes together expressionist figure drawings with corrupting digital static, like a classic Iron Maiden cover being ripped through by a virus. Inventive, visceral, and disturbing, this is undoubtedly some of Blanco's finest work to date.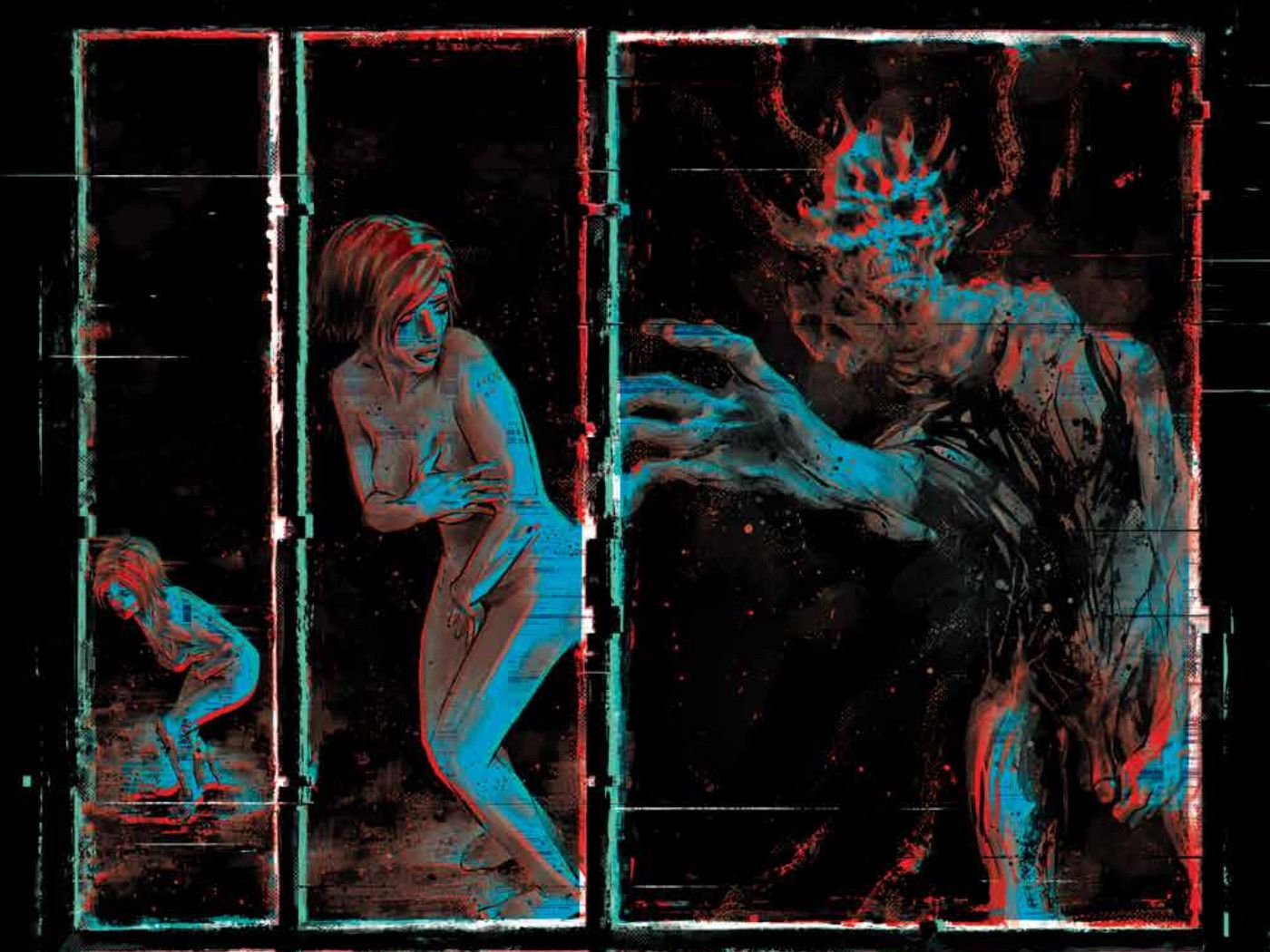 The colors of W0rldtr33 Vol 1. TP is gorgeously varied and vivid. Bellaire demonstrates her incredible skills across soft, watery hues and viciously stark pigments. She always keeps abreast of the shifting art style and imbues each scene with emotional overtones that track from nostalgia to pure terror. There is a great understanding of natural and synthetic light at work, drawing out a sense of perspective and distance at some moments and making places feel cramped and eerie at others. Bellaire often incorporates surreal washes across scenes, giving sequences a oneiric quality that heightens their emotional resonance. In other instances, high-impact, non-naturalistic pallets are used across limited panels, creating huge visual drama to complement climactic or violent story beats.
Bidikar's letters are strong throughout W0rldtr33 Vol 1. TP, with a few extra bits of flair that really elevate his work. The use of variable font sizes for volume emphasizes climactic moments and conflicts. Similarly, good judgment is demonstrated by Bidikar's exceptional use of emboldening and italicization, really drawing the rhythm and personality out of the dialogue. Employing differently colored speech bubbles for the few flashbacks to the past is a nice additional touch that amplifies the rose-tinted glow of the golden days, echoing the slant of the art and colors. The use of different fonts is also really affecting — PH34R being the only character to speak in lower caps is really impactful and profoundly creepy.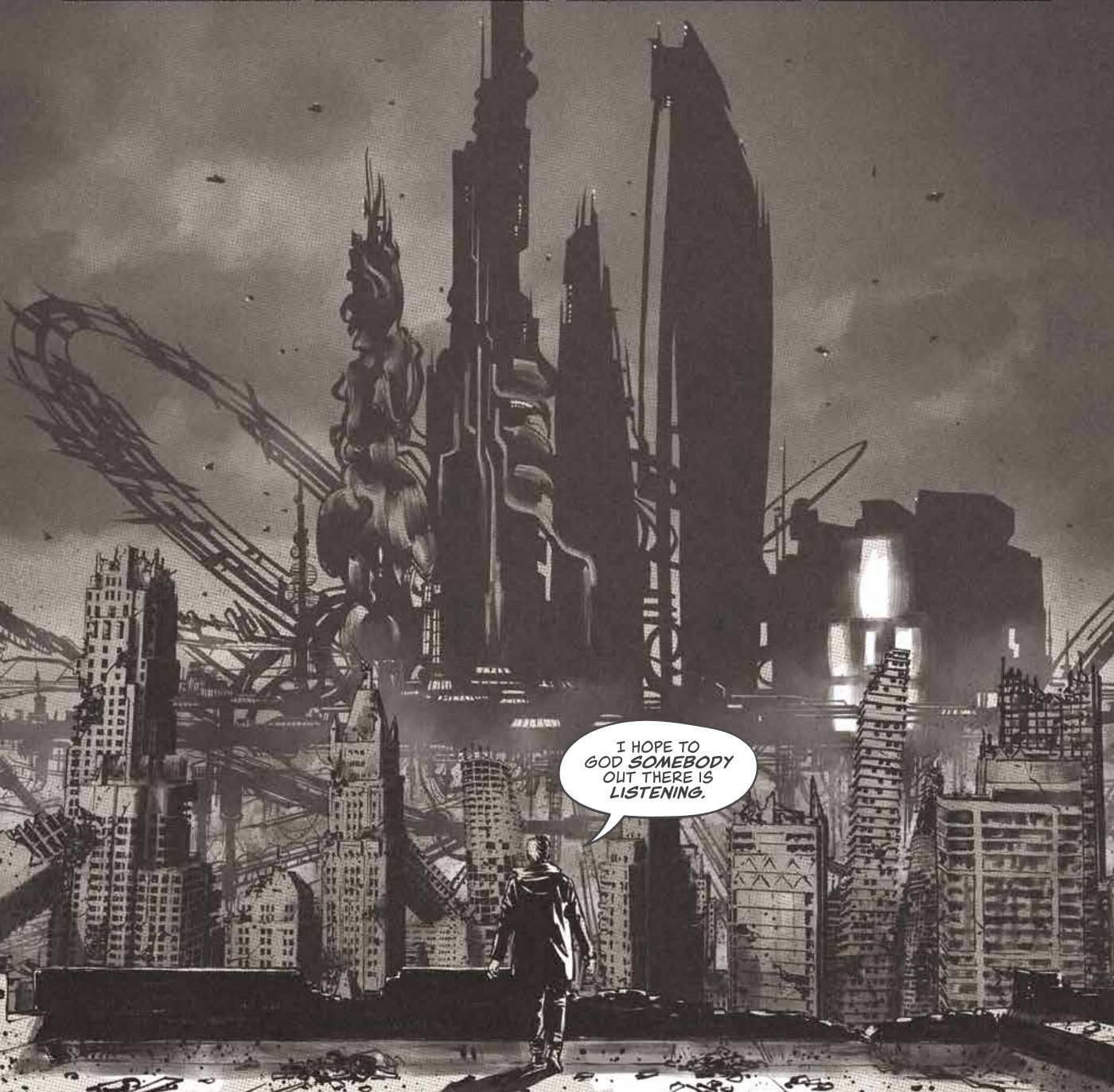 W0rldtr33 Vol 1. TP is a rare project: dizzyingly ambitious, expertly constructed, outrageously audacious at every turn. It feels like the kind of comic that can only be pulled off by a well-acquainted creative team at the height of their powers, firing on every cylinder in terms of vision and execution, pushing each other to new imaginative heights. W0rldtr33 Vol 1. TP offers an excellent onboarding point for new fans to get acquainted with the story as it currently stands before the series continues in earnest next year. A new frontier in the world of comic book horror, its impact as both a groundbreakingly disturbing book and testament to the talent of its creators can be accurately summarized by Brian K. Vaughan's back cover blurb: "Dear god, James."
on bbc news
on hindi news
on the news today
on channel 7 news
ôrf news
campo grande news ônibus
ôpera news
campo grande news greve de ônibus
l1 news horário dos ônibus
l1 news ônibus
lago azul news ônibus
news österreich
news österreich heute
news österreich aktuell
news öffentlicher dienst
news österreich corona
news öl
news österreich orf
news ö3
news österreich heute aktuell
news österreich sport
ö24 news
ölpreis news
öbb news
ösv news
österreich news krone
övp news
özil news
öffentlicher dienst news 2023
österreich promi news