I am currently juggling two playthroughs of Starfield with very different aims. While Sayer the Space Scoundrel is having trouble getting around as they engage with the main story, I have started another character to engage in some nonsense (to the extent that there is any in Starfield) – the first of such I've detailed here.
I've said it before, but you're my very best friend, so we're going to play Starfield together. Join me as we step, wobbly and uncertain like Bambi on ice, into Bethesda's huge and partially procedurally generated space RPG universe for the adventures of Turbo Eclipse (I used an astronaut name generator intended for a child's party), a spacefaring nerd who longs only for the thrill of science. Yes, we're going to visit every planet in Starfield. Or at least as many as possible before I lose every single one of my marbles. And hey, planets look kinda like marbles! Strap in, spacefarers. Let's put this proc gen through its paces.
Here are the rules for Turbo Eclipse's quest:
I must land on any planet (or moon) that I can
In the case of story-centric planets with cities, I must land at least once on a non-authored area
I must survey at least one animal on every planet that sustains life
I must survey at least one plant on every planet that sustaints life
I must visit at least one Point Of Interest on every planet
I'm not doing space stations as well, be serious, they don't count
Let's be honest, fellow space coves: we're probably not going to visit every planet. But we can do a bunch of them, and get a real sampler of Bethesda space flavour. But there are some things to know. First, is that your robot friend Vasco will say your captain's name if it's something like Ripley or Smith or Kirk. 'Eclipse' wasn't accounted for, so we don't get that human touch. The second is that we're going to become intimately familiar with the loading screens – and those loading screens will sometimes be pictures that you took in the camera mode, which is kind of sweeet. Third, is that you probably won't see all of the same things as me, as a lot of the planets are procedurally generated. But you will see some of the same things as me. I've only done one star system so far and I've already seen some of the same things as my other playthrough with Sayer, as assets for flora and fauna are reused but given some slight tweaks…
Nevertheless, I was pleasantly surprised! Our journey begins in the Narion System, where you begin the game on a moon called Vectera. After some fannying about having to do the actual quest so I got full access to fast travel, Turbo Eclipse heened it back to Narion to tick off all the planets there.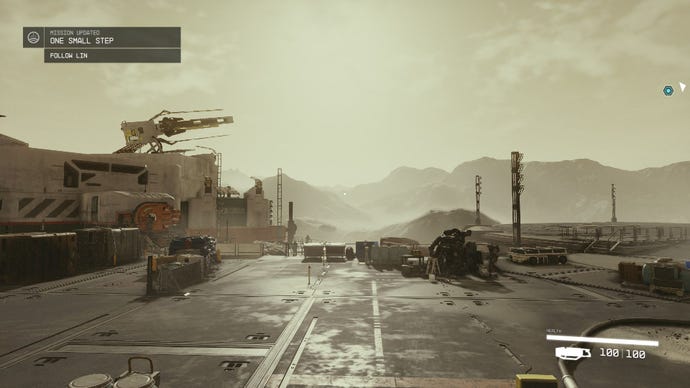 The majority of the planets are grey, varying to green and brown. We were prepared for this. Barren planets and moons also usually have points of interest that are called something like Deserted Relay Station – I saw a repeat of one of them within the Narion system today. To the extent that I have committed to the role, I am relieved, because they take way less time to explore. Planets that support life require me to run about scanning a lot more. Pro tip: I have discovered that animals will spawn in near your ship, so if you walk a bit and then fast travel back to it there'll be some new alien horseshoe crabs to look at.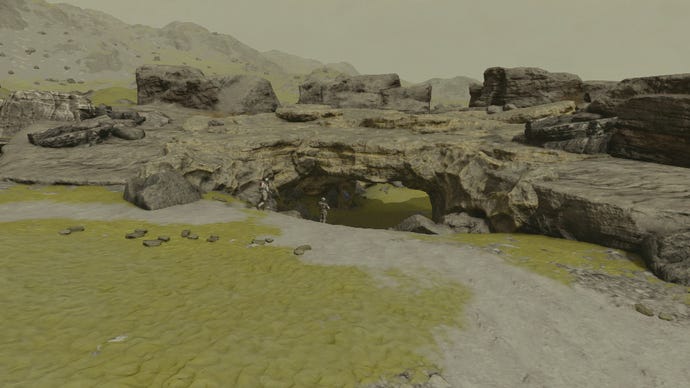 You quickly discover that plants are either tall, medium height, short, or ground cover, with sub-categories of 'bushy' or 'thin' within this. You'll start seeing repeated shapes fairly early on, but they have different colours or will be suited to arid or cold climates, for example. There'll usually be a ground-scuttler and a big crab-like thing. Many of the lifeless, oxygen-starved planets remind me of home (Swindon).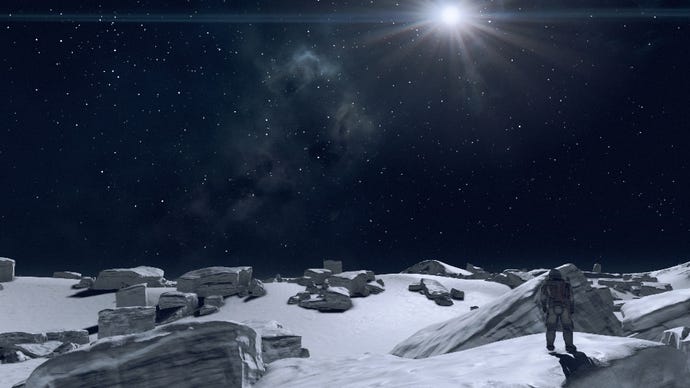 Planets that support abundant life are rare, but they have more to them than I expected. Jemison isn't in the Narion system, but it's the planet New Atlantis is on – the first big city you go to. I expect that Bethesda knew it'd be a planet people would explore, just for handiness, and so outside the city it has a few different biomes, and also terrifying giant birds. It makes sense that they'd make Jemison a nice planet, and it's not a bad place for a hike. There were rose bushes, even. Which when you think about it is a bit weird, but nevermind.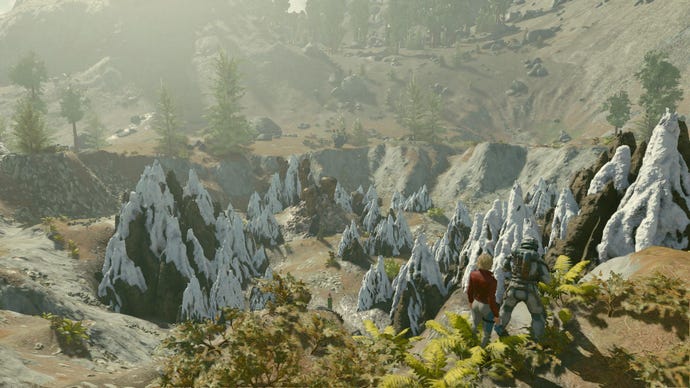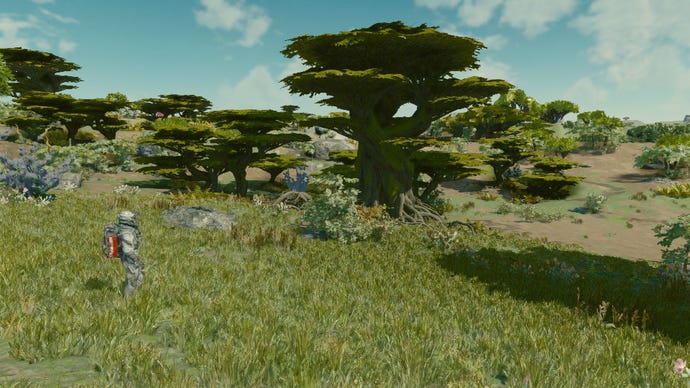 Points of interest are shown when you have your scanner up (FYI, you will have your scanner open almost constantly when you're playing, even if you're not doing something silly like trying to visit every planet). They're usually caves or semi-abandoned buildings with some enemies wandering about. Sometimes though, you'll find a weird geographical feature. Above you can see one with loads of weird white and brown rock formations. There was a wounded scientist in it and he asked me to help him back to his ship. I haven't gone to it though. I may have just kidnapped him.
Sumati, which was a yellow desert planet with red trees, had a bunch of angry giant crabs, and also a grove of hallucinogenic fungus things. I know they're hallucinogenic because a tooltip told me that they're mind-altering. That this interaction did not go beyond being told they're mind-altering was disappointing, and kind of typical of Starfield's larger problems, to be honest.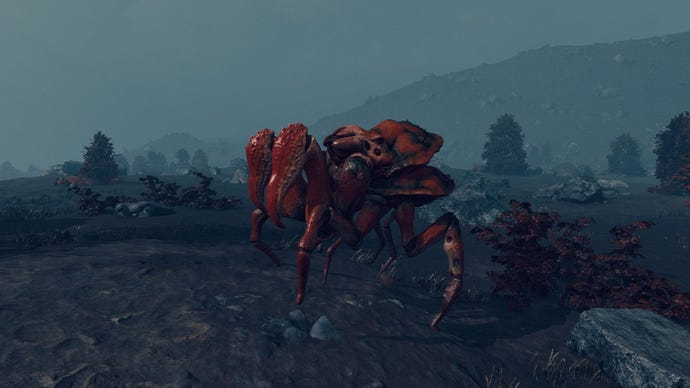 The last planet I visited in the Narion system was Grimsey, a volcanic moon orbiting a gas giant (you can't touch down on gas giants, but they're pretty). It was a cool moon! But also you can see here that sometimes the skyboxes, nice though they are, really look a lot like skyboxes…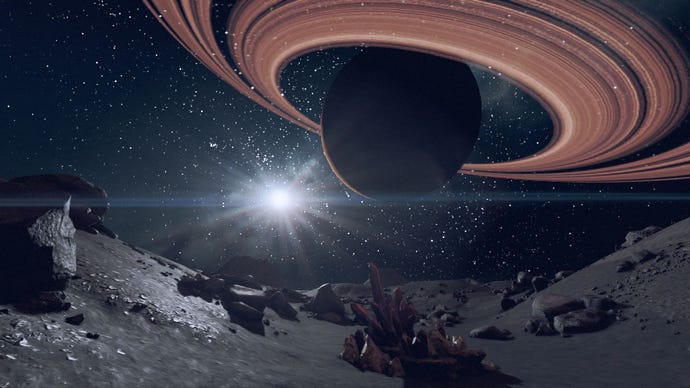 Exploration is more profitable than I realised – I'm Level 7 already – but also more dangerous. I got a cough from sustaining lung damage from toxic gas vents, and will need a sturdier spacesuit, because there are a lot of heat extremes and radiation that go along with exploring, it turns out. At some point I'm going to need to make some money to buy a better spaceship, because the Frontier is frankly pretty useless, and you should trade up as soon as possible.
But this is only Turbo Eclipse's first day. There are many worlds to conquer and civilians to kidnap, and I'm genuinely looking forward to testing this planet generation to snapping point. Which is more of a destination rather than journey outlook, when I think you're supposed to approach life with the opposite mindset. Onward!

on bbc news
on hindi news
on the news today
on channel 7 news
ôrf news
campo grande news ônibus
ôpera news
campo grande news greve de ônibus
l1 news horário dos ônibus
l1 news ônibus
lago azul news ônibus
news österreich
news österreich heute
news österreich aktuell
news öffentlicher dienst
news österreich corona
news öl
news österreich orf
news ö3
news österreich heute aktuell
news österreich sport
ö24 news
ölpreis news
öbb news
ösv news
österreich news krone
övp news
özil news
öffentlicher dienst news 2023
österreich promi news