With way too many to choose from, let's take a look at ten of the cutest and most wholesome couples in the anime world!
Disclaimer: There will be spoilers!
10) Ryuuji Takasu and Taiga Aizawa
Starting off we have Ryuuji and Taiga from Toradora! Taiga's feistiness combined with Ryuuji's complacency made them complete opposites, but as they say – opposites attract. When Taiga was first introduced at the start of the series, she seemed like a girl who had little to no interest in dating. But as we saw, she developed feelings for Ryuuji and they ended the series as a certified couple.
9) Tohru Honda and Kyo Souma
Amidst a tale spun with zodiac curses and family complexities, Tohru Honda and Kyo Sohma's relationship stands as one of the most poignant elements of Fruits Basket. Initially, Kyo is an outsider, even within the cursed Sohma clan, due to his association with the Cat zodiac – a sign not officially part of the zodiac but deeply rooted in the Sohma family's curse. Tohru, an outsider to the Sohma family secrets but an insider to human compassion, finds herself drawn to Kyo's rawness and vulnerability. As the series progresses, their bond deepens, moving past their initial hesitations and the barriers set by the Sohma family curse.
8) Loid and Yor Forger
While it's far from the most truthful relationship on this list, Loid and Yor still look really good together. Their allied front when raising Anya is a great dynamic – although they're technically using each other for personal gain, they come together as a great mother and father.
7) Jirou Yakuin and Akari Watanabe
These two hail from the romcom More Than A Married Couple, But Not Lovers. Akari being super popular and Jirou being an introvert, much like Ryuuji ad Taiga these two are complete opposites. To begin with, Akari belittled Jirou and wished to be paired with someone else for the marriage project, but as the series progressed she began to develop feelings for Jirou.
6) Sakuta Azusagawa and Mai Sakurajima
In terms of realism, these two are one of the best couples. After seeing Mai wearing her bunny outfit in the library, Sakuta became interested in her and wanted to know more about her. Over time, Mai began to reciprocate Sakuta's feelings, even going as far as to say "You know Sakuta, It's likely that I'm more in love with you than you think". The two share a meaningful relationship and it's really nice to watch it blossom towards the end of the series.
5) Naruto Uzumaki and Hinata Hyuga
Let's take a step away from the romance anime scene for a moment and talk about a couple from a shonen anime. Hinata always had a crush on Naruto due to his kindness and compassionate nature, but Naruto never seemed to pay any notice to her. Instead, he would chase after Sakura as an attempt to one-up Sasuke and claim Sakura's love. As we know, Sakura had no romantic interest in Naruto, which he most likely knew all along. In Naruto: The Last movie, Naruto came to a realisation about the way that Hinata felt about him and reciprocated her feelings. His obliviousness throughout the majority of the series make this relationship a little different to the others on this list, but at least he realised how Hinata felt eventually. They even went on to marry and have two children – Boruto and Himawari.
4) Miyuki Shirogane and Kaguya Shinomiya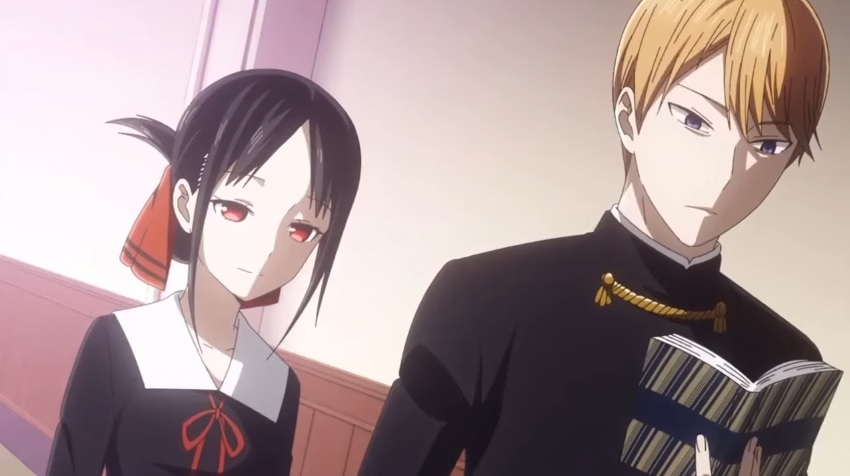 Okay – time for some more romance anime. Although they only officially started dating at the end of the third season, the playful antics and mind games that these two played with each other throughout the series was so fun to watch. Love really was war to these two, and neither wanted to lose. Watching them finally stop beating around the bush and confess to each other was just what we needed after three full seasons of messing around.
3) Jun'ichiro Kubota and Tomo Aizawa
The recently aired "Tomo-chan is a girl" gave us one of the best anime relationships of 2023 thus far. Jun and Tomo are childhood friends, we know how that usually ends in anime – luckily not this time. The ending to this anime is soooo wholesome, for that reason alone this anime is worth checking out. As each episode goes by, Jun becomes more and more aware of his true feelings for Tomo, witnessing the transformation from friends to romantic partners was really nice.
2) Hiro and Zero Two
Zero Two might not have the friendliest personality, but once you understand why she's so cold it makes so much more sense. Zero Two's desperation to be reunited with the one who saved her as a child shows in the way that she interacts with literally everyone. Little did she know that the very person that she's looking for is one of the many people she has mistreated, but upon this realisation her entire persona switched. She showed nothing but pure love for Hiro, and vice versa. Hiro and Zero Two's relationship is a great representation of what a really deep love looks like.
1) Izumi Miyamura and Kyoko Hori
Another one with a massive sense of realism, Miyamura and Hori's relationship is so much fun to watch. Hori and Miyamura are third year seniors who have a hidden side away from college. After a fateful encounter they bond with each other and begin to develop feelings. If you've seen Horimiya, you'll appreciate how interesting it is that one chance meeting can have such a big impact on your life going forwards.
Conclusion
There's so many more, so feel free to leave a comment below about who we missed! And while you're here, check out our other posts at LAN. We cover everything anime related and are always doing our best to bring you the latest news and episode reviews! Today our recommendations are: 16bit Sensation: Another Layer Unveils Teaser Visual & Main Cast Members, My Instant Death Ability is So Overpowered Reveals Teaser PV & Release Date and Top 10 Most Iconic Anime Outfits: Making A Fashionable Statement.
on bbc news
on hindi news
on the news today
on channel 7 news
ôrf news
campo grande news ônibus
ôpera news
campo grande news greve de ônibus
l1 news horário dos ônibus
l1 news ônibus
lago azul news ônibus
news österreich
news österreich heute
news österreich aktuell
news öffentlicher dienst
news österreich corona
news öl
news österreich orf
news ö3
news österreich heute aktuell
news österreich sport
ö24 news
ölpreis news
öbb news
ösv news
österreich news krone
övp news
özil news
öffentlicher dienst news 2023
österreich promi news