Attack On Titan is without a doubt one of the biggest and most talked about anime of the 2010s, and for good reason. Today, let's go over five of the greatest scenes from this cinematic masterpiece.
5) Levi and Kenny
Starting off we have the famous "KENNY!!!" scene and the battle that followed it. The animation during Levi's escape from Kenny's troops was some of the best that we've ever seen in WIT's Attack On Titan. Levi's backstory with Kenny lifts this scene even higher. Understanding the pair's dynamic and Levi's relationship with Kenny is just what we needed to add another layer of depth to this scene. When you mix the fluidity of the animation with the sheer intensity of the chase, this scene is sure to make any top five.
4) Eren Breaks The Chains
One of the best demonstrations of voice acting in the entire series (and perhaps in any anime), Yuki Kaji gave it his all as Eren broke the chains in the paths. This scene really solidified how much Eren wanted to reach his goals. Despite betraying his own brother in the process, Eren managed to break the chains at the cost of severely damaging his hand and made it over to Ymir, the founder. The bone chilling scream of both agony and desperation is not only really impressive, but also undoubtedly one of the best scenes in the entirety of Attack On Titan.
3) Erwin's Charge
Even if you haven't seen Attack On Titan, you've probably heard Erwin's famous last words: "My soldiers scream! My soldiers rage! My soldiers fight!!!" as he led the remainder of his troops into certain death. Despite losing a great character and an even better leader, Erwin went out like a true soldier of the walls and gave his life attempting to buy Levi some time to take the Beast Titan down. This leads us perfectly into our next entry.
2) Levi Topples The Beast Titan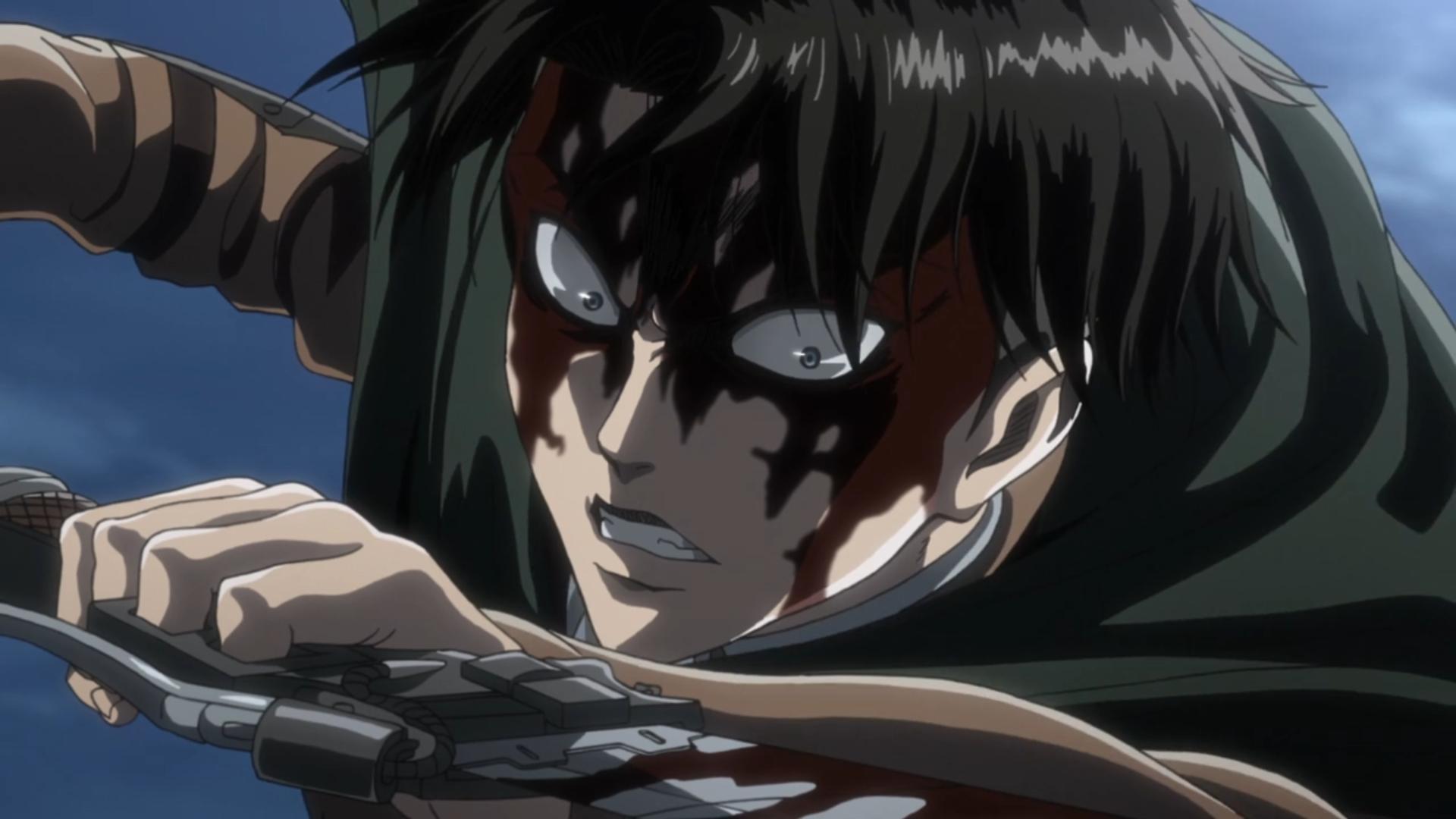 One of the most intense, nail biting scenes of the entire series, Levi watches as his friends and comrades are gruesomely torn apart by the Beast Titan's flying high-speed boulders with a look of vengeance in his eyes. With payback in mind, Levi mercilessly sliced through the other titans surrounding the Beast and made his way to his target. Zeke, being confident in his form as the Beast Titan, retaliated and attempted to kill Levi to no avail. As we saw, this was not a battle – it was a butchering. Watching Levi take out the Beast's legs to immobilise it and its eyes to remove its sight was one thing, but the best was yet to come.
Now laying face down on the ground, Zeke knew he was done for. The combination of the music reaching its peak intensity and Levi ruthlessly slashing away at the Beast's nape was beyond incredible – all Zeke could do was scream. Every slash of the blade was like redemption for the fallen soldiers that Zeke previously took the lives of, and Levi dishes out plenty of slashes. This fight gave way to one of the greatest rivalries in the series, as Levi and Zeke would face off many more times after this. Let's hope Levi can end things once and for all in the upcoming third part of the final season!
1) Reiner and Bertholdt's Betrayal
Fans of the series will have no surprise here, as Reiner and Bertholdt's betrayal makes the number one spot. To see two beloved characters be connected to the greatest tragedy of the series at that point was pretty heartbreaking. Eren's inability to process the information and Mikasa's quick thinking is a great parallel. While Eren was still in disbelief, Mikasa acted with haste – cutting Reiner's arm off and slicing Bertholdt's neck. As we saw though, it wasn't quite enough – the pair transformed into their titan forms, revealing the monsters that broke down the walls all those years prior and took the lives of so many innocent people. Then there's the music – the iconic track "YouSeeBIGGIRL" provided the perfect atmosphere for such a pivotal moment in the series.
Honorable Mention: Bertholdt's Demise
Did he deserve it? Did he not? Let's put that aside for a moment to analyse this scene. Up until the prior season, Bertholdt had been a close friend and comrade of everyone who was there to witness his death. Sure, he was partly responsible for the destruction of the walls and the deaths of many (including Eren's mother), but after getting to know more about Bertholdt, Reiner and Annie's circumstances you can't help but feel at least a little sorry for him going out in such a brutal way. In his final moments he was alone, far from home, and without the two people (minus Marcel) who accompanied him to this foreign land – It's really quite tragic.
Conclusion
There you have it! A look back on some of Attack On Titan's greatest moments. We're sure there's many more, so leave your favourite scene down below if we missed it!
And while you're here, check out our other posts at LAN. We cover everything anime related and are always doing our best to bring you the latest news and episode reviews! Today our recommendations are: 16bit Sensation: Another Layer Unveils Teaser Visual & Main Cast Members, My Instant Death Ability is So Overpowered Reveals Teaser PV & Release Date and Top 10 Most Iconic Anime Outfits: Making A Fashionable Statement.
on bbc news
on hindi news
on the news today
on channel 7 news
ôrf news
campo grande news ônibus
ôpera news
campo grande news greve de ônibus
l1 news horário dos ônibus
l1 news ônibus
lago azul news ônibus
news österreich
news österreich heute
news österreich aktuell
news öffentlicher dienst
news österreich corona
news öl
news österreich orf
news ö3
news österreich heute aktuell
news österreich sport
ö24 news
ölpreis news
öbb news
ösv news
österreich news krone
övp news
özil news
öffentlicher dienst news 2023
österreich promi news