F1 cars are gorgeous, icons of engineering that look as good sitting still as they do roaring down a track at 200 miles per hour. But one of the most beguiling components is one that you only get a good look at when you're in the cockpit – the steering wheel. Crafted from carbon fibre, packed with controls and with a full colour screen in the centre pumping out information on brake bias, sector times and engine modes, these steering wheels are beautiful pieces of kit in their own right – even if F1 drivers occasionally toss them out of the cockpit in anger after spinning off into a gravel trap.
One of the most famous steering wheels in F1 comes from Ferrari's stables, that of the 2020-spec SF1000, and it's this one that forms the basis of Thrustmaster's special T818 Ferrari SF1000 simulator that I've been testing for the past few weeks. It's the ultimate racing setup for Ferrari fans, with the prancing horse logo emblazoned on the centre of the carbon fibre steering wheel and 'Rosso Corsa' – Italian racing red – panels on the T818 10Nm wheel base.
At £940/$1099, it's hardly in impulse buy territory, but if you want a high-end direct drive wheel for playing the Formula 1 games and other PC racing titles, this certainly fits the bill. After several weeks of testing the wheel, base and Thrustmaster's T-LCM pedals, I've got to say I'm impressed – but before committing to a purchase of this magnitude you should know what you're getting yourself into.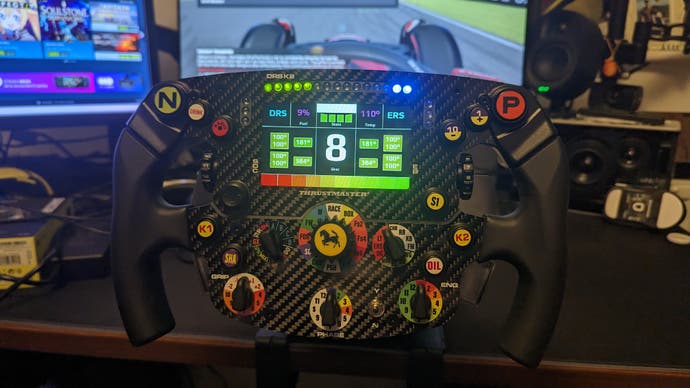 Fast-forwarding through the install process for a moment, turning on the SF1000 wheel and having it spring to life is a magical moment. It feels incredible having a full-size F1 wheel in your hands, with the advanced materials producing something that feels both easy to maneouvre and reassuringly dense in the hand. The screen in the centre provides a read-out from supported games like F1 23, while the well-spaced buttons and dials are easy to press even while wearing racing gloves.
Despite being a PC-focused peripheral though, you'll find no helpful simplified icons or numbered labels on each of the 25 buttons – just proper accurate descriptions like DRINK or RADIO. That's great for immersion and style, but perhaps not ideal when F1 23 prompts you to press button 15 and you've got to work out which one is button 15 by pressing them all in sequence. Similarly, the 4.3-inch LCD display in the centre of the wheel can be set up to show a huge amount of information, but adjusting how that information is displayed requires twiddling dials that on a race car would be doing completely different things. There is at least a carefully concealed joystick on the left side, letting you navigate the menus – as long as you can remember that it's button 5 to go forward and button 6 to go back, which I belive are labelled as "1+" and "10-" respectively. It's not exactly the most intuitive experience.
Get to grips with the buttons though, and this wheel comes into its own. Being able to hook your thumbs into the wheel, as F1 drivers do, makes a huge diffence to the amount of force feedback you can endure – and that extra detail provides vital information on how the car is gripping the race track (or not), whether you're on a kerb and generally whether it's safe to put the power down.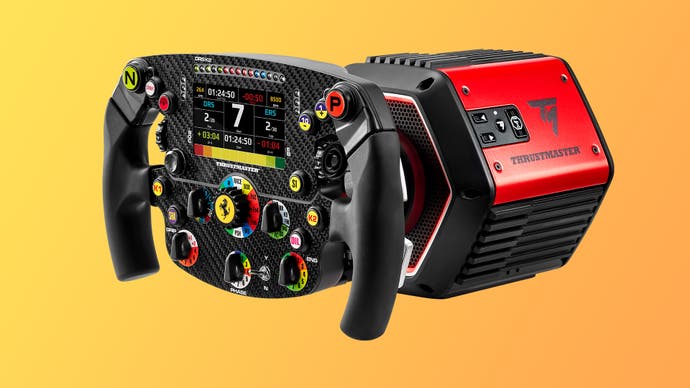 There's up to 10NM of torque here, which is easily enough to wrest the wheel out of the grip of an inexperienced racer, but happily it comes on a milder setting by default and can be tuned up accordingly. The chunky rear shifters feel great too, although I almost prefer the lighter click of the Fanatec DD Pro wheel. Intriguingly, there are also a pair of analogue paddles here, which could be used for a number of things, including braking and accelerating for folks without sufficient foot mobility.
The display can be handy to reference when you have a moment on the straights – although the LEDs at the top and sides of the wheel that indicate your revs and course conditions (eg yellow flags and safety cars) are more consistently useful throughout the course of a lap. You can adjust the display through turning some of the lower knobs too, with an almost overwhelming range of information and different presentation styles available.
Tuning the wheel is largely done through PC software, which allow you to adjust the force feedback, rebind buttons and so on. There's also a firmware update option, which feels a little overly complicated compared to your standard mouse or keyboard, but is sadly a bit more typical for racing wheels. There is an emergency cutout button on the base itself, but otherwise you'll largely be using the display and software to adjust things.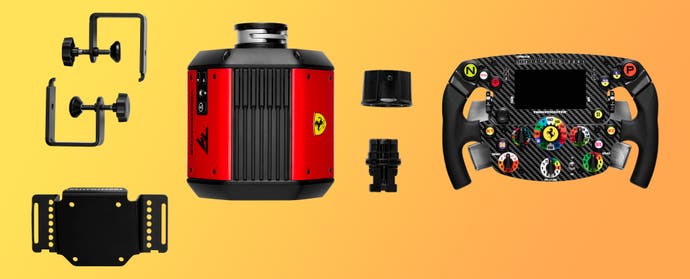 The wheel comes with a quick release adapter, allowing you to swap in different rims at speed without worrying about bending the contact pins, but the adapter itself lodges into the wheel so firmly that I needed a screwdriver to remove it when it came time to send the wheel back to Thrustmaster. That means you'll need one adapter for each Thrustmaster wheel you have rather than sharing one amongst multiple units, which quickly adds up at £35/$35 a pop.
Another annoyance is that you'll need a £35/$40 mounting adapter to hard mount the wheel to a racing cockpit as opposed to clamping it onto a desk, due to the smaller footprint of the Thrustmaster T818 racing wheel base which doesn't line up with any of the cockpits I had available (versus wheel bases I've tested from Fanatec, Logitech and Thrustmaster themselves which have wider dimensions). I ended up using the included desk mounting kit to bodge a somewhat-reliable cockpit mount onto a Next Level Racing GTtrack frame with some extra bolts I had lying around, but given the pricey nature of this bundle a proper hard mount kit ought to be included in the box.
Pedals are also not included with the Ferrari SF1000 bundle, so I asked Thrustmaster to send over their £180/$230 T-LCM load cell pedals so I could test the system. These worked well, with the load cell brake proving much more realistic-feeling than the standard potentiometer-based brakes I'm used to from the Fanatec GT DD Pro. The idea here is that if you hit the brakes hard, the car starts braking sharply right away, rather than only applying maximum braking force when the brake pedal has reached the end of its travel. This makes it easier to apply braking force consistently each time, which should translate into better lap times too.
These sorts of brake pedals do require more leg strength (and your pedals/seat need to be properly secured), but it's possible to swap out the springs for lighter or heavier variants to make this easier if necessary, as well as adjusting each pedal's height, inclination and spacing. Otherwise, the pedals felt well made and worked well, though the textured metal cover for the pedal base doesn't really match the rest of the Ferrari setup.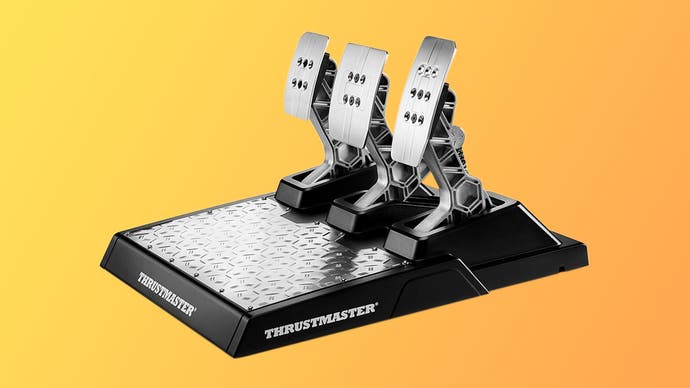 Overall then, the £940/$1099 Thrustmaster T818 SF1000 Simulator is a cracking piece of kit – but with a focus on authenticity over usability, it's not an ideal wheel and base set for the beginner racer. The overwhelming number of unlabelled buttons is a drag initially, but that same realistic approach does mean that the wheel feels fantastic to use once you've got to grips with it – and this is also by far the best-looking setup I've ever used.
It's also worth bearing in mind that this is only one part of a complete racing simulator, despite the name – you'll also need to budget for pedals like the laudable £180/$230 T-LCM unit I tested and a robust cockpit that can take this level of force feedback, neither of which are particularly cheap, to say nothing of the cockpit hard mounting kit that ought to be included. It's also a PC-only solution at present, although there's nothing to prevent Thrustmaster from adding PlayStation support in future from what I understand.
For the moment though, this is an undeniably cool option for Ferrari F1 fans who also have the sim racing experience to make good use of it, and Thrustmaster's T818 direct drive wheel base stands up well against the Fanatec and Logitech direct drive alternatives I've tested.
Next up: a review of Logitech's Pro Racing Wheel and Pro Racing Pedals with the matching Logitech x Playseat Trophy racing cockpit.

on bbc news
on hindi news
on the news today
on channel 7 news
ôrf news
campo grande news ônibus
ôpera news
campo grande news greve de ônibus
l1 news horário dos ônibus
l1 news ônibus
lago azul news ônibus
news österreich
news österreich heute
news österreich aktuell
news öffentlicher dienst
news österreich corona
news öl
news österreich orf
news ö3
news österreich heute aktuell
news österreich sport
ö24 news
ölpreis news
öbb news
ösv news
österreich news krone
övp news
özil news
öffentlicher dienst news 2023
österreich promi news