This review was written during the 2023 WGA and SAG-AFTRA strikes. Without the labor of the writers and actors currently on strike, the film being covered here wouldn't exist.The R-rated comedy isn't what it used to be. It's not that it declined in quality, as recent films like No Hard Feelings and Joy Ride have demonstrated, but gone are the days of films like Ted, 21 Jump Street, and Bridesmaids dominating the box office. That's why a movie like Strays is so promising. Following in the tradition of Sausage Party, Good Boys, and The Happytime Murders, the new comedy takes something that, from the outside, might appear kid-friendly and morphs it into something edgier and R-rated. Throw in the creatives behind Barb & Star go to Vista del Mar, American Vandal, and Spider-Man: Across the Spider-Verse, and an adorable canine cast voiced by an A-list stars, and you've got yourself a potential winner.
Strays follows Reggie (Will Ferrell), a naive two-year-old Border Terrier who is abandoned by his cruel and selfish owner Doug (Will Forte), who blames the hapless pup for his girlfriend dumping him. Fortunately, Reggie isn't on his own for too long as he quickly befriends the feisty and street smart Boston Terrier Bug (Jamie Foxx), who teaches him the ropes of being a stray. Bug also introduces Reggie to two "non" strays, Maggie (Isla Fisher), an Australian Shepard whose young owner has begun to ignore her in favor of a new puppy, and Hunter (Randall Park), an anxious and awkward therapy dog who wears a cone. While initially in denial of Doug's abusive and neglectful behavior, Reggie is soon convinced and vows revenge on his former owner. Specifically, he wants to get it by "biting his dick off." Throughout their journey, the four dogs deal with fireworks, mushrooms, killer birds, lost girls, poop, and a sensitive dogcatcher (Brett Gelman) all while their perspectives on the world around them start to shift.
RELATED: 'Strays' Director Josh Greenbaum on R-Rated Talking-Dog Comedy, Lord and Miller's Involvement [Exclusive]
'Strays' Plays out Exactly as Advertised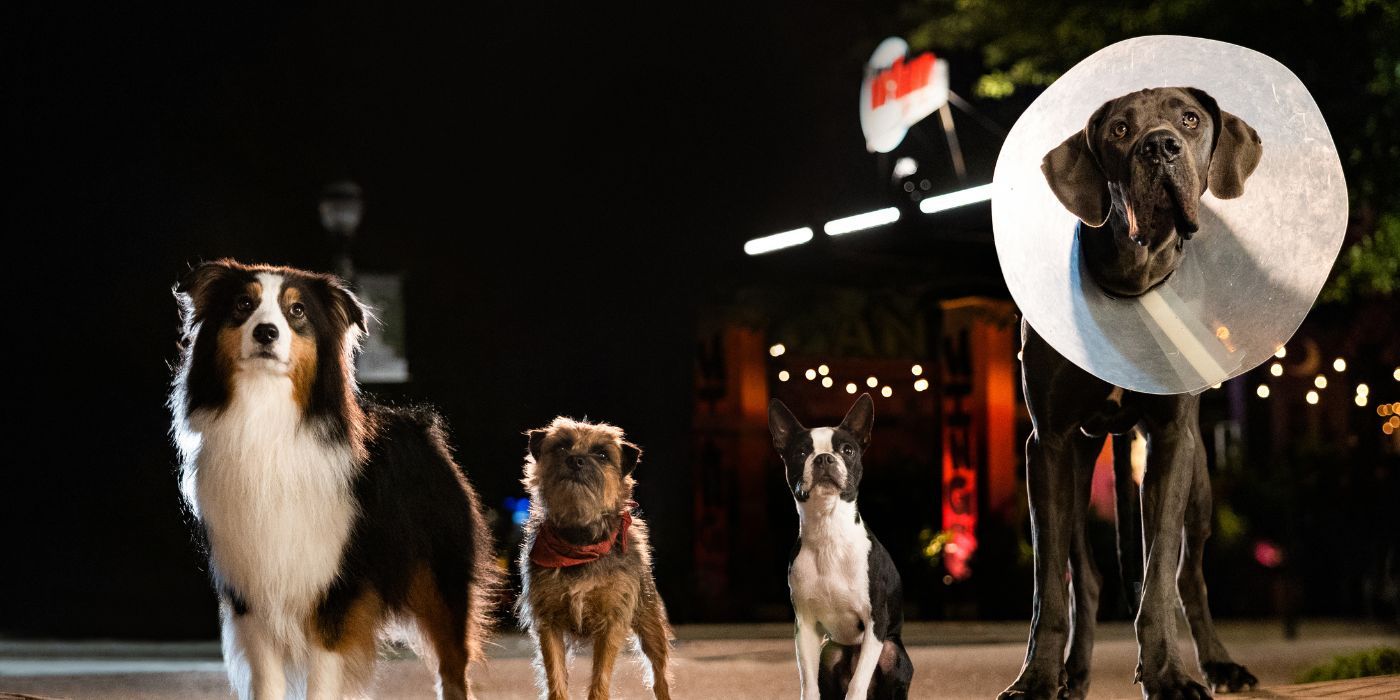 If you've seen the trailer for Strays, then you should know exactly what to expect. It's 90 minutes of talking dogs constantly cursing, making sex jokes, pooping, and getting into all sorts of trouble. Much of the humor does rely on the novelty of the likes of its furry four-legged cast saying the most inappropriate things imaginable, and while at times it can feel overly juvenile, it still works quite well. Director Josh Greenbaum and screenwriter Dan Perrault inject much of the personality that they brought to prior projects into Strays. They're not trying to cram a hamfisted message into the film or attempting to make the movie into something it's not, and they seem perfectly fine sticking with its crass sense of humor.
Some of the jokes starts to wear thin at times, including a running bit about one of the dog's unusually large genitalia, but as soon as the laughs start to peter out, another comedic bit will play that will have you howling with laughter, so to speak. This includes an uproarious parody of A Dog's Purpose and a handful of unexpected cameos. Even underneath all of its filthiness, Strays still proudly wears its heart on its sleeve. There are themes of getting out of a toxic relationship, building trust, and finding your own makeshift family. It's able to balance all of this without losing its sense of humor or slowing the movie down.
Strays also runs at a brisk runtime of 93 minutes and the intentionally chaotic energy makes it feel even shorter than that. At times this leaves the film feel a bit rushed and repetitive, as the characters find themselves taking detours before returning to the same location that they were at fifteen minutes prior. The plot itself is very loose, but it's doubtful that anyone is going into this movie expecting some unpredictable and memorable story. You're here to see dogs swear like sailors and that's exactly what you'll get.
Will Ferrell and Jamie Foxx Memorably Lead the Pack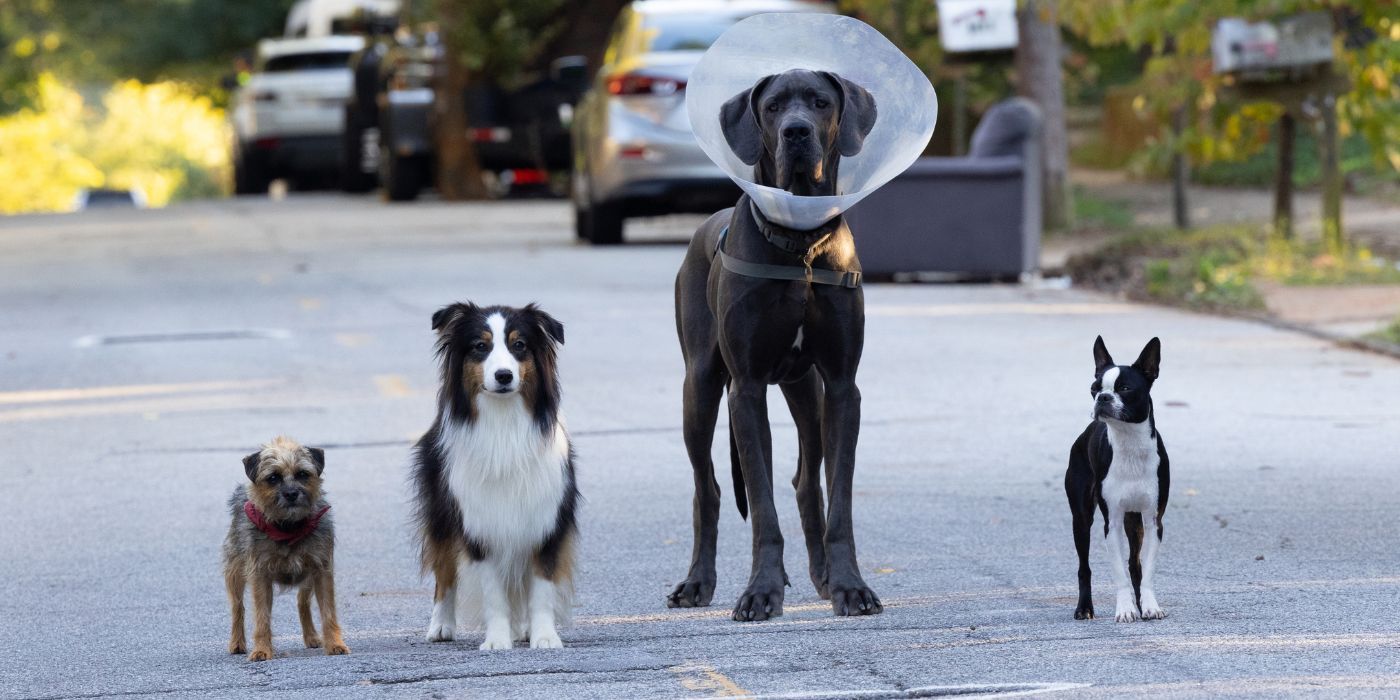 If you weren't already sold by the sheer concept of Strays, the film also boasts a stellar voice cast led by A-listers like Ferrell and Foxx. Ferrell's voice perfectly fits Reggie's innocence, he's playing it similarly to what he did with Buddy the Elf, but obviously with much less of a filter. While it's already easy to root for an adorable dog in a movie, Ferrell still doesn't phone it in, although he's playing more of the straight man compared to his co-star. Foxx's voice injects so much energy into the foul-mouthed Boston Terrier Bug and, just like with Ferrell, he could have easily phoned in the role. Instead, he opts to go all out and takes full advantage of the film's R-rating. Fisher and Park are equally amusing as Maggie and Hunter, both of whom are clearly having a ball with their roles.
Forte also gets a couple of good laughs as the film's human lead (and villain) Doug, despite only being present during the very beginning and the end of the film. It was a bold choice for Forte to take on this kind of role as his character is designed to make the audience immediately hate him, but he manages to make it work as the porn-addicted, weed-smoking loser who takes pride in his private parts over anything else.
Strays aims to be as raunchy and dirty as a talking dog movie can get, taking full advantage of its premise, although never really going anywhere beyond that. Not all the jokes land perfectly, but those that do illicit some of the biggest and best laughs you'll have at the theater all summer. Those who were left unimpressed by the film's marketing should likely sit this one out, but those looking to embrace their inner middle-schooler sense of humor will have a ball with Strays.
Rating: B
The Big Picture
Strays delivers exactly what it promises: 90 minutes of talking dogs making inappropriate jokes, cursing, and getting into trouble. The humor may be juvenile at times, but it works well overall.
The film boasts a stellar voice cast with Will Ferrell and Jamie Foxx leading the pack.
While the plot may feel rushed and repetitive, Strays succeeds at being a raunchy dog movie that doesn't strive to be anything more.
Strays comes to theaters on August 18.
on bbc news
on hindi news
on the news today
on channel 7 news
ôrf news
campo grande news ônibus
ôpera news
campo grande news greve de ônibus
l1 news horário dos ônibus
l1 news ônibus
lago azul news ônibus
news österreich
news österreich heute
news österreich aktuell
news öffentlicher dienst
news österreich corona
news öl
news österreich orf
news ö3
news österreich heute aktuell
news österreich sport
ö24 news
ölpreis news
öbb news
ösv news
österreich news krone
övp news
özil news
öffentlicher dienst news 2023
österreich promi news