The Big Picture
Ahsoka Tano's journey from a young and overzealous Padawan to a mature and independent Jedi has been depicted in various Star Wars mediums including The Clone Wars and Star Wars Rebels.
She initially had a rocky start with Anakin Skywalker but eventually formed a close bond with him and Obi-Wan Kenobi.
Ahsoka's departure from the Jedi Order and her later appearances in Star Wars Rebels and The Mandalorian solidified her importance in the Star Wars saga.
It was all the way back in 2008 when The Clone Wars movie hit the theaters and a young and feisty Ahsoka Tano (Ashley Ekstein) appeared on the big screen for the first time. Ahsoka has certainly come a long way since that time. Her story has been fleshed out in all manner of Star Wars mediums, from books to animation to live action series' – depicting the days of her infancy, all the up to now, where her creator Dave Filoni shares another integral piece of Ahsoka Tano's life in the new live action Ahsoka series, coming to Disney+ on August 23rd. But in order to fully appreciate the lengthy richness of Ahsoka's journey, we should go back to the beginning when she was just a timy and overzealous Padawan, eager to gain the acceptance of her reluctant Master – Anakin Skywalker (Matt Lanter).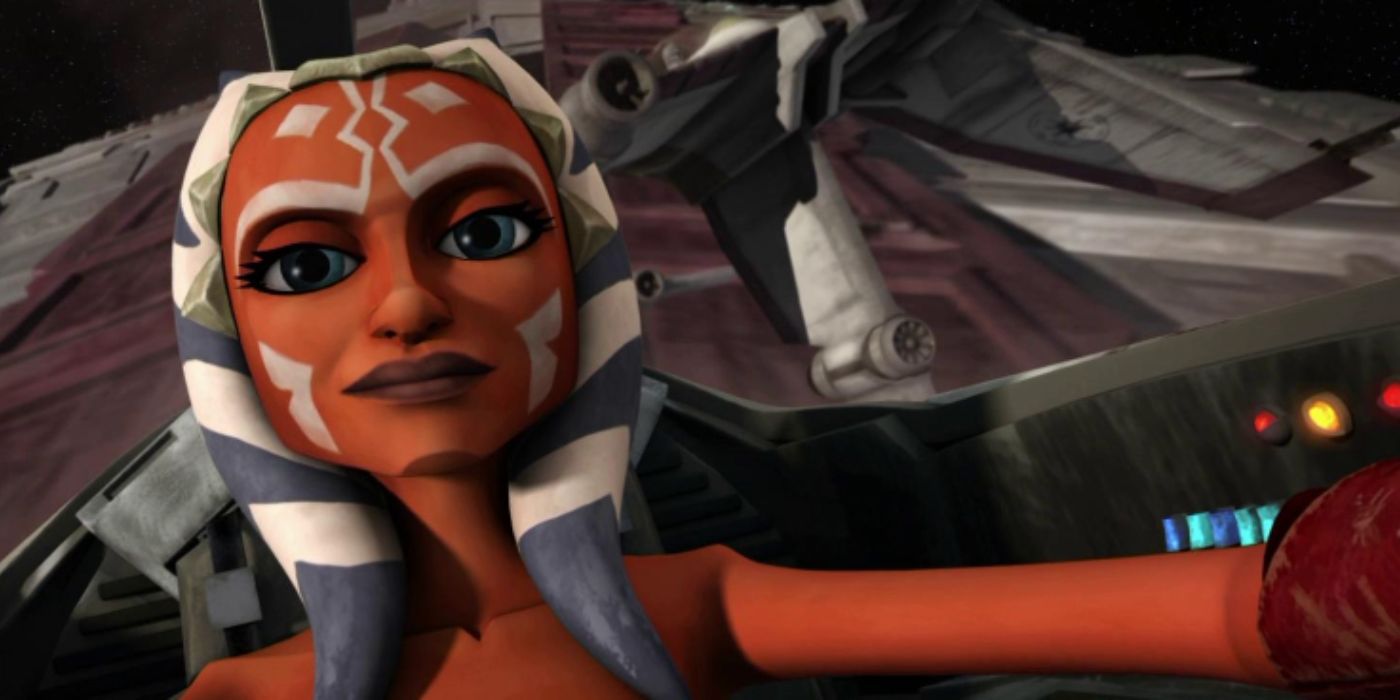 In the midst of a heated Clone Wars battle on the planet of Christophsis, Ahsoka Tano arrives in a Republic gunship all wide-eyed and fearless. A kind Obi-Wan Kenobi (James Arnold Taylor) and a standoffish Anakin Skywalker greet her at the bottom of the gunship's ramp. It is during this moment that Anakin realizes he's been duped by Obi-Wan and Master Yoda (Tom Kane), who had secretly planned to assign Ahsoka's apprenticeship to Anakin, despite his refusals to take on a Padawan. Anakin thought Ahsoka was going to be Obi-Wan's new Padawan, but alas, he was fooled by the old Grand Jedi Master. But Anakin's coldness doesn't deter Ahsoka, in fact, it motivates her to try and win his approval. So they set off, back into the thick of the battle of Christophsis, and really – what better way to test the endurance of a new partnership than by fighting in a deathly battle together?
Luckily, Ahsoka and Anakin did endure – as a team. After the Republic wins the battle, Anakin says to Ahsoka: "You're reckless, little one. You never would have made it as Obi-Wan's Padawan. But you might make it as mine…" It's a little rich on Anakin's part to call someone else reckless, but that's essentially why he and Ahsoka came to form such a great relationship – because they are both quite similar: passionate and outspoken hot-heads with an eagerness to save the day, no matter how insurmountable the odds are. However, although Anakin was able to warm up to Ahsoka, Star Wars fans took a little more time to swallow the newness of her character. To be plain, Ahsoka's reception was poor back in 2008… but that may have been a blessing in disguise, because as The Clone Wars series carried on, Ahsoka eventually became one of the most favored Star Wars characters of all time. This turnaround is a testament to Dave Filoni and the other Clone Wars producers, who refused to let their animated series peak at Season 1, and rather, let the animation and the stories become more elaborate and complex, making each season extraordinarily better than the last one. Ahsoka was also just fourteen years old when she first met Anakin and Obi-Wan, but that just meant there was plenty of room for maturity and even more room for character development.
By Season 3 of The Clone Wars, Obi-Wan, Anakin, and Ahsoka had become the 'golden trio' of the animated series: three heroic Jedi, who had great banter and liked showing off their skills wherever they went in the galaxy. Luckily Obi-Wan was the most patient Jedi in the Order, putting up with Anakin and Ahsoka's fervent antics and doing his best to keep them from running away with their feelings. Nevertheless, Obi-Wan loved Anakin and Ahsoka dearly, just as they adored him in turn. The trio forged a close bond – laughing their way through battles and leaning on each other in tough times. They were a formidable group, inciting hope and strength in each other and making you think for a moment that Anakin might not go to the dark side and everything would end happily ever after.
RELATED: 10 Great Episodes of 'The Clone Wars' To Watch Before 'Ahsoka', Ranked
Ahsoka's Departure From the Jedi Order Is One of the Most Tragic 'Star Wars' Moments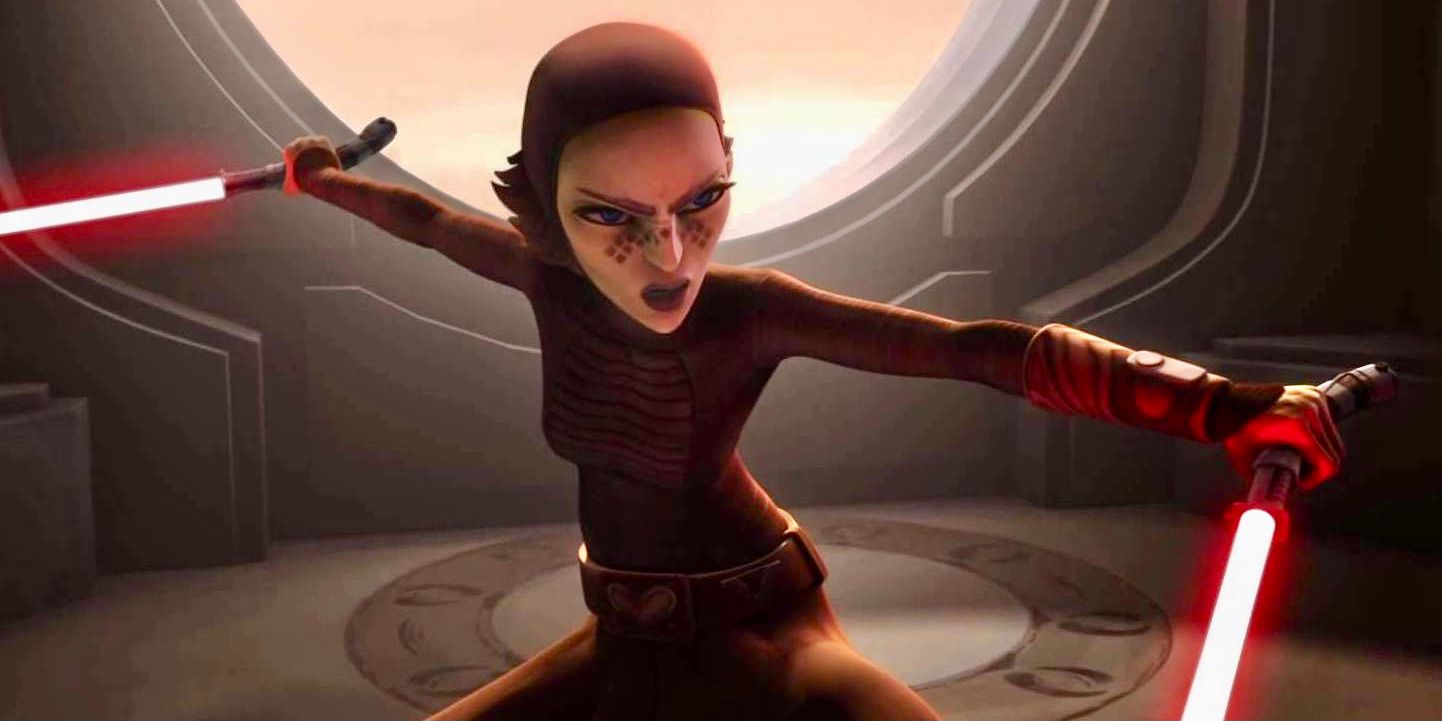 But it's not Star Wars without tragedy. In the Season 5 finale of The Clone Wars, Ahsoka makes the heartbreaking decision to leave the Jedi Order. It was a lengthy ordeal: Ahsoka was framed for murder, then she was locked up in jail, then the Jedi Order suspected her of being guilty, and as Ahsoka tried her hardest to uncover the truth of it all, she learned that it was her old Jedi friend Barriss Offee (Meredith Salenger) that had framed and betrayed her. So, it was completely fair enough that Ahsoka was fed up. The only Jedi who remained loyal to Ahsoka, who had believed in her innocence from the beginning, was Anakin. Naturally, he was the most devastated that she would be leaving his side for good. This is a pivotal moment in Ahsoka's journey. It marked the beginning of her independence and her new perspective on the world that was no longer sheltered by the Jedi Temple walls. Although Anakin believed in her all the way to the end, it was obvious that the rest of the Jedi Order's betrayal left a heavy scar on Ahsoka's heart, for it was from then on that her character became guarded and wary. She was no longer that outspoken young girl full of passion and spirit. She never lost her desire to help others in need, but she certainly traded her talkativeness for vigilant observation.
Ahsoka and Anakin reunite in Season 7 of The Clone Wars. It's a bittersweet moment, made evident by Filoni's choice to have Ashoka walk down a clone gunship ramp toward Obi-Wan, Anakin, and R2-D2, the exact way she had done all those years ago in The Clone Wars movie, when she was wide-eyed and eager. The older Ahsoka however, walks down the gunship ramp reserved and unexpressive, a small smile creeping over her face only for R2-D2. Well, in the same way that Ahsoka wasn't deterred by Anakin's initial coldness when they first met – this time, Anakin isn't deterred by Ashoka's indifference upon their reunion. He gifts her with her lightsabers that she left behind when she left the Order, and reunites her with his 501st battalion, made up of clones that Ahsoka fought alongside during many battles. But Anakin and Ahsoka's reunion is cut short, and this would be the last time they ever saw each other before Anakin falls victim to Darth Sidious's clutches. The strength of Anakin's fall to the dark side was enough for Ahsoka to feel in the Force, even from the distant hyperspace lane through which she was traveling at the time of his fall. She knew something had happened to Anakin, but she didn't know exactly what.
Ahsoka Is a Different Person in 'Star Wars Rebels'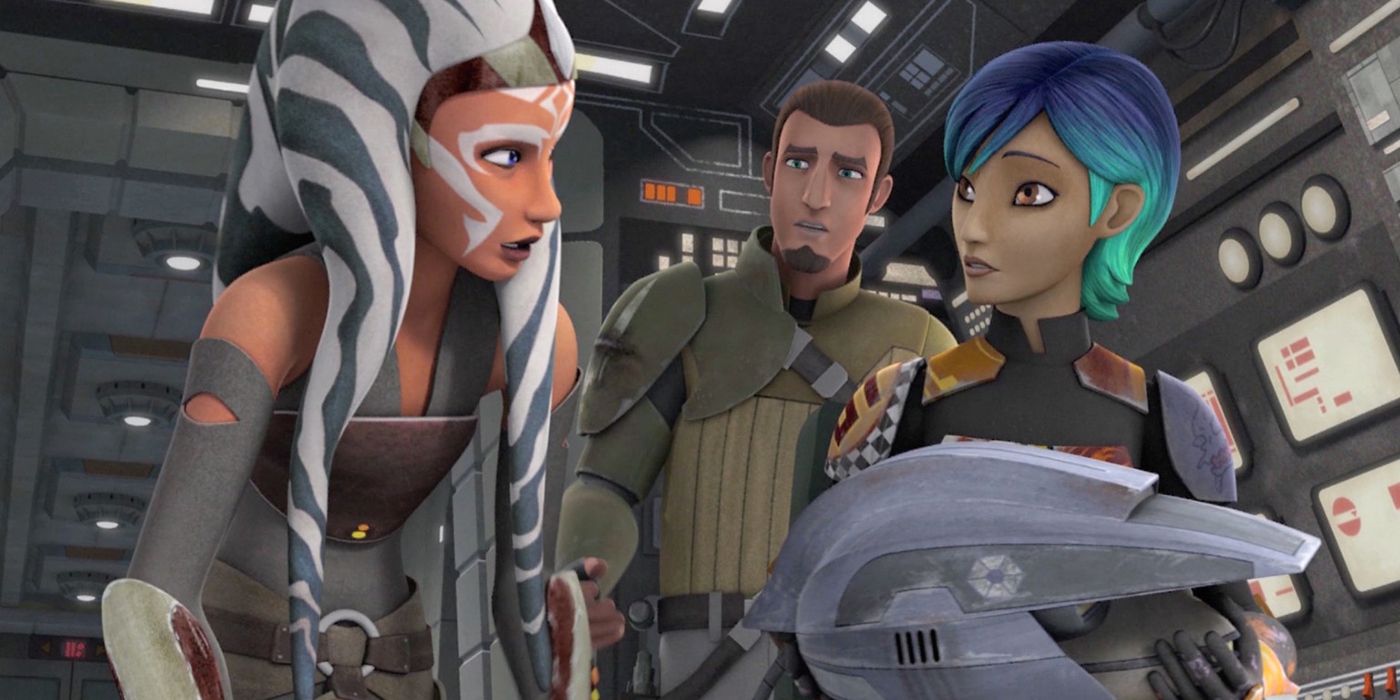 A few years later following the extinction of the Jedi Order, Ahsoka appears in Star Wars Rebels. Her temperament in this series bore a new level of reserved maturity. She spoke and carried herself as somebody who had endured a great deal of loss, but she translated that pain into wisdom and dedicated her skills to the slowly forming Rebel Alliance. During the finale of Star Wars Rebels Season 2, the truth about Ahsoka's former Master is revealed when Ahsoka and Darth Vader, (formally Anakin Skywalker), engage in an emotionally fueled duel on the Sith planet Malachor. In the same way that Obi-Wan cracks through Darth Vader's mask with the use of his lightsaber in the Obi-Wan Kenobi series, Ahsoka manages to crack through Vader's mask in Star Wars Rebels too. A fragment of Anakin is revealed from beneath the mask. Ahsoka doesn't want to believe it's him, but she cannot deny it. Even though Ahsoka was able to crack through the mask, she cannot get through to Anakin, and the reality that she cannot save him from himself hits her with such force that she was willing to sacrifice herself if it meant bringing Anakin down with her.
The climactic end of this duel, combined with the miraculous nature of the Force – sends Ahsoka to a curious location known as The World Between Worlds, an otherworldly place consisting of portals to the past and future. When one enters The World Between Worlds, they have the ability to travel through time. Ahsoka meets her Jedi friend Ezra Bridger (Taylor Gray) in The World Between Worlds, but Ahsoka admits that she cannot return to the present with Ezra. However, as they are escaping from The World Between Worlds, Ezra says to her: "When you get back, come and find me," to which Ahsoka replies: "I will, I promise." It is this promise that is likely to set up a lot of the plot for the new Ahsoka series.
Ahsoka's Live-Action Debut Solidified Her Importance in the 'Star Wars' Saga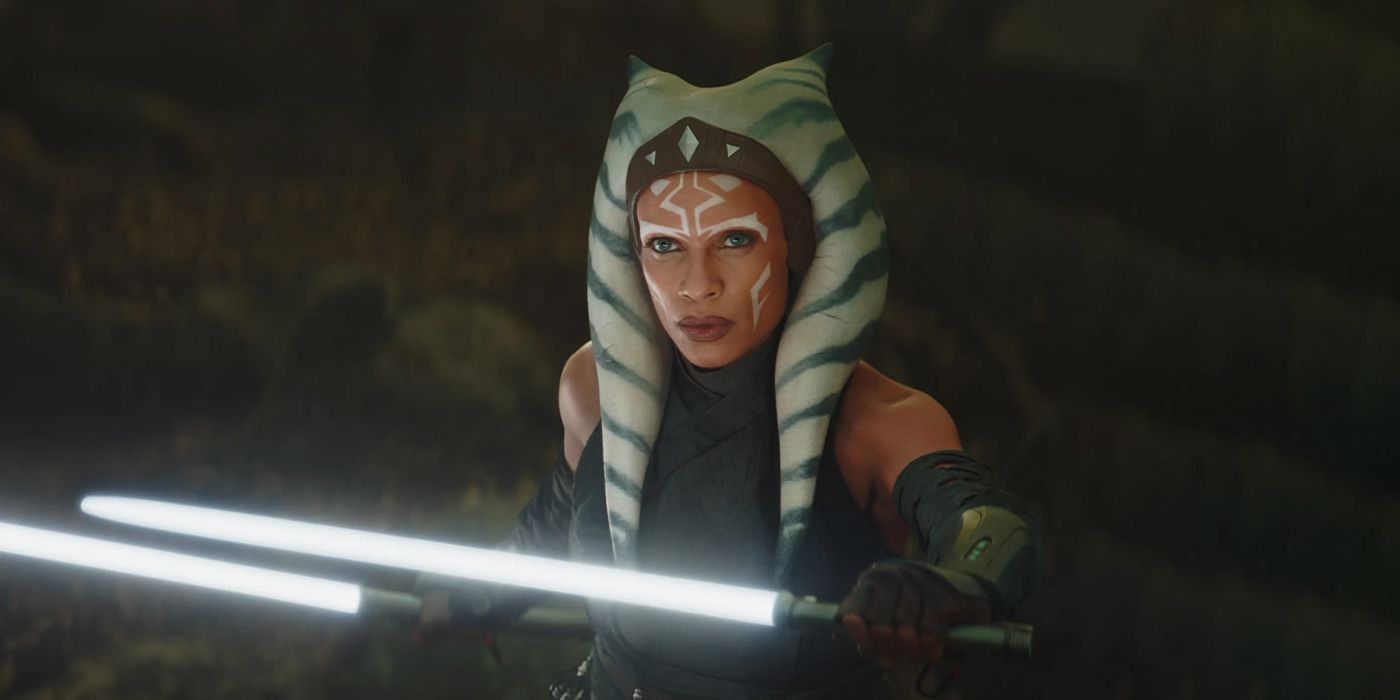 During the finale of Star Wars Rebels, Ezra was thrust into the Unknown Regions aboard a Star Destroyer full of stormtroopers and the evil Grand Admiral Thrawn (Lars Mikkelsen). Ezra made this sacrifice willingly, but his absence has left a hole in the hearts of his close friends, including Ahsoka and the young Mandalorian, Sabine Wren (Tiya Sircar). Following the Star Wars timeline, the next time we see Ahsoka after she makes her promise to find Ezra – is during Season 2 of The Mandalorian. This appearance marked Ahsoka's live action debut and it was a monumental occasion for Star Wars fans who had watched Ahsoka's growth from the beginning back in 2008. Ahsoka's part in The Mandalorian revealed that she was in pursuit of Grand Admiral Thrawn. As the plot of The Mandalorian shifts closer along the Star Wars timeline towards the rise of the First Order – it is clear that Ahsoka wants to capture and imprison Grand Admiral Thrawn because the return of Thrawn means the return of the Empire. And by this point, Ahsoka has already survived two wars, and she's in no mood for a third one. However, the creation of The Mandalorian, The Book of Boba Fett, and the Ahsoka series was to bridge that gap between the Original Trilogy and the Sequel Trilogy, and the First Order's power is in full swing by the time we reach Star Wars: The Force Awakens, so war is inevitable.
Ahsoka also made a brief appearance in The Book of Boba Fett where she met a young Luke Skywalker on the planet Ossus, which would go on to become the home of Luke's new Jedi Temple. This was another momentous occasion for Star Wars fans who were beside themselves as a smiling Ahsoka Tano stood next to Luke Skywalker and told him that he was very much like his father. It was an incredibly endearing moment, and it wasn't one of fan service either, because Anakin's presence will always accompany Ahsoka wherever she goes, and even whether she wants it to or not. Since Ahsoka left the Jedi Order, it is obvious that Ahsoka still burdens the loss of her Master. Although she is wise, compassionate, and extremely formidable, she is also reserved, lonesome, and wary of making attachments. Anakin defines Ahsoka in many ways. Her ability to survive the Clone Wars, Order 66, and the Galactic Civil War is largely thanks to Anakin's ruthless and vigilant training style during their days as Master and Padawan. And we can assume that Ahsoka's ties to Anakin will render part of the plot in the new Ahsoka series.
Ahsoka's Fate Remains Undetermined in the New 'Ahsoka' Series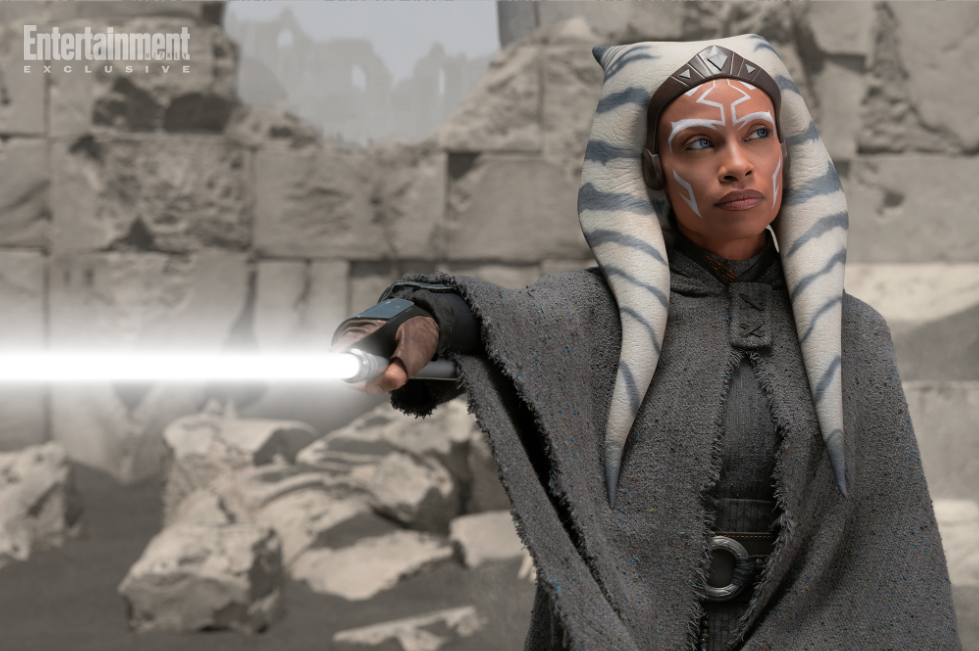 Moving forward in the Star Wars timeline to the conclusion of the Skywalker Saga and many years after the Ahsoka series, Ahsoka shares her voice in Star Wars: The Rise of Skywalker. When Rey Skywalker (Daisy Ridley) summons the presence of many Jedi through the Force, Ahsoka's voice is heard speaking to Rey, and Anakin speaks to Rey too, so does Obi-Wan, and many other Jedi. However, as beautifully touching as this moment is, we know for a fact that apart from Ahsoka, all these Jedi who speak to Rey are already one with the Force – we know when and how they die. As for Ahsoka, well – as far as we know, she's still alive… which makes the anticipation for the new Ahsoka series that much more heated. Will she die in this series or not?
Perhaps Ahsoka could reach Rey via the Force even if she was still alive, it's been done before – but knowing Dave Filoni and his love of tragedy, Star Wars fans may need to prepare themselves for the worst. But regardless of how the Ahsoka series will end, Ahsoka's long and intense journey has been exceedingly inspiring. Her character has instilled hope and resilience in thousands of Star Wars fans, and she is renowned for her toughness, commitment, and her kind spirit that lives to help others in need. The next person in need of Ahsoka's help is Ezra, so hopefully we get to see her bring him home for good.
on bbc news
on hindi news
on the news today
on channel 7 news
ôrf news
campo grande news ônibus
ôpera news
campo grande news greve de ônibus
l1 news horário dos ônibus
l1 news ônibus
lago azul news ônibus
news österreich
news österreich heute
news österreich aktuell
news öffentlicher dienst
news österreich corona
news öl
news österreich orf
news ö3
news österreich heute aktuell
news österreich sport
ö24 news
ölpreis news
öbb news
ösv news
österreich news krone
övp news
özil news
öffentlicher dienst news 2023
österreich promi news