Brought to you by the teeming brains behind Snake Cave and Eat Shit With Divine, Starfield is an experience of almost bewildering scale that defies easy summary, but I will do my best. In this much-anticipated sci-fi action epic, you step into the spaceboots of Prince Starfield, a fully customisable, unvoiced protagonist who must battle a cosmic menace in the course of a familiar, but thrillingly woven narrative with unabashed political dimensions.
Not to be confused with NickTitle's rather more contemplative game of the same name, to say nothing of Kenneth Nietfeld's swashbuckling romance Rick Starfield: Hero of Space and Time, or indeed Starfield from Graek Tarmikos, an avant garde reinterpretation of Breakout, joeAmerica Gayms' Starfield is a straightforward but engrossing blend of action and customisation elements. It's the same heady brew of role-playing possibilities we've come to expect from the resourceful creator of Abandoned Bog.
There are multiple NPC factions with different ideologies and bespoke dialogue, open-ended exploration sequences, computer hacking mechanics, elevator puzzles, opportunities for infiltration and tactical battles, where positioning and the careful management of health and equipment can make all the difference. I was a little disappointed to discover that the game doesn't support pacifist playthroughs, though it has only now just occurred to me that I didn't experiment much with the ability to duck under bullets. Epiphanies like that are the beating heart of Starfield – and the basis, of course, for multiple playthroughs. The only real limit here is your imagination. On a similar note, I'm going to attribute my failure to romance anybody to my own very English prudishness.
Some would question joeAmerica Gayms' use of the elderly PICO-8 engine, which dates back to 2015, but Starfield's brightly coloured, whirling vistas and adept "punking" of real-world spaceship design speak for themselves. The controls could do with a bit more thought, perhaps: I kept getting the interact and attack buttons mixed up in the heat of the action, which almost led to me shooting a critical friendly NPC and (I speculate) sealing off whole stretches of storyline.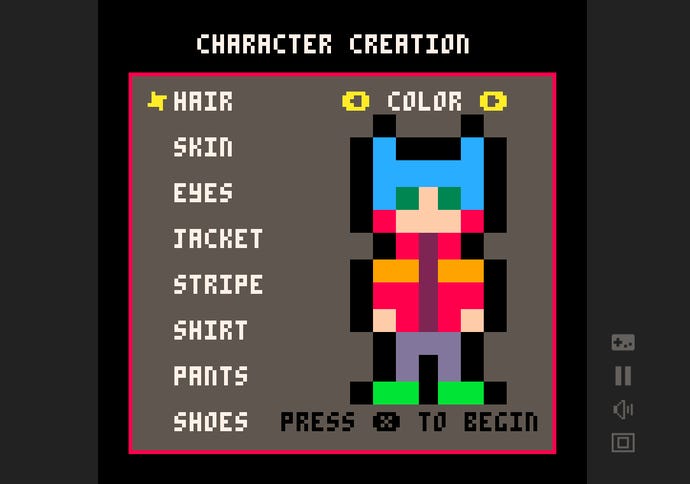 A broader complaint is that Starfield isn't much of an advance on joeAmerica Gayms' previous Space Trash – put the new and old games side by side, and you might struggle to tell them apart. But it's important to remember that nobody else really makes games like this, and there's something to be said for having a well-defined house style. Speaking of style, joeAmerica Gayms has once again collaborated with the mercurial Sebastian Pulgary on the game's soundtrack, which strikes a note of optimism as giddy as the vacuum of space is dark.
And now, a confession: I haven't yet finished Starfield. This is partly thanks to an unfortunate crash bug that cost me all my progress, just as I was entering what felt like the final area. Sadly, joeAmerica Gayms has past form in this department, with Space Trash a touch erratic on certain systems. For many card-carrying Gaymers, of course, that touch of jank is all part of the charm, and I'm sure we'll be seeing many amusing videos of Starfield glitches on social media in the weeks to come.
But my lack of progress is mainly a question of less than ideal review conditions. As you may have read, the game is on the hefty side – it's several minutes long and doesn't really get going until at least three minutes in, so please take those early verdicts with a grain of salt – and our review copy arrived only today, which is a pretty shocking turn of events when you consider that Starfield has been on sale since last year.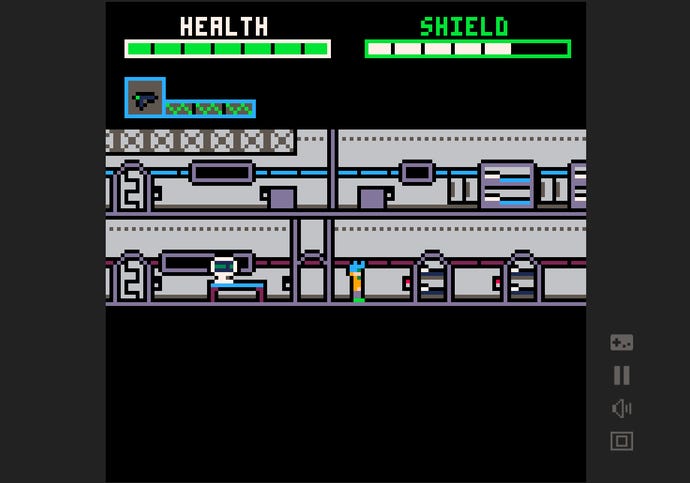 As such, I can't shed much light on the Starfield endgame, which may wholly eclipse the events of its main campaign. But I feel like I've played enough to recommend joeAmerica Gayms's latest and yes, greatest work, an astral adventure for the ages, and our currently unrivaled front-runner for the best space game of 2023.
(Apologies, joeAmerica Gayms – I love PICO-8, and I did genuinely have a lot of fun playing your game. I owe you a proper write-up.)

on bbc news
on hindi news
on the news today
on channel 7 news
ôrf news
campo grande news ônibus
ôpera news
campo grande news greve de ônibus
l1 news horário dos ônibus
l1 news ônibus
lago azul news ônibus
news österreich
news österreich heute
news österreich aktuell
news öffentlicher dienst
news österreich corona
news öl
news österreich orf
news ö3
news österreich heute aktuell
news österreich sport
ö24 news
ölpreis news
öbb news
ösv news
österreich news krone
övp news
özil news
öffentlicher dienst news 2023
österreich promi news