Summary
Lady Sif, a member of Marvel's new Ultimate Avengers team, is initially a firm believer in the status quo but starts to see evidence that something is wrong.
Sif's loyalty to Asgard is not unwavering, and she is willing to follow whoever she believes is best suited for leadership.
Sif's role as the team's muscle and her access to insider information make her a valuable asset to the Avengers in their mission to fix the Ultimate Universe.
The following contains spoilers from Ultimate Universe #1, on sale now from Marvel Comics.
With Marvel's new Ultimate Universe finding its footing in a world gone awry, it was only a matter of time before a new team arose to avenge the world that should have been. Ultimate Universe #1 (by Jonathan Hickman, Stefano Caselli, David Curiel, and Joe Caramagna) saw the unusual team of Doctor Doom and Iron Lad working together to free Earth-6160's Thor from imprisonment. In the process, they gained an unexpected member in Lady Sif.
Initially, Lady Sif is a firm believer in the status quo of the world, even as she starts to see evidence that everything is not as it should be. More than that though, Sif brings quite a bit to this particular team of Avengers. She is a powerhouse in her own right, and her position within this world could make her a valuable ally to the new team as they rebel against the altered status quo.
Lady Sif is the Most Reluctant Member of the New Ultimate Avengers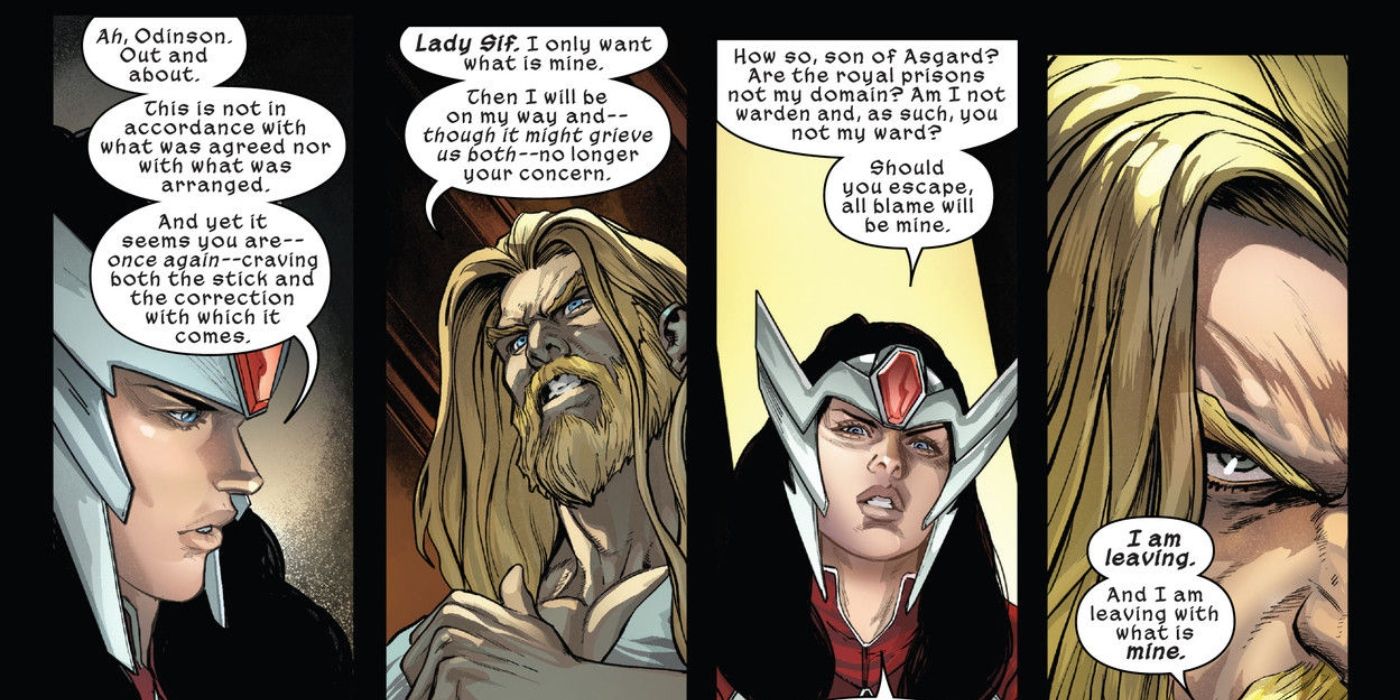 What Happened to Marvel's Other Ultimate Universe?
In this reality, Thor Odinson never claimed the throne of Asgard. Thanks to the Maker's interference, Odin was murdered by Loki, who successfully framed Thor for the crime. Sif was a loyal servant of King Loki, believing him to be the rightful ruler after Thor supposedly disgraced himself by killing his father. She was then given the task of becoming Thor's jailer.
In her unlikely new role, Sif maintained her post watching over Thor until Iron Lad and Doctor Doom arrived to free him. Sif tried to stop them, but Thor used the bifrost to escape with his new allies after recovering his enchanted hammer. Unwilling to let him escape, Sif followed, and was soon enlightened as to what was really happening in her world.
Surprisingly, things did not end in violence as Lady Sif listened to the intruders explain their story. This indicates that while Sif still harbors animosity towards Thor, she is still reasonable in this reality, and wants to do what is right. Sif would later accompany the Avengers in their attempt to steal artifacts from the capital city, only for Thor to be seriously injured, prompting his former jailer to express much concern over his fate.
RELATED: Ultimate X-Men Was the True Star of the Ultimate Universe
Sif Appears to be Slowly Trusting the Avengers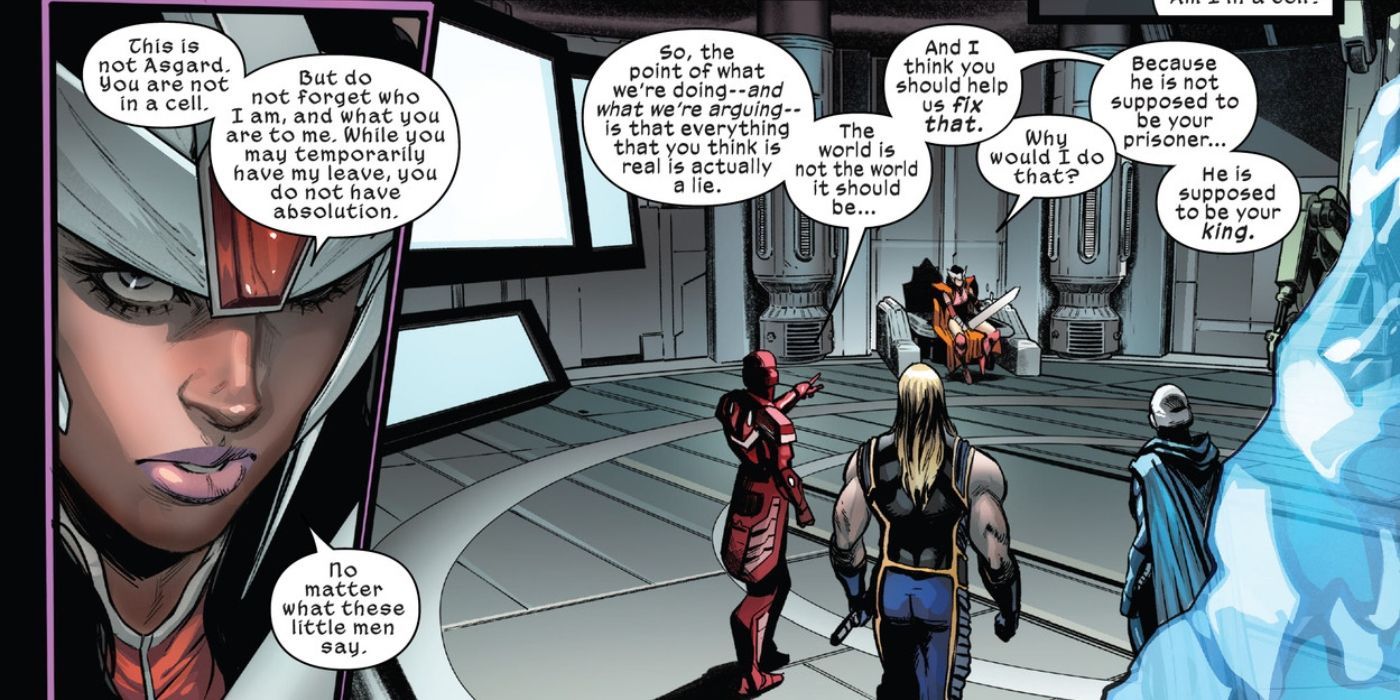 Sif's role in this world seems to be that of a loyal watcher. Her words indicate that while she holds loyalty towards Asgard, she is more interested in following whatever she believes is the truth. This explains why she has been following Loki as well as why she appears to now be defecting to the side of the new heroes of the Ultimate Universe.
Sif's partnership with the Avengers, while ostensibly there to keep an eye on Thor, is quite telling. Sif has always been insightful, and clearly something about this new reality feels wrong to her. This also hints that there may be more to her relationship with the God of Thunder, as has often been the case in other realities.
While she is clearly angry with Thor over his perceived crimes, she was still clearly horrified when he was wounded. She has chosen to remain by his side as he recovers, claiming that she will not allow him to die on her watch. This makes her the most complicated of the Ultimate Avengers, as Sif is not firmly on their side, but has an emotional investment in seeing them succeed. Beyond that, she actually provides some much needed support for the fledgling team.
RELATED: Marvel's Ultimate Universe is Setting Up a New Avengers Team
Sif Has Become the Powerhouse of the Ultimate Avengers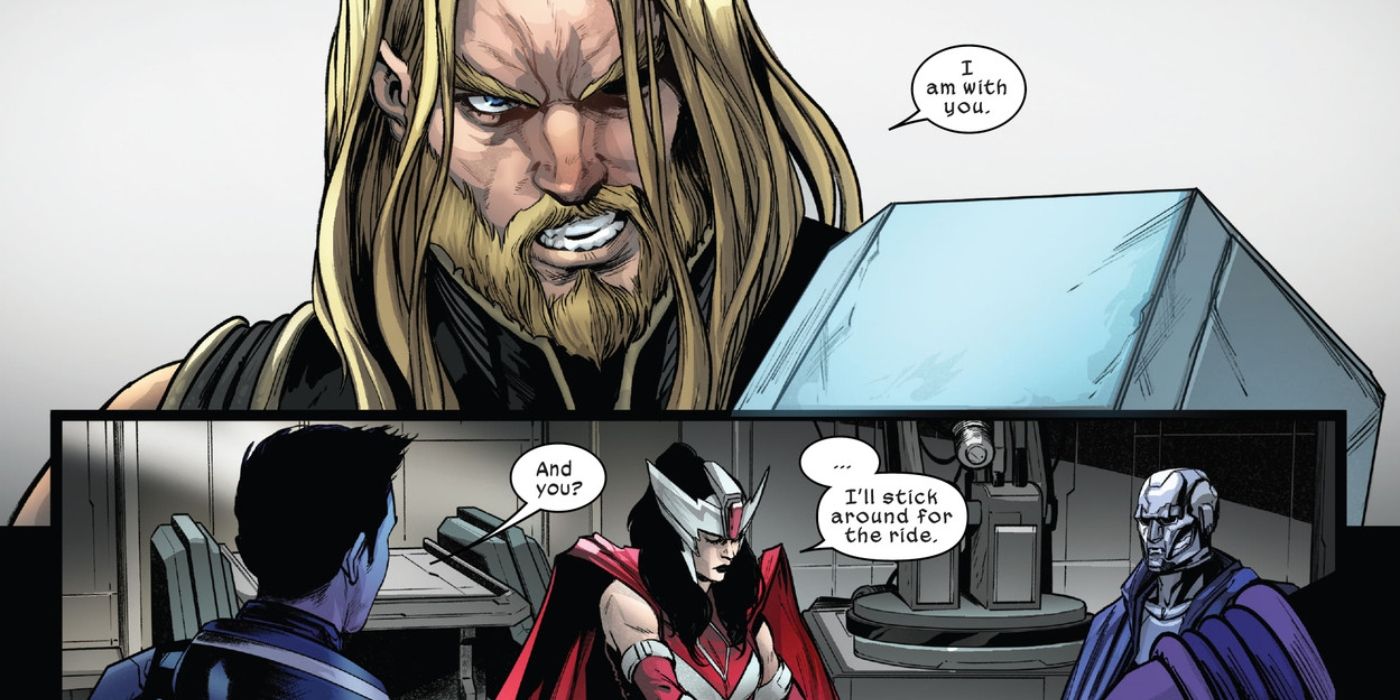 At this point, the team is composed of Doctor Doom, a young Tony Stark, a severely injured Thor, and Sif. This essentially makes her the team's muscle. She has all the attributes of an Asgardian, as well as being a fierce warrior in her own right, having proven herself in countless battles beforehand. Lady Sif has repeatedly proven herself to be one of the finest warriors in all of Asgard, making her a fine addition to this team of Avengers.
Adding to this, Sif also possesses a level of access that the other heroes do not possess. She was firmly rooted in a position of power within the new status quo the Maker set up. Loki clearly trusts her enough to guard over Thor, and her men have no idea she has sided with the Avengers in an effort to help fix the wrongs of the world. By all accounts, the last time any of her Asgardian compatriots saw her she was chasing an escaped criminal.
In this sense, the Avengers actually have an ace up their collective sleeves, namely an agent they could send into enemy territory to gain information or grant them access to places that would be otherwise prohibited. She could also serve as a spokesperson, as Sif has the trust and respect of the Asgardians. If she obtains proof of Thor's innocence, she will surely deliver it to her people, possibly providing a way for the God of Thunder to assume the throne, granted he survives his injuries.
on bbc news
on hindi news
on the news today
on channel 7 news
ôrf news
campo grande news ônibus
ôpera news
campo grande news greve de ônibus
l1 news horário dos ônibus
l1 news ônibus
lago azul news ônibus
news österreich
news österreich heute
news österreich aktuell
news öffentlicher dienst
news österreich corona
news öl
news österreich orf
news ö3
news österreich heute aktuell
news österreich sport
ö24 news
ölpreis news
öbb news
ösv news
österreich news krone
övp news
özil news
öffentlicher dienst news 2023
österreich promi news