Summary
Marvel's attempt to revitalize the Punisher in the late '90s resulted in a four-issue miniseries that reinvented Frank Castle as a spirit of vengeance.
This Punisher had a new look, including a black trenchcoat, glowing eyes, and superpowered heavenly guns.
"Purgatory" was ultimately criticized for its shallow characters, by-the-numbers demonic spectacle, and tonal disparity with the grounded nature of its lead character.
The following contains spoilers from Punisher #1, on sale now from Marvel Comics.
Frank Castle is gone, but the Punisher lives on. Marvel's newest version of the character is Joe Garrison, an ex-SHIELD agent framed for his family's murder. The change in identity brings the Punisher mantle closer to its roots, something Frank Castle had abandoned near the end of his tenure. Marvel traded in Castle's vengeful crusade and armory of weapons for a magically revived family and new ninja skills to distance him from his own tainted iconography. However, these changes are nothing compared to the drastic overhaul the character received in 1998's The Punisher: Purgatory.
The four-issue miniseries was an attempt to breathe new life into the character, both figuratively and literally. After a mysterious death, Frank Castle is resurrected as a spirit doling out violent justice on behalf of the innocent. As he investigates the cause of his revival, the Punisher is dragged into a war between angels and demons led by an archangel more dangerous than Satan. The resulting adventure was certainly memorable, but not in the way most likely intended. Purgatory pulled from the most reviled clichés and stylings of 90s comics to create what was arguably the most regrettable version of the Punisher ever seen.
Punisher: Purgatory Reimagined Frank Castle as a Vengeful Spirit
A Different Breed of Marvel Zombies Turned a Violent Antihero Into the Ultimate Survivor
In 1998, Marvel attempted to revitalize the Punisher by giving him a complete overhaul. The Punisher: Purgatory (by Christopher Golden, Thomas E. Sniegoski, Jimmy Palmiotti and Richard Starkings) reinvented Frank Castle as a spirit of vengeance, albeit one much less theatrical than Ghost Rider. After meeting his end, The Punisher is revived as a supernatural dispenser of street-level justice capable of being summoned by the prayers of desperate civilians. Battered women leave offerings at alley shrines dedicated to him. Children of abusive families draw his skull logo in rainy windows. Frank Castle is revered as a vengeful version of Beetlejuice, with the utterance of his name summoning violent justice upon those deserving of his wrath.
The Punisher's new role included a new look as well. In Purgatory, Punisher sports a black trenchcoat, his iconic skull t-shirt, and an array of superpowered heavenly chrome guns whose abilities respond to Frank's needs. This means that if a situation calls for a specific gun, it's already in his coat. The book notably states he doesn't know where these weapons come from or how they work. Accenting the ensemble are glowing eyes and a sigil on Frank's forehead, both burning red. Certainly intended to be a brooding new edition of this classic character, the chrome guns and glowing eyes instead make Punisher seem more cartoonish than deadly.
The Punisher Fought Against Literal Demons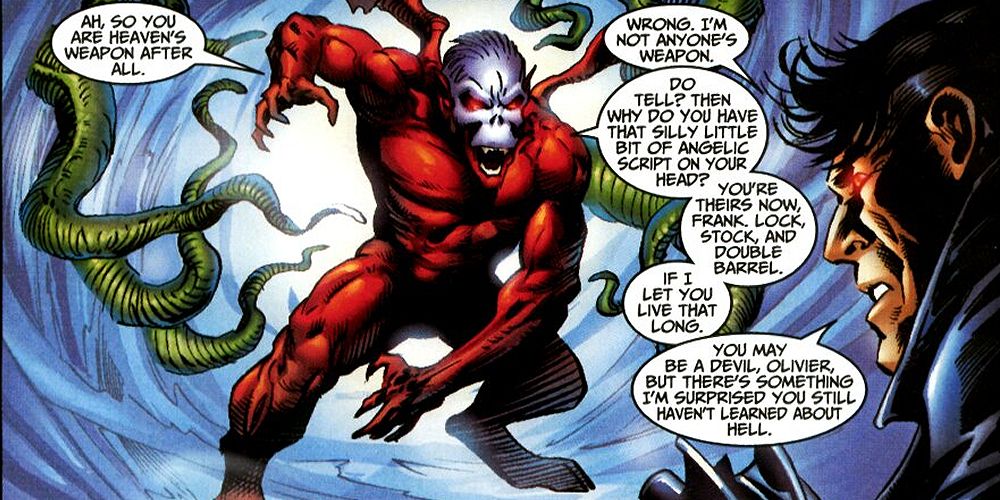 A Guardian of the Galaxy Mainstay Has Gone Full Punisher
Castle is eventually recruited by Gadriel, who reveals that the Punisher was brought back to assist in a war against demons. Gadriel is the former guardian angel of Frank's wife and daughter, who failed to save them on the night of their deaths. Seeking redemption both for himself and Castle, Gadriel intends to recruit the resurrected Punisher to battle a fallen archangel known as Olivier. At its most hopeful, the story could have been a cross between Nick Fury and Constantine. Instead, its four issues feel like a cynical attempt to find new ways to make the Punisher seem contemporarily grim. Purgatory is all flash and no substance, however, forgoing engaging characters and narratives in favor of by-the-numbers demonic spectacle and cheap twists.
Even the Archangel Olivier is almost endearingly shallow as a villain. He's evil for evil's sake, and relishes his one-dimensional role too enthusiastically. The fallen angel drops pop culture references, edgy anti-god monologues and, despite being a demon, commands a cadre of Agent Smith-style humans. It's even revealed Olivier was actually the one responsible for the death of Castle's family, possessing the body of Frank Costa to create the Punisher as an agent of death. Olivier is instantly promoted to the big bad of Castle's whole life, and is just as quickly torn to pieces by eldritch horrors from Hell. This revelation feels pointless as a result, and leaves Frank without much motivation to continue his partnership with Heaven.
The Punisher: Purgatory was an Unnecessary '90s Reboot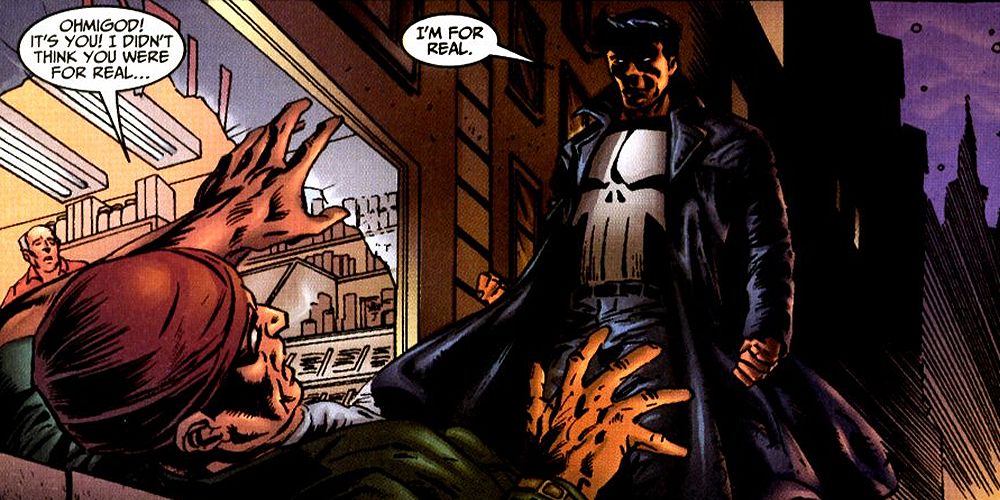 Marvel's Punisher Has Called Out the Avengers for Being Hypocrites- And He's Absolutely Right
The Punisher: Purgatory was not very well received, and spawned no ongoing series or direct sequels. Its poor reception could be attributed to numerous issues. The series killed almost everyone introduced outside of Castle himself, offered no clear path forward for more stories, and most importantly felt like a violation of the Punisher's core character. Frank Castle was originally created to explore the systemic failings of the justice system. While the series did showcase him taking extrajudicial action as a vengeful boogeyman, it only took half a dozen pages for it to veer into something much more spiritual. The focus on angels and demons as supernatural, gangster-adjacent criminals didn't work, mostly because the lore and cast felt out of place next to the more grounded Punisher.
On paper, tackling the concept of divine justice feels like a logical extension of Frank Castle's original themes. But in practice, it was tonally disparate at best and unintentionally hilarious at worst. Stylistically, Purgatory felt about as natural as Freddy Krueger in a romantic comedy, and was only worth remembering as one of many needlessly extreme character makeovers. For Marvel's next attempt to revive the character, they ignored the events of Purgatory entirely. What followed was Marvel Knights' 12-issue series The Punisher by Garth Ennis, Steve Dillon, Chris Sotomayor and, once again, inker Jimmy Palmiotti. It was an unrivaled success, ensuring the character was able to survive without ever again requiring divine intervention.
Marvel Just Made Punisher's Greatest Loss Even More Heartbreaking
The Punisher's always been a difficult character to balance, especially as real-world social events bring his character's focus into question every so often. However, The Punisher: Purgatory stands as the most drastic and unnecessary of Frank Castle's many revamps. While being later conscripted into an organization of ninjas felt like a stretch for the Vietnam veteran, making him a renegade angel was arguably too much of a leap for the character.
Recently, former S.H.I.E.L.D. agent Joe Garrison has taken over the skull emblem in Punisher #1. His debut, while surprising, marks a much-needed fresh start for a character who had a few too many curveballs in their history. While the quality of Garrison's stories remains to be seen, it's a safe bet that they won't reach for the divine lengths seen in The Punisher: Purgatory.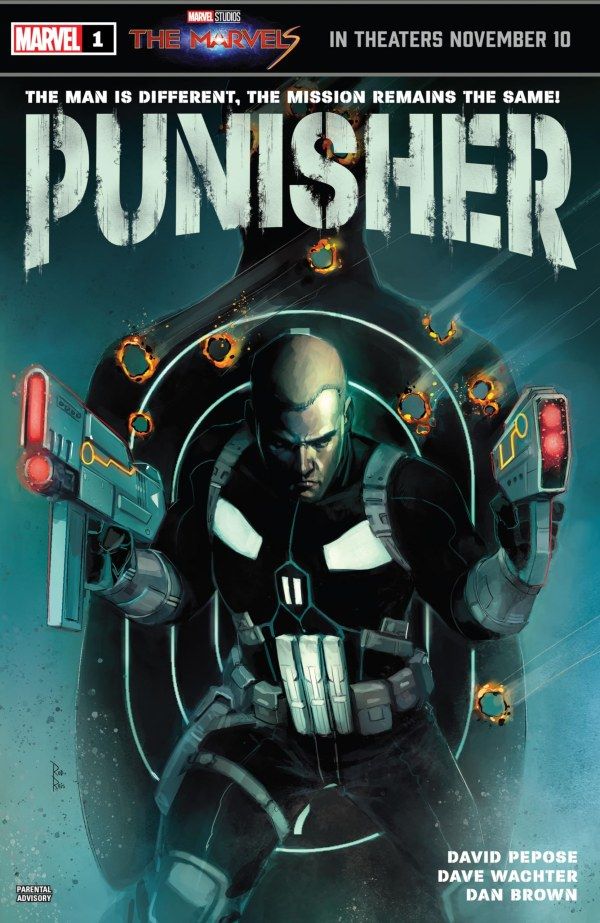 The Punisher (2023)
Is this the return of Frank Castle – or the start of something else? Frank Castle has disappeared, but evil will always need to be punished. With all-new threats rising to claim innocent victims, criminals will need to beware of a dangerous vigilante hunting them from the shadows. Who is the new Punisher? What put him on his path of vengeance? And when the smoke clears, will he even make it out alive? It's John Wick meets The Fugitive in this action-packed new saga from Ringo Award-winning writer David Pepose (SAVAGE AVENGERS, MOON KNIGHT: CITY OF THE DEAD) and Eisner and Harvey Award-nominated artist Dave Wachter (PLANET OF THE APES, X-MEN LEGENDS), as the Marvel Universe meets the next generation of punishment!
on bbc news
on hindi news
on the news today
on channel 7 news
ôrf news
campo grande news ônibus
ôpera news
campo grande news greve de ônibus
l1 news horário dos ônibus
l1 news ônibus
lago azul news ônibus
news österreich
news österreich heute
news österreich aktuell
news öffentlicher dienst
news österreich corona
news öl
news österreich orf
news ö3
news österreich heute aktuell
news österreich sport
ö24 news
ölpreis news
öbb news
ösv news
österreich news krone
övp news
özil news
öffentlicher dienst news 2023
österreich promi news