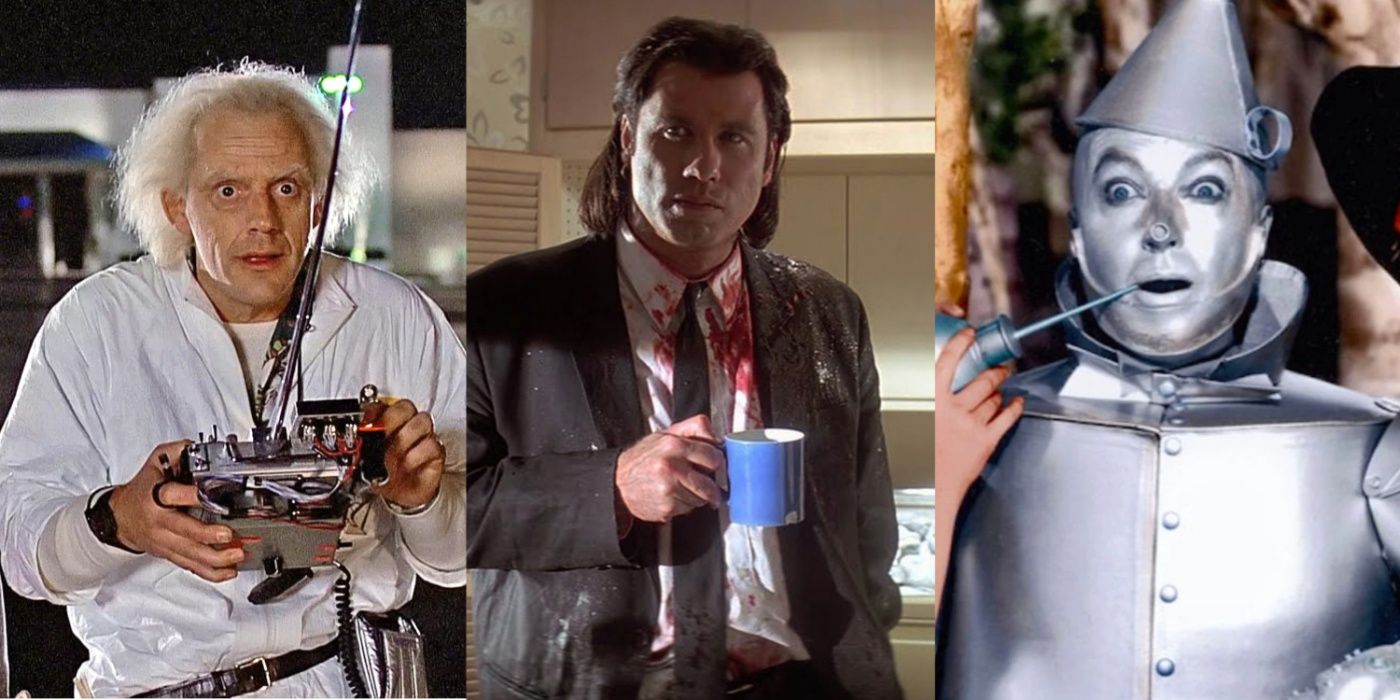 Ever since the birth of Hollywood, audiences have enjoyed thousands of movies without being burdened with information about what the cast and crew had to go through. Before the internet age, the behind-the-scenes drama mostly remained a secret, and so the final product was all that mattered.
However, there was always chaos, and on several occasions, it almost stopped the motion pictures from getting made altogether. Problems ranging from creative differences to budget allocations could have resulted in some of the most critically acclaimed films never getting released. Fortunately, the right measures were taken just in time to save the situation.
RELATED: 10 Movies That Were Doomed By Audience Expectations
10
Pulp Fiction (1994)
Pulp Fiction remains iconic to this day, and for good reason. It had three formidable antiheroes and a string of unforgettable one-liners. Vincent and Mia's moves at the '50s-themed Jack Rabbit Slim's Restaurant also counted as one of the best dance numbers in non-musical films. However, the non-linear narrative never impressed most studio executives initially, and the project was almost abandoned.
Except for Miramax, every other studio declined to work with Tarantino (via Vanity Fair). Thankfully, every detractor was eventually proven wrong, and careers were either saved or boosted. Quentin Tarantino would become an A-list director while John Travolta's career was revived.
9
Psycho (1960)
Alfred Hitchcock had made dozens of movies before Psycho, but the director outdid himself with the Bates Motel tale. Mind-blowing camera angles, especially those seen during the shower murder sequences, have been replicated by many other directors, while the analysis of Dissociative Identity Disorder (DID) was seen as groundbreaking at the time.
RELATED: 10 Best Silent Endings In Movies
Interestingly, Hitchcock had a hard time convincing studio heads that the psychoanalytical thriller would be a hit. When the project was finally greenlit, the budget was too minimal that he had to shoot in black and white. Hitchcock also sacrificed his salary and offered to take royalties from the box office returns instead (via IndieWire). While everyone else thought this was a bad move, it turned out to be the best decision he ever made.
8
Apocalypse Now (1979)
After making one of the best gangster movies of all time, director Francis Ford Coppola had to work hard to match his previous success. He thus made the anti-war drama Apocalypse Now. The film's detailed dissection of themes such as leadership and freedom made it an instant hit, but the journey was quite complicated.
Everything that could go wrong went wrong, from the sets getting destroyed by Typhoon Olga to most of the crew members getting strange tropical diseases (via The New York Times). Marlon Brando also showed up in an unprepared state while the Philippines government kept taking back the helicopters it had lent the production crew. Well, Coppola never gave up, and production was soon completed.
7
Star Wars: Episode IV – A New Hope (1977)
Thanks to its special effects and character designs, Star Wars will unlikely miss any conversation about the most groundbreaking sci-fi movies. The film also proved the importance of focusing on the little details. The fictional planets were given proper names, and so were the droids and the starships. Fans, therefore, witnessed the magnificence of the Millenium Falcon, the C-3PO, and Yavin-IV.
On top of that, Star Wars helped kickstart the space opera wave, but no one initially believed in George Lucas's vision. Harrison Ford and Alec Guinness criticized the script, while 20th Century Fox attempted to shut down production multiple times because it had gone over budget. Luckily, one executive insisted on completion and vowed to resign if the flick flopped (via Business Insider).
6
Iron Man (2008)
The MCU owes its success to Iron Man, a movie that laid the foundation for everything fans have come to love about the franchise. Not only was the film a proper origin story, but it also had perfect visuals and a captivating storyline that incorporated real-world happenings, such as the war in Afghanistan.
RELATED: 10 Most Important Iron Man Milestones In Marvel Comics
However, many directors and screenwriters didn't want to work on Iron Man because of how obscure the titular character was at the time. Over 30 writers are reported to have passed on the project, which they most definitely regretted later on (via Collider). Eventually, Mark Fergus, Hawk Ostby, Matt Holloway, and Art Marcum were chosen to work on the script.
5
Titanic (1997)
Celine Dion's catchy soundtrack, "My Heart Will Go On," coupled with Jack's death due to hypothermia, helped make Titanic an emotional masterpiece. The love story, as well as its tense disaster twist, also resonated well with audiences, and as a result, the James Cameron project became one of the highest-grossing movies of all time.
As picture as the movie was, the production process was so difficult that Cameron even dared the studio to fire him at some point (via Empire). This was after executives demanded that the running time be trimmed. Illness was a significant problem, too, with many of the cast members getting sick because they had to film in freezing weather. Luckily, Cameron and the team soldiered on to the end.
4
Back to the Future (1985)
Back To The Future's well-written comedic scenes and dialogue caused it to age particularly well. The fact that the film didn't overly rely on '80s technology also helped since most things about it don't look outdated when viewed through a modern eye.
As fun as the movie is, the screenplay was rejected a whopping 40 different times (via CNN). This was partly because of the incest angle, where Marty McFly returned to 1955, only for a younger version of his mother to fall for him. Screenwriter Bob Gale remained firm, and the controversial storyline was eventually kept.
3
Toy Story (1995)
Voice work from R. Lee Ermey and Tom Hanks made Toy Story a joy to listen to as much as it was to watch. It also made history as the first-ever computer-animated feature. As new as the technology was, the visuals were stunning, with all the characters having features that were well-defined when examined from all angles.
RELATED: 10 Great Animated Movies That Could Never Be Live-Action
Disney didn't initially buy the idea of making a computer-animated film, so they rejected John Lasseter's pitch. Lasseter would only convince the studio after his animated short, Tin Toy, got nominated for an Oscar, but even after Toy Story was greenlit, it underwent so many rewrites that the project was stopped altogether (via Time). Fortunately, a relentless Lasseter still came with another script, and finally, the movie was made.
2
The Wizard of Oz (1939)
According to the Library of Congress, The Wizard of Oz is the most-watched movie of all time, which is no surprise given its soulful musical numbers and colorful characters. It also perfectly blended humor and philosophy while including enough nursery-like sounds to appeal to younger audiences.
As celebrated as the film is, the production process was extremely troubled. Three directors worked on it, starting with Buddy Epsen (who got fired), then George Cukor (who left to work on Gone With The Wind). Besides that, some cast members got makeup poisoning, while several others got scars because of the hard fabric of the costumes (via Yahoo).
1
Blade Runner (1982)
Ridley Scott's adaptation of Philip K. Dick's 1968 book Do Androids Dream of Electric Sheep? is as perfect as sci-fi movies get. Rather than just relying on science concepts, Blade Runner incorporates chiaroscuro cinematography and film noir elements while using elements of Greek mythology. Most importantly, the cinematography was stunning.
Sadly, Scott and his team had to endure a chaotic journey before coming up with the final product. A couple of days before production began, the major financier pulled out, resulting in the project almost being canceled. However, according to Den of Geek, the producers gathered funds from multiple sources.
on bbc news
on hindi news
on the news today
on channel 7 news
ôrf news
campo grande news ônibus
ôpera news
campo grande news greve de ônibus
l1 news horário dos ônibus
l1 news ônibus
lago azul news ônibus
news österreich
news österreich heute
news österreich aktuell
news öffentlicher dienst
news österreich corona
news öl
news österreich orf
news ö3
news österreich heute aktuell
news österreich sport
ö24 news
ölpreis news
öbb news
ösv news
österreich news krone
övp news
özil news
öffentlicher dienst news 2023
österreich promi news