Soulslikes are everywhere these days and everybody wants a slice of the Souls pie, though nobody yet has quite beaten FromSoftware at their own deliciously difficult game.

At this year's Gamescom I was able to play three new Soulslike games due out soon, all with their own ingredients and take on the FromSoftware formula: Lords of the Fallen, Lies of P, and Black Myth: Wukong. Naturally, I had to compare them.

Which game's challenge will give you a soggy bottom? Which will prove to raise the bun as the real Gamescom showstopper? Above all, which will most match your taste?

I give you: The Great Gamescom Souls-Off.
If you like Dark Souls, you'll like… Lords of the Fallen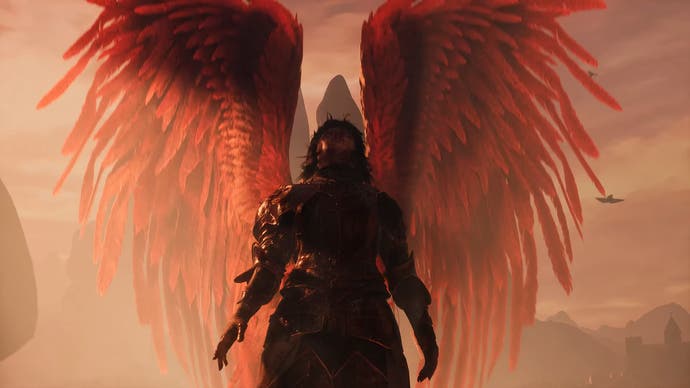 It seems obvious to say, but Lords of the Fallen really is Dark Souls in all but name. Its twisted fantasy. Its swampy environments. Its menu screens and level up system. The need to speak to NPCs multiple times for new dialogue. The way you can spot a boss a mile off from the very unsubtle archway leading into a big arena. I see you CI Games.

To some this will be derivative. To me it felt comforting, or as comforting as a Soulslike can be. Picking up the controller I instantly knew what the controls would be before completing the tutorial – the Gamescom demo was the start of the game. I jumped straight in and knew I'd be light and heavy attacking, sneaking up on enemies for a critical hit, attempting poorly-timed parries, and frantically healing from a limited supply of potions. I knew I'd be repeatedly attempting tricky bosses and frequently returning to bonfire equivalents.

That's not to say Lords of the Fallen doesn't have a trick up its sleeve, even if that trick is seemingly inspired by another game: Soul Reaver. Your character is able to travel at will to the Umbral world using a lantern, turning the already hellish landscape into a truly disturbing vision. You'll need this to witness the memories of spirits, as well as traverse the environment: use the lantern at a dead end to reveal hidden platforms and unseen routes. The game doesn't do a great job of explaining the intricacies of this system and the key challenge appears to be navigating dual worlds and uncovering its secrets more than memorising boss patterns.

Does it lack a little challenge because of its familiarity? Lords of the Fallen may not surprise, but it still satisfies. Battling against the first major boss on the second attempt – a blessed female knight with wide sword arcs who transforms in the second phase to gain angelic (devilish?) wings – both she and I were down to one more hit before death. She struck first and my character collapsed, before reviving in the Umbral world thanks to the game's twist on death. Having dropped the controller, I quickly picked it up again to race forwards and hit her one last time. It was a rush as high as any other Souls game.
Lords of the Fallen will release on 13th October across PC, PS5, Xbox Series X/S.
If you like mechanical melodrama, you'll like… Lies of P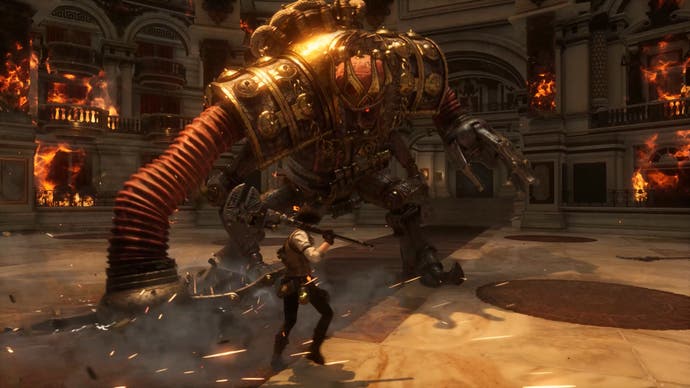 As I reported earlier in the week, developer Neowiz has fixed the dodge in Pinocchio Soulslike Lies of P. The game's puppet now controls more smoothly and responsively, greatly improving the Gamescom demo's combat experience compared to the previous publicly-released demo.


Still, combat is a little underwhelming in Lies of P. Instead of dodging, the game really wants players to parry attacks before stunning enemies while groggy, but it doesn't quite have the necessary impact or finesse. Facing up against the King of Puppets boss, I was able to defeat it by learning its sequence of attacks, repeatedly parrying and poking it between the legs – a strategy I also employed on other bosses in the previous demo. At least, it worked until the second phase completely kicked my arse.

Overcoming that challenge remained a lot of fun, though. And what really impressed me about the boss – and Lies of P overall – is the dedication to mechanical design. The King of Puppets is a hulking mass of spinning clockwork parts, tubular arms, and a gun that pops out of its face – a face that spins betweens comedy and tragedy masks. The boss battle takes place in an opera house populated by soprano spider puppets and clownish monsters, the stage gradually burning up as the fight progresses. It's pure drama.

I love the animation of P as he sharpens weapons across his arm. The variety of swords have a makeshift quality – not just sabers but mechanical parts retooled into weapons – and together with the weapon combination system and upgradeable P-Organs (stop sniggering), P is customisable enough that I feel like Geppetto himself, pulling the strings. And while many have compared its look to Bloodborne, Lies of P retains its own sense of grandeur and detail. Away from stereotypical grim fantasy, it's a Soulslike that carves out its own identity. No word of a lie.
Lies of P will release on 16th September across PlayStation and Xbox consoles, and PC.
If you want the next generation of Soulslikes, you'll like… Black Myth: Wukong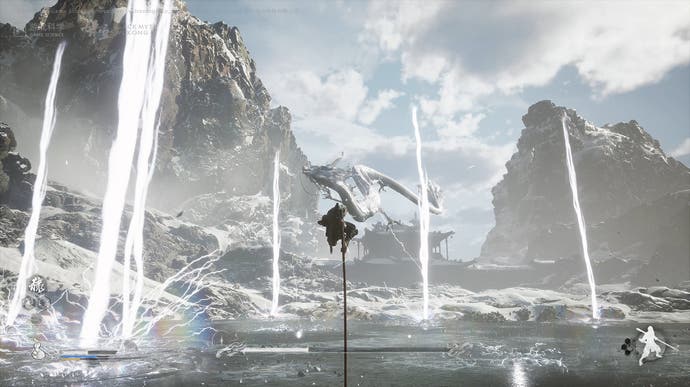 We still don't know how much of a Soulslike Black Myth: Wukong will end up being. Beyond exploring as a fly, how will its levels loop around on themselves? What's the impact of death? How will we level up?

But combat has all the hallmarks of a Soulslike: stamina management, high difficulty, and incredible bosses. It's these bosses the Gamescom demo focused on and I can't stop thinking about them. Each has its own dramatic setup and sense of occasion, a stage for a balletic battle. The Tiger Vanguard boss resides in a temple littered with bodies and laps away at a pool of blood before mocking the monkey protagonist. I can't wait to poke him in the face again and show him what for.

There's an elegance to combat too. Partly it's due to speed: without a block button, players need to precisely dodge incoming attacks and swiftly retaliate with swipes and stabs of the staff. It's also due to the three varying stances which alter attacks between powerful thrusts or slams. There's even a dedicated spin button to twirl the staff around and deflect projectiles. It's all beautifully animated and the animalistic character designs have a wonderfully unique Chinese flair thanks to the narrative basis on Journey To The West.

The environments, too, are gorgeous. Soft powdery snow crunches underfoot; blood splashes and pools dynamically with every swish and swoosh. Black Myth: Wukong uses Unreal Engine 5 (something it shares with Lords of the Fallen) and it really shows. It's clear Game Science has a flair for visuals that marries with responsive controls for a smooth, intuitive, challenging, and arrestingly next-gen experience that shifts the genre into new territory. It's the furthest away, but the agonising wait should be worth it.
Black Myth: Wukong will release sometime in 2024 across PC, PS5 and Xbox Series X/S.

To see this content please enable targeting cookies.



on bbc news
on hindi news
on the news today
on channel 7 news
ôrf news
campo grande news ônibus
ôpera news
campo grande news greve de ônibus
l1 news horário dos ônibus
l1 news ônibus
lago azul news ônibus
news österreich
news österreich heute
news österreich aktuell
news öffentlicher dienst
news österreich corona
news öl
news österreich orf
news ö3
news österreich heute aktuell
news österreich sport
ö24 news
ölpreis news
öbb news
ösv news
österreich news krone
övp news
özil news
öffentlicher dienst news 2023
österreich promi news