In relocating its setting to the Hawaiian island of O'ahu, developer Ubisoft Ivory Tower finds the perfect virtual playground for its latest open-world racer, The Crew Motorfest. Between the paradise coastline, its mountain ranges, the bustle of downtown Honolulu and even its temples, there's no shortage of variety, and the new backdrop is a welcome gear change from the continental US setting of The Crew 1 and 2.
Reviewing Motorfest's performance on PlayStation 5, Xbox Series X and Series S, it's clear the game still has some technical issues despite a month's worth of patches. How do the three consoles compare, do PS5 and Series X hit a rock-solid 60fps in their performance modes, and lastly what's the state of the lone 30fps mode on Series S?
On paper, the idea behind The Crew Motorfest is a proven winner. It takes the free-form gameplay loop pioneered by Forza Horizon to a brand-new location – and to PlayStation consoles. It's you, the open road, and a sprawling map filled with different events. Just as with The Crew 2, the map view in itself is impressively handled. Hit the options button and you get a complete 3D rendering of the entire island, with a view from the clouds that also scales right down to your car on the ground in a seamless transition.
There's also a rolling time of day, weather states, and online integration. As a result there's always an energy to the streets – with other human-controller cars whizzing by as ghosts, locked in their own instanced race. There's never a dull moment in driving from A to B. Plus it mixes in a generous use of object physics for brick walls, street lights and anything in between. The only thing truly missing here is NPCs, who seem to have been banished from the city centre in order to let the cars wreak havoc.
Now for the not-so-good stuff. It must be said that the lighting in Motorfest is something of a weakpoint. Especially at night, or while driving through tunnels, cars take on an almost otherwordly glow. There's a lack of indirect shading in most cases, a lack of material interaction with the metals and gloss paintwork that causes vehicles to look detached from the environment. It's a shame, given the obvious care that went into their design and that of the world they race through.
Added to that, there are a few other shortfalls. At the starting grid you'll catch obvious filtering cascades for shadows ahead – and even texture maps rely on a low anisotropic filtering setting. You'll spot obvious shadow pop-in during plane missions. You'll notice flickering water transparencies during boat race segments. These are nitpicks, but obvious enough to still detract from the game's overall sense of polish. This goes for every console platform, too, be it PS5, Series X or Series S – and regardless of mode.

To see this content please enable targeting cookies.


Speaking of modes, which is the best way to play the game on the premium machines? Both PS5 and Series X include two graphics settings as is becoming standard this generation: a 60fps performance mode and a 30fps resolution mode. Pixel output is the main difference between modes, with performance mode running at a dynamic 1440p that drops to 1152p at its lowest. Meanwhile the resolution mode gives you a true native 4K image with extremely rare and minor drops under that 3840×2160 figure. In both modes, the image is reconstructed with AMD's FSR2.
Otherwise, the differences between the two options are subtle. Textures, shadows and SSR quality are a match, for a start. However, there are relatively subtle draw distance differences between the two modes, on road-side geometry and shadows. In the video above this demanded a 6x zoom in places to catch, which speaks to how minor the difference are.
The good news is that you don't lose much else to hit 60fps on PS5 or Series X. Grass draw distances are a match between the modes, as is the rendering range for terrain. The only last difference of note is that specific spots of foliage – bushes – are stripped out in the city area on performance mode. Most likely this is a key performance saver for a more GPU-taxing area. But outside of the drop to 1440p, the lower LOD setting for trees and shadows, and these rare cases of removed foliage, the 60fps performance mode is absolutely the way to go.
It's worth stressing that neither premium conosle misses out with 60fps selected. Comparing PS5 and Series X directly in their performance modes, we get a practical mirror image. Every blade of grass and rock is precisely matched on both sides and resolutions are identical too.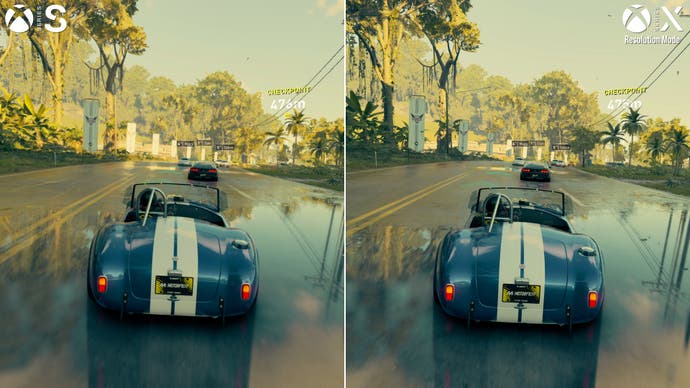 Switching over to Series S next, the hard reality is that there's no mode toggle whatsoever – just a single 30fps mode. Compared against the Series X's 30fps resolution mode, the Series S of course doesn't hit 4K in this case either, instead opting for a dynamic 1440p with drops to 1152p at worst. It's an expected concession for Series S, proportionate to its lower GPU spec. In fairness, image quality on Series S still holds up well at this native resolution.
As for other visual downgrades, Series S uses similar settings to the 60fps performance mode on the premium machines. In other words, you get a similar drop in object draw distances, causing more pop-in on trees, and a more obvious shadow cascade ahead of the player. But on the whole, the visual setup on Series S isn't the issue – it's performance that poses the bigger problem.
Kicking off with frame-rate testing, PS5 in its performance mode delivers 60fps with v-sync engaged most of the time. It's certainly not a perfect reading, with some races dropping briefly to the mid-50s – often triggered by too many cars in one spot. The starting grid is at times a stress point, though splitting from the pack tends to even the frame-rate out again. On balance, it's never too glaring, and it's still an enjoyable 60fps experience 99 percent of the time.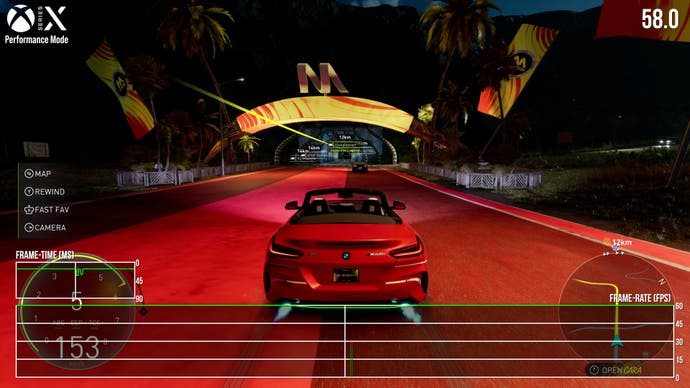 Free driving across the island prompts more frequent and significant dips, however, with regular drops to the 50s and more regular hitches perhaps due to world streaming or the online net code. Moving to the map view exaggerates the issue too, with persistent frame drops. Overall it's still a robust experience on PS5 at 60fps where actual event races are concerned, and so, despite its blemishes, this is without question the mode to use.
Next along is Series X, where the turnout at 60fps is slightly better than PS5's. The main difference is the drops are less frequent, in racing events especially. Usually you'll see just one or two frames dropped mid-race, rather than the PS5's lurch into the mid-50s. The drawback is that Series X also uses adaptive v-sync, meaning screen tear will at times kick in at the top of the display. Otherwise, the map view and cruising around the island still drops the odd frame – if again, very slightly less aggressively than PS5.
After all is said and done, the 60fps mode is the setting to choose on either console. But supposing you really do want a native 4K presentation, the 30fps mode does work reliably on PS4 at least. In fact, I haven't spotted a single frame-rate drop on PS5 in all testing so far. The only trouble spot is on the world map, which surprisingly exhibits uneven frame pacing. Other than that, PS5 hands in a smooth, evenly paced frame-time readout for actual gameplay.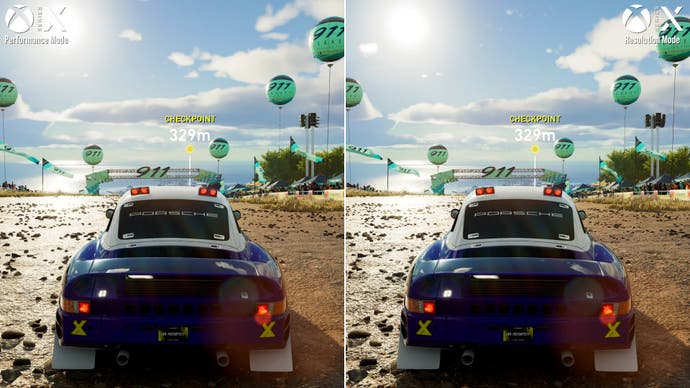 Bizarrely, Series X doesn't follow suit in its handling at 30fps. Despite being ahead in terms of performance at 60fps, Series X sees greater challenges at 30fps, where the half-refresh cap invokes uneven frame pacing even in gameplay. Added to that, Series X's adaptive v-sync triggers regular tearing at the top of the frame as well. That makes it a choppy experience at times. Thankfully, Series X users have an easy opt-out from this mode, of course, with the 60fps performance option.
I've saved the worst news for last here: Series S only has this 30fps option, and it exhibits the exact same performance issues as the Series X's resolution mode. We get tearing, we get uneven frame-pacing, and for Series S users there's no alternative. As it stands, in my view it's unacceptable for any racing game to run this way, and especially so given the hardware's current-gen pedigree. The experience is affected significantly enough while drifting tight corners, where the inconsistent frame distribution at 30fps creates a perceptible judder.
It's understood that the beta version of the game ran at 60fps on Series S, so it's unclear why the final build opts for that single 30fps experience. Needless to say, it's one of the biggest disappointments on the 4TF machine that I've encountered so far this generation. Where PS5 and Series X are easy to recommend on their 60fps modes, this version of The Crew Motorfest doesn't offer the same experience – making it one to avoid.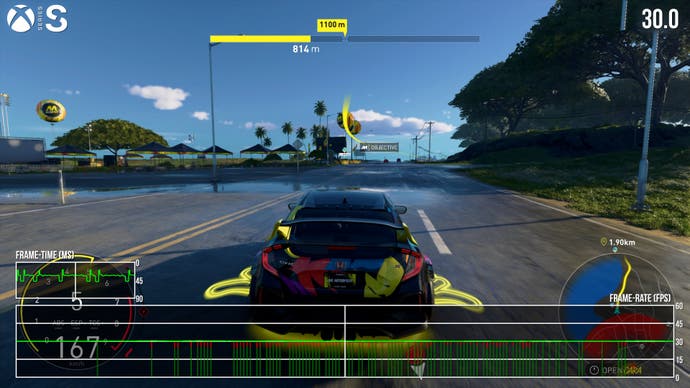 After a five year gap since The Crew 2, Motorfest takes advantage of PS5 and Series X hardware handsomely with a true 60fps mode. There's no question this performance option is the best fit for its brand of nitro-fuelled racing. And despite certain rough spots – notable drops during the free-roaming segments – both consoles do broadly lock at 60fps.
Sadly, this luxury doesn't extend to Series S at present. Through all the high points of Ivory Tower's world-building, playing at 30fps with uneven frame pacing and screen tearing to boot just doesn't make for a 'next-gen' console experience. Not by a long stretch.
It's a real shame, because there's genuine quality in The Crew Motorfest's design. For anyone finished with Forza Horizon 5, for anyone seeking a game in a similar mould, it comes well recommended. But in the console space, ideally the PS5 or Series X versions are the ones to pick up.

To see this content please enable targeting cookies.



on bbc news
on hindi news
on the news today
on channel 7 news
ôrf news
campo grande news ônibus
ôpera news
campo grande news greve de ônibus
l1 news horário dos ônibus
l1 news ônibus
lago azul news ônibus
news österreich
news österreich heute
news österreich aktuell
news öffentlicher dienst
news österreich corona
news öl
news österreich orf
news ö3
news österreich heute aktuell
news österreich sport
ö24 news
ölpreis news
öbb news
ösv news
österreich news krone
övp news
özil news
öffentlicher dienst news 2023
österreich promi news