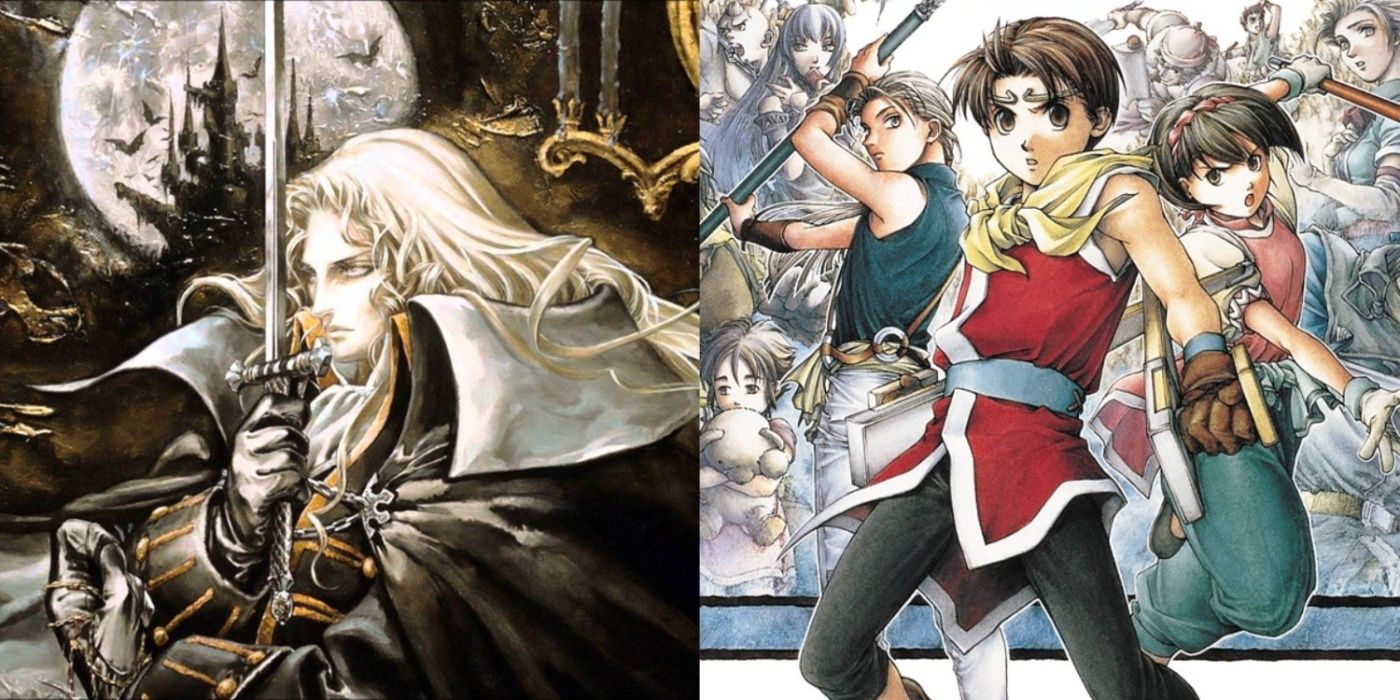 While there's no question that Square Enix's illustrious Final Fantasy series had a powerful presence on the original PlayStation, Sony's debut game console boasted an impressive catalog of RPGs from other companies. Unsurprisingly, many of these successful titles were part of what made the '90s a "golden age" of JRPGs.
However, these games still have unique angles in terms of gameplay and/or premise to give them lasting appeal among fans of the genre. Square Enix's Tactics Ogre was a groundbreaking blend of the JRPG and strategy RPG subgenres, while Konami's Castlevania: Symphony of the Night effortlessly incorporated action platforming into the mix.
RELATED: The 10 Most Replayable RPGs
10
Wild Arms
A great JRPG for fans of the contemporary Octopath Traveler series, Media Vision's PS1 exclusive Wild Arms was one of the most unique RPGs of its time. Set in the fantasy world of Filgaia, the game follows a band of misfits as they travel the world in search of excitement and adventure.
Wild Arms was well-received in part thanks to its inventive narrative structure, as it had players play through the prologues of each central cast member's stories before it culminated into a grander plot. Complete with a turn-based combat system bolstered by each character's distinctive abilities, Wild Arms was an underrated JRPG hit of the PS1 era.
9
Tactics Ogre: Let Us Cling Together
Even today, Tactics Ogre is one of the most outstanding achievements in the tactical RPG space. Set in an immersive high-fantasy world rife with political intrigue, players follow Denim Powell as he participates in a resistance group fighting against occupying military forces.
Tactics Ogre: Let Us Cling Together is widely praised for its impressive tactical depth when forming and commanding units in battle. The difficulty could be punishing, but it's a satisfying series of gameplay systems to master that make battles tense and rewarding to conquer. Likewise, its plot was praised for its mature complexity and being baked into the gameplay to provide branching storylines. The game lives on through Tactics Ogre: Reborn, a remastered port of the PSP remake.
8
Breath Of Fire IV
Capcom has been on a hot streak in recent years, partly thanks to revitalizing its classic franchises with exciting new installments. However, the publisher/developer's cult-classic Breath of Fire series is still, surprisingly, lying dormant.
Breath of Fire IV for the PS1 is regarded as one of the series' best installments, thanks to engaging, albeit safe storytelling and an accessible gameplay system. Breath of Fire III's dragon transformation system contends for being the franchise's best, but IV's execution is also worthwhile in tandem with the returning Master System to customize each character. Visually, IV is a standout thanks to its beautiful combination of 3D environments and 2D character sprites.
RELATED: 10 Most Important Pieces Of Dark Souls Lore New Players Should Know
7
Castlevania: Symphony Of The Night
Flexing the versatility of the overarching RPG genre, Konami's Castlevania: Symphony of the Night was a PS1 blockbuster of its time. Taking on the role of Dracula's half-human, half-vampire son Alucard as he reawakens, players venture through the former's castle to quell his gruesome ambitions and find Richter Belmont.
Castlevania: Symphony of the Night was a triumph of the Metroidvania subgenre, but its traversal controls, character customization, and combat mechanics made it an impressive action-platforming RPG as well. The game has a concise runtime by RPG standards, but its terrific incentive for exploration and backtracking makes it an engaging experience.
6
Xenogears
Although it's a shame that the series has been lost to time, Square Enix's Xenogears is deservedly remembered as a '90s JRPG landmark. An enticing amalgamation of fantasy and sci-fi, the game revolves around Fei Fong Wong as he and his companions attempt to overthrow the tyrannical rule of Solaris.
Xenogears might be rather infamous for its rushed second disc, but the game is nonetheless acclaimed for its mech- and turn-based combat system that tastefully plays on Final Fantasy's iconic Active Time Battle system. Similar to games like Tactics Ogre, Xenogears was also lauded for its sprawling and complex narrative, buoyed by political turmoil and a main cast worth getting emotionally invested in.
5
Vagrant Story
Another non-Final Fantasy production by Square Enix, the Final Fantasy Tactics team's Vagrant Story became one of the most ambitious JRPGs on the PS1. Centering around secret agent Ashley Riot in the fantasy world of Valendia, players take this hero on a mission to investigate a possible link between a cult leader and a high-ranking member of the country's parliament.
Perhaps Vagrant Story's boldest design approach is its combat, functioning as a form of real-time action where players can move freely but temporarily pause to choose combat commands. It's akin to the almost MMORPG-like combat of Parasite Eveand Final Fantasy XII, paired with an equally praised story packed with drama and conspiracy.
RELATED: 10 Essential Skyrim Mods You Need To Download
4
Suikoden
Among other franchises, Konami's Suikoden games are another victim of the publisher shifting focus away from premium gaming, at least until the upcoming remasters release. The debut game in the series has players take the son of an imperial general on a quest to recruit 108 followers and lead a rebellion against the corruption of the land's sovereign state.
Suikoden takes its premise to heart in terms of gameplay, as it ambitiously features over 90 recruitable characters for the game's engaging turn-based combat system. Complemented by an investing storyline supported by likable characters and classic Chinese literature, Suikoden was a refreshing take on popular JRPG conventions.
3
Chrono Cross
Square Enix's Chrono Trigger is still acclaimed as one of the best JRPGs in the subgenre, and while, by comparison, Chrono Cross is looked at as the black sheep by some fans, the sequel succeeded on its own merits. The game centers around Serge as he seeks to find the truth behind the convergence of two realities.
Although the stark differences from its predecessor were jarring for some, Chrono Cross was praised for its complex story and its use of parallel worlds as its running theme. The turn-based combat was also seen as innovative, as the various recruitable party members could shake up the Final Fantasy VII-inspired Element system of assigning magical abilities via items.
2
Suikoden II
Commercially underwhelming as it was upon release, Suikoden II was critically well-received and has only gained more praise in retrospect. Now a cult-classic title, players follow the story of how Riou and his companions get swallowed in the chaos of the Kingdom of Highland invading the City-States of Jowston​​​​​​.
Much of what made the first installment critically praised is present in Suikoden II, with a politically nuanced story set against the backdrop of high fantasy and motifs inspired by classic Chinese novels. On top of well-paced combat involving one-on-one fights and large-scale battles, players can now recruit over 100 party members for additional variety.
RELATED: 10 Important Pieces Of Baldur's Gate Lore New Players Should Know
1
Valkyrie Profile
A PlayStation JRPG that could benefit from the remake treatment, Valkyrie Profile was an exciting change of pace as a premise. The game tasks the Valkyrie protagonist Lenneth to collect the souls of dead heroes to join her in the battle of Ragnarok.
Elements of Norse mythology being used in JRPGs were nothing new even at the time, but Valkyrie Profile was invigorating for how it explicitly used Scandinavian folklore as the crux of its story. While perhaps dated by today's standards, the strategy and timing involved in having a button assigned to each party member in combat was novel in the late '90s/early '00s.
on bbc news
on hindi news
on the news today
on channel 7 news
ôrf news
campo grande news ônibus
ôpera news
campo grande news greve de ônibus
l1 news horário dos ônibus
l1 news ônibus
lago azul news ônibus
news österreich
news österreich heute
news österreich aktuell
news öffentlicher dienst
news österreich corona
news öl
news österreich orf
news ö3
news österreich heute aktuell
news österreich sport
ö24 news
ölpreis news
öbb news
ösv news
österreich news krone
övp news
özil news
öffentlicher dienst news 2023
österreich promi news