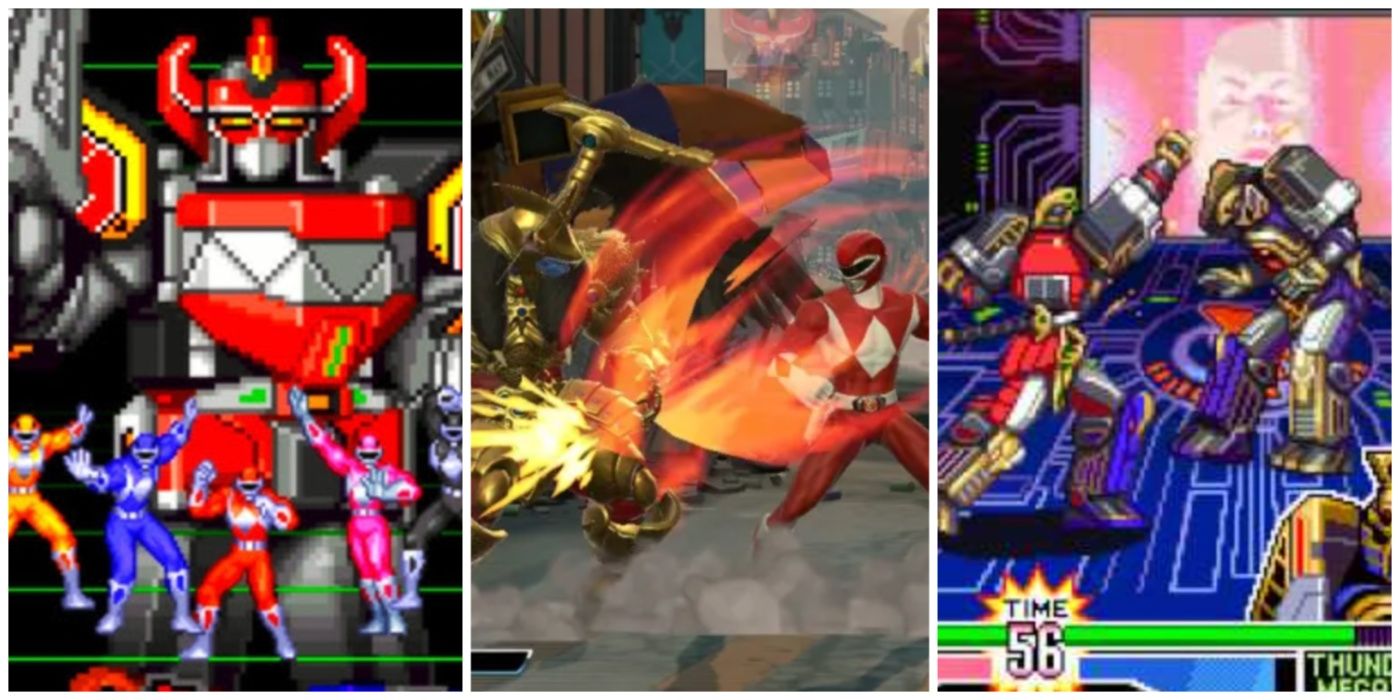 Power Rangers is an iconic action franchise that's still going strong after three decades, with a growing expanded universe that includes feature films, toys, comics, and video games. Licensed video games for popular action properties are nothing new, but Power Rangers has an interesting legacy when it comes to its gaming contributions.
Power Rangers video games have been around for nearly as long as the television series, and yet this important pillar of the franchise doesn't always get its due. Not every Power Rangers game is a hidden gem, but some extremely strong entries should please both fans of the series and newcomers alike.
RELATED: 15 Best Power Rangers Series, Ranked
10
Power Rangers Zeo: Battle Racers
Release Date: September 17, 1996
Power Rangers Zeo: Battle Racers is a bit of an outlier that many Power Rangers fans don't even know exists, but it deserves credit for doing something so remarkably different from the rest of the Power Rangers games. Battle Racers is a racing game rather than a standard action or fighting title.
Power Rangers Zeo: Battle Racers doesn't top Super Mario Kart or F-Zero, but it's a curious alternative with a unique battle element and a creative roster of racers. The concept is still strong, and a modern Power Rangers racer could be a huge success under the right circumstances.
9
Mighty Morphin Power Rangers: Mega Battle
Release Date: January 17, 2017
Mighty Morphin Power Rangers: Mega Battle is a standout game from Bandai Namco that's the perfect mix of old and new. The beat-'em-up game is based upon Power Rangers' first two seasons and focuses on heightened four-player cooperative action. Mega Battle can be completed solo, but the game truly comes alive when it's played with a full team.
Mega Battle doesn't break the mold when it comes to Power Rangers beat-'em-ups, and its minimalist art style isn't for everyone. However, it's a fun blast to the past during a time when Power Rangers seemed to be having a bit of an identity crisis.
8
Power Rangers Wild Force
Release Date: August 19, 2002
Power Rangers Wild Force is an early Game Boy Advance title that forges its own path rather than taking the easier, expected beat-'em-up action sidescroller approach. Power Rangers Wild Force is an isometric adventure that tries to create a compelling Power Rangers story that's dense in dialogue and satisfying character moments.
Wild Force still features plenty of action and each level gets capped off with a grandiose Megazord boss battle. There's even a four-player battle mode that takes advantage of the Game Boy Advance's link cable connectivity.
RELATED: The 15 Most Popular Power Rangers In The Franchise, Ranked
7
Power Rangers Ninja Storm
Release Date: September 5, 2003
Power Rangers Ninja Storm would have left a greater impact on fans if there weren't better exclusive Power Rangers Game Boy Advance titles out there. On its own, Power Rangers Ninja Storm is an entertaining handheld beat-'em-up experience that pulls exclusively from the franchise's 11th season.
Ninja Storm is another Power Rangers action game that finds strength through the contrasting play styles that accompany the game's Wind Rangers, Thunder Rangers, and Green Samurai Rangers. Power Rangers Ninja Storm's Megazord boss battles are the most memorable and creative part of the game.
6
Power Rangers S.P.D.
Release Date: September 6, 2005
The Game Boy Advance is the home to some of the best video games to come out of the '00s, many of which have become cult classics because they remain GBA exclusives. Such is the case with Power Rangers S.P.D., which is one of the most enjoyable Power Rangers games, handheld or otherwise.
The Game Boy Advance title rises to the occasion as a fast-paced action game with unique boss battles and genre-bending mini-games that experiment with things like racing. However, each of the six Rangers has a completely different play style that changes the experience and incentivizes replay.
5
Power Rangers: Super Legends
Release Date: October 23, 2007
Power Rangers: Super Legends may look dated for a PlayStation 2 game from '07, but its gameplay holds up more than 15 years later, and it's one of the biggest love letters to the Power Rangers franchise. Lord Zedd launches a comprehensive plan to eliminate every Power Ranger from existence, which prompts the Omega Ranger to recruit different Power Rangers from across time to take out Zedd.
21 playable characters are pulled from 15 seasons of Power Rangers ranging up to Operation Overdrive. Players have lots of freedom when it comes to the different members of their super team.
RELATED: 14 Things In Power Rangers That Aged Poorly
4
Mighty Morphin Power Rangers: The Fighting Edition
Release Date: September 1995
Mighty Morphin Power Rangers: The Fighting Edition is a Super Nintendo exclusive, one of the first Power Rangers fighting games, and a strong entry in the genre that can hold its own against the likes of Street Fighter and Mortal Kombat. The Fighting Edition looks exceptional and has a score by Hiroyuki Iwatsuki that goes much harder than what's necessary.
The Fighting Edition largely pulls its roster from Power Rangers' second and third seasons. That being said, it still throws in Ivan Ooze and multiple Zords for greater combative chaos.
3
Mighty Morphin Power Rangers
Release Date: November 23, 1994
The original Mighty Morphin Power Rangers was such a breakout success that a video game adaptation was inevitable. However, there were five separately developed Mighty Morphin Power Rangers games for different consoles that all came out in '94.
The Super Nintendo game is the best of the bunch (although the Sega CD's FMV choose-your-own-adventure approach is a fascinating misfire) and distills the series into a fun, attractive sidescroller beat-'em-up game. Some action games like this can get lazy when it comes to each character's unique abilities and play styles, but Mighty Morphin Power Rangers makes each of the five Rangers feel distinct.
2
Mighty Morphin Power Rangers: The Movie
Release Date: June 23, 1995
There are four video game adaptations of Mighty Morphin Power Rangers: The Movie, and it's the Super Nintendo iteration that's not only the best of the bunch, but one of the definitive Power Ranger game experiences. The game is a standard beat-'em-up, like other Power Rangers games, but the SNES delivers such striking pixel art and a truly catchy soundtrack that elevate the entertaining gameplay to another level.
The worst thing about Mighty Morphin Power Rangers: The Movie is that it doesn't take much longer than an hour to beat. However, audiences won't have any problem picking the game back up and happily starting it again.
1
Power Rangers: Battle For The Grid
Release Date: March 25, 2019
2019's Power Rangers: Battle for the Grid is the most recent Power Rangers video game success story, and it's technically the best game in the franchise. The modern one-on-one 2D fighter assembles over two-dozen compelling characters from across the Power Rangers franchise for a polished game with tight controls and varied movesets.
Robust online play and steady DLC additions have kept Power Rangers: Battle for the Grid's fandom alive and well. It's proof that a modern Power Rangers game can still evoke the same magic as the titles from the '90s.
on bbc news
on hindi news
on the news today
on channel 7 news
ôrf news
campo grande news ônibus
ôpera news
campo grande news greve de ônibus
l1 news horário dos ônibus
l1 news ônibus
lago azul news ônibus
news österreich
news österreich heute
news österreich aktuell
news öffentlicher dienst
news österreich corona
news öl
news österreich orf
news ö3
news österreich heute aktuell
news österreich sport
ö24 news
ölpreis news
öbb news
ösv news
österreich news krone
övp news
özil news
öffentlicher dienst news 2023
österreich promi news