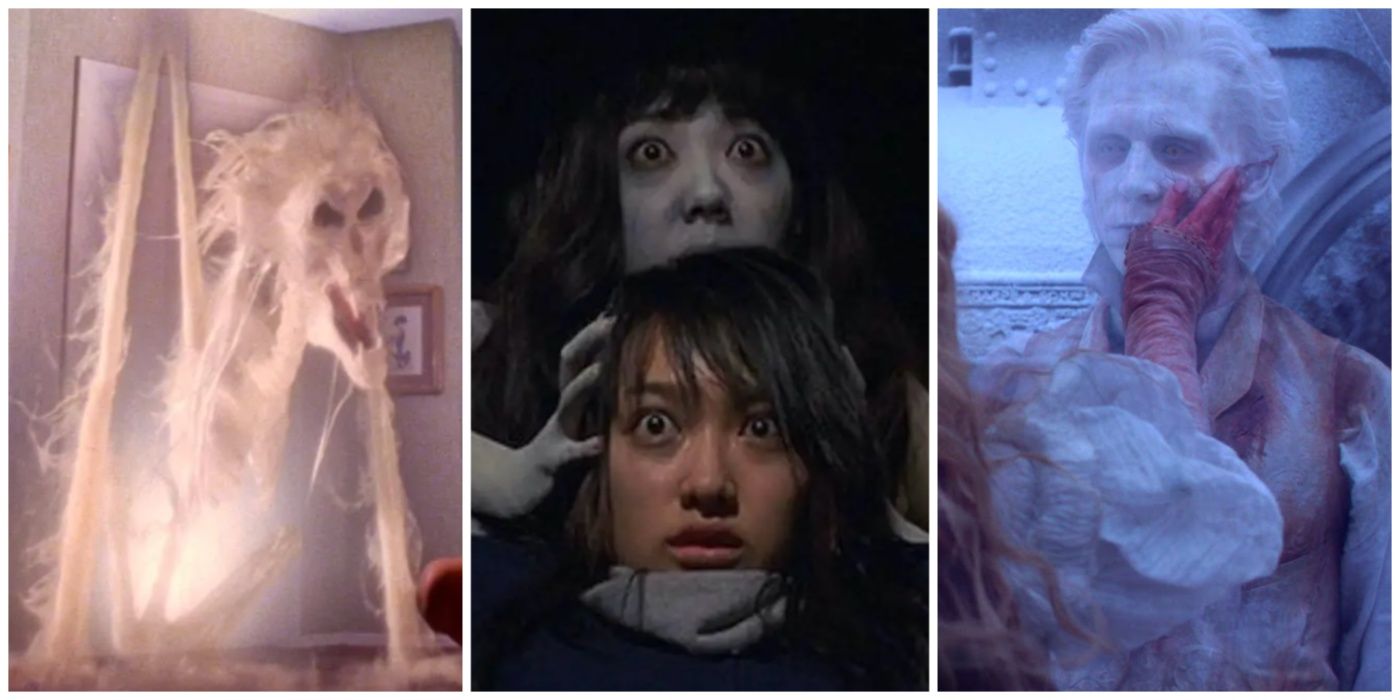 Horror remains an extremely versatile genre that terrifies and delights its audience through diverse stories. Ghost stories are one of horror's oldest subgenres and the concept of supernatural communication with the dead is a very old-fashioned idea that continues to endure. Horror movies that deal with ghosts can be moody tone poems or harrowing encounters with vengeful spirits.
Ghosts are a classical concept, but one that's still open to creative reinterpretation that some skilled filmmakers push to exciting places. Ghost stories are usually some of the most reliable horror movies and certain films go above and beyond when it comes to the paranormal.
10
The Frighteners
Release Date: July 19, 1996
Before Peter Jackson was bringing J.R.R. Tolkien's Lord of the Rings to the screen and winning Academy Awards, the New Zealand filmmaker was a master of horror. The Frighteners was initially developed as a Tales From the Crypt movie before its high quality pushed it into standalone territory. Michael J. Fox plays a conniving exorcist conman, albeit one who actually has the ability to communicate with spirits.
A supernatural mystery plays out that doesn't just put his soul at stake, but those of the whole world. The Frighteners is genuinely unsettling and ahead of its time when it comes to Jackson's practical and CG effects. It's a fun spin on the too-often dour ghost story genre.
9
House (1977)
Release Date: July 30, 1977
House, also known as Hausu, is an experimental Japanese horror film from the '70s that's not to be confused with Steve Miner's House from '86. House plays out like a traditional survival horror story where a young woman named Gorgeous, along with her six stereotypical friends, take an extended stay at a creepy mansion that's subjected to endless supernatural occurrences, a creepy cat, and the world's most dangerous piano.
House is more so known for its radical and chaotic visual style than its story, but it amounts to an unforgettable horror film. House is very much in on the joke and it's a truly unique cinematic experience.
8
The Others
Release Date: August 10, 2001
Alejandro Amenábar's The Others is a remarkable meditation on grief, loss, and the casualties of war that's sometimes only possible in a tragic ghost story. The Others benefits from Nicole Kidman's starring performance, who helps elevate this gothic psychological horror into something even grander.
Kidman's character, and her two children, begin to experience supernatural activity in their home and fear that they have ghostly visitors. The Others brilliantly subverts expectations and goes out on a smart, earned twist that easily holds its own against The Sixth Sense. It's an underrated ghost story and Kidman performance that have held up incredibly well more than two decades later.
7
Crimson Peak
Release Date: February 9, 2016
10 Best Haunted House Horror Movies
Guillermo del Toro unabashedly loves playful genre stories that indulge in horror and science fiction, whether it's Hellboy, Pan's Labyrinth, or The Shape of Water. Crimson Peak is del Toro's ode to gothic horror ghost stories and the director absolutely nails the Edwardian-era England aesthetic.
Mia Wasikowska, Tom Hiddleeston, and Jessica Chastain lead this ghoulish love story that's as visually gorgeous as it is psychologically haunting. Crimson Peak is rich in vibrant colors that make the movie's rotting corpses and vengeful ghosts feel like creatures from EC Comics or a giallo film.
6
The Haunting
Release Date: September 18, 1963
Many ghost stories deal with unsuspecting victims who are completely oblivious towards the darker forces that dwell in the shadows. The Haunting from '63 is an inventive change of pace where a group of ghost hunters are assembled at a supposedly haunted mansion for a supernatural experiment.
The Haunting is full of effective scares, smart characters, and a structure that's almost Agatha Christie-like in nature. Jan de Bont directed a decent remake of The Haunting in '99, after his success on Speed and Twister, but the ghost story horror film has also been a major inspiration on other modern horror movies like Crimson Peak or The Conjuring.
5
A Ghost Story
Release Date: July 7, 2017
David Lowery is an evocative filmmaker who's responsible for big, bold movies like The Green Knight and Pete's Dragon that often feel like they transcend time and space. A Ghost Story is Lowery's best example of this and an ambitious gambit that most directors wouldn't have the courage to embrace. A Ghost Story explores a new spirit's acclimation to the eternity of the afterlife.
This ghost tries to check in on his wife, but A Ghost Story goes on to cover an infinitely broader scope as a powerful way to reflect legacy and change. It's an intimate and often uncomfortable singular ghost experience that's elevated through the film's decision to depict its spirits through the silly, cliché sheet-with-holes design.
4
The Conjuring
Release Date: July 19, 2013
James Wan's The Conjuring has evolved into a multi-billion dollar cinematic universe with many moving pieces. The fourth official Conjuring movie is on the way with The Conjuring: Last Rites, but there have been slightly diminishing returns ever since the original film. The Conjuring introduces cinematic versions of Ed and Lorraine Warren, paranormal investigators, who are called to help a humble family who start to experience ghostly manifestations and attacks.
The Conjuring slowly reveals a creepy and complex history behind the Perron family's home. Wan is one of the best names in modern horror and The Conjuring is some of his best work.
15 Horror Movies You Should Never Watch Alone
3
The Amityville Horror
Release Date: July 27, 1979
Loosely based on a true story, The Amityville Horror depicts an all-American family's descent into madness after the sinister forces that occupy their new home strike. The Amityville Horror teases terrifying ideas as each member of the Lutz family falls prey to these vindictive ghosts.
Paranormal possession is frightening on its own, but it's even worse when one's own family becomes the enemy. Unfortunately, Amityville Horror has been reduced to an empty brand where its name no longer means anything. This shouldn't take away from the original's impact and how it set new standards for haunted house ghost stories.
2
Ju-On: The Grudge
Release Date: November 26, 2003
The Ju-On franchise is foundational j-horror that has more than a dozen feature films and even a crossover venture with Sadako from Ringu. Each Ju-On movie tackles the hopeless nature of curses in unique ways and Ju-On: The Grudge (which is actually the third film in the franchise) establishes many of The Grudge's staples.
A horrifying ghost story about pain, abuse, and life's overwhelming nature is conveyed through beleaguered characters who are doomed to fail. Ju-On: The Grudge works as well as it does because it's a ghost story that's truly nihilistic in nature, but ghostly figures like Kayako and Toshio are pure nightmare fuel.
1
Poltergeist
Release Date: June 4, 1982
Poltergeist doesn't reinvent the wheel when it comes to its ghostly circumstances. However, the extraordinary combination of Steven Spielberg and Tobe Hooper produces one of the greatest horror movies to come out of the '80s and an iconic ghost story. The Freeling family is beset with spirits who begin to communicate with the family's youngest, Carol Ann, who eventually disappears.
Carol Ann's survival soon depends on an exorcist and paranormal investigator who can end these haunting horrors. Poltergeist has two sequels and a Sam Raimi-produced 2015 remake, but none can compare to the lightning in a bottle magic of the original. Poltergeist remains the definitive ghost story horror movie that modern classics strive to match.
on bbc news
on hindi news
on the news today
on channel 7 news
ôrf news
campo grande news ônibus
ôpera news
campo grande news greve de ônibus
l1 news horário dos ônibus
l1 news ônibus
lago azul news ônibus
news österreich
news österreich heute
news österreich aktuell
news öffentlicher dienst
news österreich corona
news öl
news österreich orf
news ö3
news österreich heute aktuell
news österreich sport
ö24 news
ölpreis news
öbb news
ösv news
österreich news krone
övp news
özil news
öffentlicher dienst news 2023
österreich promi news