Tencent are bringing back NovaLogic's venerable tactical FPS series Delta Force. Created by Shenzen-based TiMI Studios, who have now acquired the IP from THQ Nordic, the new Delta Force will be a free-to-play military-realist PvP shooter set on destructible maps featuring driveable vehicles and aircraft, with dynamic weather and a variety of enemy factions and classes. It'll launch in 2024 across PC, consoles and mobile, and will support crossplay.

The original Delta Force launched in 1998, which was a busy year for videogames: it saw the release of Half-Life, Starcraft, Thief: The Dark Project, Baldur's Gate, Fallout 2 and Grim Fandango, together with Zelda: Ocarina of Time and Metal Gear Solid on the console side. I'm not sure Delta Force can hold a candle to any of those, but it had a decent critical reception and attracted enough fans to spawn a fairly staggering number of sequels. It stands apart in my memory mostly for its huge draw distances and its corresponding emphasis on long-distance firefights.

The old NovaLogic series was very popular in China, according to TiMi. "I just remember it as like the first FPS game in China," TiMi-J3 studio general manager Leo Yao told RPS in a quick chat before Gamescom. "20 or maybe more years ago, in the internet cafes, everyone played Delta Force. So it's very, very popular with that generation. But because it hasn't launched any sequels for a long time. So maybe for the younger generation, teenagers, maybe they don't know Delta Force, but for older players, I think Delta Force was the beginning of their FPS experience."

TiMi – whom you might know as the company behind Call of Duty: Mobile – have consulted with members of the original Delta Force devteam on the new game's design and music, and asked old school Delta Force fans to playtest it. You can expect a new version of the old special operator customisation system, plus an updated arsenal. There will be two main modes, an extraction-based affair and the flagship big-bottomed PvP experience, with different missions to complete in different parts of each map.

TiMi have also devised a new campaign mode based on Ridley Scott's US-Somali war movie Black Hawk Down, following in the footsteps of NovaLogic's sixth Delta Force sequel. It'll introduce a new version of the old Black Hawk Down map and recreations of its night fights and vehicle scenes. The developers have sought input from one of the movie's production companies, Revolution Studio, and hired Hollywood actors to portray major characters like Norm "Hoot" Gibson and Jeff Sanderson.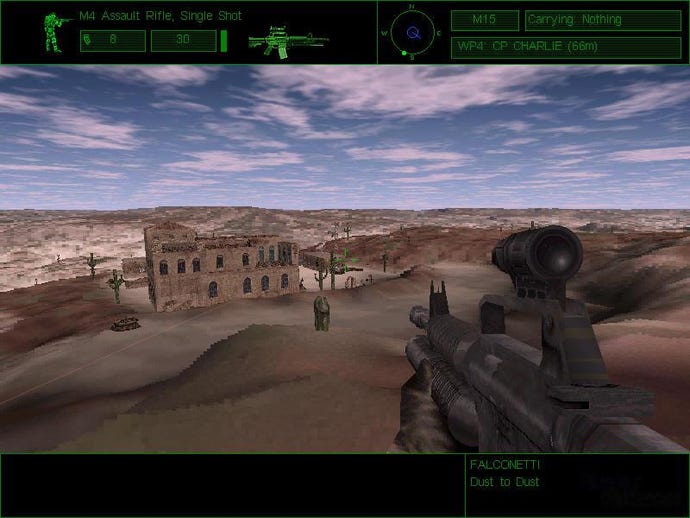 Speaking through a translator,nu-Delta Force producer Shadow Guo added that it would stand apart from other shooters by virtue of its intelligent AI and immersive feel. "We will offer you a more tactical and more authentic battlefield combat experience in our game," he said.

I can probably take or leave another immersive/authentic FPS in the Year of our Lord 2023, but there are a few things I wouldn't mind looking deeper into here – in particular, the videogame legacy of Black Hawk Down, a Pentagon-endorsed, 9/11-era depiction of the catastrophic Battle of Mogadishu of 1993, in which the abduction of Somali National Alliance leaders triggered an overnight conflict that left hundreds dead.
The movie doesn't feature any Somali actors in speaking roles, and has been criticised for airbrushing history. According to a 2013 paper from historian Lidwien Kapteijns, it exalts the US troops as flawed heroes, dehumanises the Somalis, and "conceals and misrepresents U.S. involvement in Somalia prior to 1993, which contributed to state collapse and violence there". TiMi didn't mention whether they had consulted with any Somali people or organisations on the creation of the new Black Hawk Down map.
Do you have any thoughts to share on this front, or any memories of the old Delta Force games?

on bbc news
on hindi news
on the news today
on channel 7 news
ôrf news
campo grande news ônibus
ôpera news
campo grande news greve de ônibus
l1 news horário dos ônibus
l1 news ônibus
lago azul news ônibus
news österreich
news österreich heute
news österreich aktuell
news öffentlicher dienst
news österreich corona
news öl
news österreich orf
news ö3
news österreich heute aktuell
news österreich sport
ö24 news
ölpreis news
öbb news
ösv news
österreich news krone
övp news
özil news
öffentlicher dienst news 2023
österreich promi news