Mere spec sheets? Old news, friend. This Steam Deck vs Asus ROG Ally comparison is new and improved with actual testing results, both hard data (I may even borrow some benchmark graphs from the ROG Ally review) and those of the observational/anecdotal/downright take-y variety. Hopefully, by the end of it, these will give you a far better idea of which handheld gaming PC will suit your travelling needs, performance preferences, or even specific games to play on the go.
If you do have an eye for specifications, the ROG Ally might appear as the wholly superior choice: it's easier to carry, is adorned with a faster and higher-resolution screen (with a more powerful processor backing it up), and runs Windows 11, so is effectively safe from the Steam Deck's occasional compatibility tangles. When they're both up and running, however, the Steam Deck still has plenty to arguments to make for itself – weaker internals or not.
If you like, you can click on these shortcuts to jump to a specific point of comparison. Or, for a full overview of how the Steam Deck and ROG Ally square up, simply read on.
---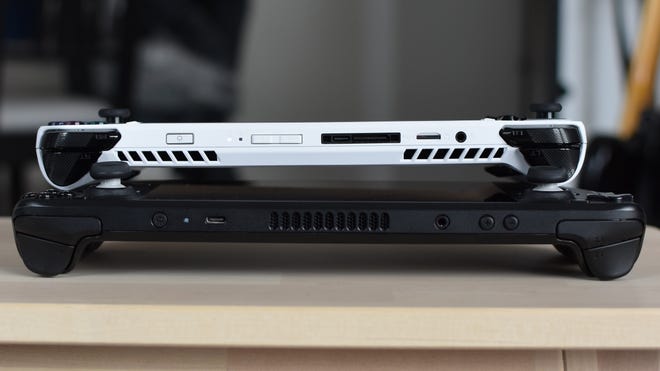 Steam Deck vs Asus ROG Ally: Design
When portability is paramount, this is the ROG Ally's round. Asus' handheld is both smaller and lighter than the Steam Deck, and build quality hasn't suffered for it. The ROG Ally feels solid and secure, like a high-end laptop, but unlike most gaming notebooks is nicely quiet as well. Its default cooling profile, Performance, doesn't make anything like the whirring noise of the Steam Deck and its single fan.
| | Asus ROG Ally | Steam Deck |
| --- | --- | --- |
| Weight | 608g | 669g |
| Dimensions | 280x113x39mm | 298x117x49mm |
| Controls | Xbox-style controls with 2x rear buttons | Xbox-style controls with 4x rear buttons and 2x trackpads |
| Speakers | 2x front-facing, Dolby Atmos certification | 2x front-facing |
| Cooling fans | 2x | 1x |
| USB ports | 1x USB-C with DisplayPort | 1x USB-C with DisplayPort |
| External GPU connector | 1x Asus XG connector | No |
| Headphone jack | 1x | 1x |
| microSD slot | 1x | 1x |
| WiFi | WiFi 6E | WiFi 5 |
| Bluetooth | Bluetooth 5.2 | Bluetooth 5.0 |
| Fingerprint unlock | Yes | No |
| Haptic feedback | Yes | Yes |
The ROG Ally also throws in some bonus treats, like a fingerprint sensor in the power button for quick unlocking, as well as faster Wi-Fi and an external GPU connector. However, other than fingerprint unlocking, these aren't as useful as they sound: to actually make full use of Wi-Fi 6E will probably require you upgrade to a newer router, and the external GPU connector is specifically for the ROG XG, not any enclosure of your choosing.
The Steam Deck's extra bulk is also largely accounted for by its own features. The most important of these – or at least, the ones I missed most on the Ally – are its two trackpads, which provide finer control than thumbsticks for both navigating the OS and playing games. Shooters and strategy games, especially. I also personally prefer the higher-up position of the Steam Deck's right thumbstick; on the ROG Ally, it's low enough that I need to angle my hand away from the sculpted grips to get enough purchase on it.

The ROG Ally is still the more portable of these portable PCs, but ultimately the Steam Deck's comforts make it easier to use day to day.
---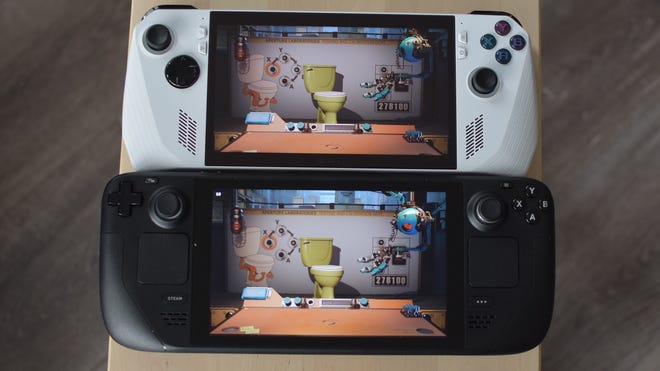 Steam Deck vs Asus ROG Ally: Display
No such buts where the screens are concerned – the ROG Ally's is better in almost every way. Look, some numbers:
| | Asus ROG Ally | Steam Deck |
| --- | --- | --- |
| Screen size (diagonal) | 7in | 7in |
| Resolution | 1920×1080 | 1280×800 |
| Aspect ratio | 16:9 | 16:10 |
| Refresh rate | 120Hz | 60Hz |
| Touchscreen | Yes | Yes |
| Brightness (quoted) | 500 nits | 400 nits |
| Panel type | IPS | IPS |
| Adaptive sync | AMD FreeSync Premium | None |
It's worth noting that although the Deck's "typical" brightness is 400cd/m2, I've recorded it peaking as high as 596cd/m2. That is in fact higher than the ROG Ally's peak of 501cd/m2, but as Asus' screen can reproduce a far wider range of colours (93.6% of the sRGB gamut, compared to the Steam Deck's 63.7%), it ultimately looks a lot more vivid. That brightness is also enough, in combination with the ROG Ally's anti-glare treatment, to see off direct sunlight even with a glossy glass finish. With the Deck, you only get anti-glare on the most expensive 512GB model.
The ROG Ally's 1080p display also grants it superior sharpness, and thus finer detail reproduction, than the 800p Steam Deck. There is a catch to this, which we'll get to in the performance section, but with or without upscaling the Deck comes visibly closer to monitor-grade clarity. And while the 120Hz refresh rate doesn't come into play as often, you only need to hit the 70fps-plus mark to see a clear difference in smoothness next to the 60Hz Deck.
---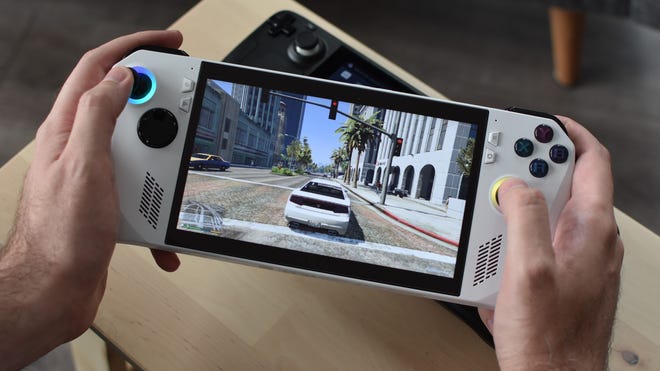 Steam Deck vs Asus ROG Ally: Performance
As any 4K monitor owner will tell you, higher pixel counts also require more graphical and CPU muscle to keep games running slickly. The ROG Ally does indeed outplay the Steam Deck on paper, its AMD Ryzen Z1 Extreme chip besting the Deck's custom APU on core counts and clock speeds.
| | ASUS ROG Ally | Steam Deck |
| --- | --- | --- |
| APU | AMD Ryzen Z1 Extreme | AMD Van Gogh |
| CPU architecture | Zen 4 | Zen 2 |
| CPU cores / threads | 8 cores, 16 threads | 4 cores, 8 threads |
| Max CPU clock | 5.1GHz (Z1 Extreme) | 3.5GHz |
| GPU architecture | RDNA 3 | RDNA 2 |
| GPU compute units | 12 | 8 |
| Max GPU clock | 2.7GHz | 1.6GHz |
| RAM | 16GB LPDDR5 | 16GB LPDDR5 |
Unfortunately, if it's maximum framerates you're after, know that the 1080p display still exacts a heavy toll. Certain low-demand games do perform better on the ROG Ally – fair play to Rockstar for how GTA V scales, in particular – but for most AAA fare, the frames come faster on the humble 800p Steam Deck.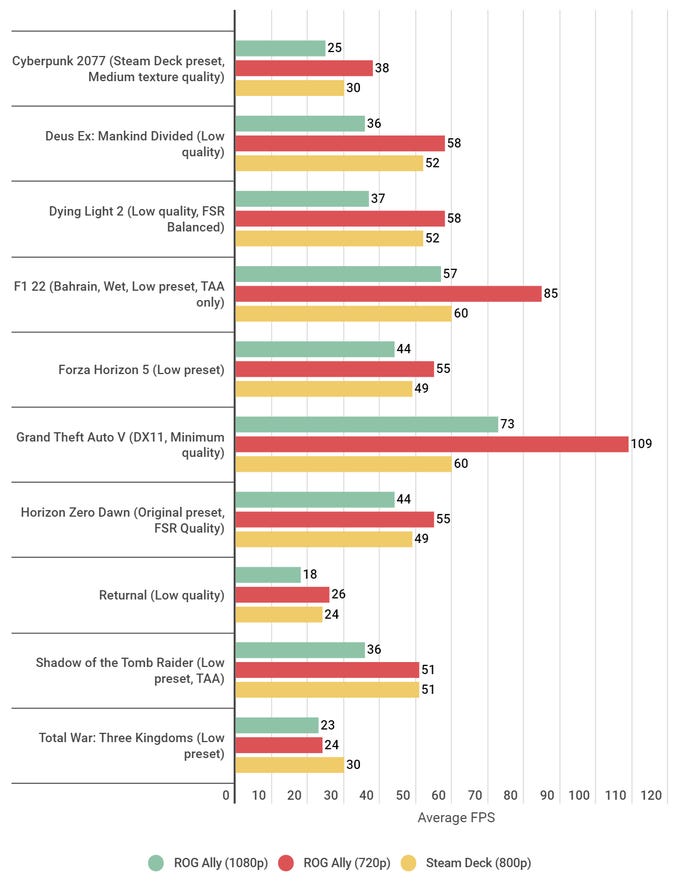 Downtuning games to render at 1280×720 is a viable method of getting the desired speed advantage on the ROG Ally, although you're then in the questionable position of paying for hardware capabilities you don't use. And that advantage isn't even a sure thing: Shadow of the Tomb Raider and Total War: Three Kingdoms both ran as well or better on the Deck compared to the ROG Ally's 720p benchmarks. Neither device, interestingly slash disappointingly, was able to run Returnal at a playable pace.
Still, it's hard to argue against the ROG Ally being more powerful on the whole. Even if it does sometimes require a drop to 720p, and Returnal was ultimately beyond the Z1 Extreme's capabilities, it generally has an easier time with some of the Deck's other problem games. Resident Evil 4 and the The Last of Us Part 1, for example, both had an easier time staying above 30fps on the ROG Ally.
---
Steam Deck vs Asus ROG Ally: Storage
The Steam Deck goes for choice with its internal storage options, starting with a 64GB eMMC Flash drive at the bottom end and offering either 256GB or 512GB SSDs. As it stands, the only ROG Ally SSD is a 512GB model. It is slightly faster than the Deck's 512GB drive, though, by virtue of it using the newer PCIe 4.0 interface. The Steam Deck uses PCIe 3.0, so while it's still oodles faster than any hard drive or SATA-based SSD would be, the ROG Ally pipped it in my game load time benchmarks.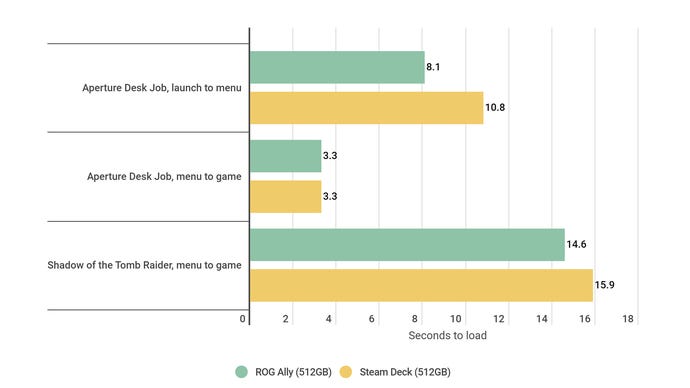 The ROG Ally also sports a faster microSD card slot, using the UHS-II interface rather than the Deck's UHS-I card slot. This is a relatively minor advantage, though, as fully compatible UHS-II microSDs are both a lot pricier and harder to find than good UHS-I models. At least the ROG Ally's microSD slot is backwards compatible.
With all that in mind, the Steam Deck is better if you're trying to keep costs down. Instead of being railroaded into a 512GB SSD, you could just pick up a cheaper, lower-capacity model and make up the difference with a relatively inexpensive 512GB microSD card. My testing of the latter has found there's surprisingly little load time difference between them and the Deck's SSD, although installing games is quicker on the internal drive. Same for the ROG Ally, too.
---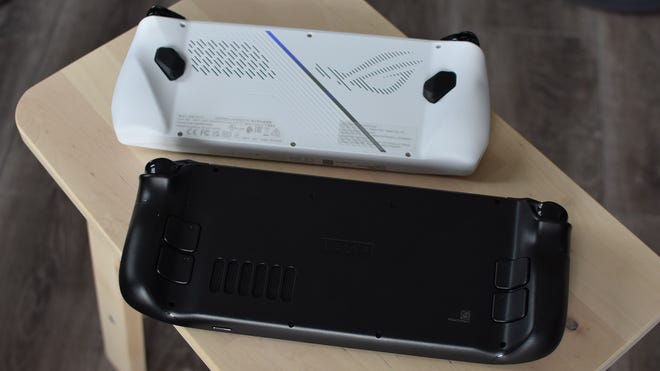 Steam Deck vs Asus ROG Ally: Battery life
The Steam Deck picks up another point in battery life comparisons, which I ran with screen brightness and speaker volume at 50%. Quite a few points, actually – it seems drastically more effective at merely sipping power when running less intensive games, enabling itself to keep truckin' for hours and hours. The ROG Ally can nearly match the Deck in thirsty, high-APU-usage games, but even with render resolutions turned down to save power, the longest I've ever had out of it in Performance mode was 1h 53m in RimWorld.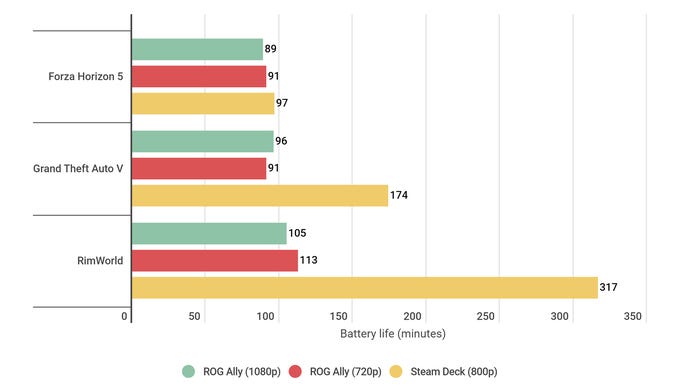 Switching to the ROG Ally's Silent profile can help, and certainly did in RimWorld, taking it up to 2h 30m. Unfortunately for the Asus handheld, that's only half of what the Steam Deck managed on its default fan/APU settings. This mode can also damage performance in tougher games, to the point where Forza Horizon 5 became downright unplayable.
---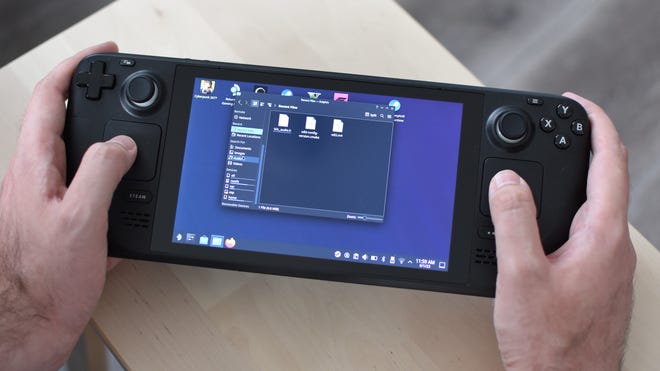 Steam Deck vs Asus ROG Ally: OS and software
Asus have heavily pitched the ROG Ally as a 'play anything' PC, which in fairness – and performance allowing – it basically is. Its Windows 11 operating system works with all the same games and launchers you already use on your desktop PC or laptop. Anti-cheat systems, mods, and anything else that places nice with Windows will do so here too. Because, y'know, it is also Windows.
It's an approach that laser-targets one of the Steam Deck's more problematic areas, its use of the Linux-based SteamOS and – even with the efforts of Proton, a wide-ranging compatibility layer – its incompatibility with certain games, game services, and anti-cheat systems.
| | Asus ROG Ally | Steam Deck |
| --- | --- | --- |
| Operating system | Windows 11 | SteamOS |
| Native compatible launchers | Steam, Epic Games Launcher, EA app, Xbox app, Battle.net, GOG, Ubisoft Connect, itch.io, theoretically anything else that runs on Windows | Steam |
| Control panel overlay | Yes (ROG Armoury Crate SE) | Yes (SteamOS) |
| Built-in upscaler | Radeon Super Resolution (RSR) | FidelityFX Super Resolution (FSR) 1.0 |
While that list of natively supported launchers looks worse than it is for the Deck, as it's possible to add non-Steam apps like Battle.net and the Epic Games Launcher with a little lateral thinking, there's clear appeal in the ROG Ally's ability to work with just about everything as soon as you switch it on. I've been especially happy to play my PC Game Pass library, something that still eludes the Steam Deck (outside of cloud streaming).
Nevertheless, I do find SteamOS generally easier and snappier to use on the Steam Deck than Windows 11 is on the ROG Ally. A huge part of that is the mismatch between how Microsoft's operating system was designed and the ROG Ally's inputs: this is very much a mouse-and-keyboard OS that you'll be primarily navigating through a 7in touchscreen, and that never truly feels comfortable. Windows, being Windows, also seems more prone to bugs, hanging, and general desktop slowdown, despite the ROG Ally's beefier internals.
SteamOS, on the other hand, looks and feels right at home on the Steam Deck. And again, those trackpads are a godsend should you ever want/need to poke around the Deck's desktop mode, or operate a slim scroll bar in a manually added launcher like Epic's. As with the physical design, then, what initially looks like the clunkier option ends up being altogether more pleasant to use. Whether that's worth sacrificing in favour of wide game compatibility, I'll leave up to you.
---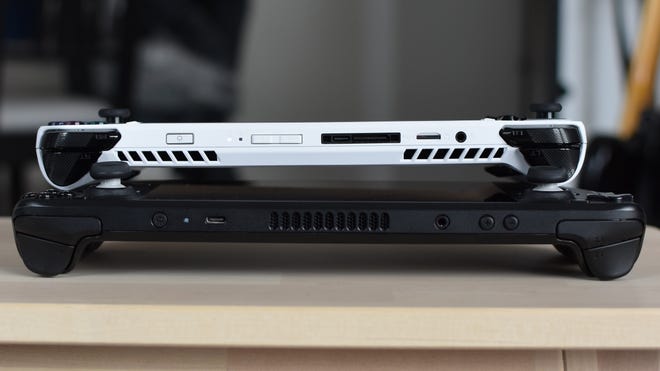 Steam Deck vs Asus ROG Ally: Price and value
I'm on record, in a past Electronic Wireless Show episode, as saying the ROG Ally would probably cost somewhere north of a grand. Clearly just to embarass me, Asus have since confirmed it will in fact launch at £699 / $700.
That's perfectly reasonable for the quality of hardware you're getting, and in the US especially, is only a little more than the top-spec Steam Deck. Assuming most if not all of that difference is down to the sharper, faster display and newer-gen AMD chip, the ROG Ally is far from ripoff territory.
All the same, that still leaves the Steam Deck as the more affordable option. A 64GB model will only set you back £349 / £399, with the 256GB model at £459 / $529 and the 512GB model peaking at £569 / $649.
As un-gouged as the ROG Ally pricing is, I would say that the Steam Deck is better value. It's not that it can do everything the Ally can – that's the whole point of Asus using Windows – but one way or the other, it will still play most games on the market, and at acceptable framerates for a handheld.
The question of which portable PC is best, however, requires a more complicated answer. The Steam Deck and Asus ROG Ally have traded blows throughout this comparison, so I reckon it all comes down to how far you're willing to go to make 100% of your games library playable on the move. Happy to put up with the occasional software wobble – indeed, similar to those we all get on PC already – in exchange for total compatibility? The ROG Ally is worth its premium, especially when that display is part of the deal. Anyone wanting a more bespoke handheld PC experience, one that values ease of use and longevity over blazing performance, can stick to the Steam Deck.

on bbc news
on hindi news
on the news today
on channel 7 news
ôrf news
campo grande news ônibus
ôpera news
campo grande news greve de ônibus
l1 news horário dos ônibus
l1 news ônibus
lago azul news ônibus
news österreich
news österreich heute
news österreich aktuell
news öffentlicher dienst
news österreich corona
news öl
news österreich orf
news ö3
news österreich heute aktuell
news österreich sport
ö24 news
ölpreis news
öbb news
ösv news
österreich news krone
övp news
özil news
öffentlicher dienst news 2023
österreich promi news