I didn't know the Steam Deck OLED existed until last week, and yet it's essentially something I've wanted for nearly two years. As great a handheld gaming PC as the original Steam Deck is, its slightly bland IPS display and short battery life are some definite weak points – points to which newer, shinier rivals, such as the Asus ROG Ally and Lenovo Legion Go, have been happy to apply pressure.
Valve are keen to stress that this OLED-equipped model represents an update, not a whole generational switcheroo. Yet there's much, much more behind that screen that just some different diodes. This is a lighter, brighter, longer-lasting, sometimes even faster-running take on the SteamOS handheld, and one that sneaks in some surprise upgrades as often as it addresses issues with the original Steam Deck. I love it.
First thing's first, though. The Steam Deck OLED's new display keeps the 1280×800 resolution of the standard Deck, but expands the estate slightly, upping diagonal size from 7in to 7.4in. Since the Steam Deck OLED's outer dimensions remain unchanged, save for gaining 1mm of height from the new thumbsticks, this has the welcome side benefit of eating into those previously big bezels.
It's clean and smooth in motion, especially in games that can shift frames fast enough to exploit the heightened 90Hz refresh rate – another step up from the original 60Hz Deck screen, even if it doesn't match the ROG Ally's 120Hz. Still, as with OLED gaming monitors, the main reasons you'd switch to this panel tech from IPS are colour performance and brightness, and this panel delivers on both.
Breaking out the colourimeter, I measured sRGB gamut coverage at 93.8% on the Steam Deck OLED, a mahoosive improvement on the original's 63.7%. In simple terms this means the OLED version can display a wider array of colours, allowing for more detail and higher vibrancy. Since all OLED screens can display perfect, inky blacks, contrast was also recorded at Infinity:1 – the standard Steam Deck wasn't bad on contrast, hitting 1241:1, but you can't beat infinity in a numbers game.
As for brightness, there isn't really a difference in standard dynamic range (SDR) visuals, where the Steam Deck OLED peaked at 606cd/m2. That's almost identical to the original display's 596cd/m2 result. However, the Steam Deck OLED also adds high dynamic range (HDR) support, so can roast your retinas even more effectively: in Cyberpunk 2077, one of many HDR-capable games, I recorded peak brightness rising to 984cd/m2, only just shy of Valve's advertised maximum of 1000cd/m2.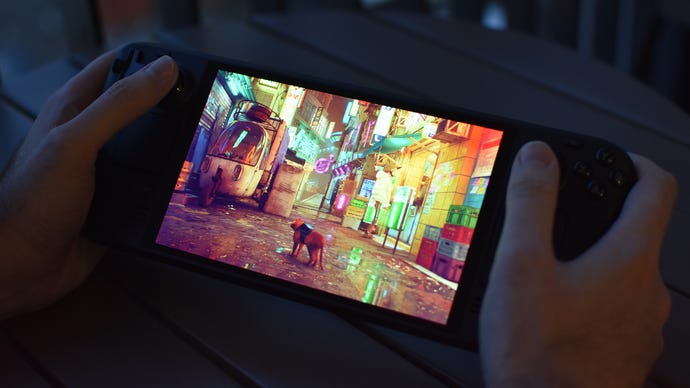 Spared the technical wobbliness that accompanies HDR usage on Windows, I found myself enjoying its benefits far more readily on the Steam Deck OLED. And why would you not? It literally makes games look better. You can see in these Ratchet & Clank: Rift Apart shots that without HDR, the sun's bloom effect overpowers the entire screen, leaving much of it looking washed-out. With HDR, the sun itself is brighter, but the lighting effect is more controlled, leaving deeper, richer colours throughout.
Those were both snapped on the Steam Deck OLED, and the display quality difference is even starker when compared to an OG Steam Deck. With both old and new Decks running F1 22, the OLED version's superior contrast and colour variety helps to bring out details that might be lost otherwise.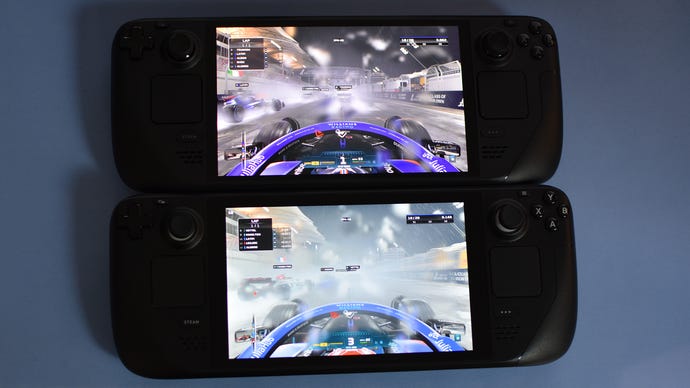 Let's not gloss over that 90Hz refresh rate, either. The Steam Deck might be more of a 30fps merchant where big, fat, AAA works are concerned, but there are loads of games that had previously bumped up against the effective 60fps cap of the original. Here, they can run free and smooth, maybe even gaining a few more frames per second from the refreshed APU.
Before you get too excited: this combined CPU/GPU is built for efficiency, not performance. All other things being equal, the AMD Ryzen Z1 Extreme that powers both the ROG Ally and Legion Go will still beat it in a straight FPS footrace. Even so, I found it could help a teensy bit with sub-60fps games. Cyberpunk 2077, running on its Steam Deck preset, averaged 45fps on the original Steam Deck and 47fps on the Steam Deck OLED. Horizon Zero Dawn, on Original settings and with Quality-level FSR upscaling, rose from 54fps to 57fps in a similar manner. And Shadow Of The Tomb Raider did particularly well for itself, rising from 51fps to 56fps on its Low preset. Assassin's Creed Mirage was less lucky, though, only gaining a single extra frame with 42fps on Low.
Again, these are not (nor intended to be) major improvements. It's that higher refresh rate that's the real performance aid, as demonstrated by F1 22 on Low quality. This could run at a solid 60fps on the old Steam Deck, but couldn't go any faster with that 60Hz refresh rate. On the Steam Deck OLED, the same quality settings produce 86fps on average, because the display isn't clipping the game's wings. Sure, more demanding games won't benefit, but plenty of others will, and I for one find Portal 2's shooty puzzling markedly more comfortable at a steady 90fps.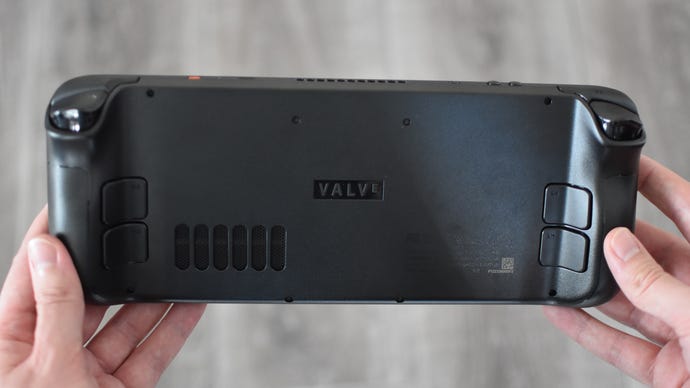 You could still count the new APU as a significant upgrade, thanks to its successful tuning of the Steam Deck OLED's power efficiency. Besides the obviously handheld-critical battery life implications (we're getting to that soon, promise), this model runs noticeably cooler than before, and since the fans doesn't need to work as hard, it's quieter too. Under gaming load, I measured the two hottest spots on the rear of the Steam Deck OLED – just above the vents, and just to the side of the L4/L5 buttons – at 31°c and 28°c respectively. On my first-gen-as-first-gen-can-be Deck, the same spots were 42°c and 33°c. Fan noise, meanwhile, maxed out at 58db on the original Steam Deck, and 52db on the Steam Deck OLED. Faster, cooler, and quieter: not much to complain about here.
The whole device, in fact, feels just that little bit more refined. Maybe not so much with the ostentatious orange power button (for maximum flashiness, there's a $679 Special Edition with translucent casing), but there are some more practical touch-ups. For one, the Steam Deck OLED is 29g lighter than the original Steam Deck, thanks in part to the screen itself being thinner and lighter than the old IPS panel. This doesn't sound like much, but there is indeed a tangible difference in the hands. Elsewhere on the inside, Valve have added Wi-Fi 6E support, so you could get faster game downloads if your router is up to spec (mine, uh, isn't).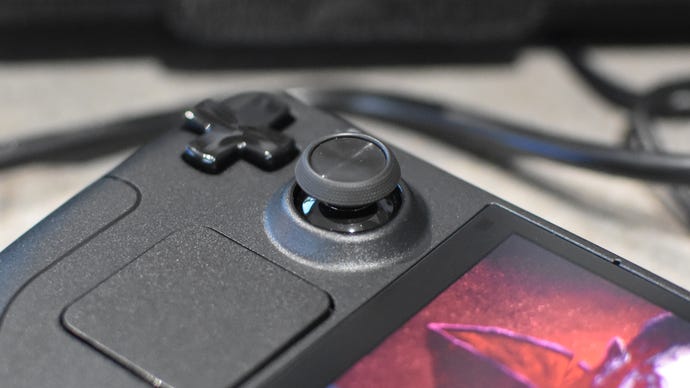 The thumbsticks are new as well, and feel much grippier in the centre; I quite like wrapping my original Steam Deck in rubbery thumbstick covers, but don't really feel the need on the Steam Deck OLED. Valve have also tweaked the touchpad haptics, I think for the better – the more consistent clickiness of the vibration helps it feel more like spinning the bezel on a nice watch and less like thumbing a pillowcase full of irate hornets. Even the Phillips-head screws that held the Steam Deck's backplate in place are replaced by Torx screws, which are more resilient against stripping. Assuming, that is, you still want to ignore Valve's advice against taking the backplate off at all.
For all these little adjustments, though, nothing about the Steam Deck OLED has as fundamental an impact on its day-to-day doings as the battery life upgrades. These are impressively broad: the battery itself is bigger, up from 40Whr to 50Whr, but it's also getting help from the APU's efficiency improvements, as well as the OLED screen itself. Don't fret too much about the higher refresh rate wearing down the battery faster, as it's the panel technology that really makes the difference here, and OLED simply uses less energy than IPS. Especially in very dark scenes, where many of the LEDs may simply be switched off.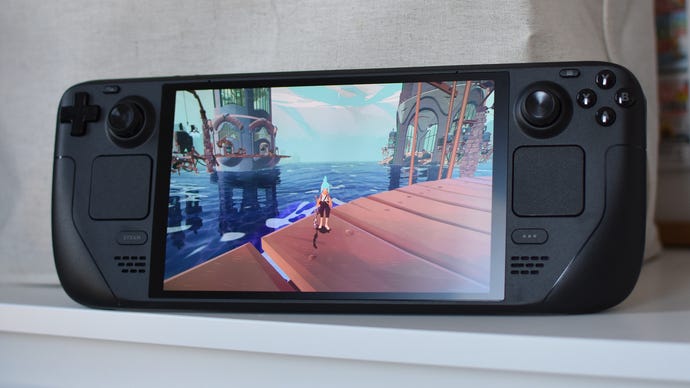 The deeply pleasing result is that the Steam Deck OLED can last up to 50% longer than the previous model, and sometimes even more. Actual totals still vary by game, but with the relatively slow-draining ones, you could fit an entire international flight inside the added uptime. Portal 2 is a fine example: this lasted for 4h 03m on the original Steam Deck, with screen brightness and speaker volume both set to 50%. On the same settings, the Steam Deck OLED kept going to 5h 48m, nearly two hours longer.
(I know you'd see faster draining in HDR games that can use more of the 1000 available nits, but since we've established that SDR peak brightness is nearly identical on both devices, I stuck to 50% brightness in SDR mode to keep the comparisons fair.)
In more battery-hungry games, the gains aren't as great, though they're still significant. Maybe more so, given their original struggles. The Elder Scrolls V: Skyrim only managed 1h 44m on the original Steam Deck, but the Steam Deck OLED could get it well over the 2h mark – 2h 15m, to be precise. Horzion Zero Dawn also climbed up from 1h 31m to 2h 15m, while Assassin's Creed Mirage stretched from a miserly 1h 23m all the way to 2h 12m.
Maybe we're still a few years off being able to charge our handheld PCs every few days, rather than after every session. But, take it from someone whose 2022-spec Steam Deck has run out of juice more times than a Hebridean orchard: when some games take less than a couple of hours to drain a full battery to flat, an extra 30 minutes is going to feel like a long, long time indeed. And, once the Steam Deck OLED does go dry, it can recharge faster as well, courtesy of its rejigged power supply. After an hour of charging from zero, the Steam Deck OLED had reclaimed 69%, far more than the 48% that the original Steam Deck and its plug could produce in the same time. The new power supply also adds a metre of cable length, making the handheld easier to play while recharging if your seat isn't right next to a convenient mains socket.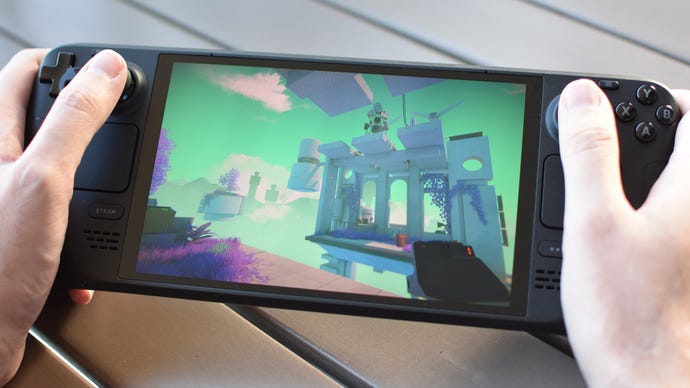 It really is just upgrade upon upgrade upon upgrade, and while the Steam Deck OLED will cost more than the IPS Deck when it releases on November 16th, that's almost entirely because the latter is getting hefty price cuts. If anything, when you take onboard storage space into account, the two new OLED variants are actually better value than the pre-cut originals.
A 512GB Steam Deck OLED, for example, will cost £479 / $549, less than the £569 / $649 that the original 512GB Deck was for most of its life. The 1TB OLED model – oh, yeah, there's a 1TB Steam Deck now – is actually the one that matches that £569 / $649 price, while offering the nearly twice the storage. Even knowing that the old 512GB model is falling to £389 / $449 (while stocks last), and it's hard to look at the Steam Deck OLED's myriad improvements and not consider it a more attractive package. Even the aforementioned Steam Deck OLED Special Edition doesn't look like much of an extravagance, at $679, though it is exclusive to the US and Canada at the moment.
If there are disappointments to be had with the Steam Deck OLED, I can think of just two. First, the lack of a 'budget' 256GB or 64GB option, and second, the two 1TB models get some goodies that the 512GB version does not. There's no anti-glare coating on the smaller model's screen, despite it coming as standard on the original 512GB Deck, and it doesn't come with the neat new carrying case that the 1TB models do either. But then, the £90 / $100 you'd save on the 512GB OLED can very feasibly cover both a decent third-party case and a 512GB microSD card, to get your total storage space up to parity.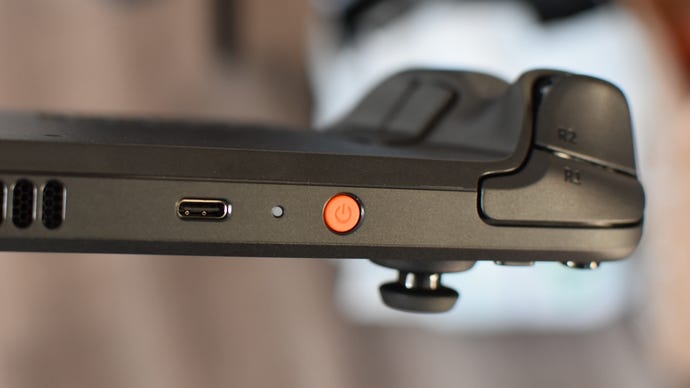 Personally, if I were a prospective shopper of fine SteamOS handhelds, I'd go for the new one in a blink. The Steam Deck OLED not only directs its focus to the two biggest shortcomings of the original, but takes the time to polish up design details and build quality to the point where you can literally feel its superiority. If Valve are right in that a Steam Deck with truly next-gen performance is still several years away – and in hindsight, they've been very particular with mentioning the performance bit – then I'm more than happy to pass the time on this OLED version.
---
This review is based on a retail sample of the 1TB Steam Deck OLED provided by Valve.

on bbc news
on hindi news
on the news today
on channel 7 news
ôrf news
campo grande news ônibus
ôpera news
campo grande news greve de ônibus
l1 news horário dos ônibus
l1 news ônibus
lago azul news ônibus
news österreich
news österreich heute
news österreich aktuell
news öffentlicher dienst
news österreich corona
news öl
news österreich orf
news ö3
news österreich heute aktuell
news österreich sport
ö24 news
ölpreis news
öbb news
ösv news
österreich news krone
övp news
özil news
öffentlicher dienst news 2023
österreich promi news