Phil Spencer admitted the hole in Game Pass left by Starfield's delay was a "disaster situation" and suggested FromSoftware's Dark Souls games to plug the gap following the success of Elden Ring, among other third-party releases.

Today's enormous leak of internal Microsoft documents includes a particularly candid email from Spencer sent in May 2022, revealing his frustration around "a huge hole with our games lineup". That was due to Starfield's delay, "not a tonne of clarity on the launch date of Redfall", and Stalker 2 development impacted by Russia's invasion of Ukraine.

"We keep talking about a big AAA a quarter in the service [Game Pass] and it feels like we are likely to go through a gap of almost 16 months between big exclusive launches on our platform," Spencer lamented.

"This is really a disaster situation for us given all we've invested in content across studios at our GP content fund."

He continued: "I think we need to get much better at overall portfolio planning on our games with real honesty on dates.

"We set a very high bar in 2021 on quality and pacing of content which was awesome to see. But to come off of that year with no big exclusives launching in 2022 is a portfolio planning miss that we can't afford.

"We have to all understand that the situation we are in now is a failure of our planning and production execution."

Spencer later admitted in the email: "It will be very obvious to the community with both our lack of updates on so many games and lack of clarity on almost everything in the show that we are out of position."

He concluded: "We've dealt with difficult situations before, we'll do it again. I'm frustrated by where we are, but we'll get through that. Most important is building a winning plan. Let's get on that."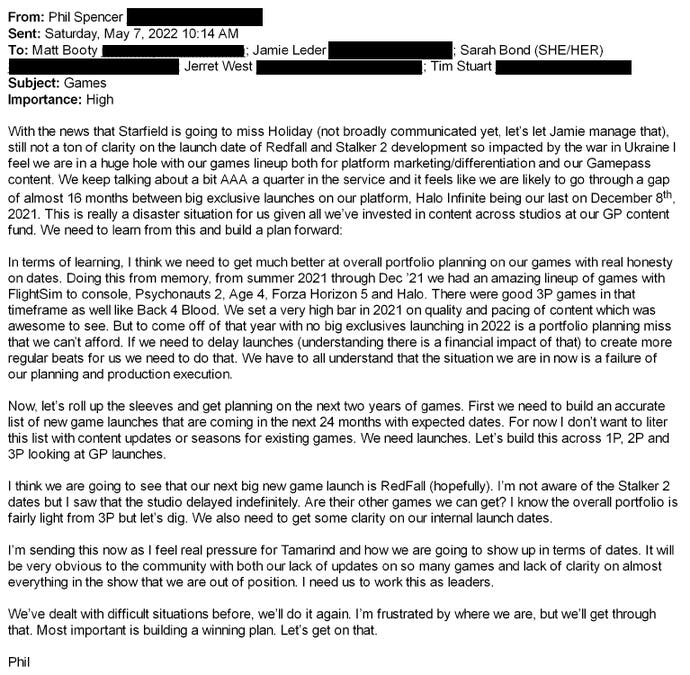 In the email, Spencer emphasised the importance of third-party game launches on Game Pass and sparked a discussion on possible games to aim for. Xbox head of ecosystem Sarah Bond responded: "While I don't love the impetus for this discussion, I do love that we are doing this and agree we can get much better and more integrated in how we think of this."

She then drew up a list of possible third-party games to add to Game Pass, including the likes of Lego Star Wars, Dying Light 2, City Skylines 2, Red Dead Redemption 2, Baldur's Gate 3, Gotham Knights, Suicide Squad, Jedi Survivor, and Mortal Kombat 1.

Spencer then responded by noting the success of Elden Ring at the time and the possibility of courting FromSoftware to add the Souls games to the subscription service.

"Another option with the hit factor around Elden Ring is to try to go get all of the Dark Souls games and make a push with From and an Elden Ring upsell," he said.

"Like that one. Will do," replied Bond.

Elden Ring was, of course, a huge success last year across all platforms, and the three Dark Souls games were previously released on Xbox consoles – just not Game Pass.

It's unclear if any other FromSoftware games were considered. Sekiro: Shadows Die Twice may have been an option considering it too launched on Xbox One. Bloodborne and Demon's Souls were PlayStation exclusives.

Spencer was right to be concerned about the lack of exclusives. This year began strong with Hi-Fi Rush, but Redfall proved a failure and Minecraft: Legends was underwhelming. Despite Microsoft's best efforts, Starfield has been the only major first-party release on Game Pass this year so far.

Elsewhere in the leaked documents, details of a mid-gen refresh and Microsoft's next console were revealed, as well as the possibility of acquiring Nintendo.


on bbc news
on hindi news
on the news today
on channel 7 news
ôrf news
campo grande news ônibus
ôpera news
campo grande news greve de ônibus
l1 news horário dos ônibus
l1 news ônibus
lago azul news ônibus
news österreich
news österreich heute
news österreich aktuell
news öffentlicher dienst
news österreich corona
news öl
news österreich orf
news ö3
news österreich heute aktuell
news österreich sport
ö24 news
ölpreis news
öbb news
ösv news
österreich news krone
övp news
özil news
öffentlicher dienst news 2023
österreich promi news