Towering system requirements aside, I've had a relatively smooth time benchmarking Starfield on PC, enough so that I've got a full set of performance results and best settings suggestions to share ahead of schedule. But! Putting together the usual full-length guide (like this one or that one) would take hours, which would mean finishing it on Monday, which is ages away, and… I just have all these figures right now, y'know?
Here's the abridged version, then: all off the most important technical details and recommended tweaks, just in fewer words than usual.
For anyone who wants more a more in-depth tour of Starfield's engine room, and isn't yet aware that Digital Foundry exists, I'll be back to replace this with the full version in a few days. If you simply want an idea of whether your graphics card can handle it or whether you should crank down volumetric lighting, this dinky edition should still serve your needs.
---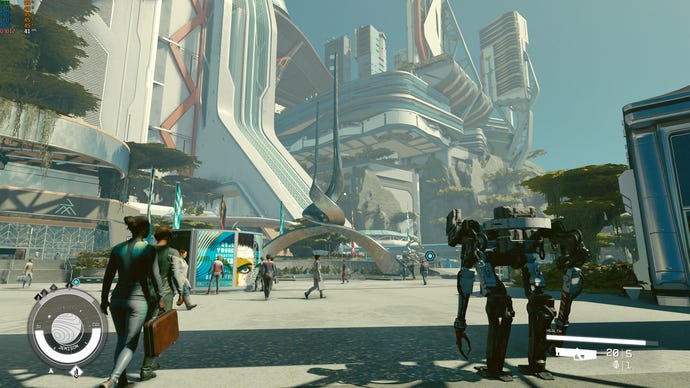 Starfield PC performance
As forewarned by the minimum and recommended specs, Starfield does need some relatively hench hardware to run smoothly, especially at 1080p. At the same time, you can just about get by on below-minimum GPUs with the aid of FSR 2 upscaling.
This is also handy for boosting framerates on high-end hardware at 1440p and 4K, though note that FSR 2 works differently in Starfield to how it usually does. Instead of picking a quality mode, there's a simple on/off toggle for FSR 2, and you manually set the initial render resolution yourself. I found 75% resolution usually provided a good balance between maintaining sharpness and raising performance, and it even looks okay-ish upscaling to 1080p. It was with these exact settings, in fact, that allowed the GTX 1060 – a GPU several tiers below the Bethesda-approved minimums – to average 33fps on the busy streets of New Atlantis. Maybe with a very much above-minimum Intel Core i5-11600K CPU, but still.
When sticking to native resolution, the 60fps average can be an elusive beast. Neither the RTX 4060 or Radeon RX 7600 could manage it at 1080p/Ultra, producing 42fps and 47fps respectively, and the only way the RTX 3070 could reach it at 1440p was by dropping to Medium quality with FSR 2 at 75% render rez. Even The RTX 4070 Ti could only land 40fps at 4K/Ultra.
It's not that these graphics cards are ever in serious trouble, and I haven't experienced any nasty stuttering or other visual hiccups. There is a more drastic issue with Intel Arc cards – Starfield wouldn't launch at all on my Arc A750 – but on AMD and Nvidia models, it's plenty stable. The only signature Beth-bug so far has been my robot buddy's shooting SFX getting stuck. Basically, just be prepared to make cuts to the quality settings, even if you're not used to doing so in other games.
I'd love to share some insight into Steam Deck performance as well, but for me, Starfield is currently doing its best pre-patch Baldur's Gate 3 impression by crashing on startup. Even after Valve released, and I installed, a SteamOS patch specifically targeting this problem. From what I can tell on the ol' Twitters, this is not affecting everyone, and Starfield can apparently run playably with Low settings and FSR. I guess just try it, and hope you have better luck than I.
---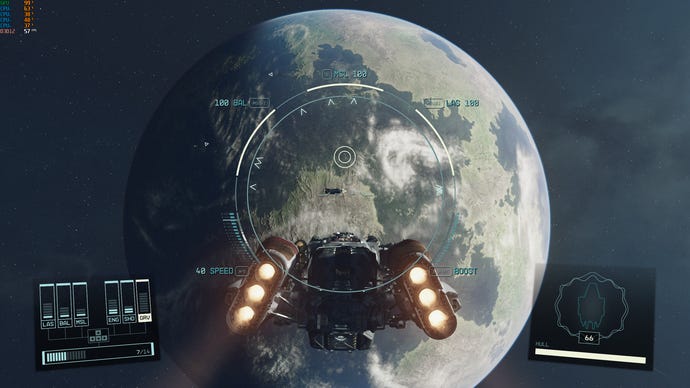 Starfield best settings guide
I used the RTX 4060 to test every single Starfield graphics setting at 1080p, checking how lowering each one would improve that Ultra preset's 42fps average. A fair few did, so have a crack with the following settings if you can't comfortably run everything maxed out.
Dynamic resolution: Off
Render resolution scale: 100% unless if you're using FSR 2, in which case, 75%
Shadow quality: Low
Volumetric Lighting: Low
Motion blur: Off
GTAO quality: Low
Contact shadows: Low
Enable VRS: Off
Film grain intensity: 0
Enable depth of field: Off
Everything else: Ultra/High
These changes had the RTX 4060 averaging 64fps, just 1fps slower than it did with everything on Low, and with a whole heap of effects and details still looking their best. I would add FSR 2 if you're playing at 1440p or 4K, too – depending on your PC specs, this could further improve performance by over 50%. At 4K in particular, you could also likely afford to drop render resolution below 75%, but I like keeping it quite high for fidelity's sake.
I promised to be quick, so just a couple more tips. First, update your drivers: both AMD and Nvidia have new ones out with Starfield in mind, and Nvidia's in particular can give slower GPUs a worthwhile shove of encouragement. Second, be wary of the dynamic resolution toggle enabling itself, which can happen when changing presets. I'm sure some people use this feature, but sudden lurches across resolutions can be as distracting as they are beneficial to framerates. Better to keep the resolution consistent, and ensure a reliable level of smoothness with quality settings changes instead.

on bbc news
on hindi news
on the news today
on channel 7 news
ôrf news
campo grande news ônibus
ôpera news
campo grande news greve de ônibus
l1 news horário dos ônibus
l1 news ônibus
lago azul news ônibus
news österreich
news österreich heute
news österreich aktuell
news öffentlicher dienst
news österreich corona
news öl
news österreich orf
news ö3
news österreich heute aktuell
news österreich sport
ö24 news
ölpreis news
öbb news
ösv news
österreich news krone
övp news
özil news
öffentlicher dienst news 2023
österreich promi news