Star Ocean The Second Story R is an upcoming remake of the classic JRPG that was released over two decades ago. Developed by Gemdrops, Inc. and published by Square Enix, the title intends to stay true to the core pillars of the original while also updating key facets for new players. Second Story R is slated to release later this fall, introducing a whole new generation of fans to the beloved PS1 game.
The sci-fi fantasy classic centers on two protagonists: space cadet Claude C. Kenny and Nedian Rena Lanford, both of which are available as player characters. Second Story introduced both interesting mechanics and art styles, with things like the Private Action system influencing character relationships and a hybrid aesthetic of pixel art and photorealism. The title contains several branching storylines and changes based on player choices surrounding things like which characters they add to their party and the bonds they form. The Star Ocean series remains popular today, with recent releases receiving critical praise, but Second Story is where many features the series is known for began to take shape.
Related: What Star Ocean: The Divine Force Could Learn From Tales Of Arise
In a conversation translated by Kohya Bamba, Screen Rant sat down with Star Ocean The Second Story R's development producer and director Yuichiro Kitao and art director Yukinori Masuda to discuss the balancing act behind the game's development, drawing in new players, and staying true to the title's roots.
Screen Rant: I would love to hear about the elements that you thought were the most important in the original game that you wanted to make sure to really maintain in this new version.
Yuichiro Kitao: So first and foremost, the most important part or the essential part that we as the development team wanted to keep or retain from the original installment was to retain the charm of the characters from the original title. But also, I guess what's probably more important than that was to keep or retain and replicate the memories of the play experience for the users that played the original installment way back in the PS1 era.

So as a director I wanted to make sure that these players get to experience the same gameplay experience and kind of replicate that emotion and what they felt and what they thought about the playing from the original game. But what was most important for us was to ensure that the players who played the original release for PS1 get to relive their experience through this remake. But since we're also looking to have newcomers play this title as well, we also wanted to create something that would be perceived as a new and fun experience for them.

Yukinori Masuda: So from an art direction perspective, what we wanted to keep from the original game was to make sure that the original pixel art from the original installment was kept into the remake project as well. We wanted to retain the nostalgic elements from the original title; we wanted to keep that as is. On top of that, we also wanted to keep the original settings and the lore from the original release of Star Ocean 2. So in terms of the visual, in a certain way we wanted to keep the visuals kind of nostalgic for the people that have played the original title in the past, but also we mixed in some newer elements as well, so that it's not just the old older stuff and people don't get bored from it.
From an art design perspective, was it difficult to both keep that old pixel style that you mentioned while still making it feel a little bit updated for the modern version of the game?
Yukinori Masuda: When we decided to retain the original pixel elements from the original title for the art direction, we realized that players who have experienced the original title had a very fond memory of their experience. Because of that, we made it a point to be careful to strike the right balance between the old and new to ensure that we not only live up to their expectations, but surpass them and have them feel that this is what a Star Ocean title is supposed to feel like.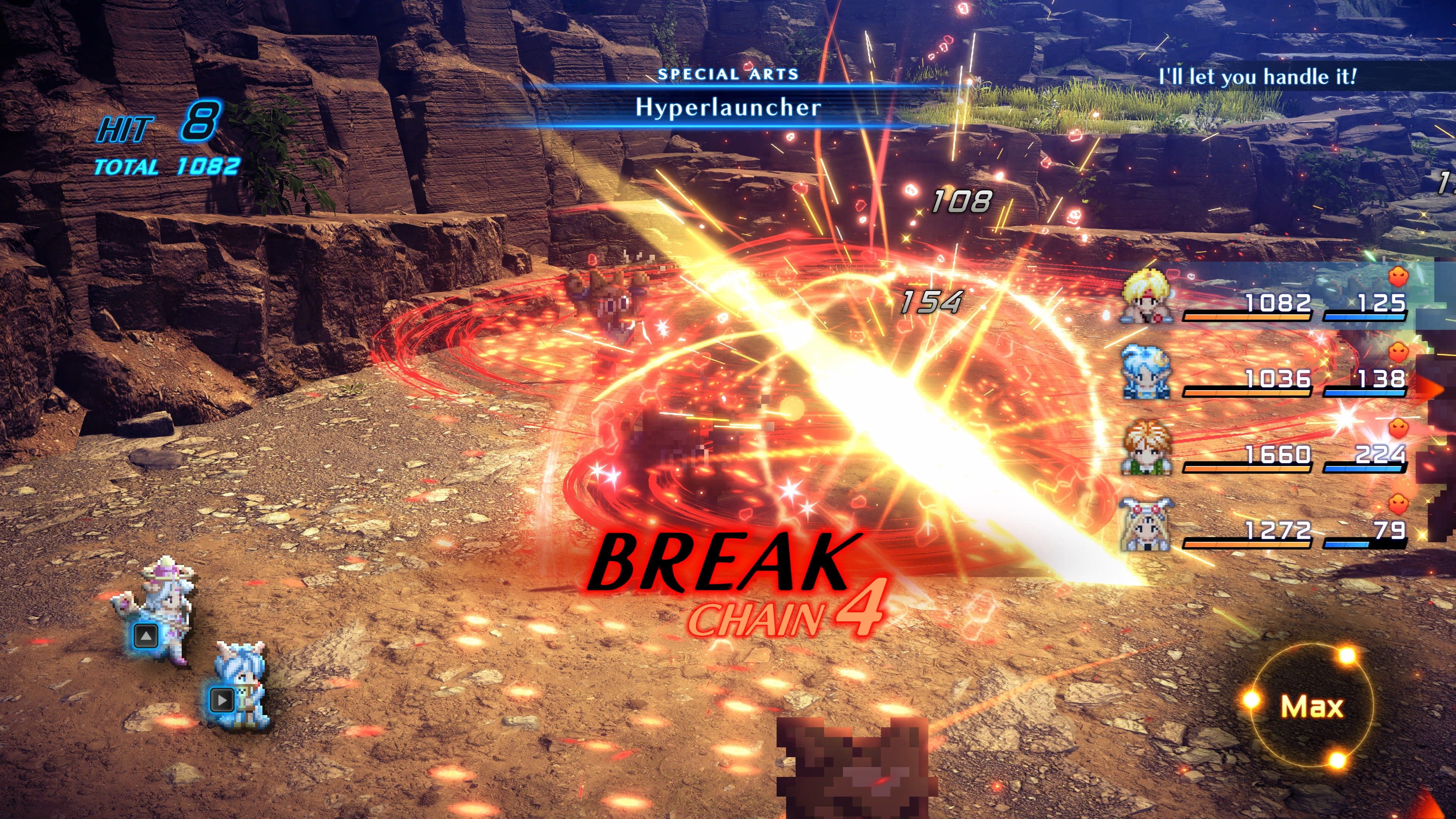 What would you say the biggest changes are gameplay-wise between this version and the original title?
Star Ocean The Second Story R Development Team: So to add more to the part where we feel that older players tend to look back at things and think things were better than it actually was – it's not just that but our important mission or goal as a development team was to make sure that we deliver a graphic and gameplay experience as well that kind of lives up to the expectation. Not just living up to the expectations of these older players that played the original release, but also kind of surpassing those expectations. We want them to feel like, "Oh yeah, this is how it should be. This is how it should look, this is how Star Ocean should be." So the director, that's kind of the direction that he wanted to have with this remake project, and then Masuda the art direction designer really delivered and achieved that goal.
Related: Every Playable Character In Star Ocean: The Divine Force
In terms of this title versus the original, what would you say are the biggest changes when it comes to gameplay?
Yuichiro Kitao: So I guess the biggest difference between the original release and this remake title would be the overall difference in the play feel. When we look at the exploration aspects of when the characters and the players are walking or exploring, like the various different areas like the cities and the dungeons, people who played the original title 25 years ago might revisit these areas and think like, "Oh, I recognize this place. I know the city, I know the store," and they reminisce into these memories again.

But it's not just that – it's going to be an entirely different experience because the entire play experience, the entire play feel is rebuilt and reconstructed with this remake title. When we look at battle, the overall speed of the battle is improved drastically, so it won't drag on too long; it has the right amount of pace and speed. And there's also new features added to the battle system, namely the assault action system and a bonus gauge system. So all in all, these kinds of features help players feel like they're actually playing an entirely new game and not just a remake project.
What was the balancing act like between maintaining the core facets of the game while also offering this new optimization that you mentioned?
Yuichiro Kitao: So let's kind of answer from the art direction side of things first. As you know, the characters for this game are illustrated in pixel graphics, but the environments or the world surrounding them are a bit on the photorealistic side. These two distinct styles of visual art styles don't really mesh well together. But our goal wasn't to achieve that these two mesh completely well together. We kind of wanted to see what kind of reaction would it be when we see these 2D pixel characters in a 3D photorealistic environment.

So we experimented a lot with that part, and we wanted to have these 2D pixel character arts and do a realistic world and sort of blend them together. In terms of optimization, that's what we did with the visual side. We did have to consider the shadings and lightings on the characters when we dropped them in to the 3D photorealistic environment, so we did make some adjustments there in order to have these 2D characters fit well with the environment.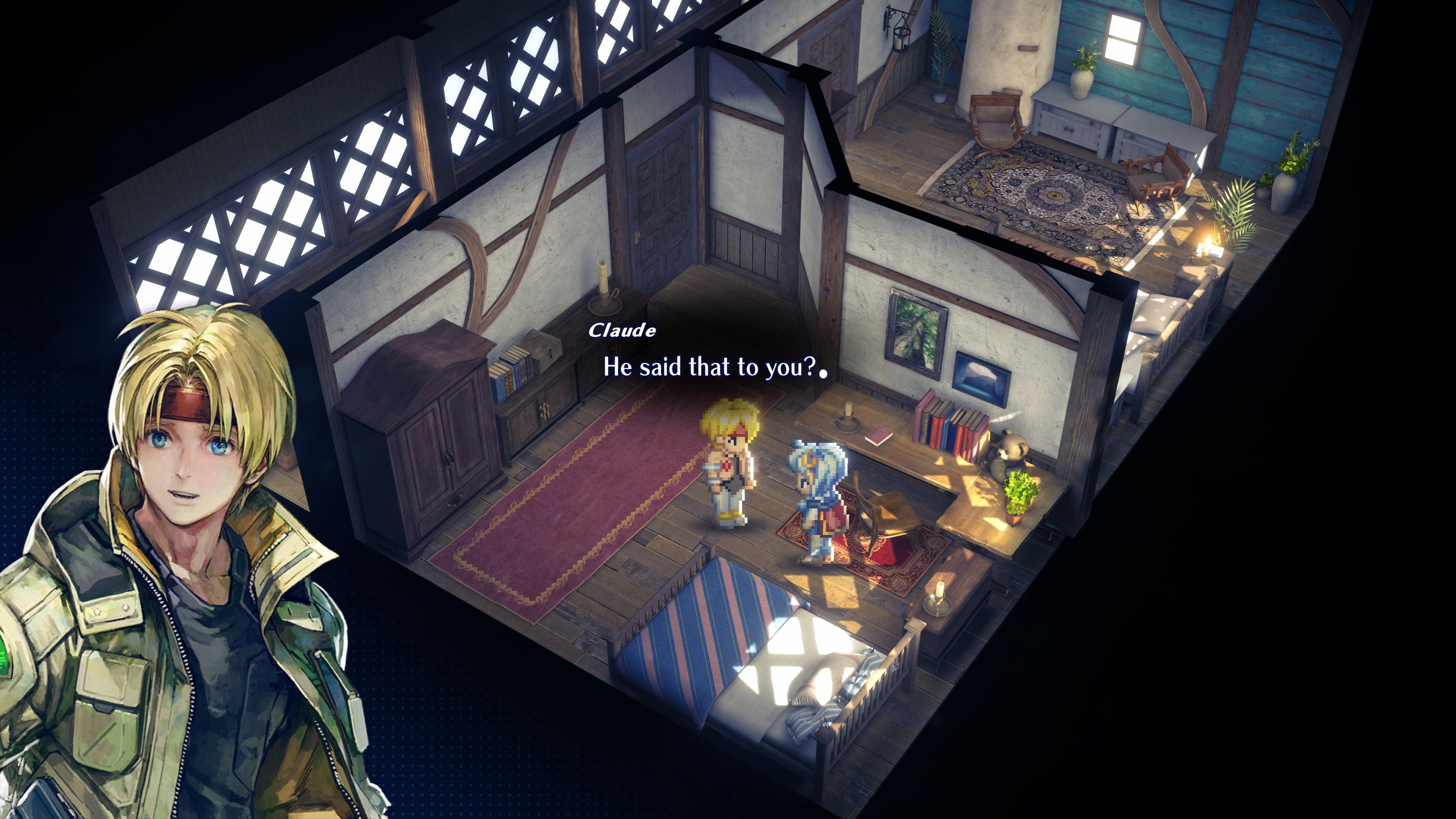 Was there anything about the gameplay side you wanted to add?
Yuichiro Kitao: In terms of the gameplay, when we look at the combat system for Star Ocean or Star Ocean 2, it's a game that was originally released way back 25 years ago. In a sense, it's kind of already – not perfected – but it's kind of already complete. So there was not much stuff that we wanted to change from there. That being said, what we wanted to achieve was that we wanted to keep and retain the better elements, the better qualities of the original battle system and add new elements on top of that, too. But this just doesn't apply to the battle system alone, it applies to the entire remake title.

So what we wanted to achieve was that we wanted to players to take a look at this game, and at first glance they may feel like it's a nostalgic game because it's an older game that was originally released back then; but once they actually take a closer look at it, once they actually play the game, they might feel that it's actually a bit different from the original title. In order to achieve this we implemented a lot of different new systems overall, not just the battles – the way we handled items and the way NPCs might communicate with each other on the field. Almost all systems aside from the story itself we adjusted and added newer systems and newer elements, and that includes the Private Action system as well.
What are you most excited to see players react to when the game releases?
Yuichiro Kitao: Obviously, it's kind of a difficult question to answer. But if I were to be honest, I can say that I am confident that we did develop a great game – but that's half of me. The other half is kind of worried to see how the players are going to react to this and worried about if we actually created a game that's enjoyable for our players.

That being said, we did aim to create a game where the newer Star Ocean players would be able to enjoy this title, but not just them. It's also the original players that played this title 20 or 25 years ago; we wanted to make sure that it's going to be a new experience for these players as well. And I do believe we achieved that goal, so it would be great to see a lot of people pick up this game up and play it and give a lasting impression to these players in the coming years.
Source: Square Enix/YouTube
Star Ocean The Second Story R will release November 2 for PlayStation consoles, Nintendo Switch, and PC.
on bbc news
on hindi news
on the news today
on channel 7 news
ôrf news
campo grande news ônibus
ôpera news
campo grande news greve de ônibus
l1 news horário dos ônibus
l1 news ônibus
lago azul news ônibus
news österreich
news österreich heute
news österreich aktuell
news öffentlicher dienst
news österreich corona
news öl
news österreich orf
news ö3
news österreich heute aktuell
news österreich sport
ö24 news
ölpreis news
öbb news
ösv news
österreich news krone
övp news
özil news
öffentlicher dienst news 2023
österreich promi news