We've gone ahead and compiled a list of every Splatoon 3 amiibo figure and each of their rewards. If you're looking to upgrade your Freshest Fits with some brand-new gear, you've come to the right place.
The Splatoon series has been entwined with amiibo figures ever since its original launch in 2015. This is true for Splatoon 3, too – to this day, it's still receiving new figurines and compatibility. There are over twenty different Splatoon amiibo on the market right now, and each one yields a different set of exclusive gear that you can't get anywhere else.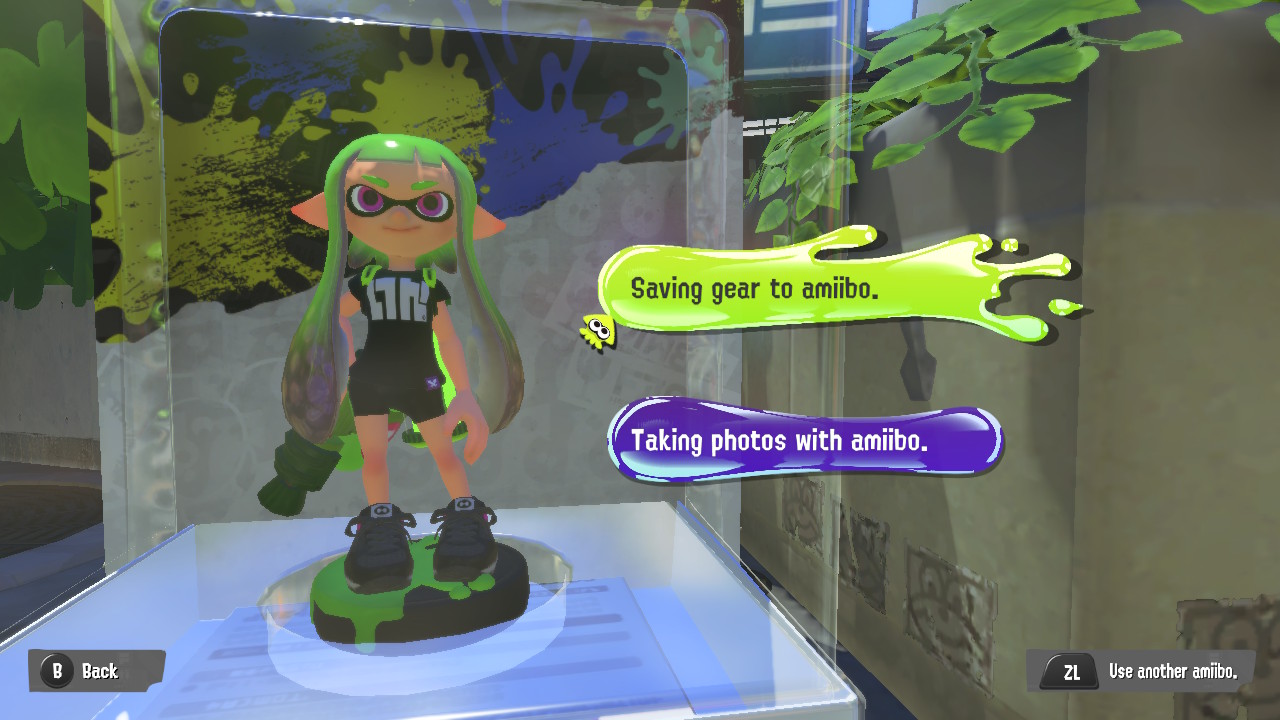 How do amiibo work?
Unfortunately, you can't receive your amiibo reward in Splatoon 3 as soon as you scan the figure. Instead, you'll want to head to the city plaza and use the big amiibo box to register your amiibo. Give it a nickname if you like and you'll be prompted to save some initial data. When that's all said and done, you've taken the first step to receiving your reward! After you've scanned each of the amiibo you want rewards from, you have to play a whole bunch of Turf War or Ranked Matches. Come back after several matches, scan your amiibo again, and you'll receive the first piece of gear. Play some more matches, come back again, and you'll receive the second one. Do this one more time and you'll receive the third (and usually final) piece of gear your amiibo offers.
It's important to note that while most amiibo drop three separate pieces of exclusive gear, some drop one or two and some even drop four. Fortunately, your amiibo will tell you when it has nothing left to give you. This is where their second function comes in: you can save Freshest Fits to an amiibo and tap it to retrieve them again. If you don't know what Freshest Fits are, they're basically weapon and gear loadouts that let you pick a build in just a few seconds. You do have to gather the weapons and gear yourself, though, so Freshest Fits basically only exist so that you can swap between builds faster. If you fill up all five of the Freshest Fits in your inventory, you can use an amiibo to switch them out without losing your saved configurations.
You can also take pictures with your Splatoon 3 amiibo — even the generic Inkling Boy and Girl figurines. This also unlocks poses you can use in photo mode so that you can take fun pictures in the plaza. There are currently amiibo available for Callie, Marie, Pearl, Marina, and soon all three members of Deep Cut. The rest of the figurines are all generic characters like Inkling or Octoling boys and girls plus Smallfry, too. To review, then: amiibo drop exclusive gear, record your Freshest Fits, and appear in photo mode.
Splatoon 3 amiibo rewards
As mentioned before, you'll need to scan your amiibo and play online matches several times before you can receive all of your amiibo's rewards. We've listed every single Splatoon amiibo below in order of release date. Make sure the figure you want to use is the same color as we described or you might get a reward you didn't expect! You can also use this list to see which amiibo rewards you've already obtained — check your inventory just to be sure. You can also check the gallery above for pictures of each outfit!
Inkling Boy (Blue) drops a samurai-themed outfit with three separate pieces.
Inkling Girl (Orange) drops five different pieces! You'll receive a squid hairclip, two different school uniforms, and two different pairs of school shoes.
Inkling Squid (Green) drops a high-tech set of power armor. There are three different pieces to this one, too.
Callie drops a set of hero armor based on the outfit of the original Splatoon's protagonist! There are three different pieces here.
Marie drops a set of armored hero gear! There are three different pieces here, too.
Inkling Boy (Purple) drops the exact same gear as its blue counterpart. This one's rather expensive, so it's for the best that it doesn't have its own drop table.
Inkling Girl (Green) drops the exact same gear as the orange Inkling Girl. It's a good thing, too — this Splatoon 3 amiibo is super expensive, just like we covered in our rarest amiibo list!
Inkling Squid (Orange) drops the same gear as its green counterpart. This is another rare figure, so it's a good thing it doesn't have exclusive drops. That'd be the equivalent of paying $50 for three pieces of in-game cosmetics!
Inkling Boy (Neon Green) drops four different items, and each one makes you look like a ninja! There are two different hoods, a suit, and a pair of boots.
Inkling Girl (Neon Pink) drops a whopping five different gear pieces! There's a hair clip, two different school cardigans, and two different kinds of loafers.
Inkling Squid (Neon Purple) drops a full set of robot armor! There are only three pieces, but the set is overall rather bulky.
Pearl drops a clothing set that resembles her normal outfit. It also includes both a large and a small crown. This means she actually drops four items, and is one of the only Splatoon 3 amiibo to do so!
Marina drops a clothing set similar to her normal outfit. This one only has three pieces, unlike Pearl's rewards listed above.
Octoling Boy (Pink) drops a full suit of metal armor! It's three pieces, and you even receive a knight's helmet as one of the items.
Octoling Girl (Pink) drops four pieces! It's the Enchanted set, which makes you look like a witch. This includes a big floppy hat, some pointed boots, and two types of robes.
Octoling Octopus (Pink) drops the most cursed set in the game — the Fresh Fish set. It resembles an old-time mascot, and there are three different pieces.
Inkling Girl (Neon Yellow) unlocks three sort-of unrelated gear pieces: a fishbone scrap, a fancy schoolyard jacket, and the Knotty Bois.
Octoling Boy (Neon Blue) unlocks three rather unrelated pieces of gear. A chef's headband, a black-belt Gi, and a pair of Kick Dampeners.
Smallfry unlocks a set of chaotic armor! There are three pieces here, and the helmet even includes Smallfry's signature hairstyle!
Shiver releases in November, and drops the same outfit she wears in-game. It does look slightly different, but it's still close enough!
Frye isn't available yet, but her amiibo will drop the outfit she wears! Perfect if you want to dress up as her to try and make up for all those lost Splatfests (we're rooting for her next time!).
Big Man can't even fit in the amiibo box! Just like his fellow Deep Cut members, his amiibo figure isn't available just yet. When it releases in November, it'll give you an exclusive set of Big Man-themed clothes.
As you can see, the Splatoon 3 amiibo unlock a ton of different rewards in this game! The full set is rather expensive, as several of these amiibo figures were not restocked after release. To save your wallet from certain doom, your best bet is to pick the outfits you like best and then search second-hand sites for good deals on loose amiibo. It's also very important to pre-order new amiibo figures if you're even slightly interested in them – a few recent ones sold out almost immediately and haven't been available since. In the meantime, best of luck getting all that gear.
What's your favorite amiibo reward in this game? Feel free to let us know down below.
You can visit the official Nintendo amiibo website here.
Related
on bbc news
on hindi news
on the news today
on channel 7 news
ôrf news
campo grande news ônibus
ôpera news
campo grande news greve de ônibus
l1 news horário dos ônibus
l1 news ônibus
lago azul news ônibus
news österreich
news österreich heute
news österreich aktuell
news öffentlicher dienst
news österreich corona
news öl
news österreich orf
news ö3
news österreich heute aktuell
news österreich sport
ö24 news
ölpreis news
öbb news
ösv news
österreich news krone
övp news
özil news
öffentlicher dienst news 2023
österreich promi news