Warning: contains spoilers for Amazing Spider-Man #31The recent Amazing Spider-Man #31 sees some major developments for the future of Peter Parker, including Spider-Man getting dumped by his girlfriend Felicia Hardy, aka the Black Cat, for a seemingly silly reason that the two could have easily worked on.
Spider-Man and Black Cat have a long history together, starting out as enemies before their relationship developed into a playful yet dangerous flirtation, eventually blossoming into a full-fledged romance. After Spider-Man and Mary Jane broke up due to her getting stuck in an alternate reality, Peter got back together with Felicia, and the two have been happily dating ever since, at least until Amazing Spider-Man #31 from writer Zeb Wells and artists John Romita Jr and Emilio Laiso, where the two end their relationship, all because Peter isn't pressuring Felicia to obey the law.
Black Cat Dumps Spider-Man Because Their Relationship Is… Too Healthy?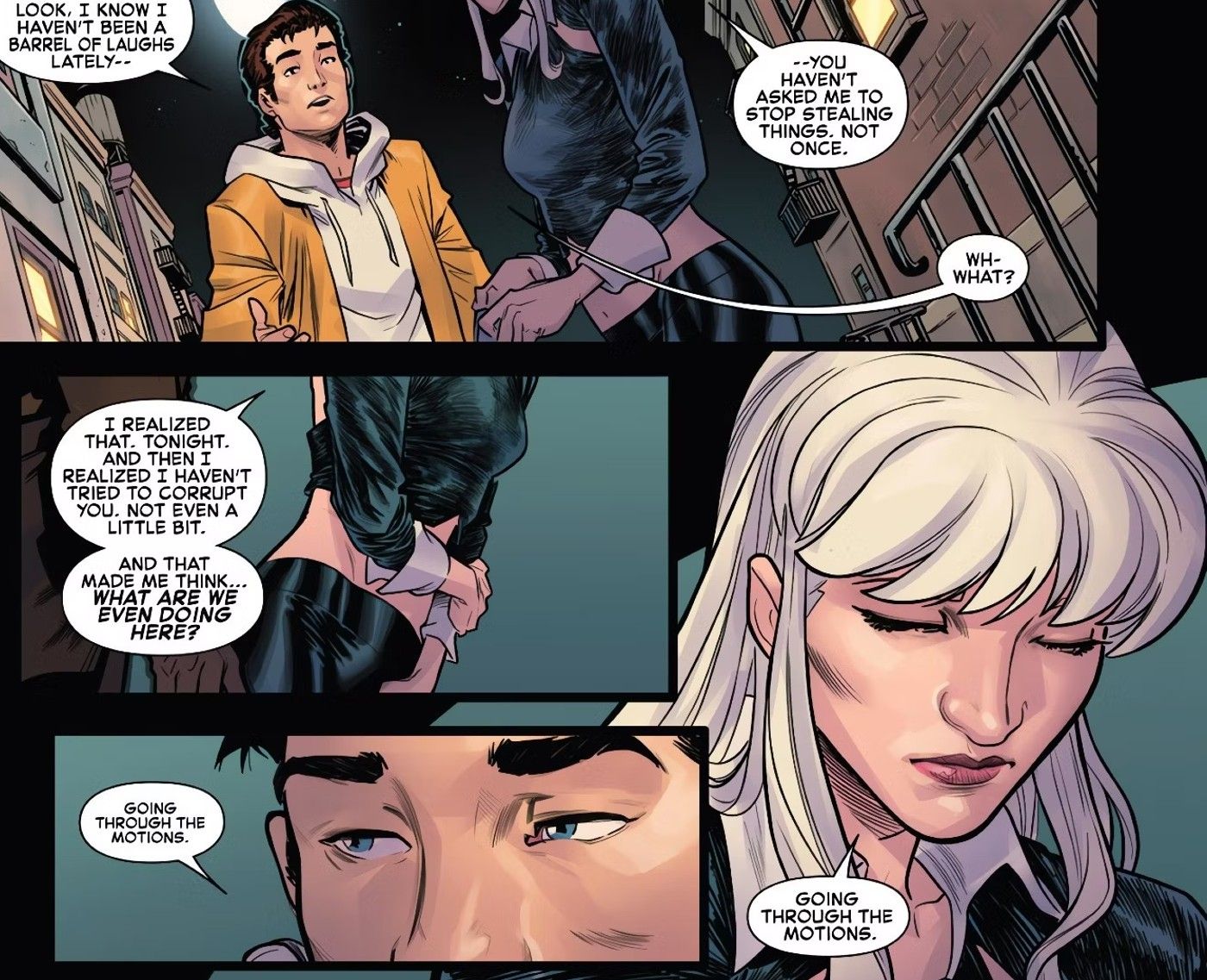 While their relationship ends amicably, with both going their separate ways while still acknowledging the love they have for each other, the breakup is still 100% prompted by Felicia. Of course, Felicia has every right to end their relationship for any reason, but it is frustrating to see the happy couple break up for what amounts to something that they totally could have worked on as partners. After asking Peter to talk to her, she brings up the fact that, "You haven't asked me to stop stealing things. Not once," and that she hasn't tried to "corrupt" Peter at all… as if this is a bad thing. A staple part of their early romantic dalliances, which were highlighted by intense drama and heartbreak, was that both of them were constantly trying to change each other. Now, the lack of that judgment is presented as a sign that they're just going through the motions.
As the end of a fan-favorite relationship, the break-up is a major anticlimax, and leaves fans asking questions about why the two didn't try a relationship counselor or even a longer discussion. Felicia outlines that she and Peter got together when he was going through immense emotional turmoil, however if anything the preceding issues have seen him work through that capably and willingly. The comics have rarely depicted Black Cat's heists as truly harmful to anyone but villains, making it clear to readers why Spider-Man – who tends far more towards saving lives – wouldn't need her to change. Ultimately, it feels like a quick, unconvincing way to end a relationship that's been at the center of the story for quite some time.
Peter and Mary Jane Have Always Been Endgame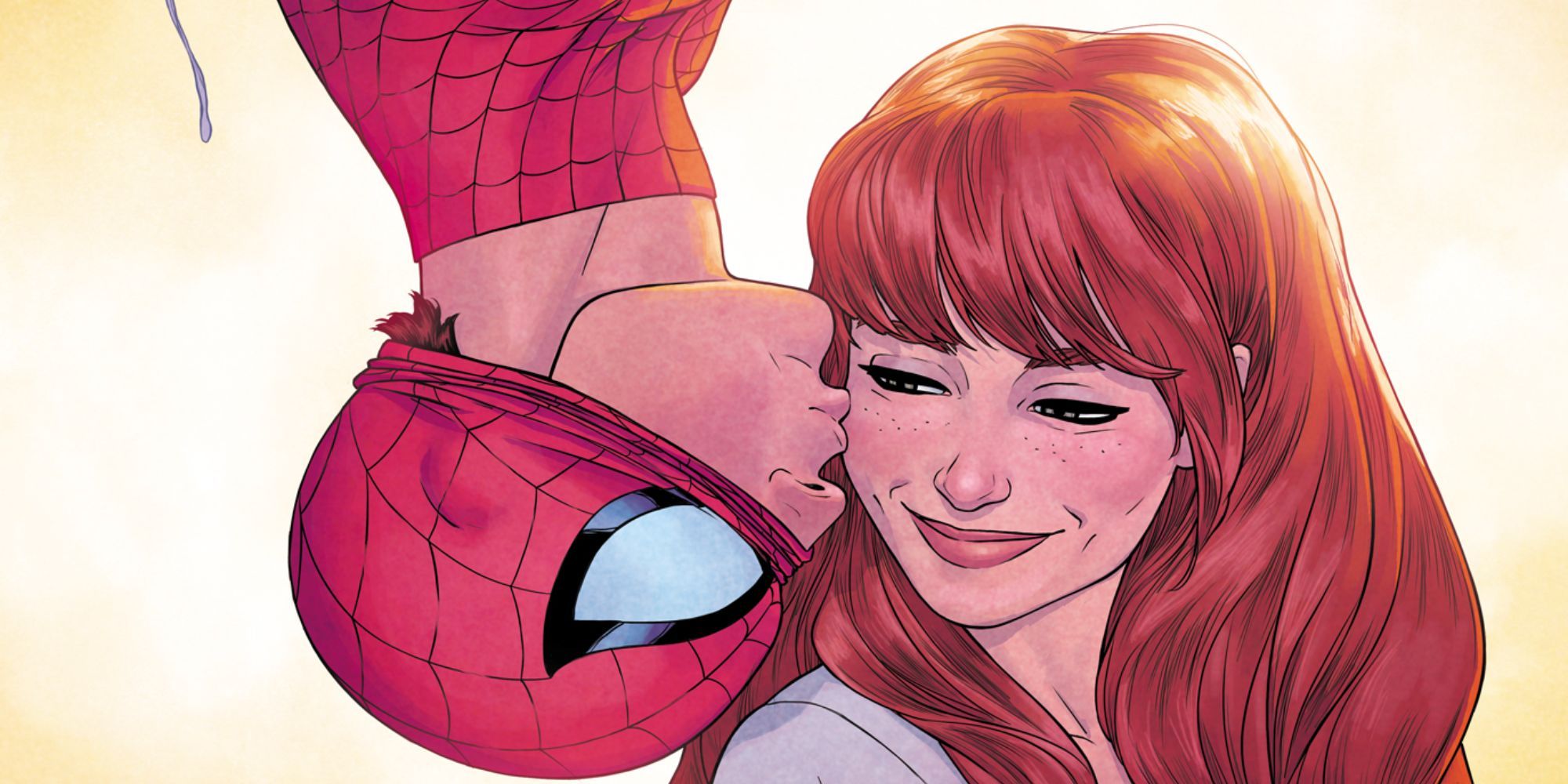 Marvel's Spider-Man office has been making a lot of controversial decisions lately, and fans have been unhappy that they have continued to keep Peter away from his "true love" Mary Jane, so there is a chance this breakup was a decision made by editorial. In this same issue Mary Jane is seen looking incredibly unhappy and dissatisfied in her relationship with new partner Paul, mainly due to the reveal that their alternate reality kids never truly existed. Felicia and Peter so unceremoniously ending their relationship in Amazing Spider-Man #31, combined with the clear troubles that MJ and Paul are going through, hints that the longtime lovebirds could be heading for a reunion, one that would make many Spider-Man fans happy – even if the road there feels truncated and unsatisfying.
Black Cat and Spider-Man have shared a beautiful, seemingly healthy romance for months now, so hopefully the two former lovers will remain allies, even as Black Cat works with Mary Jane to develop her own new superhero persona of Jackpot. However, to say that each issue of a comic series represents a financial commitment by readers, Spider-Man and Black Cat's break-up comes from nowhere and is seriously unsatisfying, especially for a genre with a long history of great relationship drama.
Amazing Spider-Man #31 from Marvel Comics is available now in stores.
on bbc news
on hindi news
on the news today
on channel 7 news
ôrf news
campo grande news ônibus
ôpera news
campo grande news greve de ônibus
l1 news horário dos ônibus
l1 news ônibus
lago azul news ônibus
news österreich
news österreich heute
news österreich aktuell
news öffentlicher dienst
news österreich corona
news öl
news österreich orf
news ö3
news österreich heute aktuell
news österreich sport
ö24 news
ölpreis news
öbb news
ösv news
österreich news krone
övp news
özil news
öffentlicher dienst news 2023
österreich promi news