Sonic Superstars has now been released, a 2D reboot of classic Sonic with modern graphics, fresh gimmicks, and co-operative multiplayer. Whether fans take to the game as they did with Sonic Mania, though, remains to be seen.

Indeed, Sonic Team head Takashi Iizuka recently commented that pixel art wasn't a "viable art style" for future games in the series and Sonic Superstars instead modernises the visuals with 3D models and more elaborate designs. For me, as I wrote in my Sonic Superstars review, the game loses some of the series' charm along the way.

Ahead of the release of Sonic Superstars I had the chance to send some questions to Iizuka, so I took the opportunity to ask more about his thoughts on pixel art, as well as whether co-op is antithetical to the core of Sonic, and how he would define the 'feel' of a Sonic game. Plus, could we get another spin-off anytime soon?
When creating Sonic Superstars, how did you balance classic Sonic while keeping the experience fresh and modern?
Takashi Iizuka: Getting that classic Sonic feel absolutely right was a huge priority for us. Making sure that the game feels how players expect a classic Sonic game to play, but with enhanced gameplay, modern ultra HD graphics, and presentation that is only possible with 3D graphics, that was our overall vision. We're always looking for innovative ways to deliver a great Sonic game, and being able to combine familiar gameplay and a sense of nostalgia in a modern, fresh way was really exciting to us.
Why did you decide to make Sonic Superstars a co-op game? Is the idea of playing alongside friends and being held back antithetical to the Sonic core of running fast?
Iizuka: We wanted to create a game that friends and family could play together and, as with everything, it's a balance to get that right. There's certainly an additional challenge to designing levels that are built with co-op play in mind without losing any speed. Designing them so that they can be enjoyed just as much by single-player Sonic fans as co-op was just as important, so we definitely have to make sure we manage to get the feel and momentum of each level right no matter how the game is being played.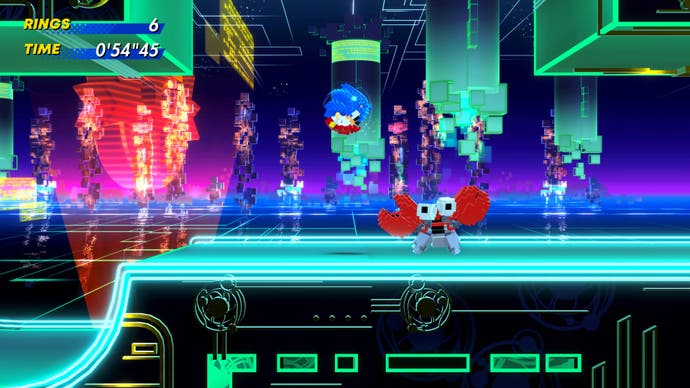 The Cyber Station Zone in Superstars feels more unique and playful with the graphical switch and character transformations. Do you sometimes feel constrained by the need to have the typical Green/Emerald Hill level, casino level etc, or would Sonic still be Sonic without these?
Iizuka: No, I wouldn't say it's ever the feeling of being constrained. We like to think we rise to the challenge of creating something fresh within an established universe. It is a constant challenge to look into the future, whilst keeping an eye on the past. Innovation without alienation. With Sonic Superstars, we really wanted to make new levels that Sonic can explore, which is why we came up with the Northstar Islands. I'm so happy to see you describe a level from Sonic Superstars as 'unique and playful' – that's exactly the kind of reaction we wanted to achieve. Our hope is that the new levels will be accepted, loved and cherished by fans.
3D Sonic games have experimented a lot over the years. With Sonic Frontiers and Sonic Superstars, have you now settled into a new standard for both 3D and 2D Sonic games, or is there still room for innovation? Will we see alternating releases between each style?
Iizuka: There is always room for innovation. Of course we understand what it is that players expect from a Sonic game, but we never want to be seen as standing still. Sonic Frontiers is a fantastic new title for us, and the fan response to our Open Zone gameplay was everything that we could have hoped for. That said, we definitely think there is room for traditional 2D Sonic games to stand side-by-side with the 3D games, and that is what led us to Sonic Superstars.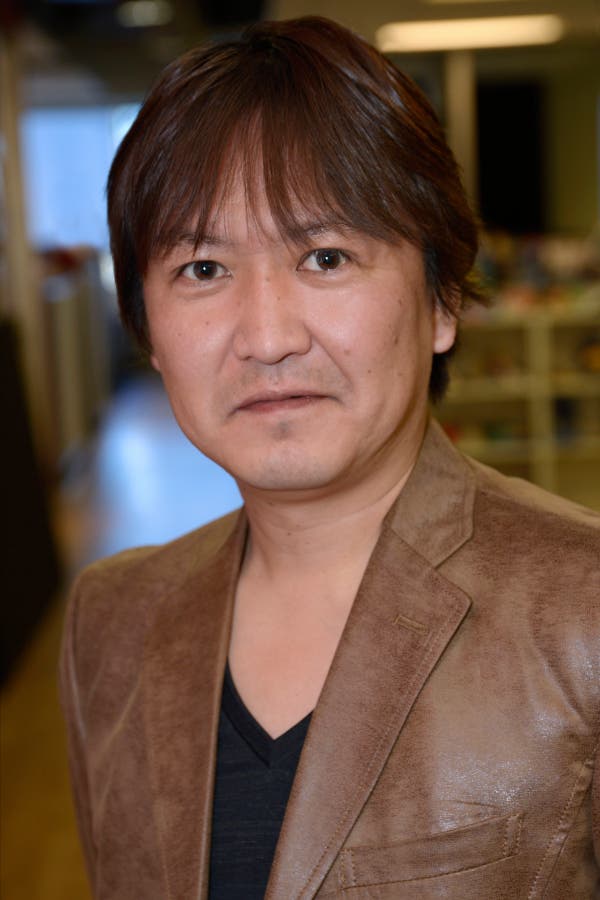 Fans are always worried about the 'feel' of a Sonic game in terms of physics and momentum, something that was updated in Sonic Frontiers with new options. How would you define the 'feel' of a Sonic game and how long does it take to get that right?
Iizuka: Yes, getting the physics and momentum is certainly what elevates the overall game, and that's something we've put a huge amount of effort into getting right. To me, a Sonic game is about energy – the sense of speed and momentum that you'd only really find in a Sonic game, backed up by some great characters, amazing music and unique environments. A Sonic game should be instantly recognisable, both in its visuals and the way it plays. The challenge is keeping that feeling fresh each and every time.
You recently said in an interview that pixel art wasn't a "viable art style" for future Sonic games. Does this mean we will never see another pixel art Sonic game? What other art styles have been considered for Sonic games? I would love to see a full 3D game in the style of Sonic CD's animated intro!
Iizuka: I certainly see the love and passion that fans have for traditional pixel games – the reception to Sonic Mania was fantastic. But one of our main ambitions for Sonic Superstars was to tap into the nostalgia of classic 2D Sonic games while bringing a freshness with enhanced visuals and beautiful environments that are only possible with 3D ultra HD graphics. I never wish to rule anything out for the future, but this approach felt right for the game we wanted to make at this moment in time.
You've previously discussed a Sonic timeline for the games and Sega has a Sonic lore team. Where does Sonic Superstars sit on the timeline? How does it connect to other games in the series?
Iizuka: The Classic series began with Sonic 1 in 1991, and Sonic Adventure marked the switch to the Modern series in 1998. So in terms of the Sonic timeline, Sonic Superstars occurs after Sonic Mania and before Sonic Adventure. Whenever we develop a new game, we always make sure the story fits with the lore.
Sega president Yukio Sugino said in a recent interview the company will consider Sonic reboots and remakes as well as new projects. What older Sonic games are being considered for reboots?
Iizuka: Sonic Superstars is positioned as a reboot of the Classic series, where we took a pixel-style platform game and took it to the next level with 3D graphics. We will continue to keep all kinds of possibilities in mind as we create remakes, brand-new titles, and more for everyone to enjoy.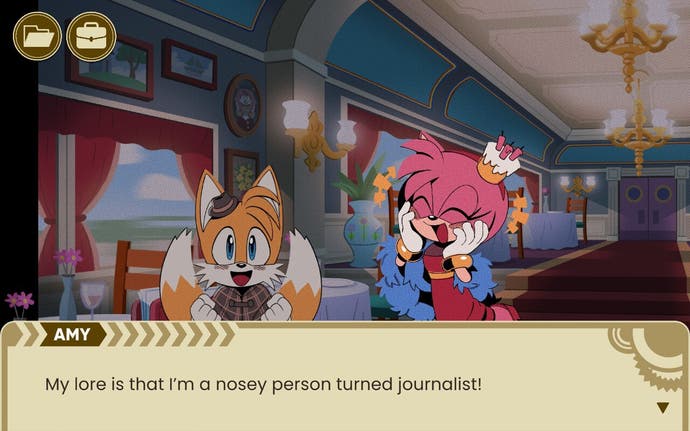 Will we see more spin-off projects like the murder mystery game? Or could we ever get another RPG like Sonic Chronicles?
Iizuka: It's a lot of fun to surprise fans and see Sonic and friends appear in experiences they wouldn't normally expect. The Murder of Sonic the Hedgehog came about in a very different way to how we would normally create a Sonic game, and it was great to see the community's reaction to it – the whole team there did a fantastic job! It's interesting to explore new experiences and put a fresh spin on the franchise.
In Sonic Superstars, if Sonic runs at the speed of sound, how do Tails, Amy, and Knuckles keep up with him?!
Iizuka: Ha! Well, Sonic can run at the speed of sound, but that doesn't mean he always does…


To see this content please enable targeting cookies.



on bbc news
on hindi news
on the news today
on channel 7 news
ôrf news
campo grande news ônibus
ôpera news
campo grande news greve de ônibus
l1 news horário dos ônibus
l1 news ônibus
lago azul news ônibus
news österreich
news österreich heute
news österreich aktuell
news öffentlicher dienst
news österreich corona
news öl
news österreich orf
news ö3
news österreich heute aktuell
news österreich sport
ö24 news
ölpreis news
öbb news
ösv news
österreich news krone
övp news
özil news
öffentlicher dienst news 2023
österreich promi news