Priscilla is one of the most anticipated films of the year. Written and directed by Sofia Coppola (Lost in Translation, Marie Antoinette) the film is based on the book Elvis and Me, by Priscilla Presley with Sandra Harmon. Stars Cailee Spaeny (Devs, Alien: Romulus) and Euphoria heartthrob Jacob Elordi have been blowing up the internet as fans eagerly await to see their portrayals of Priscilla and Elvis Presley, respectively.
In a recent press conference moderated by film critic Scott Mantz, Spaeny and Coppola spoke to journalists about the film and shared several behind-the scenes moments. Picture Jacob Elordi zipping around in a golf cart with Cailee Spaeny on set during the midnight hour — both of them dressed as their characters. How about the fact that Elordi, who speaks with an Australian accent in real life, was apparently in Elvis voice behind the scenes during the shoot?
"It's funny, because he kind of stayed in that voice the whole time, but like a subtle version of it," Coppola told journalists. "I realized after we wrapped, like a few weeks later, I talked to him, and he has this strong Australian accent. I didn't recognize his voice. I never really heard his real voice. He kind of subtly stayed a little bit in Elvis throughout the shooting. He really immersed himself." Sofia Coppola and Cailee Spaeny shared more in the press conference. Take note of the best takeaways:
On Set with Jacob Elordi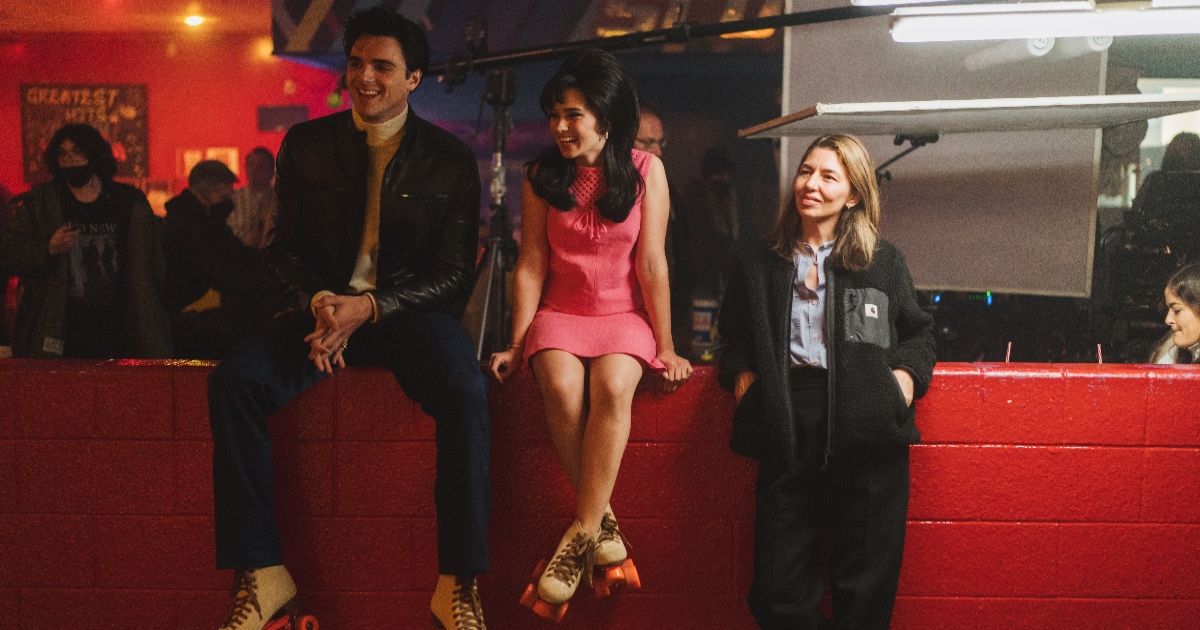 Jacob Elordi and Cailee Spaeny talked at length prior to shooting the film. The two actors wanted to be in sync and be authentic in their portrayals of Elvis and Priscilla Presley. The 30-day shoot was intense. Director Sofia Coppola and the production team were bold enough to build their own Graceland set in Toronto, where most scenes were shot.
But there was some levity, something which would intrigue Teams Jacob and Cailee. The two actors often rode around in the golf carts on set around the midnight hour. "Jacob was really whipping us around, and having the best time," Spaeny shared. "And the pool party was really fun, which was day one [of filming]. The kiss at the fireworks — all the moments where they [Elvis and Priscilla] were on the highs of their life was genuinely fun to shoot." Watching Jacob perform onstage as Elvis was fascinating to experience, and Spaeny added. "I didn't want to make him nervous, so I wasn't in eyeline. I was hiding in the curtains watching."
Sofia Coppola noted that it was "amazing" when Elordi put the jumpsuit on: "The jumpsuit just kind of took over him, and he just started moving differently. He loved it. It was really important to us all that he have the essence of the character [of Elvis], and not an impersonation. Hopefully, the audience would just get lost in the story and not be distracted."
Coppola shot the film last fall, on the heels of Baz Luhrmann's Elvis. When asked how that film drove her direction for Priscilla, and she said: "It's such a different approach. I think about Elvis is the performer outward, and I thought this is really the flipside of the story. The whole approach is more intimate and medium — the scale of it. It's done in a more intimate way."
Cailee Spaeny Talks Taking on Priscilla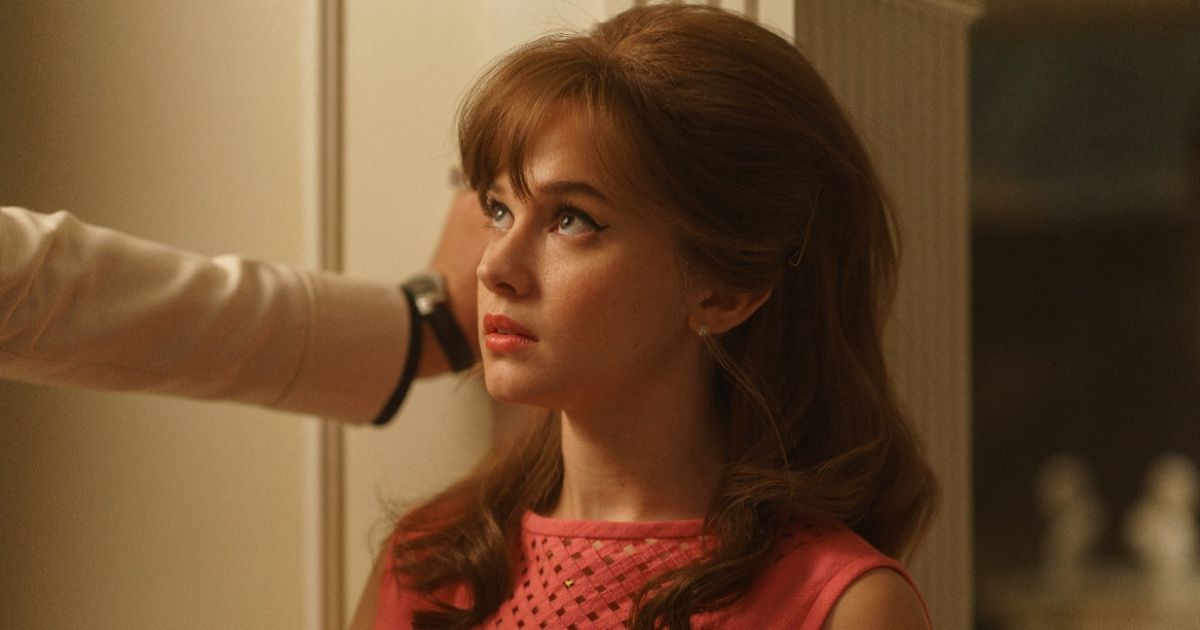 For Spaeny, who grew up in an Elvis-loving family, starring in Priscilla was the role of a lifetime. But a challenging one nonetheless, and one which required extensive research. The first step was reading Priscilla Presley's 1986 memoir, Elvis and Me, then reading the script along with the book. She wrote down the biggest questions she had, then took time to meet with Priscilla Presley herself, going through that chapter of her life.
"I always wanted her to feel comfortable. I never wanted to feel like I was interviewing her. I wanted it to come up naturally," she said of meeting with Presley. "But she would go into these sorts of specific memories she had with [Elvis] and she had special details she would talk about. But just taking in the presence of this woman who's lived this life… it was like her eyes would sparkle again when talking about certain moments she had, or she'd laugh at an inside joke that they had."
Related: Best Priscilla Presley Performances, Ranked
She went on to say that those reveals were like "nuggets of gold" that helped her put a massive puzzle together. "Especially in the way that Sofia tells it in a type of impressionistic memory way. [Priscilla Presley] is such a fascinating woman and very graceful in the way that she holds herself. She's very soft-spoken, but also has this fierceness about her, and she's just very protective."
On Becoming Mrs. Elvis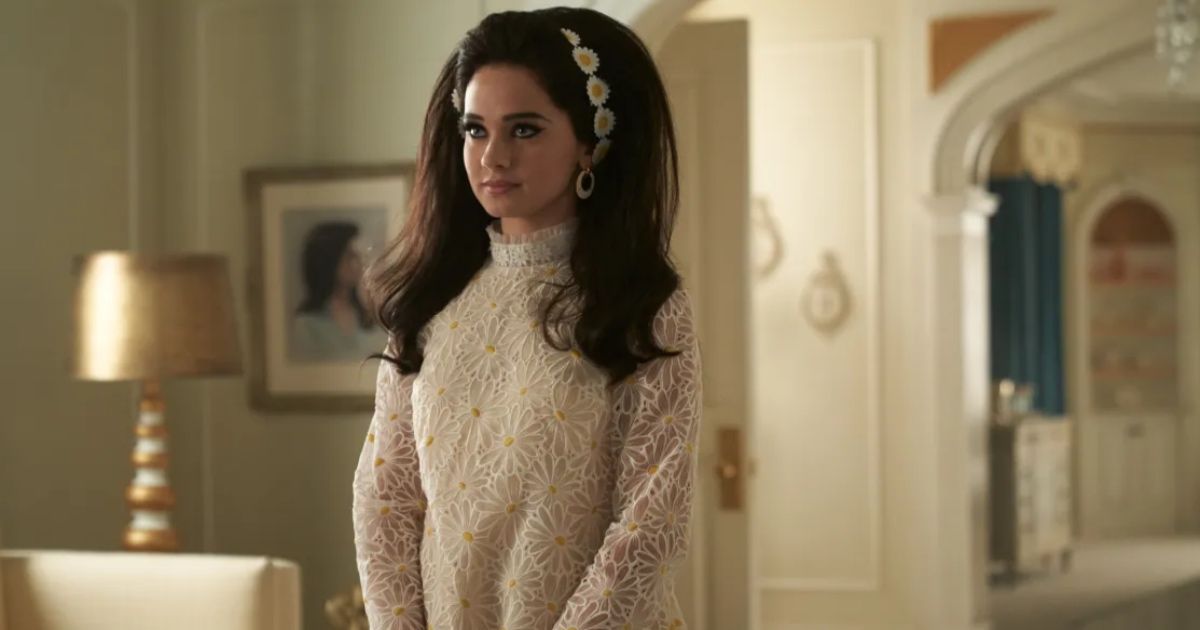 Spaeny fully transformed into Pricilla Presley, but she worked hard to stay grounded within herself, noting:
"I never think of myself as someone who is method in the way they do things. I always sort of assume that about myself—that it's not a thing that I will carry, but it's always surprising how much characters stick with you and stay with you along the way on every project, especially this one, because I think we all got so close in those 30 days."
She went on to say that one of the biggest challenges to take on was aging from the age 14–28 years of age. Scenes were not shot in chronological order. At times, Spaeny would play Priscilla Presley at the age of 14, then two hours later, Priscilla in her twenties. She credits the costume, hair, and makeup departments, whose extensive research brought "so much love" to telling the story. "That kept me grounded in those ages, where she was emotionally through this journey. In Sofia's movies, everyone just brings their A-game. She creates such an environment that is collaborative, and she has a very calming presence about her."
Sofia Coppola on Priscilla Presley's Input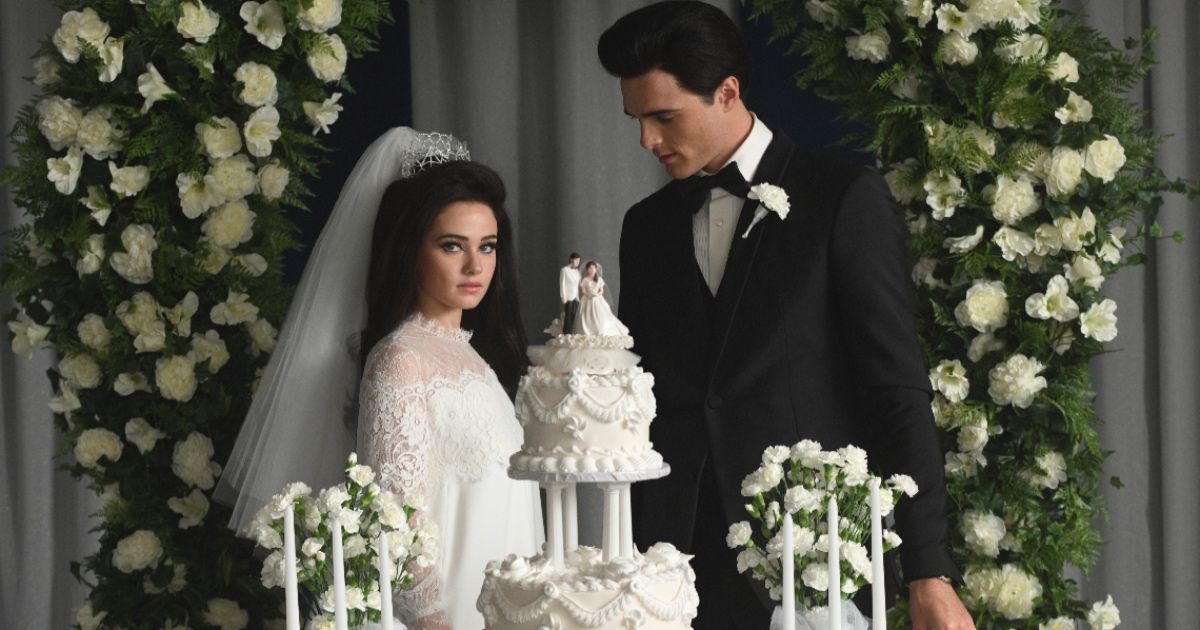 Priscilla Presley's memoir was published back in 1986. Sofia Coppola had read the book, but there was a great opportunity here to find new perspective in capturing Priscilla Presley's story authentically and also showing Elvis himself in a different, more truthful, light.
"It was a new challenge for me," Coppola admitted about the project. "I've never worked on someone's story who was alive and would see the story. It was definitely something I kept in mind — how do I express what I'm connecting to? Then also make sure that it's a story Priscilla feels represents her experience. A big challenge was to take such a big part of someone's life and boil it down to fit into a length of a movie. How do I do that and give the impression of everything she went through?"
Related: Here's Every Sofia Coppola Film, Ranked
She was happy to have access to Priscilla Presley whom, she said, was open to reliving that era. "She talks about it in such vivid detail and gave so much insight," she said. "As a mother of teenage girls… I could really see the story from both perspectives — how could her parents let [Priscilla] live in Graceland, and the tension that brought. And I just felt I have a different perspective that now I can put more into the story in different levels."
Watching the Film with Priscilla Herself
In a moment ripe for a panic attack, Spaeny found herself watching Priscilla at the Venice Film Festival with Priscilla Presley in the same theater. She said:
"I was so nervous. It's so strange watching yourself for two hours on a big screen. I remember asking Sofia, 'Should I watch it in Venice?' And she said, 'I think you should.' And I sat down, and I watched it, but Priscilla Presley was sitting right next to me during that whole screening. So, it's one thing watching yourself the whole time, but then having a person that you were playing sitting right there — it just added a whole other layer to it. It was very intense. But you know, then it got the response that it did."
Spaeny, at the age of 25, nabbed the Best Actress award for the film at the festival, in fact, and Coppola noted that Priscilla Presley was "moved" by the performance and the entire film. "I felt proud about it," she added. "I'd shown her an earlier cut before, and it was the scariest thing. And I was so relieved when she said, 'that was my life,' and that she really felt like Cailee showed what she was feeling. It was really moving to have that experience."
You can experience Priscilla when it hits theaters on November 3.
on bbc news
on hindi news
on the news today
on channel 7 news
ôrf news
campo grande news ônibus
ôpera news
campo grande news greve de ônibus
l1 news horário dos ônibus
l1 news ônibus
lago azul news ônibus
news österreich
news österreich heute
news österreich aktuell
news öffentlicher dienst
news österreich corona
news öl
news österreich orf
news ö3
news österreich heute aktuell
news österreich sport
ö24 news
ölpreis news
öbb news
ösv news
österreich news krone
övp news
özil news
öffentlicher dienst news 2023
österreich promi news