Now playing in select theaters is writer-director Paul Schrader's latest film, Master Gardener. Schrader, who wrote Martin Scorsese's Taxi Driver, and who's known for screenplays that focus on "very powerful male characters," returns with another thriller, starring Sigourney Weaver opposite Joel Edgerton, but this time the filmmaker has a different message than his previous work. While speaking with Collider's Steve Weintraub, Weaver and Edgerton explore the director's unique style, what it is that draws him to stories like these, and more.
In Master Gardener, Narvel Roth (Edgerton) is a restrained horticulturist employed at the sprawling Gracewood Gardens. Like the beautiful gardens, Roth tends to his relationship with his wealthy employer, Mrs. Haverhill (Weaver), and leads a quiet life, until the day Mrs. Haverhill requests Roth accept her wayward niece, Maya (played by Quintessa Swindell), as an apprentice. When the two begin to develop their own relationship, Roth's dark and violent past starts to surface.
Before heading to the theater, you can read the full non-spoiler interview below to find out what drew three-time Academy Award-nominee Weaver to this project and how they managed to film in only 20 days. Like Schrader's other films, The Card Counter and First Reformed, Master Gardener offers the narrative in what Edgerton describes as a "concise" manner, revealing exposition that's "very elegantly placed and very artfully placed." They also talk about Edgerton's upcoming Apple TV+ series, Dark Matter, whether Weaver is more of an Ellen Ripley from Alien or Gwen DiMarco from Galaxy Quest, and if she'll be making an appearance in Ghostbusters: Afterlife 2.
COLLIDER: I like throwing a curveball or two at the beginning. For both of you, I'm a big fan of both of your work, but there are going to be people out there that have never seen anything you've done before. So if someone has never seen anything you've done, what is the first thing you'd like them watching and why?
SIGOURNEY WEAVER: In general? Oh, dear.
JOEL EDGERTON: The thing I get the most pleasure from when I run into strangers in the street, and they're like, "Oh, I saw you in…" – and I'm waiting for what maybe-mediocre film they saw me in – [is] when people say they saw The Gift. I think it's just because I like to think that my fingerprint was all over that beyond just being an actor. Other than that, I'd tell them to go watch Warrior and have the assumption that I was actually a real tough guy, which I'm not.
WEAVER: Gosh, that's really hard.
EDGERTON: Sigourney's clicking through 100 awesome films right now.
WEAVER: I'd want them to watch [Gorillas in the Mist] because they would learn about conservation. I mean, the gorillas are no longer on the endangered list, but they will always be endangered. Unfortunately, so many creatures are under tremendous stress, and the human world is not helping them at all. It's great to be able to pursue this profession, and every now and then you get to do a movie that has a big benefit.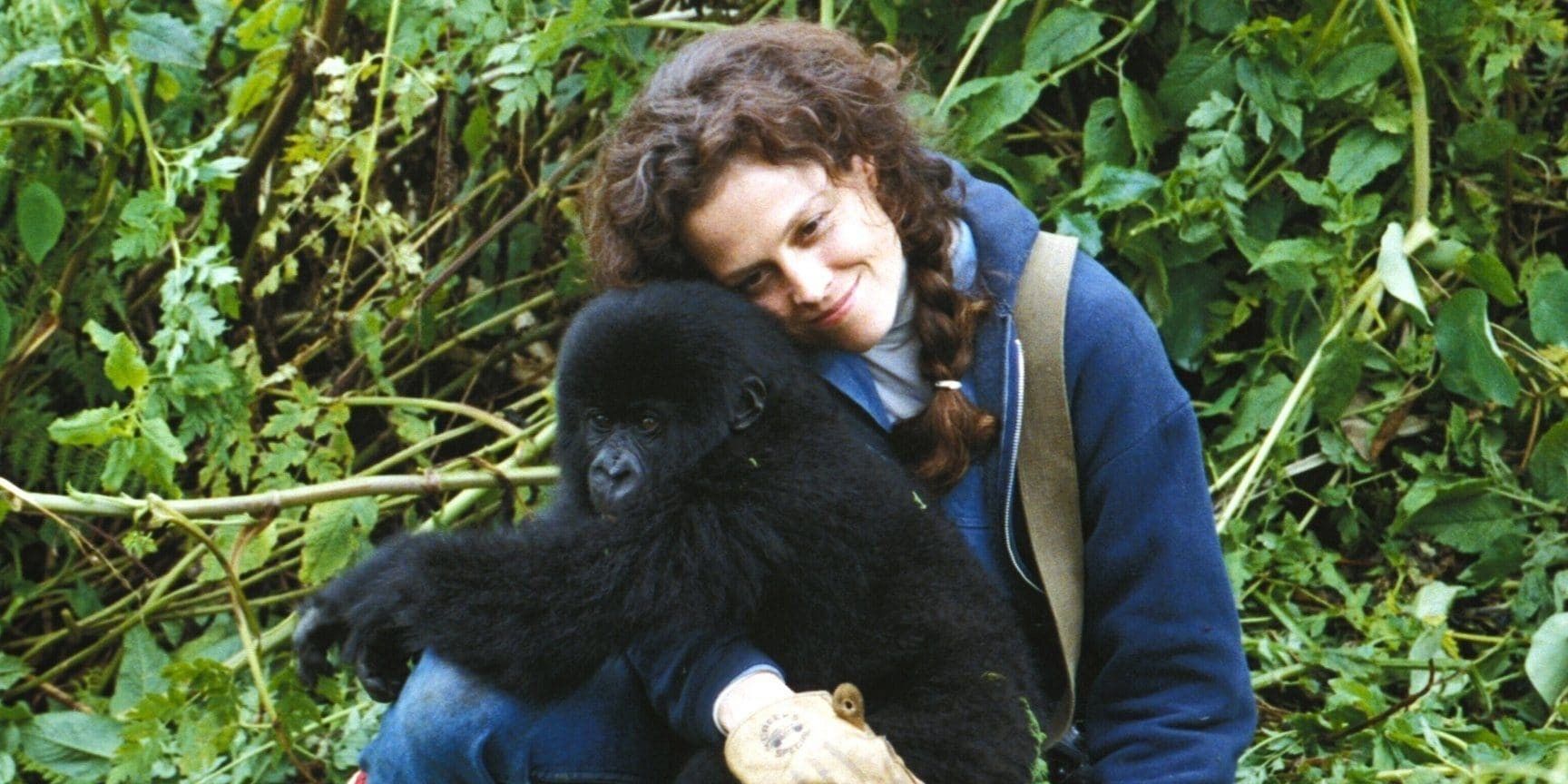 You both have done a lot of roles, so what do you think was actually the most work you've done before stepping on set for one of your projects, in terms of preparation as an actor?
WEAVER: I think, for me, it was Kiri (Avatar: The Way of Water). I had five years to work on it because we kept being delayed, five years to sort of undo whoever I was at that point and reconstitute my 13, 14-year-old. So, I didn't mean to work on it that much. It just turned out to be a kind of lucky thing for me because by the time I got to do it, I was completely over what anything would be like to anybody else but me.
EDGERTON: Same two movies for me; The Gift because I wrote it and I was thinking about it constantly and rewriting it for five years, but the hardest work as an actor is Warrior because some things I think you can turn up and fake, but there were physical aspects of that we really just needed to get there early, I think it was three months early, and every day, all day, training and getting the skills for that.
Sigourney, I loved your work in Avatar 2. The character you played, I couldn't believe how you channeled being a teenager. My last thing before getting into this film; I love Galaxy Quest – I want to stress the word love – and I'm just curious, when did you realize that it meant a lot to so many people?
WEAVER: I almost said I'd want people to see Galaxy Quest first, instead of Gorillas in the Mist, because that is the way I really felt in outer space, like a blonde who doesn't really know how to do anything [laughs]. So for me to play this character who could figure everything out and know what buttons to push, and do this and do that, and use a flame thrower, and all this stuff, that was acting, man! I really am Gwen, and I love that movie. The movie is a love letter to all actors who go off and do these crazy stories.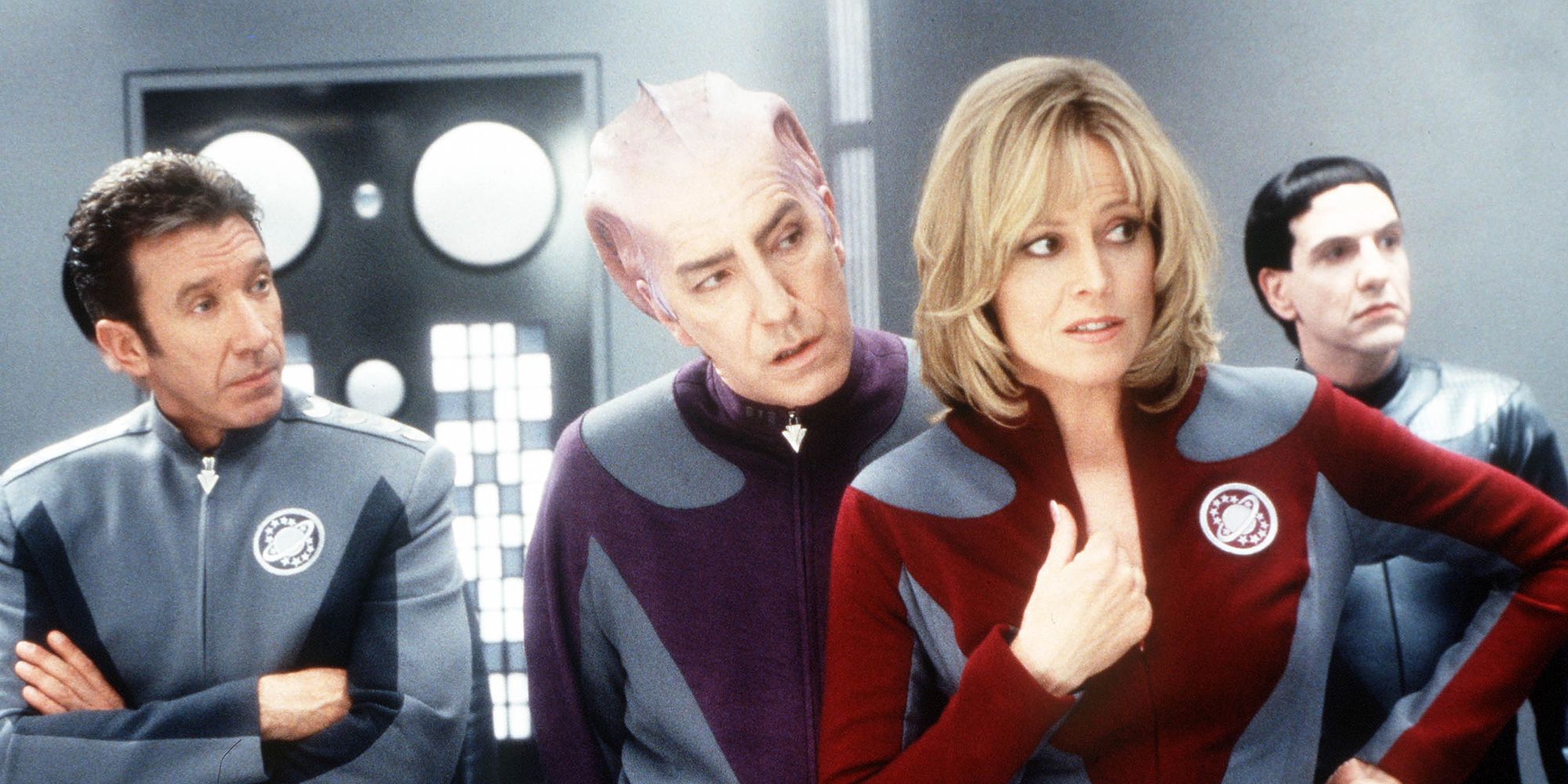 I cannot recommend that film enough to anyone who has not seen it. It's incredible. Jumping into why I get to talk to you guys today, I know you both read a lot of scripts, and I'm sure there's a lot of filmmakers who want to work with you. What was it about this project that said, "Oh, I need to do this?"
EDGERTON: For me, it was Paul, and getting the phone call from a guy like Paul to be one of his leading men after having really, really been obsessed by First Reformed, in particular, in his recent filmography. Then reading the script with real nervous, fearful kind of, you know, hoping that what I'm reading is enticing enough and exciting enough, and it was. For all the films I've watched of his, I've never read his screenplays, which is a real pleasure because they're incredibly different. I mean, they still look the same and, generally, it's a screenplay, but there's an elegance and an efficiency, and kind of a reluctance to overly explain histories of characters – flashes of understanding of the past, but no abundance of exposition, and the exposition that's there is very elegantly placed and very artfully placed. So, yeah, I mean, script plus Paul, it was a real honor. I remember thinking – because it was during COVID – I was like, "Does he really want me to do this? Is he, like, senile and he's accidentally called the wrong person?" [Laughs] I feel like that with every movie, to be honest.
WEAVER: I was sent the script, and I was so surprised to be offered a Paul Schrader script, which, you know, he's known for very powerful male characters. I really felt that in Taxi Driver, he has these two incredible women in it, and that this, in an odd way, was a revisiting of these two different characters, very different. The fact that the male character was going back and forth between these, in a kind of triangle, I thought it was such an arresting script, so beautifully written, so elegant. And the idea of working with Paul Schrader, who's one of our great master filmmakers, I met him the next day, I think, and I completely forgot to fawn on him and tell him how much I admired him and how much I like this, and then I just went straight to, "What about this? What about that? What about this?" I realized later that I should have fawned on him a little bit, but I was so excited, I just wanted to get to talking about the script.
It worked out! Speaking of fawning, Joel, I'm just curious when you're working with someone like Sigourney, how many days into the shoot before you started geeking out over The Ice Storm or Ghostbusters or Alien, or 50 other projects that Sigourney has done?
EDGERTON: I like to keep a lot of this inside, and now, dangerously, it's bubbling to the surface as you're talking right now! [Laughs] We've worked together before, we worked on Exodus with Ridley [Scott], so we had a bit of a chance.
WEAVER: I played his mother, and he had a very wonderful part in that, a very complex, complex person that was cut down to being kind of a villainous person.
EDGERTON: We also got to ride around in a golf cart in London, at the studios and stuff, so I've done a bit of fawning, but there's a lot more fawning I could do, for sure!
WEAVER: The fawning is mutual. I was thrilled to be doing this with Joel.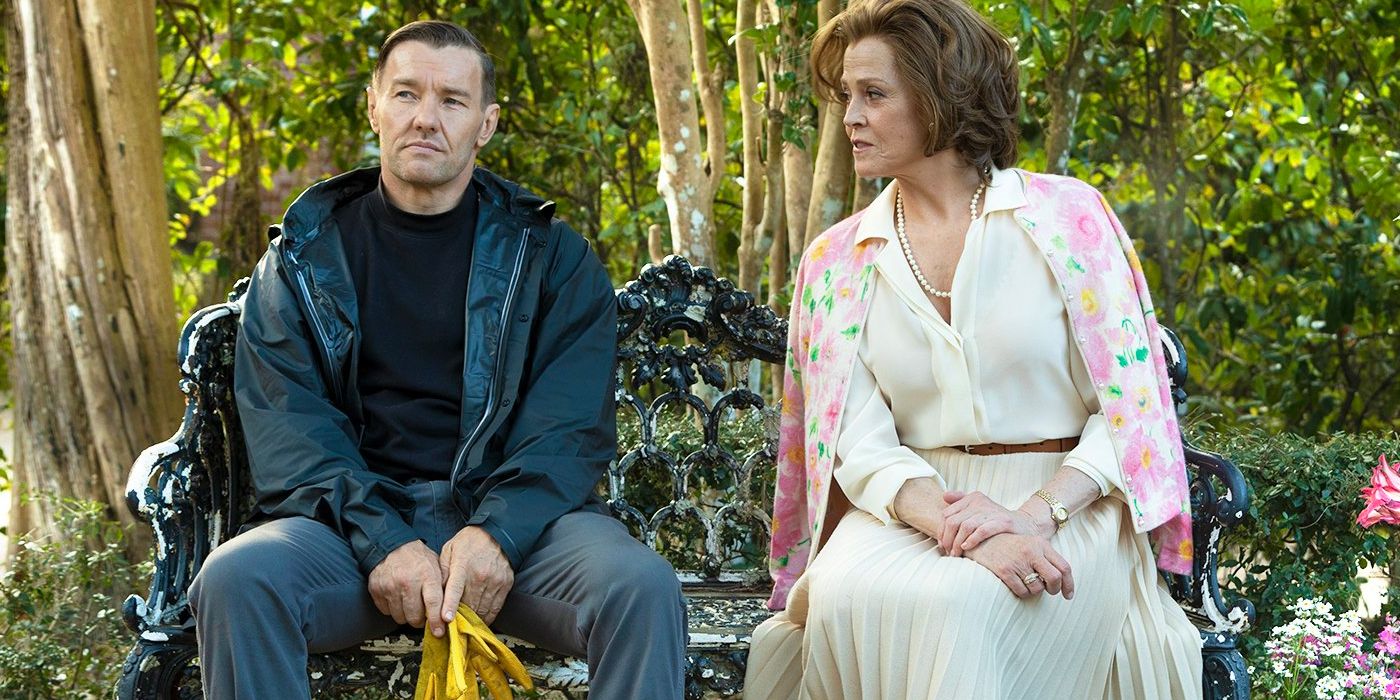 You guys are also great together. One of the things I really enjoyed was Alexander's [Dynan] cinematography. I like the simplicity of where the camera is placed, and with Paul, there's nothing unnecessary. It's just very to the point. Can you sort of talk about that aspect?
EDGERTON: You really nailed it. I don't know if you've read stuff that he said about this, but I remember being really impressed by the cinematography and the design of First Reformed, and being on set with Paul, I realized what he does – hopefully I'm not giving away a trick, but other people should use it anyway – is that he looks at the set, and he takes away anything that's unnecessary for the scene so that there's these sets that are populated by the actors, and the chair that they need to sit on, and maybe a certain prop, but everything else is sort of systematically stripped away until it feels like only what's necessary is there. I think that says a lot about, not just the set, but the way he approaches his writing and the way he shoots, and even the way he talks to actors. It's always concise.
Something about Paul is that he seems to love telling stories about someone with a dark past, hiding behind a day job, who eventually has to explore something that they are uncomfortable exploring. Did he ever tell you what his fascination with these kind of characters is?
EDGERTON: Well, I feel like it's sort of been a thing for him forever. Look, it's a really good question to ask Paul, actually, is where he sees the repetition of that– Because he is playing variations on a song all of the time, but in Master Gardener, to relatively quote Paul from the other night, talking about in his early days, he was desperate to tell the world, "Fuck you," and that in this film, he's starting to move towards telling the world, "I love you." And I think there's a softening in this film, albeit it still carries the marks of everything you're talking about. There's this sort of contrast of worlds, of violence versus a new peaceful future, and the day job versus the kind of razor-sharp violence of the past. Yeah, I'm really curious about that, too. If you find out the answer, could you let me know?
I love learning about the behind-the-scenes, the making of movies, television, so for soon-to-be fans of the film, is there anything that you think might surprise them about the making of the film?
EDGERTON: Oh, I'll tell you a couple of things.The movie shot much faster than you would think, 20 days. Paul was wearing an eye patch the entire time because in the window he had to shoot it, he realized that he had to put off an eye surgery that was necessary. So he looked like John Ford just kind of directing. He was a little unwell, you know, during that time, but I've never seen anyone shoot a 20-day shoot – and usually it's a young filmmaker, and the energy is like you're being chased down the street by a bear, like there's no time for anything and everybody's panicking – I've never seen someone shoot a movie in 20 days and be so calm about it.
WEAVER: Because he wasn't feeling that well, I think there was no extra energy for any drama, for any long conversation. Luckily, Alexander has worked with him before, so there was a spareness to the way– they had a thing, they must have talked a lot. But I mean, he brought every discipline with him when he was directing. The editing, the writing, the cinematography, he can do everything. And so I think only someone like that could shoot this movie that fast when he wasn't feeling his best.
EDGERTON: And did you notice his cameo in the film?
WEAVER: No!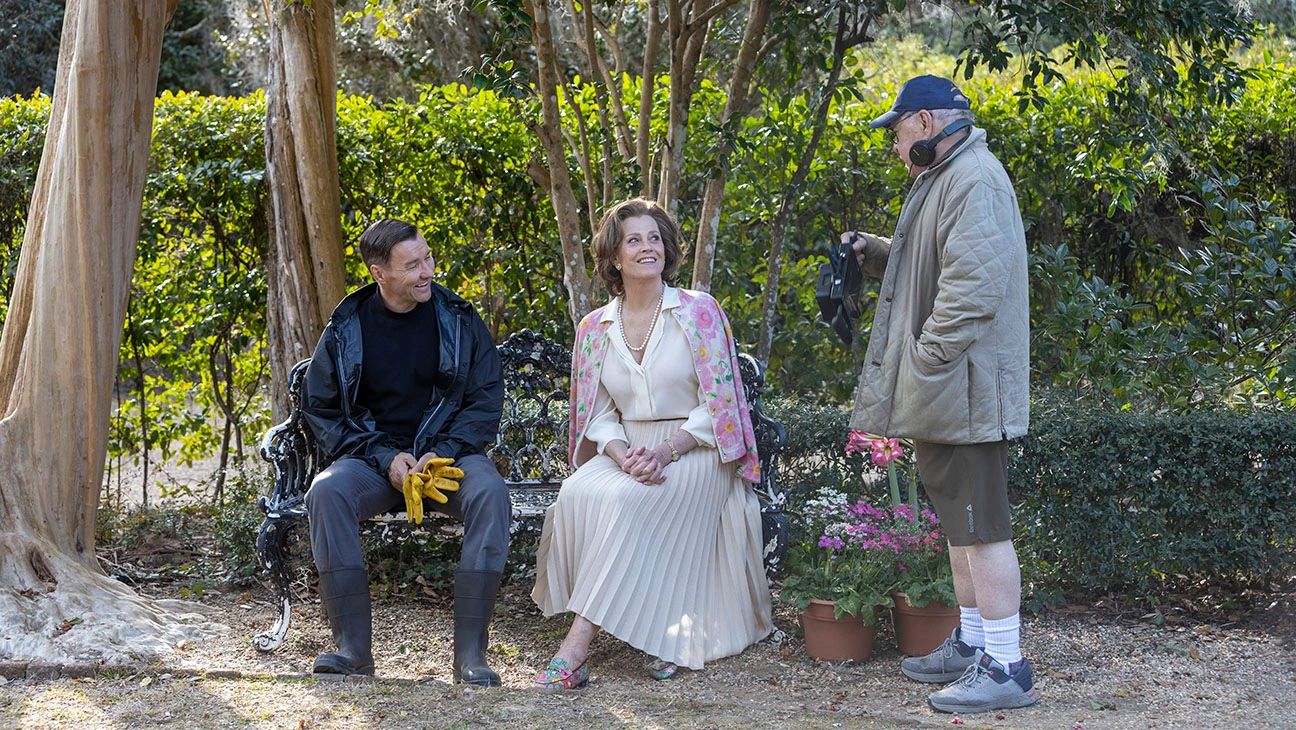 I actually didn't notice the cameo.
EDGERTON: No, he's in the film. Well, I don't know for certain whether he put himself in the cut, but he did play in a scene, in the Alcoholics Anonymous moment.
WEAVER: Oh, wow!
EDGERTON: I'm gonna find out if he's still in it, but if he is, that's his Alfred Hitchcock moment.
I didn't notice that. Joel, I'm really excited for Dark Matter because of what it's about and the whole alternate reality, multiverse kind of thing. I wanted to know if you could just tease people what it's about? And Sigourney, I have to ask you, they're filming a certain Ghostbusters sequel right now, and is there any chance that you could be popping up in it?
WEAVER: I play Slimer's mother.
EDGERTON: [Laughs] Dark Matter is very Sliding Doors (1998), as the quickest possible reference, and it raises these amazing questions about the life you didn't choose to live and if you had the chance of doing it, would you covet that, take it over? And to tease something else for anyone apart from my mother who's a fan of mine, towards the end of the series, I think I played 25-plus versions of the same person.
WEAVER: [Laughs] Wow!
EDGERTON: So if you're not a fan of mine, don't watch it.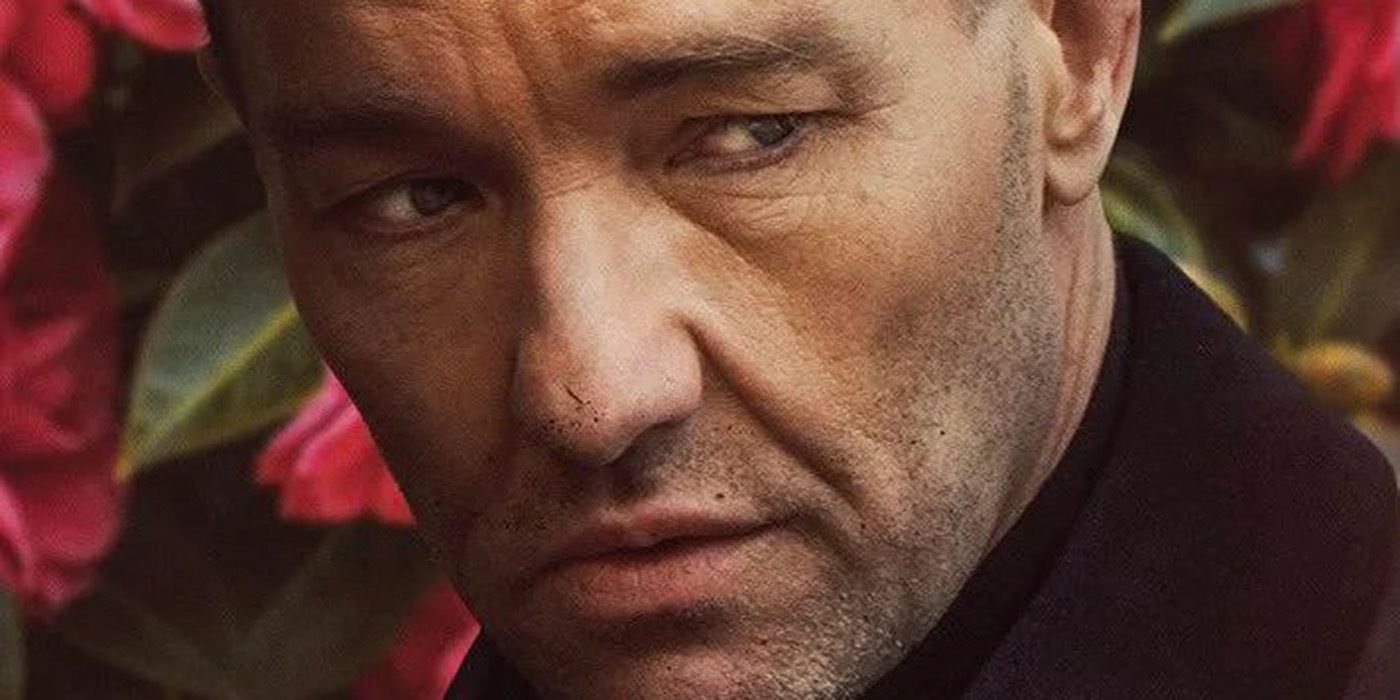 The thing that I've always thought about is, you get offered a job in Paris and if you take that, your life could radically change, or if you don't go– we always have these choices, and I think the series deals with that, which I find fascinating. And I like how Sigourney didn't answer my question, but I'll take it.
WEAVER: No, I mean, listen, I've been very busy, but I wasn't asked to be in this Ghostbusters, and I think a little of us goes a long way.
EDGERTON: Well, you know, they're not supposed to call you, you're supposed to call them, right? That's what the song says. "Who are you gonna call?"
Master Gardener is in theaters now.
on bbc news
on hindi news
on the news today
on channel 7 news
ôrf news
campo grande news ônibus
ôpera news
campo grande news greve de ônibus
l1 news horário dos ônibus
l1 news ônibus
lago azul news ônibus
news österreich
news österreich heute
news österreich aktuell
news öffentlicher dienst
news österreich corona
news öl
news österreich orf
news ö3
news österreich heute aktuell
news österreich sport
ö24 news
ölpreis news
öbb news
ösv news
österreich news krone
övp news
özil news
öffentlicher dienst news 2023
österreich promi news