Rom-coms have dominated the better part of 2023 besides the usual shonen hits. From popular office romances like Ice Guy And His Cool Female Colleague to historical love stories like My Happy Marriage, love seems to be the clear winner. Since every season has its fair share of winners and losers, there are those anime series that go unnoticed but are actually good. Saint Cecelia and Pastor Lawrence is summer 2023's newest romantic comedy but with a religious theme. It's surprising how this series manages to work with its Catholic characters without compromising on comedy.
As the title suggests, Saint Cecelia and Pastor Lawrence is about a young pastor and a lady saint who are living together. The two of them perform religious duties in a small remote village where they're held in high esteem. The story is a sweet blend of romance, comedy, and slice-of-life genres and a perfect watch for anyone looking for a classic-styled simple romantic story that follows all the tropes.
Saint Cecelia and Pastor Lawrence Has A Wholesome Plot
Saint Cecelia and Pastor Lawrence has a very wholesome vibe when it comes to the story and even the characters. Lawrence is a well-groomed man with a heart of gold. His grandfather raised him with the idea that it was the duty of people like him to look after saints who protected the people. With that in mind, Lawrence studied to become a pastor in a small village where he came across Cecelia. It is implied that neither Cecelia nor Lawrence knows where she came from, and Cecelia simply appeared out of nowhere. Mesmerized by her purity and divinity, Lawrence houses Cecelia in the church, and it's happy news for the villagers, for they finally have a saint to protect them.
Related: 10 Ways Kimi Ni Todoke Embraces Shojo Clichés
Cecelia seems young, and while she takes her duties very seriously, she also has a habit of goofing around and being lazy while Lawrence does all of the chores. It's hilarious how Cecelia immediately shifts to her saint persona whenever people seeking wisdom or guidance arrive at the church. She is cherished and loved by all, but only Lawrence knows the lady saint's true self. Most of the story revolves around their day-to-day activities that are usually centered on Cecelia trying to get through Lawrence's head that she likes him. They seem like a complete couple to the outsiders, but it does lead the audience to wonder how a saint and a pastor can possibly have a relationship.
Saint Cecelia and Pastor Lawrence Is A Non-High School Rom-Com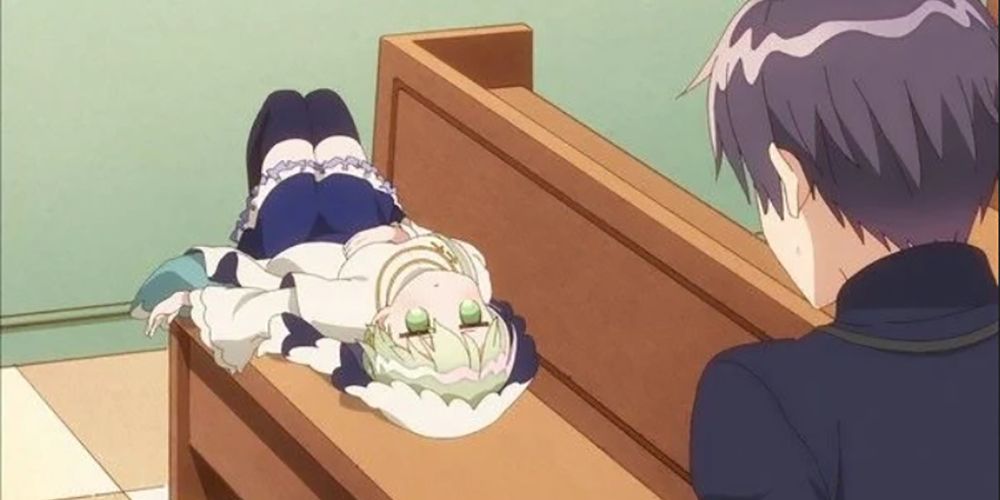 High school romance is saturated, and apart from a few exceptions, these stories seem to follow the same pattern. However, romance anime fans can entertain themselves with a unique story and setting with Saint Cecelia and Pastor Lawrence. Everyone thinks it's cute that Lawrence and Cecelia live together, and some even tease them about it. However, Lawrence is completely dense when it comes to romance. He's completely oblivious to Cecelia's feelings toward him and only worries about fulfilling her needs. At this point in the series, Lawrence is only concerned about protecting and keeping the lady saint safe. But on the other hand, Cecelia is sort of comically disappointed in Lawrence's lack of "romantic" attention towards her.
The way Cecelia blushes and gets embarrassed every time she tries to form a romantic connection with Lawrence is simply hilarious. It's commendable how she steps up to express her feelings, but the situation always goes against her. The purity of their relationship is simply swoon-worthy. Even though Lawrence may be the only male in her life at the moment, Cecilia can't help but feel overly attached to him. Her feelings are so true that she even gets jealous of Lawrence's childhood friend for being fortunate enough to witness his childhood. It's later revealed that Lawrence is susceptible to supernatural beings latching themselves to him. That's why Cecilia has put multiple layers of protection on Lawrence. She worries about him so much that she strains him with protection powers that are too much for a human to handle. At this point, it's hard to concur whether her feelings would be reciprocated the same way. It's possible that the series might be setting her up for heartbreak or could leave the ending ambiguous.
Related: 10 Best Vampire Romance Anime To Watch Right Now
Lawrence Is A Walking Green Flag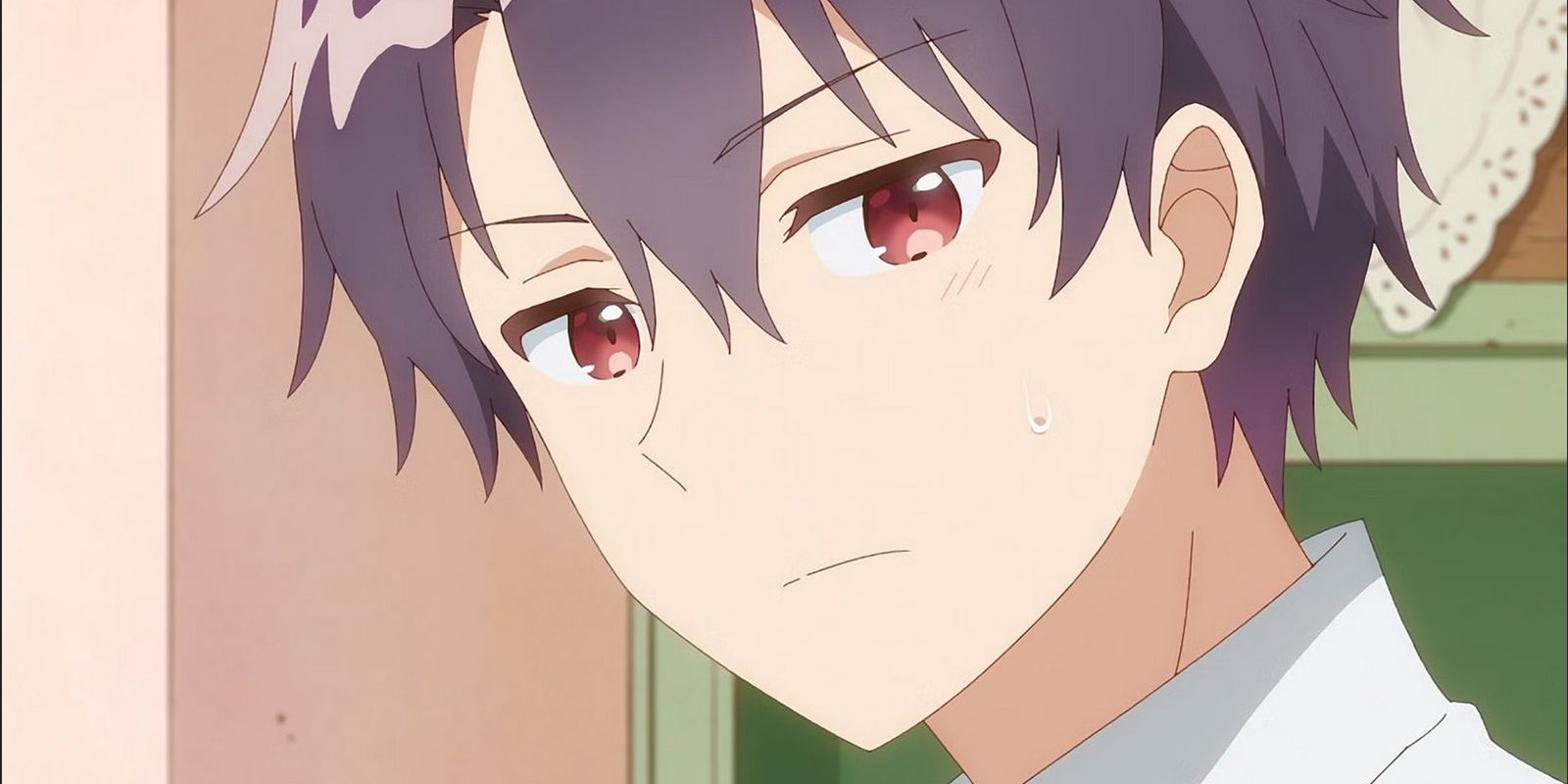 Lawrence spoils the lady saint rotten by tending to her every need. He wouldn't even let her set foot on the ground if it were up to him. Lawrence has a very strong sense of duty toward Cecelia, which stems from his upbringing. He's determined to serve the lady saint for the rest of his life, whether it's by cooking her favorite scones or letting her sulk around when no one's looking. His character crushes the toxic masculinity trope that elevates the romantic theme even more. Lawrence is so deeply devoted to Cecilia that he trusts no one with her her safety, even his good friend Abel. The hilarious part about Lawrence's character is his inability to understand Cecilia's advances.
It's possible that he doesn't deem himself worthy of Cecilia's love, or the fact never crosses his mind. Considering his position as a pastor, he might never indulge in any sort of relationship with her. However, there are times when the show gives glimpses of him blushing around Cecilia, but those are mostly inconclusive. Even then, if Lawrence were to accept Cecelia's feelings under different circumstances, he'll definitely make up one of the best anime husbandos. He's a walking green flag who is kind, gentle, and sweet. This probably makes him the best character in the show.
Saint Cecilia and Pastor Lawrence is nothing grand, nor does it have a glamorous story, but the audience usually has enough of that. There're no love triangles, no fan service, and no girls falling over a single guy. It's a simple love story with the sweetest characters, making it a light watch for the fans. Saint Cecilia and Pastor Lawrence is a heartwarming anime title for old-school romance lovers, and it's currently exclusively streaming on Crunchyroll.
on bbc news
on hindi news
on the news today
on channel 7 news
ôrf news
campo grande news ônibus
ôpera news
campo grande news greve de ônibus
l1 news horário dos ônibus
l1 news ônibus
lago azul news ônibus
news österreich
news österreich heute
news österreich aktuell
news öffentlicher dienst
news österreich corona
news öl
news österreich orf
news ö3
news österreich heute aktuell
news österreich sport
ö24 news
ölpreis news
öbb news
ösv news
österreich news krone
övp news
özil news
öffentlicher dienst news 2023
österreich promi news