In My Hero Academia Chapter 396, "Battle Without a Quirk," All Might used various Support Items to stall All For One. His equipment and techniques are notably named after the Quirks and Hero names of his students in Class 1-A; they include Black Whip, Chargebolt, Cellophane, Sugarman, and Shoot Style Smash. This is an emotionally powerful moment because it symbolically represents how the former No. 1 Hero learned just as much from his students as he learned from them. Looking past this, however, the use of Sugarman draws attention to the troubling lack of development for the student it was named for.
Rikido Sato is the least developed character in all of Class 1-A. He hasn't had any epic, dramatic, or emotional moments in MHA. Now that the story is in its final arc, he's running out of time to get a moment in the spotlight. He still has a chance to change this, but his options are becoming progressively limited. It also sounds like the last nail in the coffin for the Sweets Hero as a character. Unless something monumental happens to him between Chapter 396 and the end of the series, he's doomed to vanish into obscurity while his classmates live on in the hearts and minds of the audience. All Might naming a technique after him would then become the final nail in his narrative coffin.
RELATED: MHA's Himiko Toga Needs to Live
What Makes A Well-Developed Character In MHA?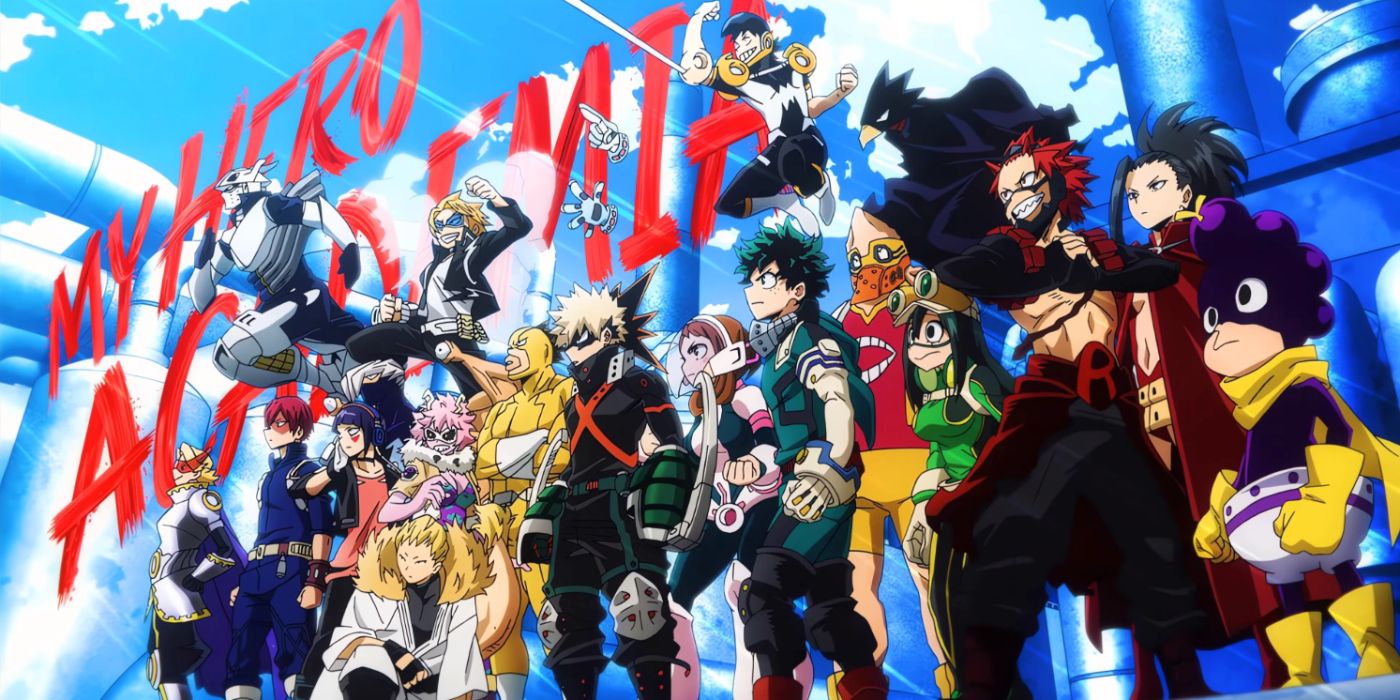 It doesn't take much to become a fan favorite in MHA. Every student but Sato has done something to make audiences like them. If Sato can do anything like what his classmates did to stand out, someone is bound to notice.
The easiest way for students to stand out is to be close friends with the protagonist Deku. Everyone in the class is depicted as a close-knit family, but only a handful of students regularly hang out with Deku — Katsuki Bakugo, Shoto Todoroki, Ochako Uraraka, Tenya Ida, Tsuyu Asui, and maybe Minoru Mineta. These students tend to be featured alongside Deku in promotional material, which helps boost their popularity even further.
Fighting in a big battle is another good way for characters to draw attention to themselves. The image of them using their Ultimate Move would do wonders for cementing their face in fans' memories. They don't even have to land the finishing blow; if they do something integral to beating the villain, that can be memorable, too. This is how characters like Eijiro Kirishima, Fumikage Tokoyami, Koji Koda, Denki Kaminari, Momo Yaoyorozu, Hanta Sero, and Mezo Shoji made names for themselves among the fans.
Other students had their ways of making a lasting impression on the fandom. Kyoka Jirou led the climactic "Hero Too" performance of the U.A. School Festival Arc. Yuga Aoyama was revealed as a longtime traitor among the U.A. students; Toru "Invisible Girl" Hagakure followed this with one of the most highly anticipated face-reveals of the series, and it was emotional, too. Mashirao Ojiro was an inciting incident in Deku's fight with Hitoshi Shinso. These moments came with varying results, but there was at least effort put into presenting Deku's classmates as fleshed-out characters. If Sato had just a little more attention paid to him like this, he wouldn't feel so much like a background character in the cast.
RELATED: How MHA's One For All Became Problematic Plot Armor
What Development Does Rikido Sato Need?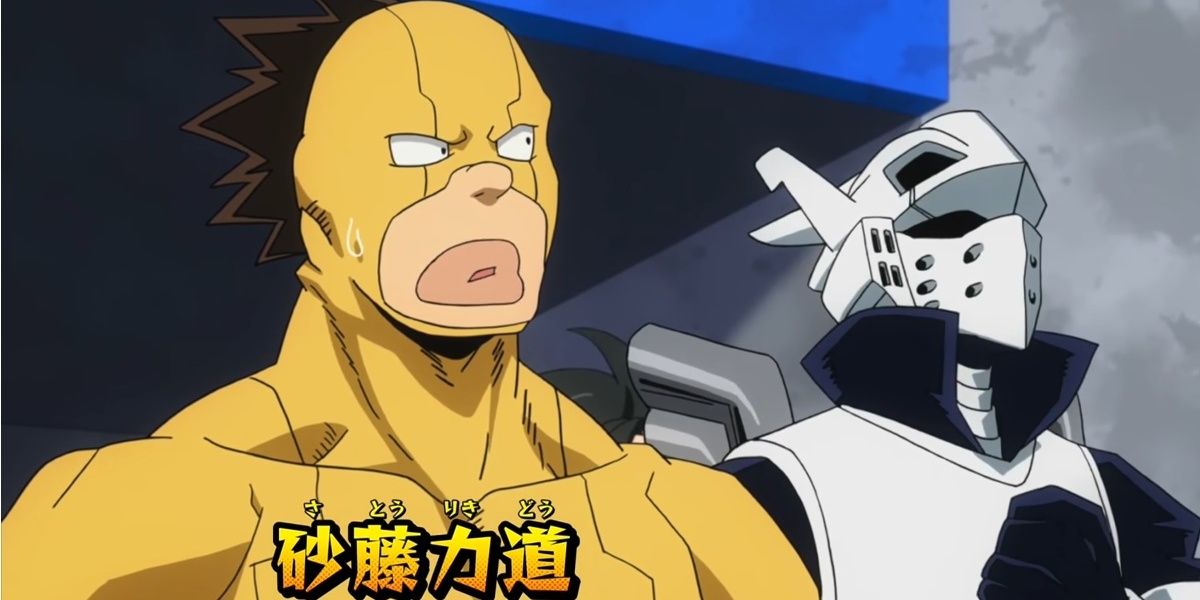 The problem with Sato is that he's seldom gotten anything significant to do. For one thing, he's greatly hampered by his lack of meaningful connections. The most he ever did with Deku was help him make a candied apple for Eri, which was done off-screen. He's commonly seen hanging around with other scarcely-developed Class 1-A students like Sero and Koda; these students at least set themselves apart through their utility in battles. He and Kirishima also failed their End of Term Exams together during the Final Exam Arc, but only one would make something of themselves afterward. He was also teamed up with Bakugo and Jiro during the Joint Training Battle Arc. The girls admired his baking skills and voted his room the best because of it. None of his connections with his classmates have done anything significant to help progress their stories or character arcs.
As for Sato's most significant contributions to MHA's overarching plot, they've already been covered. He helped Deku make a candied apple and won the best room competition. The rest of his time in the story has been spent doing things as part of the class rather than as an individual. Nothing about the story would change if he were taken out of it.
Sato's battles also leave something to be desired. Of the two times he's used his Ultimate Move Sugar Rush, it's only worked once; he also failed to use it in the Heroes Rising movie. Even his supporting roles are never that impressive compared to his classmates.
By this point, it should go without saying that Sato doesn't have emotional moments, either. He's never seen with a compelling backstory or passionately fighting for what he believes in. The boy doesn't even have a running gag devoted to him. If there were just one scene delving into the more complex feelings or motivations he might have, it could have saved his character.
RELATED: Which My Hero Academia Character Has The Best Blood Quirk?
How Can Sato's Character Still Be Saved?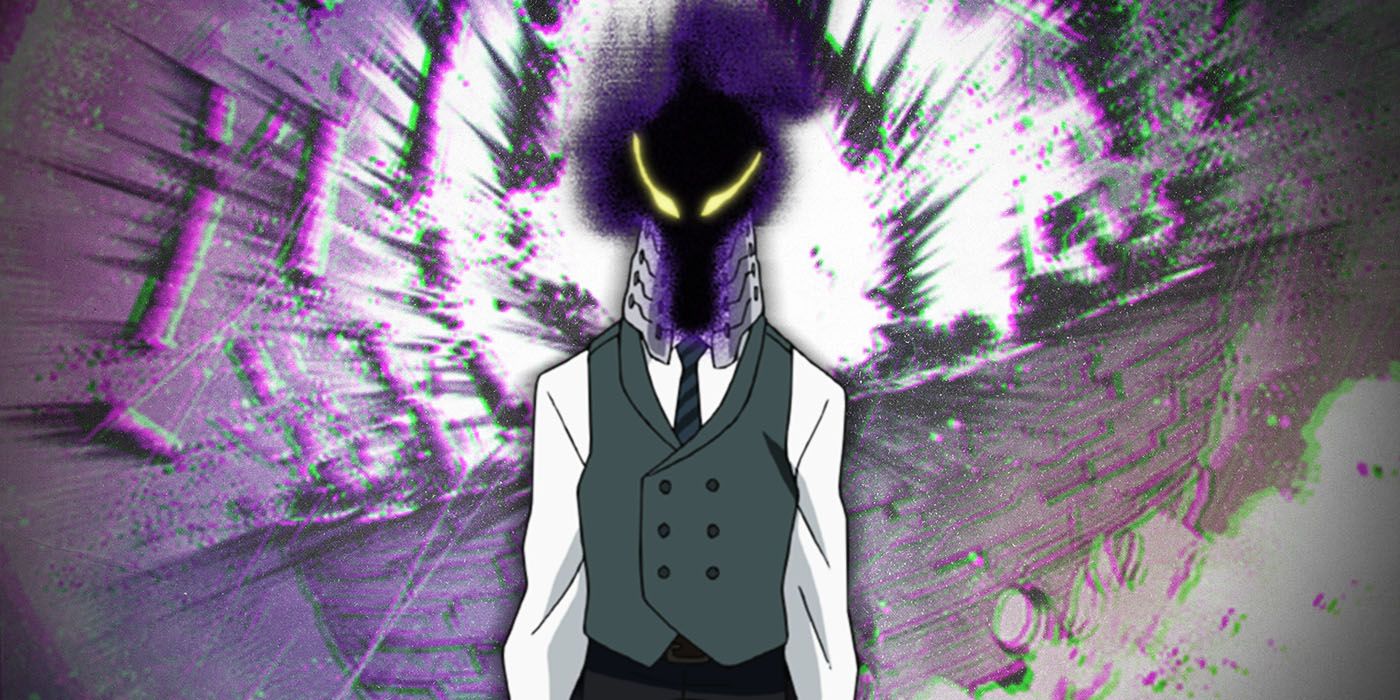 Sato's chance for meaningful development isn't without hope. After all, Shoji didn't have much more to do in the story than Sato, but he still received a significant role in the battle against Spinner; Koda was also there in a supporting role. Seeing characters like these get a chance at the spotlight opens the floor to other underdeveloped 1-A students getting a moment to shine.
That said, the path to relevance is still uphill for Sato. All of the major villains have either been dealt with or are in the process of being dealt with. Sato has been relegated to the Takoba National Stadium. It's currently unknown how this battlefront will affect the Final War Arc.
To make matters worse, he's there with fellow underdeveloped Heroes like Tailman (Ojiro) and Cellophane (Sero), which makes the Stadium feel like a narrative dumping ground for these Heroes. Either all three boys will get the heroic moment they deserve, or none of them will.
RELATED: Why My Hero Academia's Shigaraki is the Perfect Villain.
There are two chances for Sato and Co. to get a moment at this point in the arc. They could be pitted against one of the remaining Advisors of the Paranormal Liberation Front, though that wouldn't be particularly impressive.
Alternatively, Kurogiri's fight with Eraserhead and Present Mic could end up in the Stadium battlefront via Warp Gate. These are the Stadium Group's last chances to have a meaningful battle in the series.
If Sato can get his big moment before the war concludes, it could save his character. It would also round out Class 1-A and make them a solid cast. If he happens to get Ojiro and Sero caught up in his glory, that would be all the better. Just one moment to do something great would be enough.
on bbc news
on hindi news
on the news today
on channel 7 news
ôrf news
campo grande news ônibus
ôpera news
campo grande news greve de ônibus
l1 news horário dos ônibus
l1 news ônibus
lago azul news ônibus
news österreich
news österreich heute
news österreich aktuell
news öffentlicher dienst
news österreich corona
news öl
news österreich orf
news ö3
news österreich heute aktuell
news österreich sport
ö24 news
ölpreis news
öbb news
ösv news
österreich news krone
övp news
özil news
öffentlicher dienst news 2023
österreich promi news