My general feeling on racing games is that if I have to brake, I'm not interested. I realise this doesn't exactly comply in real life, but then I'd rather drive an actual car than a simulation. Yet cartoon fantasy racing? Drifting? Looping courses? Banana throwing? I'm in.

Resistor certainly fits the bill, and then some. At least, minus the bananas.

You see, this isn't just a racing game but a CaRPG with the aim of bringing back fun to the genre. Not only will players be driving high speed cars, they'll be exploring a cartoonish open world, engaging in a choice-based narrative, and heavily customising their character and vehicle. It's incredibly ambitious.

Speaking to lead designer Violet McVinnie at Gamescom, it's clear where the inspiration for the game has come from. McVinnie used to work for both BioWare, on the Mass Effect series, and Codemasters, known for its driving games. Resister, then, is Burnout meets Mass Effect.

McVinnie talked me through the main elements of the game in detail.

First up, the racing. Resistor isn't about tournaments or racing to first place. This is a speedy stunt racer, with takedowns, drifts and flips. Players can race up ramps and corkscrew their vehicles for maximum style points, used as a currency to reward spectacular racing, maintaining momentum, and completing Tony Hawk style challenges along the way.

Racing will take place in an open world consisting of six environments just off the ocean floor of San Francisco. Exploration will be both in-vehicle and on foot as players meet various quirky inhabitants and complete quests. It's all presented in a vivid cartoon style, the world run by seven megacorporations that have overthrown the government in a (not-so-distant) future. I suggest there may be some parallels to reality there and McVinnie responds with a sly smile.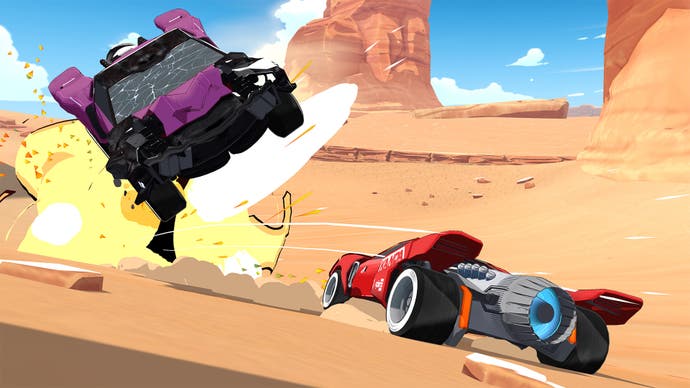 By completing main and side quests, players will build up a ragtag squad able to buff your lead character as they join in the passenger seat. To stay there, though, they'll need to be kept happy and decisions made along the way could have major consequences to the branching narrative. McVinnie implies players could even become the villain in their own story, so there's plenty of replayability.

This all ties into territory control, as players build their reputation and influence over the world and its characters. This eventually will bring the ability to edit terrain: for instance, by tunnelling under a mountain to create a shortcut instead of needing to drive around it – essentially this game's version of fast travel.

There will be outlandish boss battles too, fighting for territorial control against various factions and megacorp personalities. But these aren't simply about driving: these will be music battles. Each boss will have their own style of music attached, from UK jungle to an orchestral film score, that adds character and variety, allowing McVinnie to riff off multiple other racing games and influences.

And if all that wasn't enough, there's customisation. But it's not as simple as just dressing up your character in the diverse creator. McVinnie tells me to think of racers more like wrestlers, each with their own outfits, vehicles, entrance music, and showboating. Not only is this ripe for player expression, it will play into amusing narrative beats too: are the racers you see on the track really the people they say they are?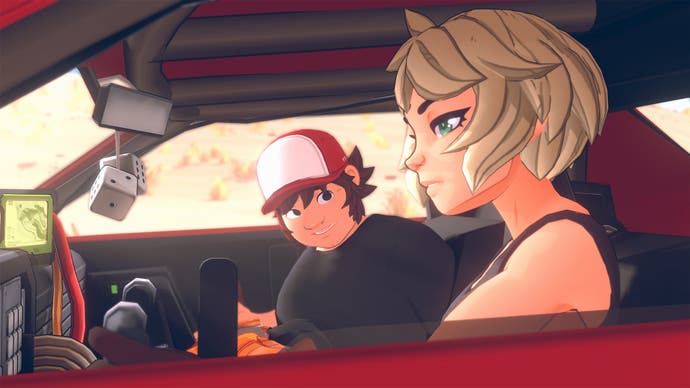 In all, it's an impressive collection of influences and ideas that has me itching to play it in full, but it's also a lot of game to squeeze into around eight hours or so. There will be multiple endings, though.

Still, I was able to go briefly hands-on and while it's early days, it's easy to see how fun the racing will be. I charged along a desert canyon, drifting around bends and (badly) attempting to flip the car in style in order to build up the boost gauge for top speeds. It feels arcadey with wide open track design full of opportunities to show off.

There's a huge amount of potential in Resistor and it ticks a lot of my personal boxes for the sort of silly, non-realistic racing I'm into. It promises to be a refreshing racing game with depth in both driving and its story-driven adventure, reminding me of a more fleshed out version of the F-Zero GX story mode. In short, the CaRPG blend is irresistible and oozes charm. There's no release date just yet, so it could be a long wait to see if this toolbox of kaleidoscopic ideas can be welded into a satisfying ride.


on bbc news
on hindi news
on the news today
on channel 7 news
ôrf news
campo grande news ônibus
ôpera news
campo grande news greve de ônibus
l1 news horário dos ônibus
l1 news ônibus
lago azul news ônibus
news österreich
news österreich heute
news österreich aktuell
news öffentlicher dienst
news österreich corona
news öl
news österreich orf
news ö3
news österreich heute aktuell
news österreich sport
ö24 news
ölpreis news
öbb news
ösv news
österreich news krone
övp news
özil news
öffentlicher dienst news 2023
österreich promi news