Summary
Fans missed out on an amazing performance by Antonio Banderas as Zorro in the Django/Zorro film that never got made.
Banderas, who previously played Zorro in two films, was primed and ready to star in another adventure and was seemingly on board for the crossover.
Banderas would have brilliantly brought to life the foppish and impactful depiction of Zorro under Tarantino's direction, adding flair and making an impact beyond just his own story.
Quentin Tarantino had an idea for a sequel film to Django Unchained, in which the titular Django would team up with the legendary Zorro, and it's been teased that Antonio Banderas would have reprized his role. While the Django/Zorro film never got made, Tarantino did rework the concept into a seven-part comic book series. The book was as tightly written, intricately crafted, and satisfyingly action-packed as any Taranino fan would expect from the filmmaker. But more than that, this comic also acted as something of a storyboard/concept art for the unmade film, including Tarantino's depiction of Zorro. Based on what was shown in the comic, it's clear that fans really missed out on what assuredly would have been an amazing performance by Antonio Banderas.
Antonio Banderas was originally Zorro in the 1998 film The Mask of Zorro, which acted as the character's origin. Banderas then reprized the role in 2005's The Legend of Zorro, where he was depicted as the fully-realized sword-wielding vigilante. This series ended with Banderas as the definitive Zorro, with the potential for many more years of storytelling to come. In other words, the character was primed and ready to star in another adventure. And what better way than to team up with a similarly badass hero from roughly that region and time period, Django Freeman? That's assuredly the exact thought Quentin Tarantino had, and according to multiple reports, Banderas was seemingly on board for the Django/Zorro crossover as well.
Antonio Banderas' Zorro Would Have Been Foppish & Impactful Under Tarantino's Direction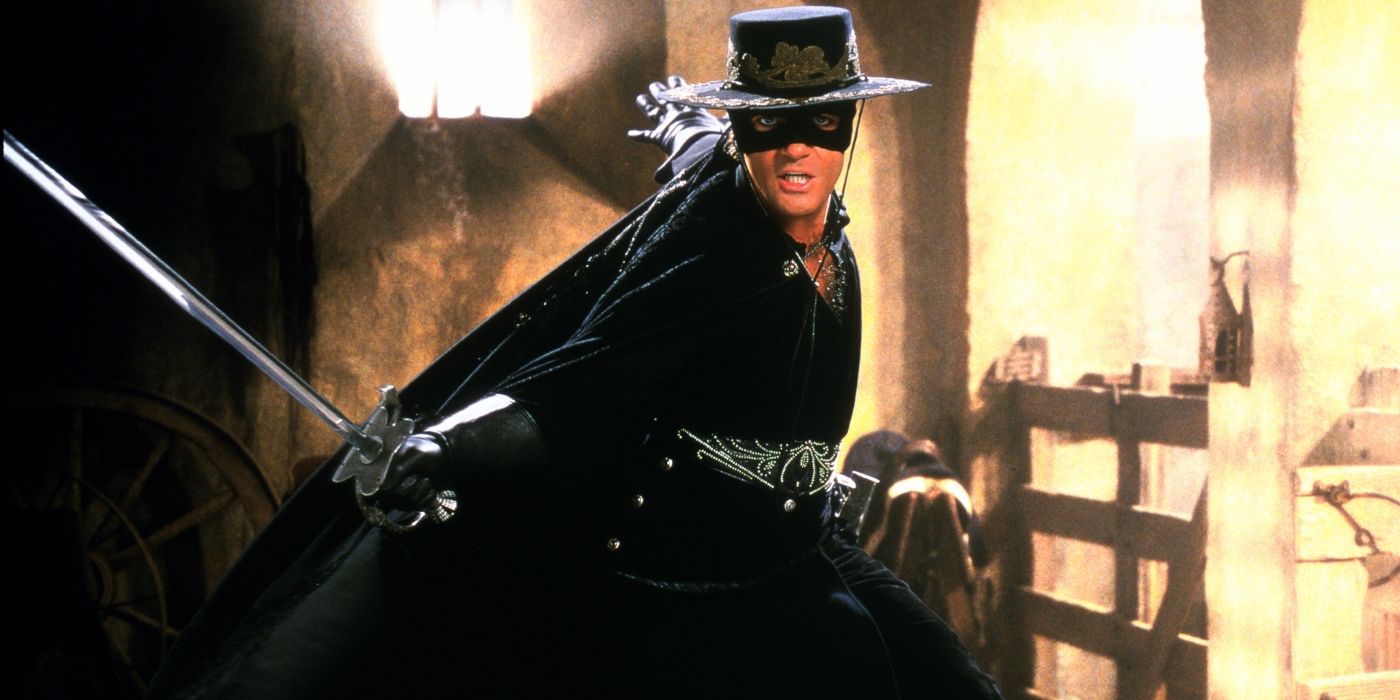 In Django/Zorro by Quentin Tarantino, Matt Wagner, and Esteve Polls, Django has partnered up with Zorro to take down the villainous Archduke of Arizona. More accurately, Django has been hired by Don Diego de la Vega to act as his bodyguard while de la Vega takes down the Archduke from inside his own proverbial kingdom. It isn't until later that Django learns that this older gentleman is, in fact, El Zorro. Before that, Django just sees a man who enjoys the finer things in life, dresses loudly and exuberantly, and who is still amazingly skilled with the sword. Diego is eloquent, intelligent, and deadly in a way no one would expect based on his boisterous appearance. Plus, it's revealed that this aspect to Zorro's secret identity actually isn't an act at all, which is another layer to the character added by Matt Wagner, as introduced in Wagner's other Zorro projects. In fact, Quentin Tarantino admitted as much in the comic series itself. His comments were as follows:
One of the things that's usually done in Zorro stories is to imply that the foppish mannerisms of Don Diego are a strategic ruse to lull the villains into a false sense of security and to throw suspicion off Zorro's real identity.
But the way Matt [Wagner] sees the character, the foppish mannerisms aren't a ruse. They are who Don Diego de la Vega is. And the more years pass and the more he hides behind it, the less it's an affectation, and the more it is who he's become.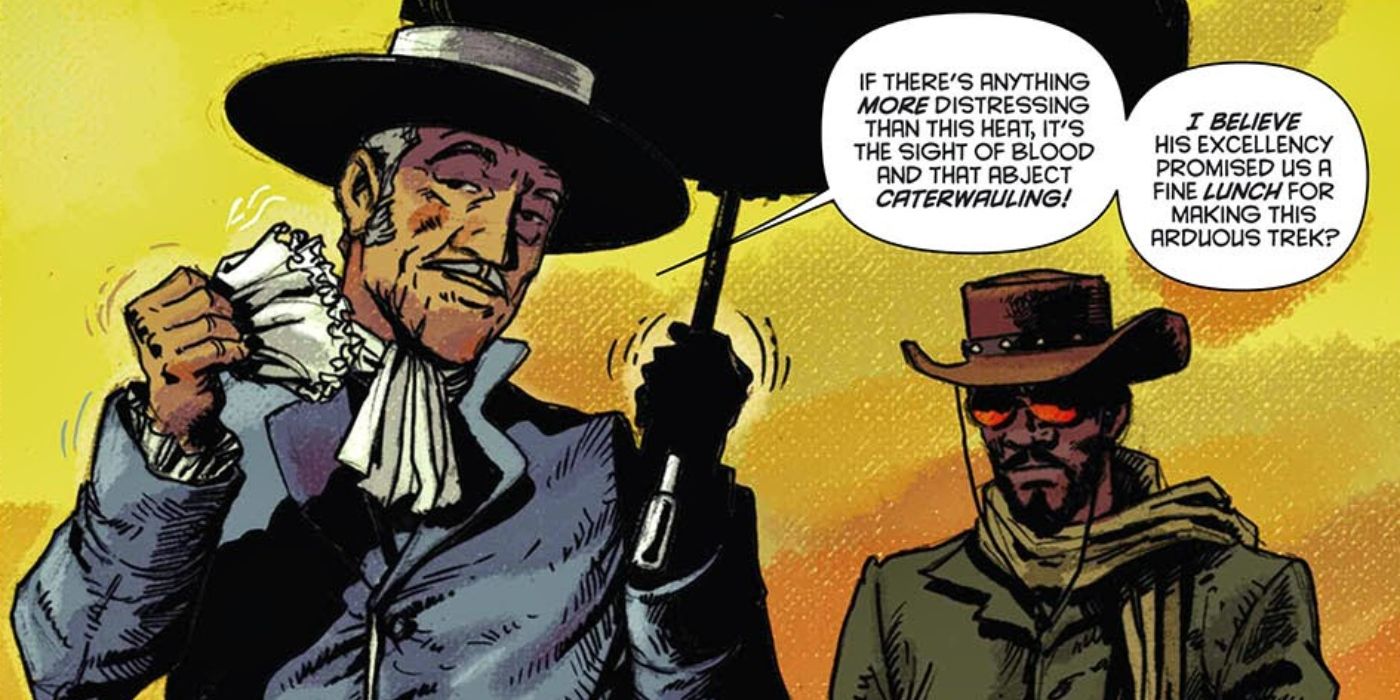 Antonio Banderas would have brought this depiction of Zorro to life brilliantly (even if he technically played Alejandro Murrieta in the original, not Don Diego de la Vega). Imagine, an older Banderas dressed to the nines in the most absurdly lavish finery imaginable, bringing a flair to the role that no one else could. Not only would Zorro's style be entertaining to witness, but also his impact in a story beyond just his own. On multiple occasions throughout the crossover, Zorro is compared to Dr. King Schultz from the original Django Unchained (who was played by Christoph Waltz). That character was arguably one of Quentin Tarantino's best written, and Antonio Banderas would have had a shot at capturing that energy, thereby giving Django a chance at closure with his former friend and mentor his original story didn't allow through his relationship with the iconic Zorro.
Antonio Banderas' return to Zorro under the guiding hand of Quentin Tarantino within the previously established Django Unchained continuity would have been an absolute treat, and the comic that became of this planned film only confirms it.
on bbc news
on hindi news
on the news today
on channel 7 news
ôrf news
campo grande news ônibus
ôpera news
campo grande news greve de ônibus
l1 news horário dos ônibus
l1 news ônibus
lago azul news ônibus
news österreich
news österreich heute
news österreich aktuell
news öffentlicher dienst
news österreich corona
news öl
news österreich orf
news ö3
news österreich heute aktuell
news österreich sport
ö24 news
ölpreis news
öbb news
ösv news
österreich news krone
övp news
özil news
öffentlicher dienst news 2023
österreich promi news