There's no yawning with boredom while watching Apple TV+'s new insomniac comedy Still Up. The engaging British series is a breath of fresh air. Remember how you felt when Ted Lasso came around and won you over or how Shrinking sweetly worked its way into your heart with its touching, sometimes offbeat storylines? It's like that with Still Up, which should generate some buzz and, let's hope, receive some love come awards season.
This charming tale revolves around two insomniacs who keep each other company via phone or screen whenever they can't sleep. Which is often. They chat away into the wee hours of the night and even though their relationship is platonic, it's obvious something has deepened since they began these late-night sojourns several years ago. As they see themselves through their individual dilemmas and quirky circumstances, humor abounds.
We can thank Antonia Thomas (The Good Doctor) and Craig Roberts (Red Oaks) for that. As Lisa and Danny, respectively, these actors are a gold mine. And the characters they play couldn't be any more different. Lisa is a mother and in a committed relationship. Danny is trapped inside his own grief, often sequestered in his own flat. The series is yet another win in a hot streak for Apple TV+, which has done well this year with Shrinking, Platonic, and Hijack. Still Up is one of the best new comedies of the year. Here's why.
A Show With Humor And Heart
Still Up will stand out for its exceptional premise, writing, and acting. There show was co-created and written by Steve Burge and Natalie Walter and comes from BAFTA award-winners Paul Schlesinger (Boomers, W1Aand Phil Clarke (Peep Show, I May Destroy You), who serve as executive producers. Steve Burge recently captured attention with the comedy, The Amelia Gething Complex, which tracked the antics of a social media star. Natalie Walter is an actress known for her work in I May Destroy You and Breeders—Still Up marks her first go at it as co-showrunner. The show is based on the duo's real-life experiences, so these showrunners have a fine grip on the material, the tone they want to establish, and it elevates the series from being your garden-variety buddy comedy.
The characters of Lisa and Danny may feel familiar to you. They are, in essence, parts of us, offering audiences a humorous look at ourselves and why we do the things we do—or don't take actions on something when we should. We're such vulnerable creatures, and this show illuminates that in the most fabulous way.
One of the best things about Still Up, is that Lisa and Danny actually have something to say to each other. Thank God. The dialogue is fresh, smart, intentional, often realistic, and boy, does it make this show sparkle. You may never watch traditional sitcoms with quite the same way ever again. A big leap, sure, but it surely speaks to the effectiveness of Still Up.
A Humorous Take On Connection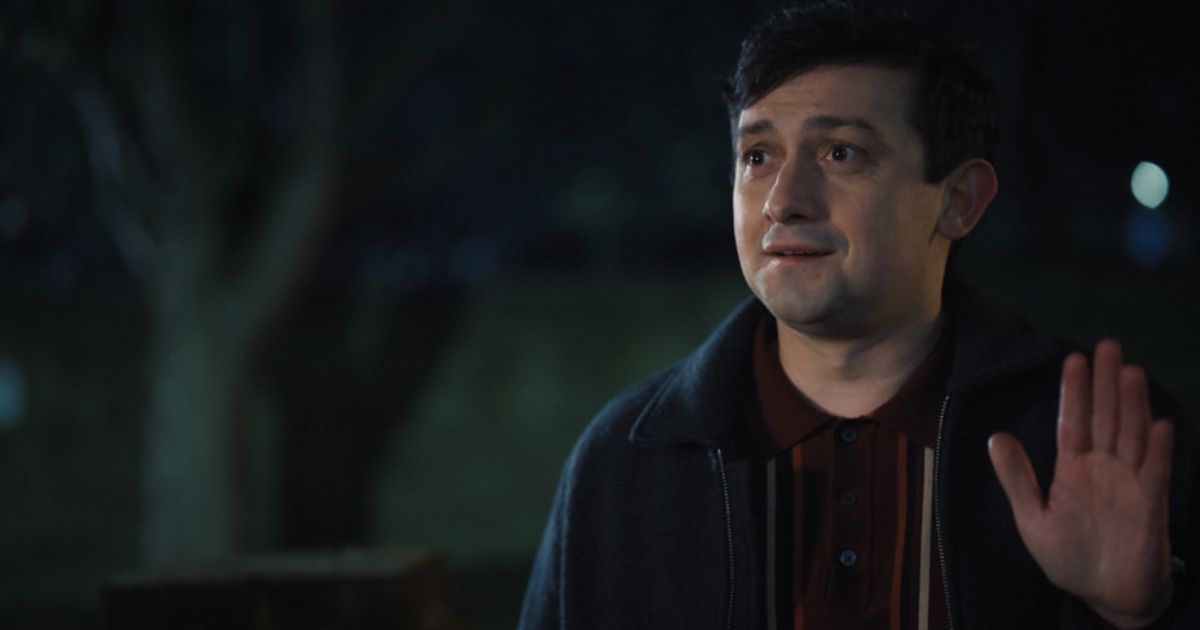 The show's first episode finds Lisa at the pharmacy late at night hoping to quickly pick up something. She's chatting with pal Danny via Facetime. He's hiding out in his apartment, hoping his neighbor doesn't know he's there. Apparently, Danny told the bloke he was going on sabbatical for a bit, a nice cover-up to get out of attending the man's birthday party for his 17-year-old cat. But there's more to Danny's story, something traumatic, in fact, and maybe Lisa's too, and as the series moves forward, the showrunners often use flashback, taking us to moments in their lives for context on what they're moving through in the present. The result makes for a breezy, entertaining ride—one which expands and grows, and becomes something to appreciate and look forward to every week.
It's easy to go on and sing this show's praises, but specific plot points should be experienced and relished on your own. The rest of the cast shines, as well. Blake Harrison offers a fine turn as Veggie, Lisa's boyfriend. They love each other, yet Lisa clearly is getting her emotional needs met with Danny, and vice versa. Rich Fulcher is wickedly fun as "Cat Man," Danny's neighbor. Luke Fetherston plays Adam, another neighbor of Danny's. It would be great to see more of this chap if there's a season two. (Fingers crossed.) Other characters and guest stars filter into the mix—from a befuddled pizza guy and raging cab driver to Lisa's pals and some shady characters prowling the night. It's all brought to life with and charm.
There's also something about being awake deep into the night when the rest of the world is slumbering. There's a vast universe to explore here and it works. The showrunners hope to capture that anything seems possible during these late-night outing, and as we move through each episode, we find Danny and Lisa moving through life moments that they must share with each other or catch each other up on. Clearly, the duo like each other more than they're letting on, or even able of accepting themselves. How the showrunners move these undeniable rich and nuanced characters through their own uncertainties is brilliant storytelling. This is a fine British series. There's a lot to love about Still Up. You'll want to stay up and have some fun with these two groovy souls.
Still Up premieres globally on Apple TV+ with the first three episodes on Friday, September 22, followed by new episodes every Friday.
on bbc news
on hindi news
on the news today
on channel 7 news
ôrf news
campo grande news ônibus
ôpera news
campo grande news greve de ônibus
l1 news horário dos ônibus
l1 news ônibus
lago azul news ônibus
news österreich
news österreich heute
news österreich aktuell
news öffentlicher dienst
news österreich corona
news öl
news österreich orf
news ö3
news österreich heute aktuell
news österreich sport
ö24 news
ölpreis news
öbb news
ösv news
österreich news krone
övp news
özil news
öffentlicher dienst news 2023
österreich promi news