Image Comics presents Petrol Head #1, an original action-adventure story set in the distant future, where the last of humanity clings to a dystopian world and sentient robots are custom-built to entertain the masses. One of the most recent fads to fade into obsolescence is the Petrol Heads: bots specifically created for street racing, now cast aside to wander the underbelly of society.
Petrol Head #1 is written by Rob Williams, a Welsh writer who got his start writing in 2000 AD in the early 2000s, having caught the editor's attention with his first-ever comic book Cla$$war, a hyper-influential six-part miniseries illustrated by Trevor Halfsin and Travel Foreman. Williams has been writing consistently for 2000 AD since its #1313th issue, over twenty-one years ago (now counting an immense #2357 issues), standing among distinguished alums who also debuted some of their earliest work in 2000 AD, such as Al Ewing, Mark Millar, Alan Moore, and Grant Morrison.
In the mid-early 2000s, Williams made the transatlantic leap, working solidly as a Marvel mainstay for several years, where he contributed to legendary series like The Iron Age, Daken: Dark Wolverine, and Ghost Rider. Williams went on to pen some flagship series for DC, including Suicide Squad (2016), Martian Manhunter, and the thriller Unfollow with Michael Dowling under the Vertigo imprint. Williams has also proven a capable pair of hands for ongoing intellectual property franchises, writing numerous Doctor Who specials for Titan alongside multiple Star Wars and Indiana Jones stories for Dark Horse. Williams has recently contributed to Guillem March's Batman: The Brave and The Bold series and Sword of Hyperborea, co-written with Mike Mignola.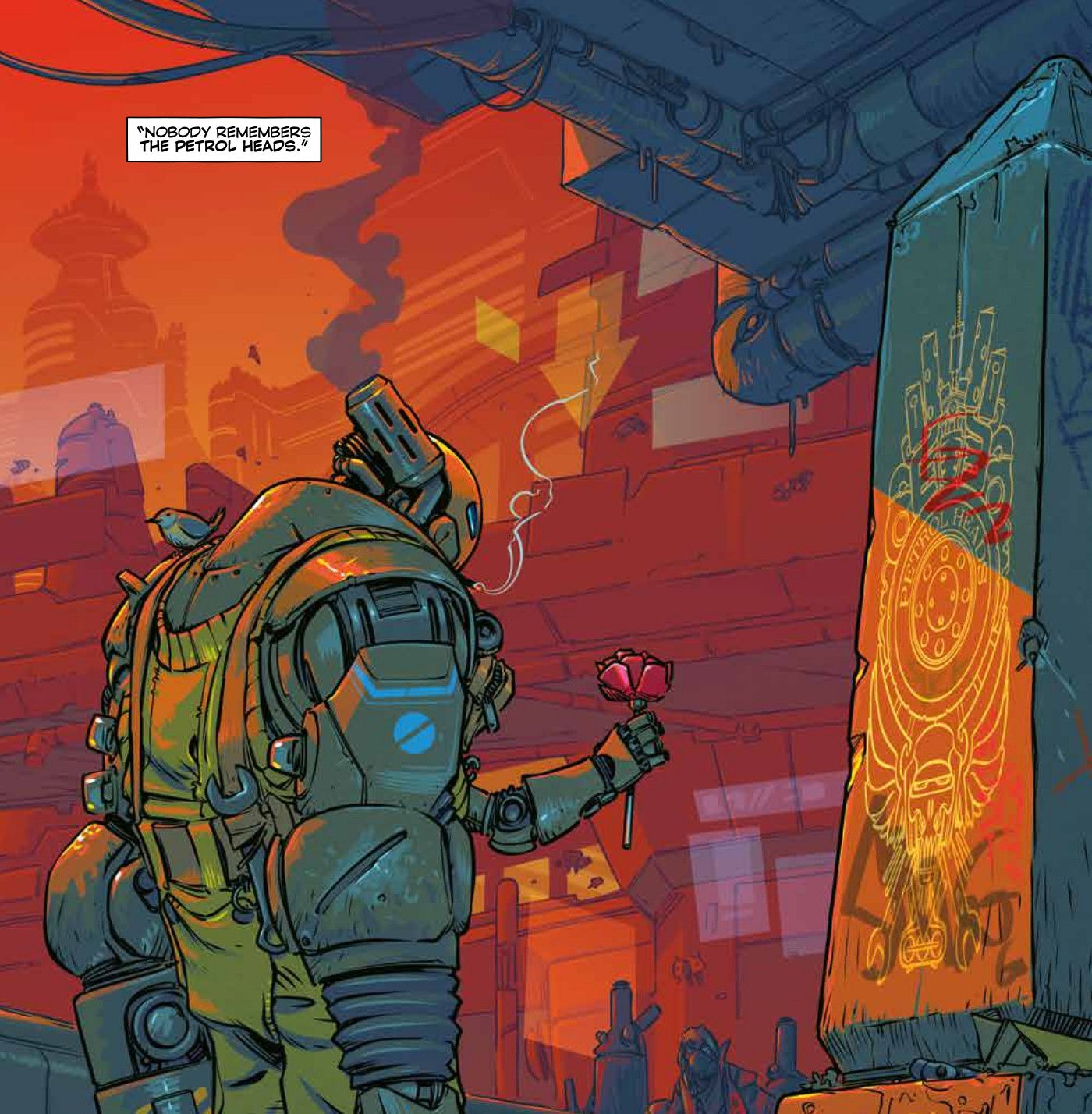 The art, colors, and letters are all by fellow Brit and Rebellion alum Pye Parr, who has worked extensively on the Judge Dredd: Megazine and 2000 AD. Parr has worked almost exclusively for Rebellion up to this point, aside from creating a variant cover for Titan's Blade Runner 2029, so Petrol Head #1 represents a major and impressive departure for him, taking the helm as sole visual artist for a miniseries.
Petrol Head #1 opens on a robot paying respects to an old, graffitied monument — moments before he is unceremoniously ejected back into the city's "smogzone." In a flashback, we learn of his past as the unbranded racer known as Petrol Head and how the sport gradually waned into irrelevance. Living out his days in the Pollution Sector, Petrol Head has a secret and a choice to make that could threaten the fragile artificial peace within the O-Zone forever.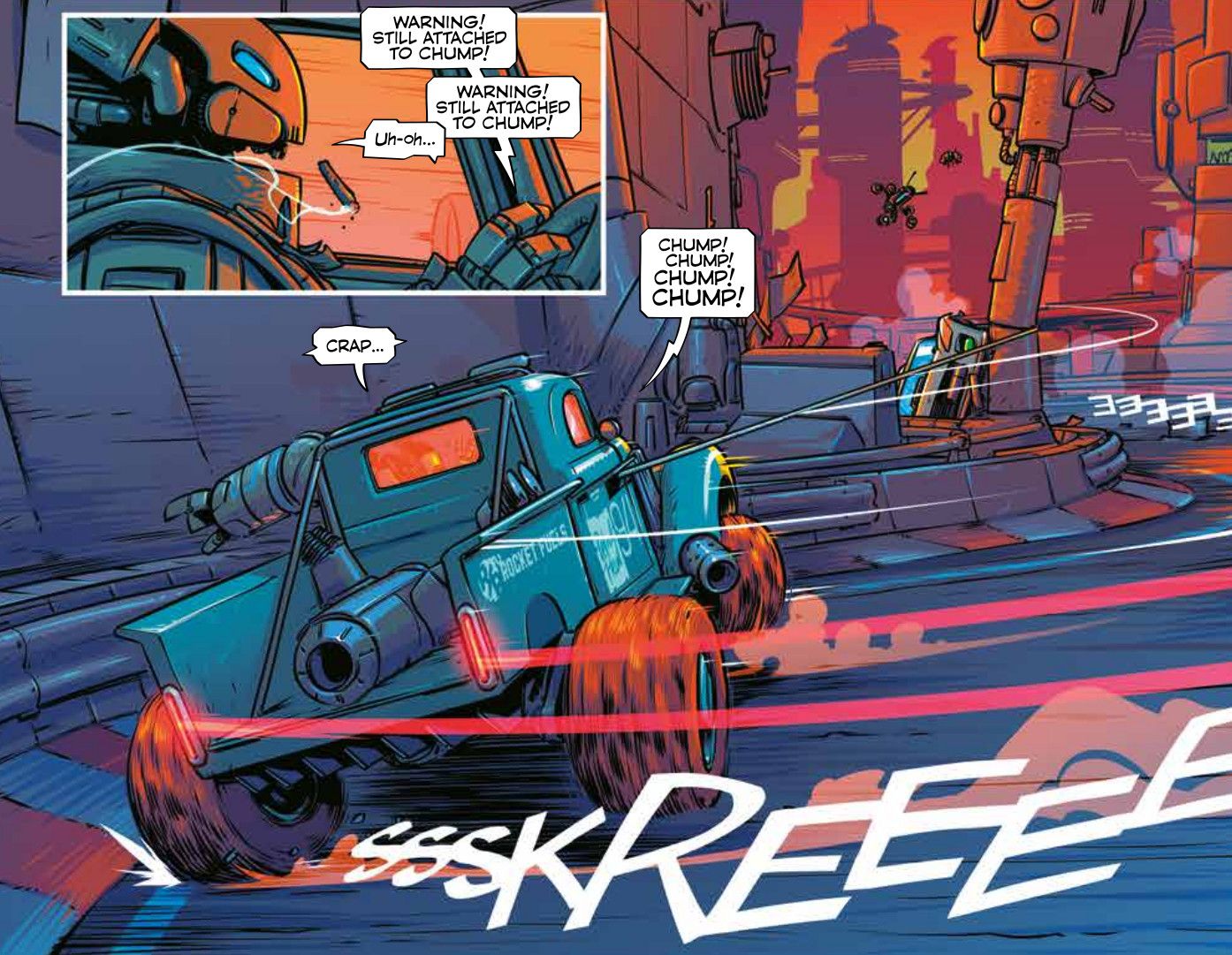 RELATED: Humanity's Fate Depends on a Hard Racing Robot in Rob Williams and Pye Parr's Petrol Head
Petrol Head #1 is a dynamic and exciting book of lofty ambitions that Williams executes with flair, control, and imagination by the bucketful. There is no shortage of comics offering takes on the techno-dystopian future: the planet destroyed by climate catastrophe, a highly stratified society with a technologically-othered underclass, a small un-elected elite who manipulate to their own capitalistic ends, using media and entertainment that is tightly state-controlled and extremely propagandistic, have all become familiar elements of a popular sub-genre. It says a great deal about the quality of its writing that Petrol Head #1 utilizes all these tropes with enough creative verve and idiosyncratic tone that they feel practically novel, the ideas fitting together with practiced familiarity but inflected with a unique flavor and atmosphere.
Williams also sets his work apart from his peers by actively using his premise on a thematic level rather than allowing complicated concepts to go uninterrogated and act as shallow window-dressing. Williams sets up his work to engage with ideas about entertainment as a diversion, the power of technology to control and liberate, and science as a tool for oppression, which will hopefully pay dividends later in the series. The worldbuilding of Petrol Head #1 is exceptionally well-paced, the exposition taking a gradual approach that introduces an element either directly or peripherally and fleshes it out over the course of a few pages. Williams demonstrates terrific poise and narrative awareness in how he carefully builds out his central concepts, finding a careful balance between giving the reader lots of new information to absorb without feeling like a subject is de-mystified the movement onto the next concept, always feeling timely and organic.
Williams crafts some charming and memorable characters, building them through creative characterization choices and subtly purposeful dialogue. The titular character of Petrol Head is gruff but deeply charming; his tough turn of phrase and grouchy reticence are utilized to make him feel likable without obviously telegraphing as such. His grief and wounded sense of justice hover just above his actions and words, informing his characterization in subtle and impactful ways that resonate empathically with readers.
All the characters and dialogue in Petrol Head #1 feel punchy and expertly crafted; the sheer novelty of some characters, particularly Dave the robot bird who speaks with a distinctive Cockney accent, is astounding and speaks to Williams's imaginative power and highly developed sense of taste. Dave walks a similar line to the overall tone of Petrol Head #1 — simultaneously a font of irreverent zaniness and crushing grimness, the neon never quite drowning out the gritty undercurrent despite its glaring charm. Threading this particular needle is a very tall order, requiring a writer to saddle themselves between comedy and tragedy in a way that is tricky to pull off without coming off as contrived or tone-deaf, but Williams nails through incisive dialogue and thoughtful characterization. The opening contours of the plot are visible in this first issue and have tremendous promise in terms of emotional impact, character development, and world exploration, and will hopefully prove to be as unexpected and genre-defying as this debut has been.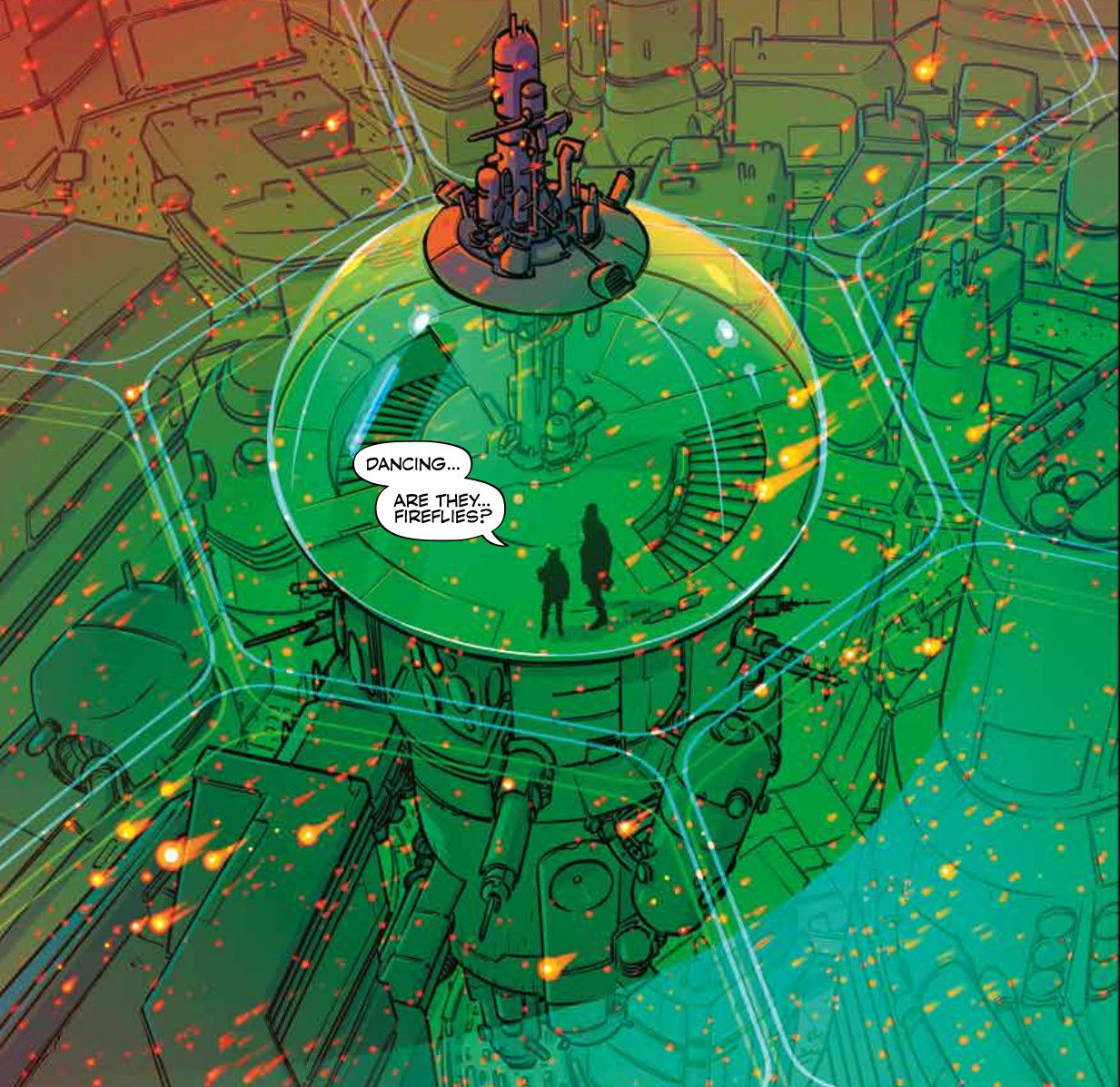 The illustration of Petrol Head #1 is visually arresting, bold, and complex in its composition. It comprises slight and tightly plotted lines that fit into pronounced geometries, populated by stunning detail. Parr outdoes himself in terms of design — concocting a retrofuturist aesthetic that combines a lot of disparate foundations: exaggerated proportions, complex automail, and a notably un-sleek vision of tomorrow that holds closer to the Transformers school of futuristic design than Blade Runner. The central design ethos is exciting and novel, nodding to a junker aesthetic while including space-age or cartoon-inspired little twists that keep the illustration fresh and surprisingly unified sensibilities.
Petrol Head #1 crams together many eclectic visions of the future, using them practically to demonstrate class divides and creating a world that feels varied and authentically lived in, with pre-existing conflicts just under the surface. Parr invests this level of care in all of the illustrations, his backgrounds deserving special praise for their dogged intricacy, delivering incredible cityscapes, complex natural rock formations, and breathtaking industrial-mechanical designs that teem with details. Parr makes the most of opportunities to flex these skills with some awesome full-page spreads, punctuating the story at important beats with climactic visuals. The action sequences of Petrol Head #1 are excellent, conveying dynamism alongside a crushing sense of momentum and motion — hatching and a great selection of tableaus make the speed of the racers feel immediate and weighty, bringing the high-octane sequences to life with rip–roaring power.
Parr's colors are rich and powerful throughout Petrol Head #1, perfectly complementing the visual intensity of his retro-futuristic world. Oranges and reds dominate the color scheme: the skies above the O-Zone, the streets and the roads of the non-pollutant sector, and the police spotlights, all elevating the boldness of the illustration. The vibrant and warm color choices shore up the cartoonish feeling that underlies the comic, firmly preventing the style from sliding into grimdark territory. At the same time, the use of contrasting blues, greens, and other icier tones keeps the playfulness within bounds and stops the comic from ever feeling markedly childish. Parr does great work associating colors with particular settings, using the cold, sterile colors of the City Administration and mulchy rotted greens of the smogzone to infuse a particular mood and atmosphere into the given place. There is also a wonderful sense of light and shadows at work in Petrol Head #1, especially regarding interactions with metal and synthetic materials, which feel like they have real dimension to them through the use of highlights and gradients.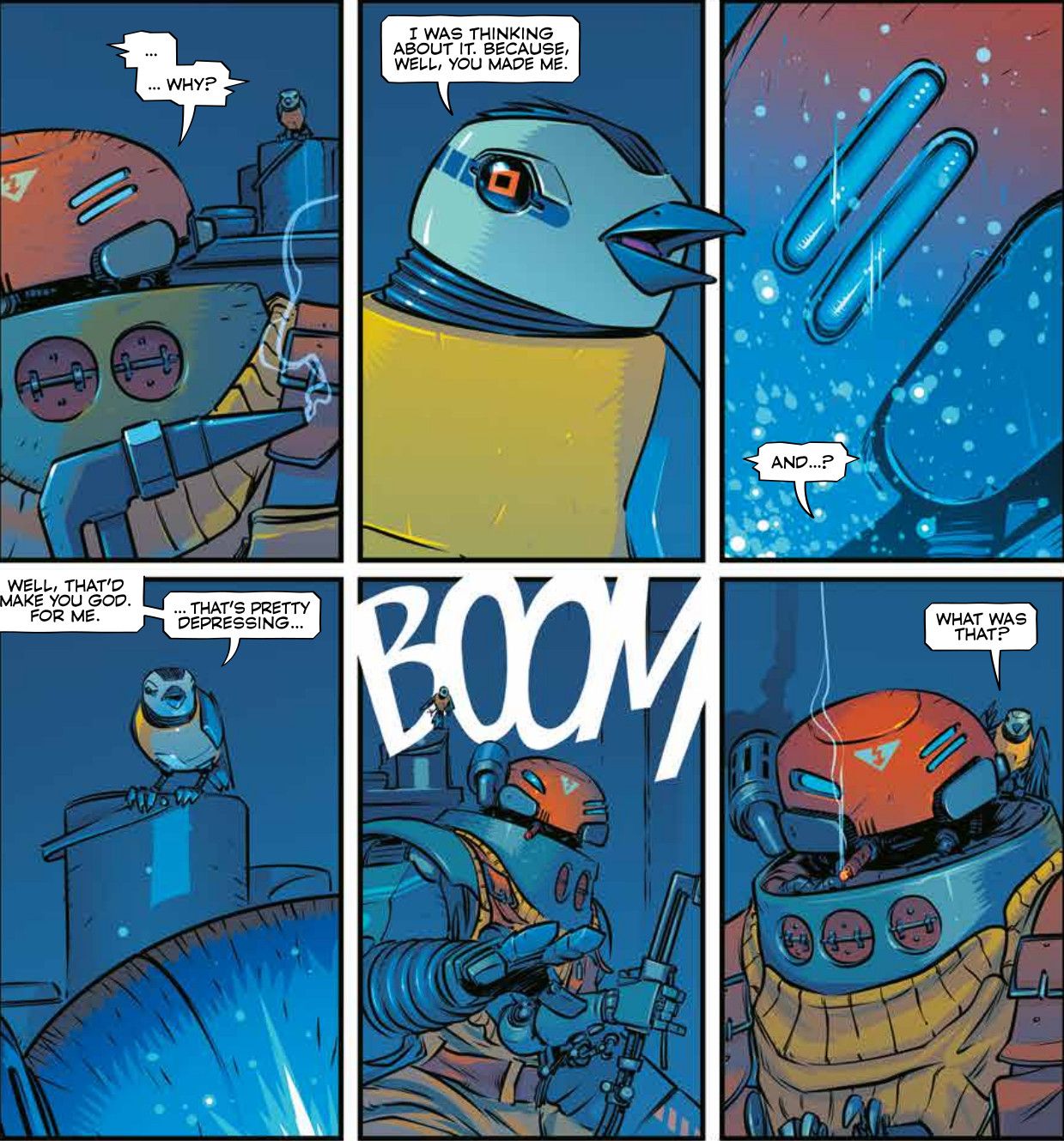 Petrol Head #1 has great letters that are solid and clear throughout. Parr includes some wonderful sound effects that are simple but effective, often doing some interesting visual work in how they are arranged on the page. There is also some inventive use of speech bubbles, which are more rounded or geometric depending on how organic or synthetic the speaking voice is, helping to create a variety of tones and voices in the comic through an almost onomatopoeic reading process.
Petrol Head #1 takes well-established ideas and shakes them up so hard that they fizz with brand-new energy. An unlikely triumph, Petrol Head #1 is a bizarre assortment of genres and influences that, in the hands of a different creative team, would almost certainly feel strange, contrived, or just all-around poorly conceived. The combination of a well-established and skilled writer with a young, up-and-coming artist has created the perfect spread of enthusiasm, talent, and expertise to produce a comic as off-the-wall and ambitious as Petrol Head #1, which has formed a terrific foundation for itself going forward, both in terms of aesthetic and narrative hooks.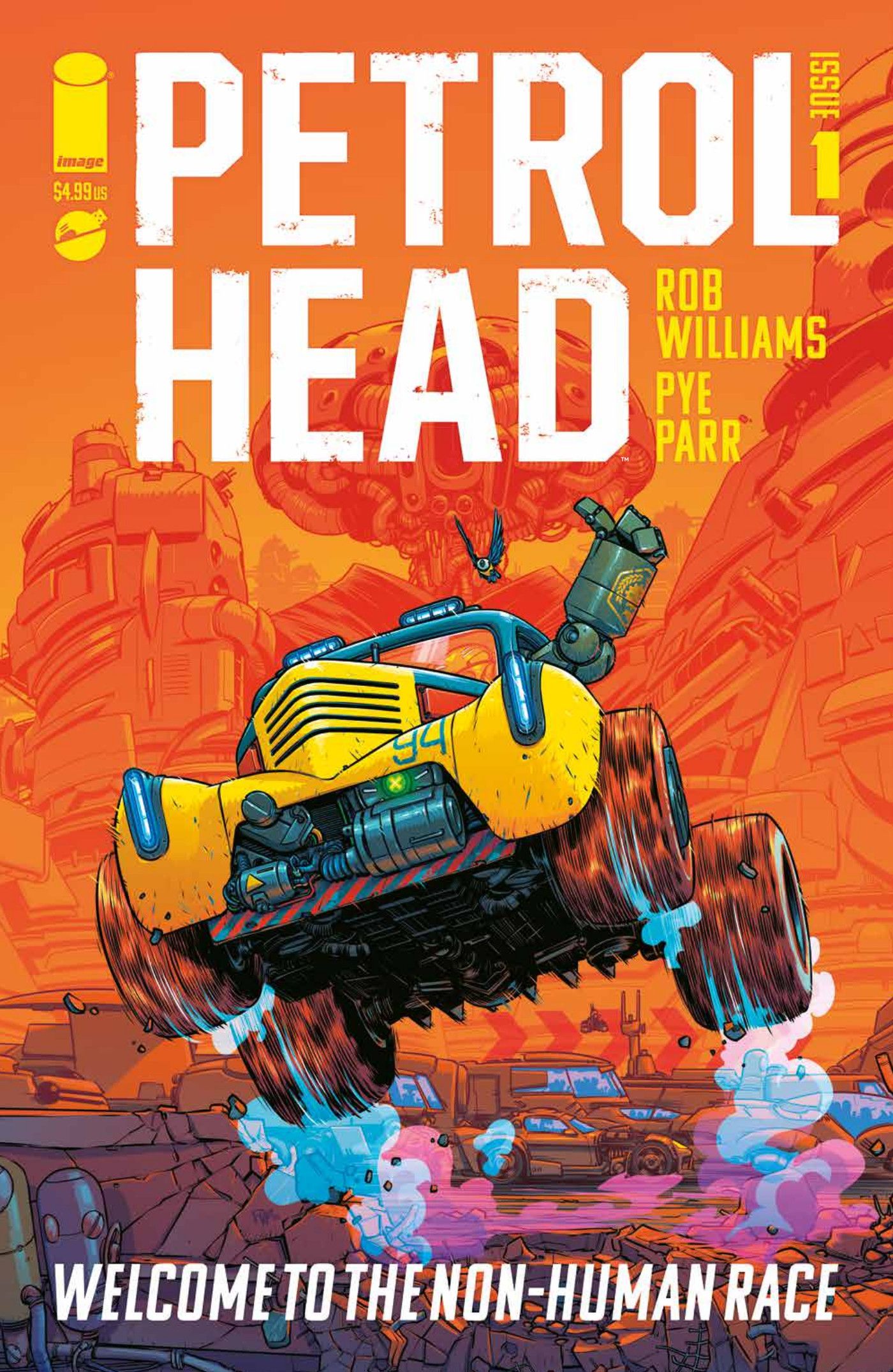 Petrol Head
In a climate crisis-ravaged future metropolis, an old, grumpy, obsolete, smoke-belching, cigar-chomping, HOTROD-RACING ROBOT is one 12-year-old girl's only hope. Together, can they outrace the chasing Robo-Cops with an invention that might just save humanity?
on bbc news
on hindi news
on the news today
on channel 7 news
ôrf news
campo grande news ônibus
ôpera news
campo grande news greve de ônibus
l1 news horário dos ônibus
l1 news ônibus
lago azul news ônibus
news österreich
news österreich heute
news österreich aktuell
news öffentlicher dienst
news österreich corona
news öl
news österreich orf
news ö3
news österreich heute aktuell
news österreich sport
ö24 news
ölpreis news
öbb news
ösv news
österreich news krone
övp news
özil news
öffentlicher dienst news 2023
österreich promi news