The Big Picture
Paul Giamatti's performance as Kenny "Pig Vomit" Rushton in Private Parts showcased his unique abilities and made him the most memorable player in the film.
Giamatti's voice, both nasally and high-pitched, added to his portrayal of the frustrated and flummoxed Kenny, and his scenes with Howard Stern were some of the most memorable in the movie.
The best scene between Giamatti and Stern involved Kenny's attempt to exert control over the uncontrollable shock jock, emphasizing Kenny's rule-driven personality and Stern's refusal to comply.
Paul Giamatti is an actor's actor who can do it all. From his breakout performance in the 2004 dramedy Sideways to playing the titular role in the Primetime Emmy award-winning HBO miniseries John Adams, there's no role either too big or too eclectic for the versatile thespian. He's been killing it for the last 8 years as Chuck Rhoads Jr. in Billions for which he has also been nominated for a Critics Choice award. But the performance that we all stood up and took notice of was an unlikely one in which he played opposite the trailblazing radio shock jock Howard Stern. In 1997's Private Parts, Giamatti gets a juicy role as Kenny "Pig Vomit" Rushton and really upstages Stern, who stars in the film based on the true story of his meteoric rise to the top of the radio broadcasting world.
It was a dynamic performance from the quirky actor from New Haven, Connecticut that put his unique abilities center stage for audiences to not only enjoy but get to know the character actor. Giamatti takes full advantage of it to the point that he is the most memorable player in a movie full of the whacked-out, lunatic fringe brand of humans that Stern and co-host Robin Quivers love to surround themselves with and interview.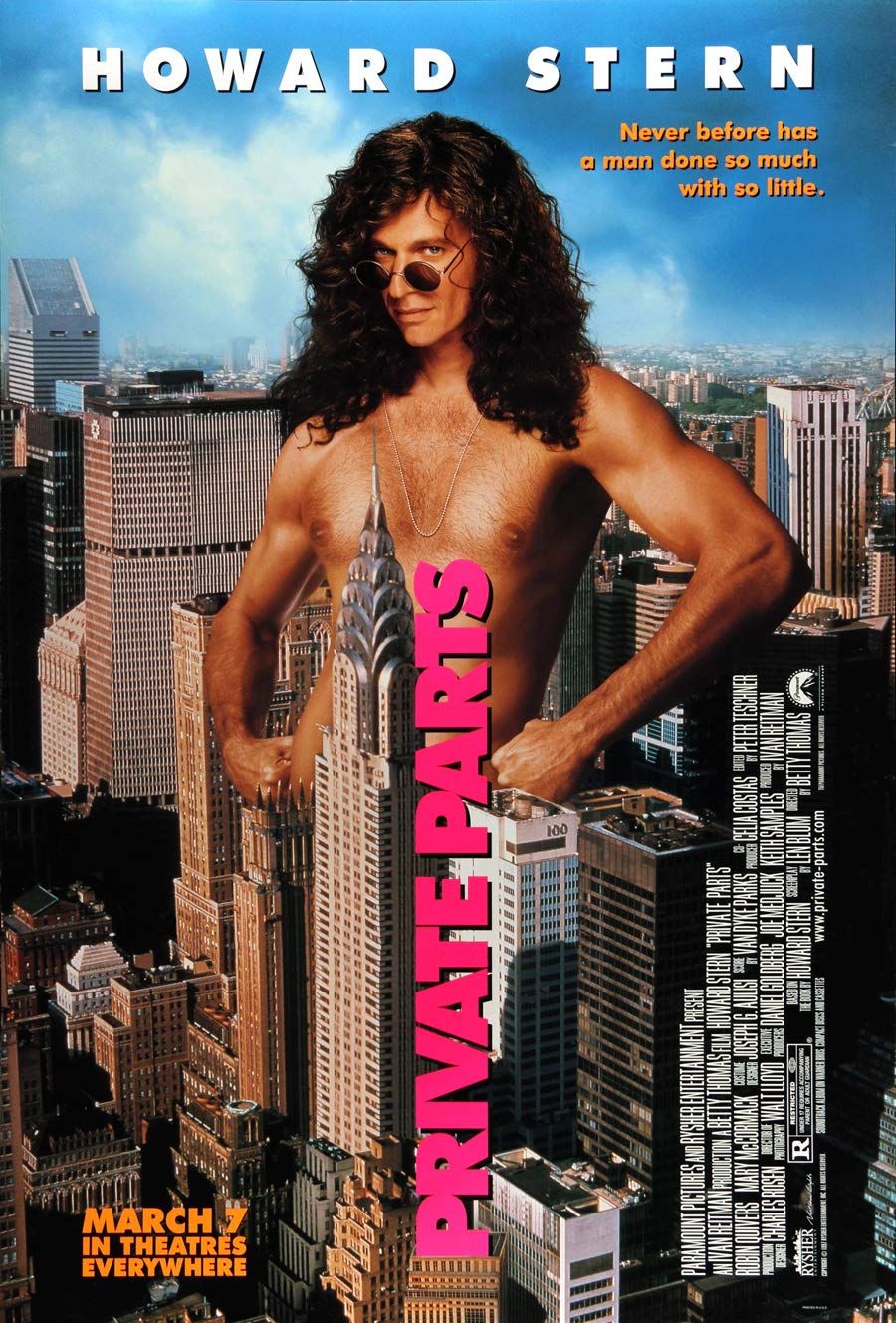 Private Parts
The autobiographical story of Howard Stern, the radio rebel who is now also a TV personality, an author and a movie star.
Director

Betty Thomas

Cast

Howard Stern, Robin Quivers, Mary McCormack, fred norris, Paul Giamatti, Gary Dell'Abate

Rating

R

Genres

Biography, Comedy, Documentary, Drama

Writers

Howard Stern, Len Blum, Michael Kalesniko
How Does Paul Giamatti Fit Into 'Private Parts'?
As we mentioned, there is no shortage of misfits in Private Parts as exploiting oddballs and crazy characters is Stern's forte, and it has earned him millions of listeners all over the world. In the sensationalized retelling of his remarkable career that is still going strong on Sirius Radio XM, Stern butts heads with Giamatti who plays the part of the uptight company man that has the misfortune of trying to reel in and wrangle Stern and his traveling circus as they arrive in New York City after leaving Washington D.C. in the early 1980s. When Kenny is tasked with censoring Stern, Quivers, ace producer Gary "Baba Booey" Dell'Abate, Jackie "The Joke Man" Martling, and master prop-master and voice man Fred Norris, at WNBC, it doesn't go well. It has all the trappings of a babysitter charged with dealing with a group of children from the fiery pits of Dante's hell in the form of fully grown adult bodies. When Kenny tries to exert his authority over a then relatively unknown burgeoning iconoclast in Howard Stern, things start to bounce off the rails almost immediately, and it's an absolute blast to watch Giamatti do his thing and not only go toe-to-toe with the larger-than-life shock jock but even outshine him in their scenes together.
Paul Giamatti Is the Perfect Fit for Kenny "Pig Vomit" Rushton in 'Private Parts'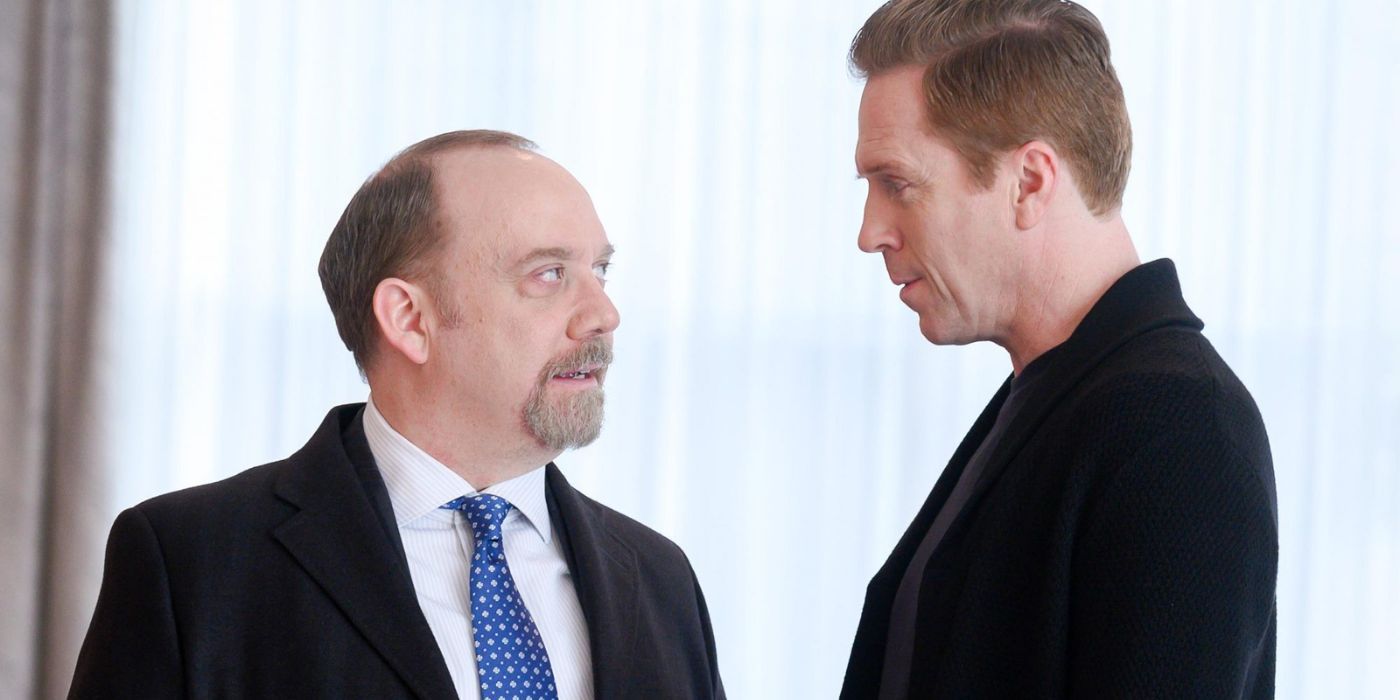 In a cast full of weirdos and outcasts, the makeup of Paul Giamatti, both physically and emotionally, is a perfect fit for Private Parts. Most importantly, and probably most endearing, is his nasally, almost cartoonish, high-pitched voice. As an actor, he has completely mastered the effectiveness of his unique voice. He knows the exact moment to amp it up while being keenly aware of not going over the top. In a movie in which he has to deal with the outlandish antics of Stern and his band of motley fools, a frustrated and flummoxed Kenny may seem out of control, but quite to the contrary. Giamatti had already perfected his craft and knew that his boisterous and bold voice was going to be the key to what he brought to the table on stage, in film, and on television. In Private Parts, we are left thinking, who was that poor bastard who is constantly blowing his top over Stern's refusal to play by the station's rules? It's a well-honed master actor just plying his skill set to make us believe he is about to have a nervous breakdown. Guys who aren't necessarily blessed with matinée idol looks, perfect hair, and a sharp jawline have to find other ways to stand out, and Giamatti is the perfect example of that.
The most memorable scenes from the Howard Stern biopic are between the habitual line-stepping deejay and Giamatti's Kenny Rushton. Stern is obviously not a trained actor and doesn't claim to be. So that can be difficult for a very well-trained actor like Giamatti to read and play off of. Stern is just good enough to not hurt the movie, but it's the foundation that Kenny provides opposite the amateur that holds their scenes together and makes them some of the most memorable of the film. Kenny doesn't even appear until more than halfway through the film, and he strikes a chord with Stern so quickly that you wish he had been brought on earlier. You can tell from the minute they meet each other at the radio station that their personalities are going to clash like crazy.
Paul Giamatti and Howard Stern's Best Scene Involves the NBC Call Letters
These are both type-A personalities who want to have their authority recognized by everybody in the room. They couldn't be more opposite, both physically and temperamentally. Stern is tall and lanky, while Giamatti as Kenny is short and nonathletic. But Kenny has that unfounded New York bravado and brashness that more than makes up for his stature. Stern doesn't like rules and has proven to make his corporate programmers' lives a living hell, and he doesn't waste time pushing Kenny's buttons. Giamatti is always on the cusp of exploding like a volcano but tries so damn hard not to give Stern the pleasure of breaking him. Without a doubt, the best scene between the two is their first one together as they meet. Kenny tries to get Howard to start using a little more inflection when mentioning the station's call letters on the air.
If you've seen Private Parts you undoubtedly recall the "W-NNNN-BC!" scene with his voice pitched high enough to shatter glass, emphasizing the "N" in WNBC. It is a microcosm of Kenny, a guy who lives and dies by the rules, trying to exert control over the uncontrollable Stern. Kenny says to his bosses, "Either I'll tame him, or I'll make him so crazy, he'll quit. So, either way, we win," Obviously, we know how that plan turns out. And the tight shot of Kenny's face before running full speed from his office in the studio while Howard and crew are doing a horribly distasteful bit is priceless! Kenny finally does lose it, yelling at Stern, "You are the m***** f***** Antichrist!!" while being held back by a colleague. But no matter what he does, Stern's listener numbers just keep swelling as he slowly takes over New York and eventually the entire country. The third scene that cements his show-stealing status in Private Parts is the brawl in Kenny's office involving Stern, a phone, and a statuette. These are the moments that we look back to when pointing to where we all became familiar with the greatness of Paul Giamatti.
Paul Giamatti Has Reunited With 'Sideways' Director Alexander Payne for 'The Holdovers'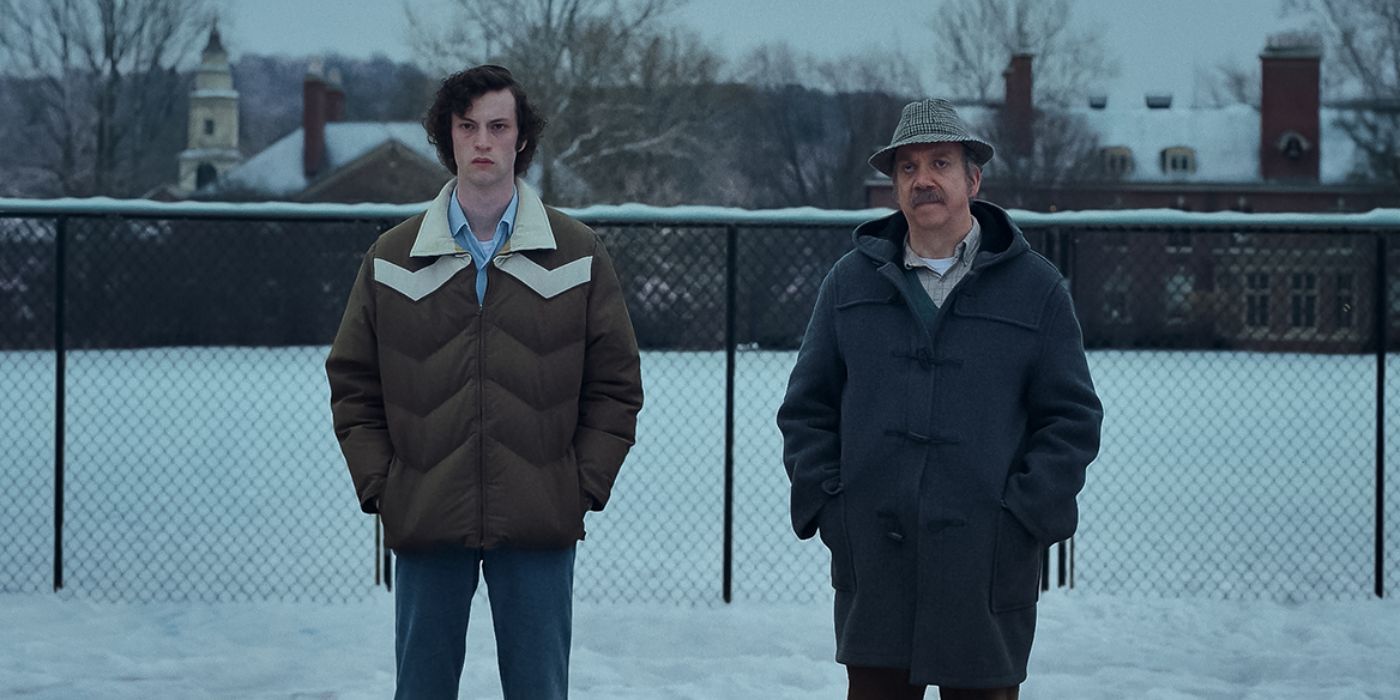 After almost two full decades, Giamatti will be reunited with Alexander Payne, his director in the breakout movie Sideways. The two have collaborated on a film called The Holdovers set for a limited theatrical release in late October 2023 before releasing more widely in early November. It debuted at the 2023 TIFF and features Giamatti the way that we like him — as a dyspeptic and curmudgeon prep school professor (sounds a lot like Kenny "Pig Vomit" Rushton) named Paul Hunham who is left behind during Christmas Break to look out for a single student Angus (Dominic Sessa). Giamatti has always been at his best as part of a formidable tag team including not only Howard Stern in Private Parts, but also opposite Thomas Haden Church in Sideways, Damian Lewis in Billions, and a heavyweight boxer played by Russell Crowe in Cinderella Man for which he was recognized by the Academy with a nomination for Best Supporting Actor. But if you want to see where it all took off for the talented performer, treat yourself to Private Parts and enjoy the brilliant Giamatti in an early, show-stealing turn. Make sure to stay with it for the post-credits scene of a beaten-down and severely bitter Kenny who Howard drummed out of the Big Apple.
Private Parts is available for streaming on Paramount +.
on bbc news
on hindi news
on the news today
on channel 7 news
ôrf news
campo grande news ônibus
ôpera news
campo grande news greve de ônibus
l1 news horário dos ônibus
l1 news ônibus
lago azul news ônibus
news österreich
news österreich heute
news österreich aktuell
news öffentlicher dienst
news österreich corona
news öl
news österreich orf
news ö3
news österreich heute aktuell
news österreich sport
ö24 news
ölpreis news
öbb news
ösv news
österreich news krone
övp news
özil news
öffentlicher dienst news 2023
österreich promi news