Spider-Man's spine-tingling nightmare continues in Marvel's new comics this week.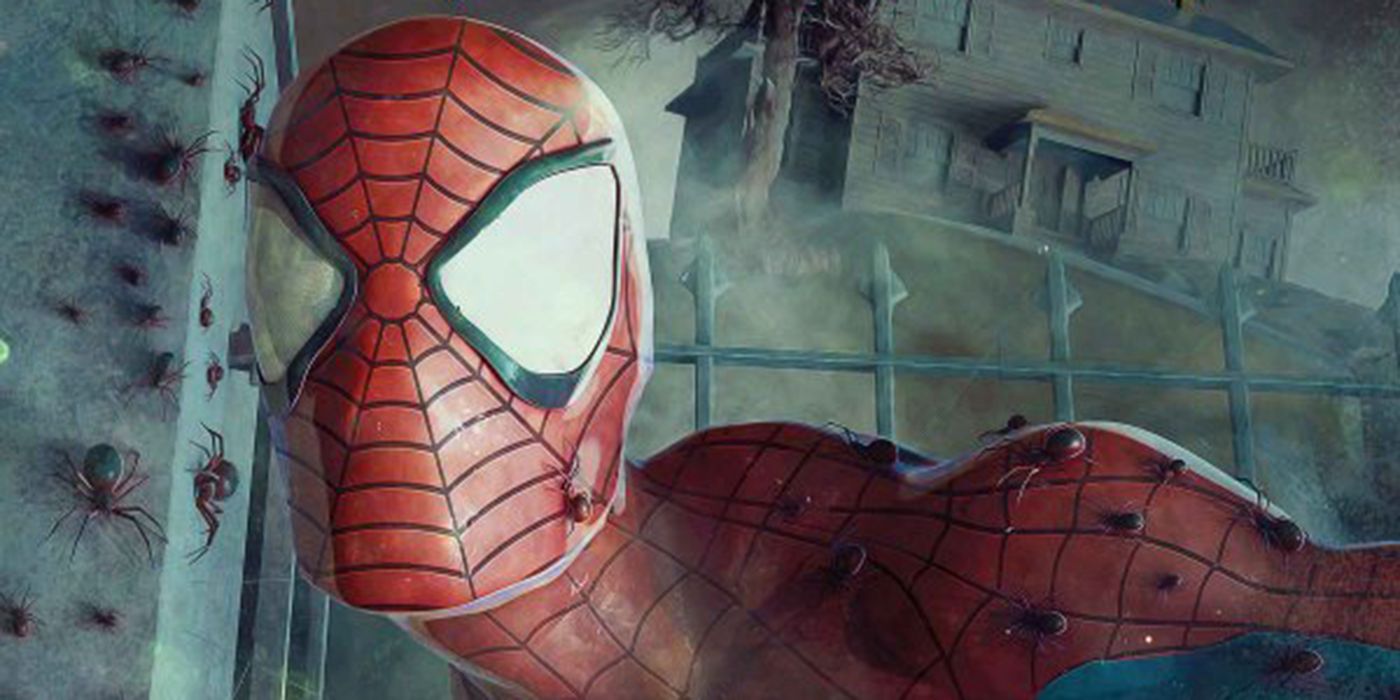 Peter Parker makes a deadly mistake on a train in Marvel's new comics this week.
Spine-Tingling Spider-Man #2 picks up exactly where the first issue left off. After the entire world forgets his existence, and he loses his powers, Peter wanders the streets of New York City trying to figure out his next steps. In the process, he steps onto a train without a ticket. Now, a zombie-like train conductor is chasing after him for his fare. Marvel's preview for the second issue of Spine-Tingling Spider-Man shows the intense fight scene between a powerless Peter and the horrifying train conductor. Seemingly cornered, readers must wait until the issue comes out to see if Spider-Man will emerge victorious.
Marvel's New Ultimate Spider-Man Reverses a Major One More Day Criticism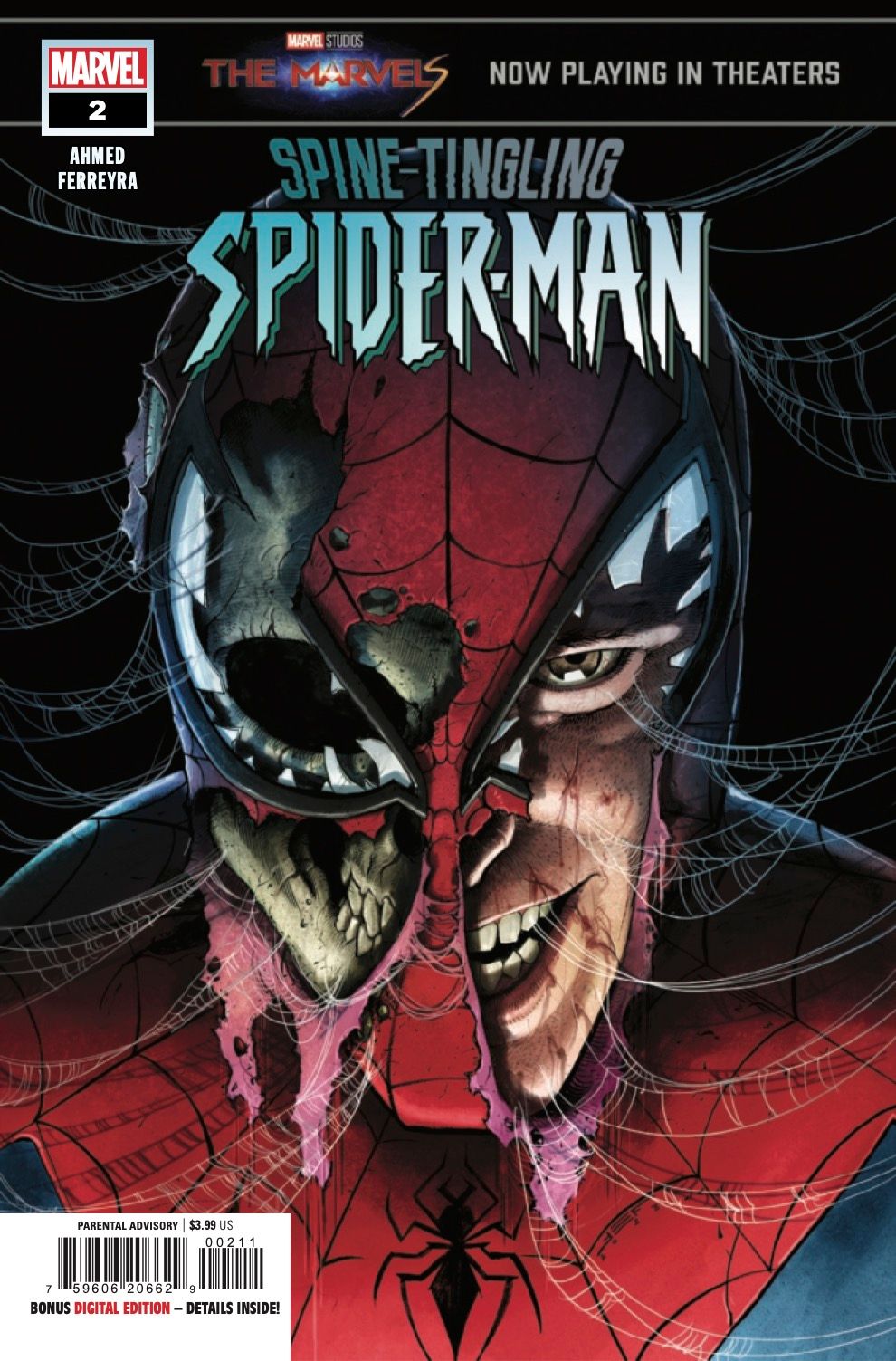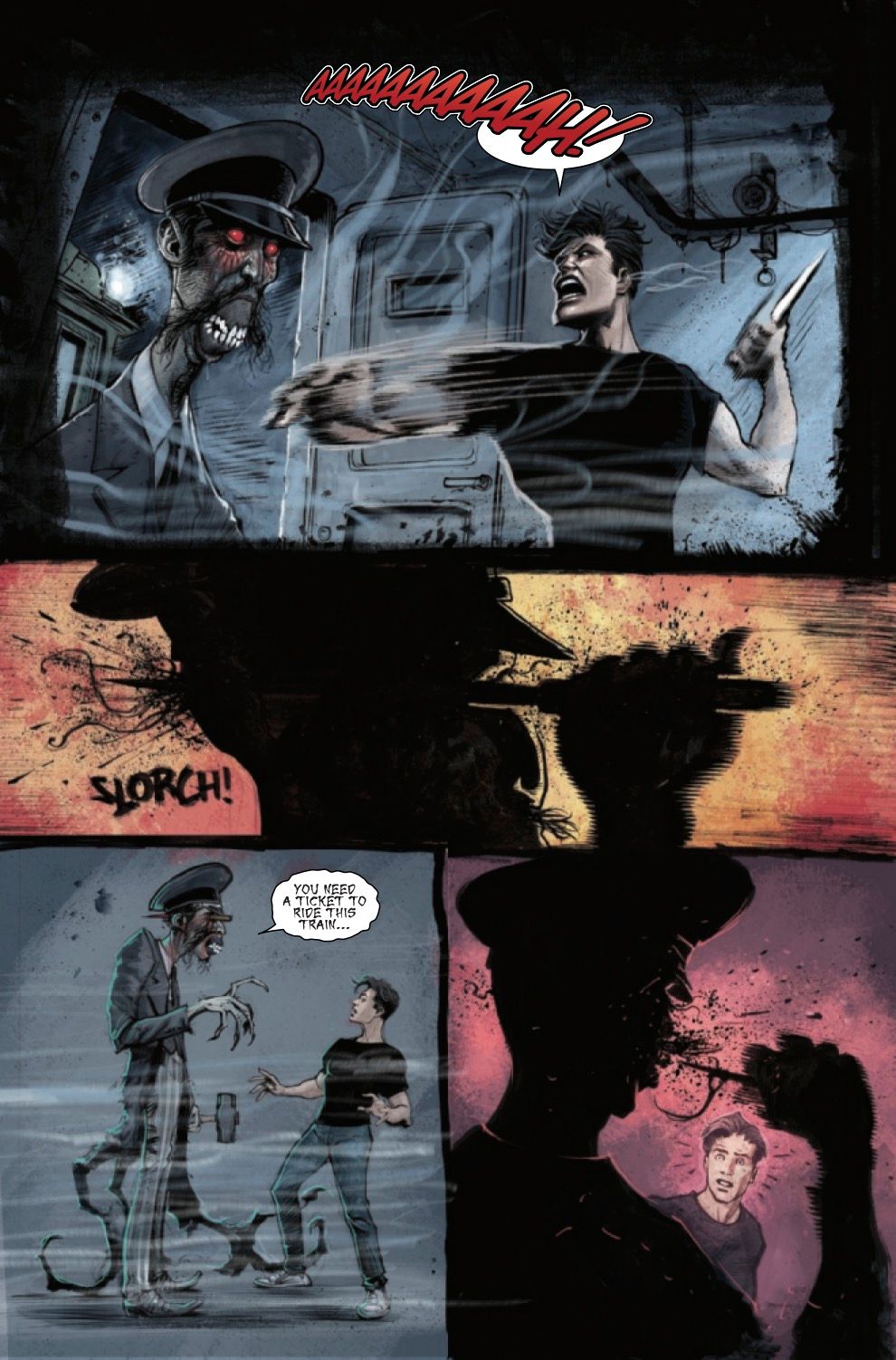 Spine-Tingling Spider-Man #2
Written by SALADIN AHMED
Art by JUAN FERREYRA
Letterer JOE CARAMAGNA
Cover by JUAN FERREYRA
Variant Cover Artists BJORN BARENDS, CHRIS ALLEN and GURU-EFX
Alien #1
Written by DECLAN SHALVEY
Art by ANDREA BROCCARDO and DECLAN SHALVEY
Colorist RUTH REDMOND and DECLAN SHALVEY
Letterer CLAYTON COWLES
Cover by JAVI HERNANDEZ and MATTHEW WILSON
Variant Cover Artists IAN BERTRAM. HEATHER MOORE, MIGUEL MERCADO and MIKE MAYHEW
Alpha Flight #4
Written by ED BRISSON
Art by SCOTT GODLEWSKI
Colorist MATT MILLA
Letterer TRAVIS LANHAM
Cover by LEONARD KIRK and EDGAR DELGADO
Variant Cover Artists RON LIM and ISRAEL SILVA
Astonishing Iceman #4
Written by STEVE ORLANDO
Art by VINCENZO CARRATU
Colorist JAVA TARTAGLIA and CHRIS SOTOMAYOR
Letterer TRAVIS LANHAM
Cover by JESUS SAIZ
Blade #5
Written by BRYAN HILL
Art by ELENA CASAGRANDE
Colorist KJ DIAZ
Letterer CORY PETIT
Cover by ELENA CASAGRANDE and ROMULO FAJARDO JR
Variant Cover Artists DECLAN SHALVEY, CF VILLA and BRIAN REBER
Black Panther #6
Written by EVE L EWING
Art by MATT HORAK and MACK CHATER
Colorist JESUS ABURTOV
Letterer JOE SABINO
Cover by TAURIN CLARKE
Variant Cover Artists DOALY and STEPHANIE HANS
Capwolf and the Howling Commandos #2
Written by STEPHANIE PHILLIPS
Art by CARLOS MAGNO
Colorist ESPEN GRUNDETJERN
Letterer TRAVIS LANHAM
Cover by RYAN BROWN
Variant Cover Artists JAY ANACLETO and ROMULO FAJARDO JR
Children of the Vault #4
Written by DENIZ CAMP
Art by LUCA MARESCA
Colorist CARLOS LOPEZ
Letterer CORY PETIT
Cover by YANICK PAQUETTE and GURU-EFX
Dark X-Men #4
Written by STEVE FOXE
Art by JONAS SCHARF
Colorist FRANK MARTIN
Letterer CLAYTON COWLES
Cover by STEPHEN SEGOVIA and JESUS ABURTOV
Variant Cover Artists GREG LAND, FRANK D'ARMATA and NICOLETTA BALDARI
Daredevil #3
Written by SALADIN AHMED
Art by AARON KUDER, FARID KARAMI and CAM SMITH
Colorist JESUS ABURTOV
Letterer CLAYTON COWLES
Cover by JOHN ROMITA JR, SCOTT HANNA and MARCIO MENYZ
Variant Cover Artists JOSHUA CASSARA, GURU-EFX, ADI GRANOV, JOHN ROMITA JR. SCOTT HANNA, MARCIO MENYZ and DUSTIN NGUYEN
Deadpool: Seven Slaughters #1
Written by CULLEN BUNN, JUSTINA IRELAND, ROB LIEFELD, CHAD BOWERS, CODY ZIGLAR, STEVE FOXE, GAIL SIMONE and MARC GUGGENHEIM
Art by PHILLIP SEVY, GREG LAND, JAY LEISTEN, FEDERICA MANCIN, GERARDO SANDOVAL and DAVID BALDEON
Colorist FRANK D'ARMATA, ROMULO FAJARDO JR, BRYAN VALENZA, DONO SANCHEZ-ALMARA and ARIF PRIANTO
Letterer JOE SABINO
Cover by GREG CAPULLO
Variant Cover Artists SARA PICHELLI, RYAN BROWN, ELIZABETH TORQUE, MR GARCIN, FRANK MILLER and ARTHUR ADAMS
Fantastic Four Reboot Director Reveals It's Always Sunny in Philadelphia Influences
Fantastic Four #13
Written by RYAN NORTH
Art by IBAN COELLO
Colorist JESUS ABURTOV
Letterer JOE CARAMAGNA
Cover by ALEX ROSS
Variant Cover Artists ALEX MALEEV, ARTHUR ADAMS, EDGAR DELGADO, MARTIN COCCOLO and JESUS ABURTOV
Ghost Rider #20
Written by BENJAMIN PERCY and STEVEN PAUL JUDD
Art by CARLOS NIETO, SHAUN BEYALE and BELARDINO BRABO
Colorist BRYAN VALENZA
Letterer TRAVIS LANHAM
Cover by BJRON BARENDS
Variant Cover Artists PAUL AZACETA, ROY BONEY and ELIZABETH TORQUE
Immortal Thor #4
Written by AL EWING
Art by MARTIN COCCOLO
Colorist MATT WILSON
Letterer JOE SABINO
Cover by ALEX ROSS
Variant Cover Artists SERGIO FERNANDEZ DAVILA, MAURO CASCIOLI, ROMULO FAJARDO JR and LEINIL FRANCIS YU
Jean Grey #4
Written by LOUISE SIMONSON
Art by BERNARD CHANG
Colorist MARCELO MAIOLO
Letterer ARIANA MAHER
Cover by AMY REEDER
Red Goblin #10
Written by ALEX PAKNADEL
Art by CHRIS CAMPANA and ROBERTO POGGI
Colorist DAVID CURIEL
Letterer JOE CARAMAGNA
Cover by INHYUK LEE
Silver Surfer Rebirth: Legacy #3
Written by RON MARZ
Art by RON LIM and DON HO
Colorist ROMULO FAJARDO JR
Letterer JOE SABINO
Cover by RON LIM, ROMULO FAJARDO JR and DON HO
Variant Cover Artist KIM JACINTO
Superior Spider-Man #1
Written by DAN SLOTT
Art by MARK BAGLEY and JOHN DELL
Colorist EDGAR DELGADO
Letterer JOE CARAMAGNA
Cover MARK BAGLEY and EDGAR DELGADO
Variant Cover Artists MARK BAGLEY, EDGAR DELGADO, SKOTTIE YOUNG and DOALY
Uncanny Avengers #4
Written by GERRY DUGGAN
Art by JAVIER GARRON
Colorist MORRY HOOLOWELL
Letterer TRAVIS LANHAM
Cover by JAVIER GARRON and MORRY HOLLOWELL
Variant Cover Artists CORY SMITH, FEDERICO BLEE, MATTEO SCALERA, MORENO DINISIO and ROB LIEFELD
on bbc news
on hindi news
on the news today
on channel 7 news
ôrf news
campo grande news ônibus
ôpera news
campo grande news greve de ônibus
l1 news horário dos ônibus
l1 news ônibus
lago azul news ônibus
news österreich
news österreich heute
news österreich aktuell
news öffentlicher dienst
news österreich corona
news öl
news österreich orf
news ö3
news österreich heute aktuell
news österreich sport
ö24 news
ölpreis news
öbb news
ösv news
österreich news krone
övp news
özil news
öffentlicher dienst news 2023
österreich promi news