Summary
Netflix rejected a pitch for an L.A. Confidential sequel with Russell Crowe, Guy Pearce, and Chadwick Boseman.
One Netflix executive even fell asleep during the pitch, raising questions about the decision-making process at the streaming platform.
Due to the rejection at Netflix and Chadwick Boseman's untimely passing, the highly anticipated project will never be realized.
Streaming giant Netflix rejected a pitch from Academy Award-winning writer Brian Helgeland for a sequel to the critically acclaimed, Oscar winning neo-noir crime thriller, L.A. Confidential. A sequel that would have seen both Russell Crowe and Guy Pearce reprise their roles from the first movie while adding the late, great Black Panther star Chadwick Boseman to the fray. And it's a decision that will no doubt leave many wondering how exactly Netflix decides which projects to pursue and which to leave behind.
"James Ellroy and I worked out an elaborate pitch for L.A. Confidential 2 that takes place during the Patty Hearst (era), when the Symbionese Liberation Army came down to L.A., and we had Guy Pearce attached and Russell (Crowe) and Chadwick Boseman playing a young cop working for Mayor Bradley."
Speaking at the Toronto International Film Festival (via Deadline), Helgeland revealed that one Netflix executive even fell asleep. Something which, again, will no doubt have many questioning the decision-making that goes on behind-the-scenes.
"We pitched it to everyone. We had to go to Warner Bros first and Warner Bros is like we don't make movies like this…Ellroy is a performance artist and he would do the pitch; and it was the most amazing pitch. Our executive at Netflix fell asleep during the pitch. They fell asleep and nodded off during the pitch. I got home and said 'we can't do that anymore'."
The idea of Crowe, Pearce, and Boseman sharing the screen in an L.A. Confidential sequel written by Brian Helgeland is sure to jump to the tippy-top of many a "missed opportunity" list. Sadly, the experience Helgeland went through at Netflix, as well as the untimely passing of Chadwick Boseman, means the project will never come to fruition.
RELATED: Are Streamers Good or Bad for Cinema?
L.A. Confidential Remains One of the Best Noir Movies Ever Made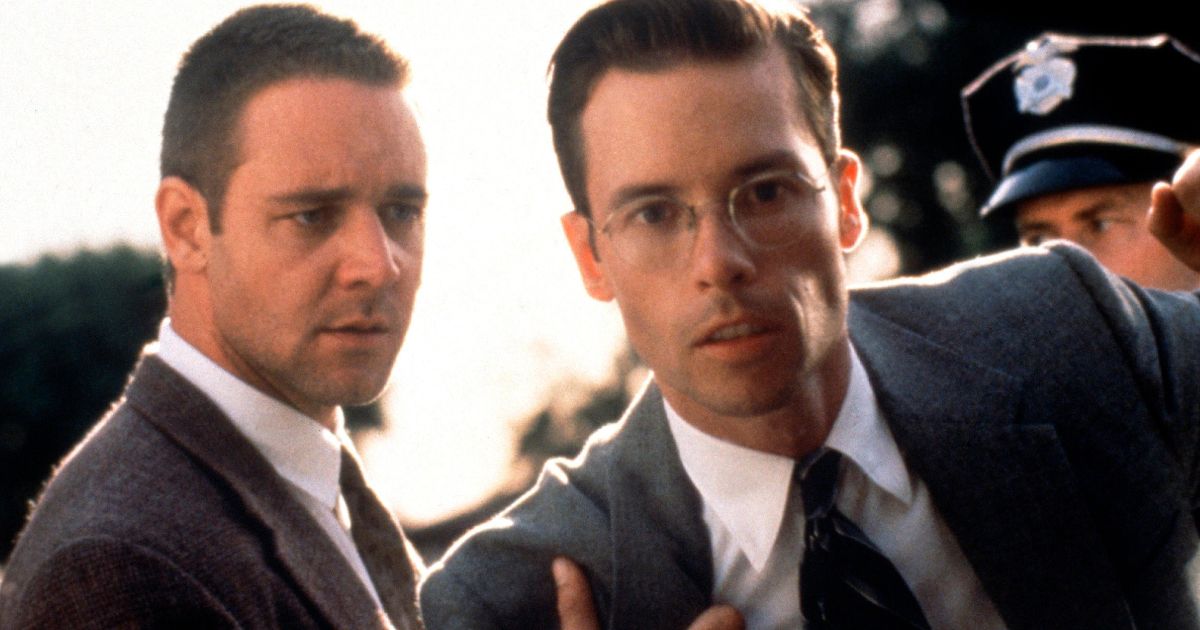 Released in 1997, L.A. Confidential was directed, produced, and co-written by Curtis Hanson, with both Hanson and Brian Helgeland basing the screenplay on James Ellroy's 1990 novel of the same name. The story follows three police officers, each with his own motives and obsessions, as they tackle the corruption surrounding an unsolved murder at a downtown Los Angeles coffee shop in the early 1950s.
Led by both Guy Pearce and Russell Crowe, both of whom were relatively unknown to American audiences at the time, alongside Kevin Spacey, Kim Basinger, and Danny DeVito, L.A. Confidential was met with rave reviews and went on to be nominated for nine Academy Awards, including Best Picture, ultimately winning Best Supporting Actress for Kim Basinger and Best Adapted Screenplay.
Helgeland featured at TIFF to promote the crime thriller Finestkind, which he wrote and directed. Starring Ben Foster, Toby Wallace, Jenna Ortega and Tommy Lee Jones, Finestkind follows two estranged brothers who hatch a deal with a Boston crime syndicate, which spells danger for the brothers and their father as well as a mysterious young woman.
Finestkind premiered at the Toronto International Film Festival on September 8, 2023, and is due to land on Paramount+ in November.

on bbc news
on hindi news
on the news today
on channel 7 news
ôrf news
campo grande news ônibus
ôpera news
campo grande news greve de ônibus
l1 news horário dos ônibus
l1 news ônibus
lago azul news ônibus
news österreich
news österreich heute
news österreich aktuell
news öffentlicher dienst
news österreich corona
news öl
news österreich orf
news ö3
news österreich heute aktuell
news österreich sport
ö24 news
ölpreis news
öbb news
ösv news
österreich news krone
övp news
özil news
öffentlicher dienst news 2023
österreich promi news