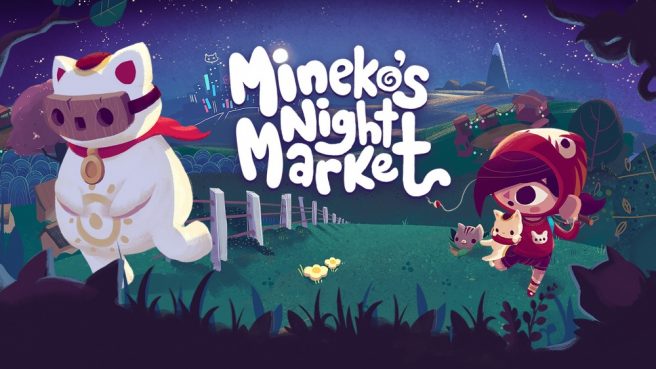 Humble Games and Meowza Games have started distribution of a new version 1.0.4 update for Mineko's Night Market. The official patch notes have also been released.
There's a whole lot here, much of which is based on community feedback. There are a bunch of improvements, adjustments, small additions, fixes, and more.
Here's the full rundown:
Mineko's Night Market version 1.0.4 patch notes
Fixed HQ Floor 2: fly-in camera, main camera, lockers, vents, restarts
Nerfed prices of later game craftbenches and tools
Nerfed prices of Night Market items
Fish booth at market was selling old crab item
Tweaked some (inaccurate) papercraft base costs
Tweaked NPC bartering rates (used to have a low rate of purchasing higher tier items)
Extended BlackScreen/Loading UIs to ensure it covers entire screen
Fixed the Dock quest to properly end if the Cat Counter is at 0
Removed the old Crab (bugged) inventory item from the game
Fixed a <tag> showing up in dialogue
Added visible note to empty bottle icon
If player accidentally loses the Tool Belt (key item) another one will appear where the previous one was found
Fixed an issue with the Bean/GardenPlot quest starting over again
Fixed Journal entry to Sugihara looking for 5 Machine Parts, not 4
Fixed missing transparency on deco item in General Store
Fixed a bug where an NPC that's supposed to be missing is still showing up in the Night Market
Fixed colliders in the Village
Increased chances of Beetle Brand Ramen showing up in the General Store
Fixed the stuck bottle in The Gardens (you can now take it)
Bobo's Mom won't mention Art Craftbench if it's not actually for sale
Added Inventory category for Fish (Fish/Squeezed Fish)
Inventory Auto-sorts to not leave blank spaces with hidden items below the scroll
Fish Museum now only accepts the proper crab item (Old donated crabs will still be honored)
Ruby now spawns mostly around the Village, fixed her key item RNG, and now offers two different items per day: one in the Day, one in the evening
Fixed Rio's relationship randomly resetting
Added player switch tip to Beach quest intro
Fixed Rockin Rolls not being donatable to Market Food Museum
Fixed issue of a minigame window that sometimes gets stuck on the screen on the end of Metal Rock mining minigame
Fixed a certain NPC not appearing in Village after that NPC was discovered safe
Removed bush decorations that were crowding the front of the Food Museum entrance
Re-ordered "Display items" (new default) and "Call customers" buttons in Market bartering to avoid accidentally button mashing to call customers too early
A memento now appears in Mineko's room upon completion of the main story
Fixed Market Bus cutscene interrupting end game cutscene if completed on a Saturday
Digging minigame now rewards 2-5 Clay/Sand per successful hit
Fixed resource booth showing up before Cliffside cleared
Properly unload Reward UI on digging minigame ends
Fixed Rockin Rolls not being donatable to the Market Food Museum
Fixed Nikko Follower mentioning wrong season during cutscene
Typo fixes
Balance: Lowered Energy cost of Mining, Axe, and Hairball picking
Bug: NPC Gifting now accepts a combination of regular and perfect versions of crafts if the player has a combination that would make the yield. It will prioritize taking regular versions first
Bug: Fixed Granny's house upgrades not showing up
Bug: Fixed an annoying bug where hotspots (magnifying glass interactions) would sometimes stop working for a second or two immediately after closing the Inventory menu
Useless cabinet in the room now acts as a Fav Item Display storage box
Bug: Planter Boxes are now properly categorized in the Crafting tab of the Inventory
Bug: Fixed a specific NPC missing from the Village when they were supposed to be un-missing
Bug: Gem Museum now accepts Sparkly Rock
Fix for Octogame Freezing
The team says it will continue to improve the game, with loading times and audio hitching "actively being worked on for the next patch". Keep an eye out for that update soon.
Related

on bbc news
on hindi news
on the news today
on channel 7 news
ôrf news
campo grande news ônibus
ôpera news
campo grande news greve de ônibus
l1 news horário dos ônibus
l1 news ônibus
lago azul news ônibus
news österreich
news österreich heute
news österreich aktuell
news öffentlicher dienst
news österreich corona
news öl
news österreich orf
news ö3
news österreich heute aktuell
news österreich sport
ö24 news
ölpreis news
öbb news
ösv news
österreich news krone
övp news
özil news
öffentlicher dienst news 2023
österreich promi news