Summary
Marvel's first superhero, the original Human Torch, was created by Professor Phineas Horton, who had very different intentions for the android.
The Human Torch's early adventures helped shape his moral compass and revealed his creator's true motives.
The original Human Torch is known for being morally upstanding, and has become a niche favorite among modern comic book readers.
The following contains major spoilers for "Machine Learning" from Marvel Age #1000, on sale now from Marvel Comics.
While the Marvel Universe is replete with superpowered heroes and costumed crime fighters, its beginnings were much smaller than that. In fact, it was arguably Marvel's first superhero (or at least his creator) who decided to take this new brand of hero to the world stage. Unfortunately, it appears those intentions weren't always in the best interests of everyone else, and that revelation helps reframe exactly why fans continue to love the original Human Torch.
"Machine Learning" (by Mark Waid, Alessandro Cappuccio, Mattia Iacono, and VC's Joe Caramagna, from Marvel Age #1000) transports readers all the way back to the summer of 1939, when Professor Phineas Horton first unveiled his mechanized Human Torch to the world. Between taking flight across the city skyline and being studied within Horton's lab, the Human Torch quickly develops a fondness for "Hy Heat," a radio serial detailing the exploits of its titular police lieutenant. While this imbues the Human Torch with a deep-seated desire to be a hero in his own right, Horton is consumed with finding a way to turn his creation into a cash cow. Whereas Horton sees the Human Torch as an invention to be exploited, the Torch himself can only think about the life he wants to lead, and it has nothing to do with getting rich.
RELATED: Immortal Thor: Who are Marvel's New Utgard Gods – And Where Did They Come From?
The Motives of Marvel's Original Human Torch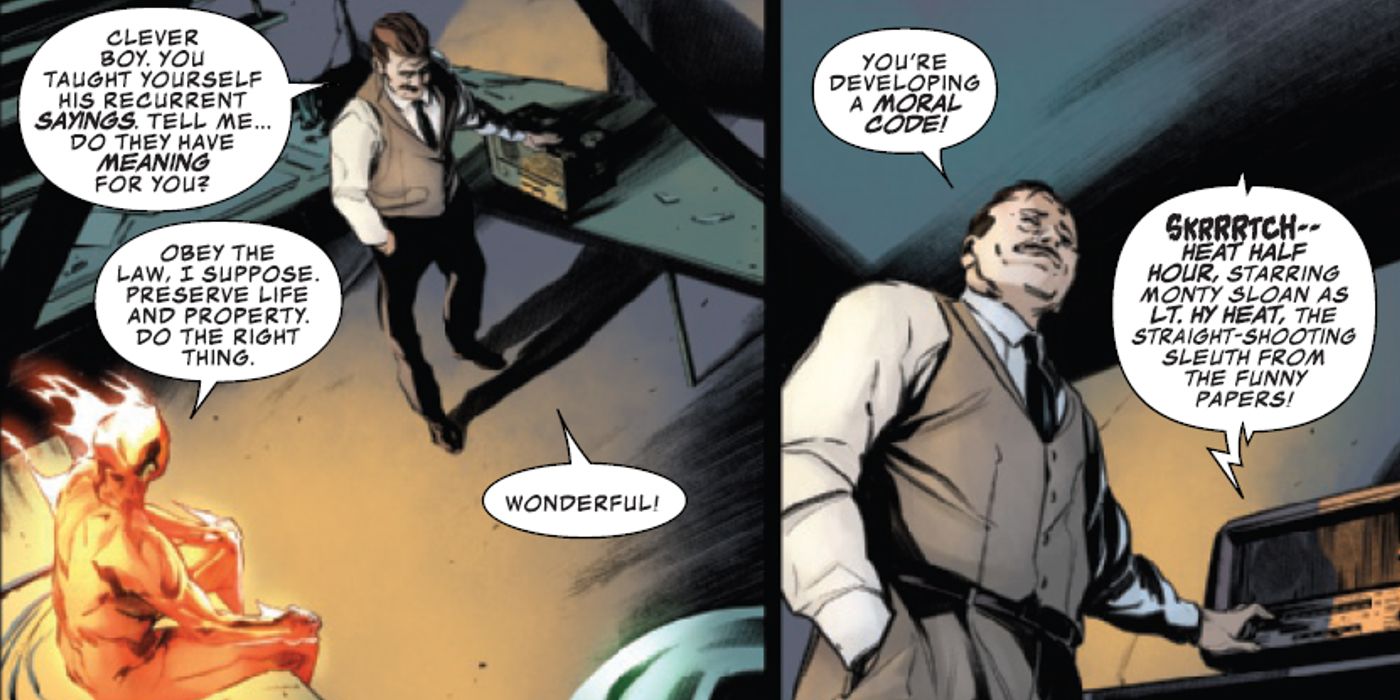 Introduced in "The Human Torch" (by Carl Burgos, from 1939's Marvel Comics #1), the titular incendiary android is considered by many to be Marvel's very first superhero. Created to be a completely synthetic man, the Human Torch's volatile nature was at first considered a flaw in his design, so much so that a presidential order prevented Horton from continuing in his work. Unsurprisingly, the Human Torch managed to find his way to freedom in spite of being sealed away, which proved to be disastrous on account of the android's completely sentient yet infantile mind. While this could have easily been the end of the Human Torch's career, it was instead just the beginning, as his earliest adventure revealed two all important truths to him about the world around him.
Apart from helping the Human Torch develop a genuine sense of right and wrong, the android discovered just how little his creator cared for those same ideals. In learning that Horton only sought fame and fortune, the Human Torch left his creator behind to embark upon a life of heroics as Jim Hammond. Eventually, this saw Hammond join forces with Namor the Sub-Mariner and Captain America, serving as one of Marvel's original Invaders.
RELATED: Blade's World is Bigger Than Ever – And It's Exactly What He Needs
The First Human Torch Found Cult Status in the Modern Era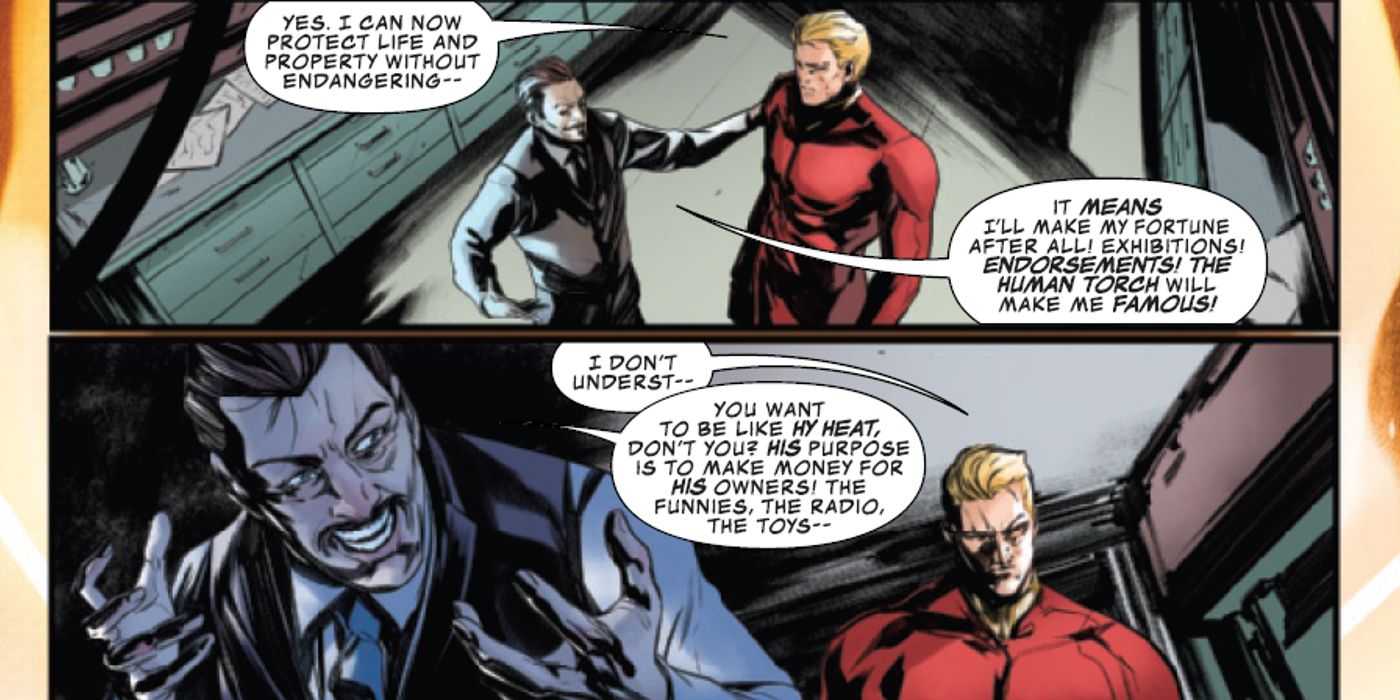 Although the original Human Torch is a Golden Age icon, he has continued to play various roles throughout numerous storylines. Most recently, Hammond was made an unwitting member of Korvac's crew in the villain's plot to acquire the Power Cosmic. This may have been a far cry from the hero's origins, but it wasn't much different from the kind of stories Hammon has been thrust into over the past few decades.
Apart from tales recounting the adventures of his heyday as the Human Torch, Hammond's more modern outings have largely been centered around questions of sentience, independence, and morality. This isn't to say that Marvel has swayed from featuring the android in more fantastical stories, but rather that they are always tinged with a hint of something deeper than dismantling supervillainous regimes. This combination of Golden Age glory and introspective character examination has made Hammond into a niche favorite for many fans, and his Marvel Age #1000 appearance has likely opened the door for the android hero's popularity to grow even larger.
RELATED: The Worst Day in the Marvel Universe Proved the Hypocrisy of Superheroes
What Jim Hammond's Popularity Says About Modern Comic Book Readers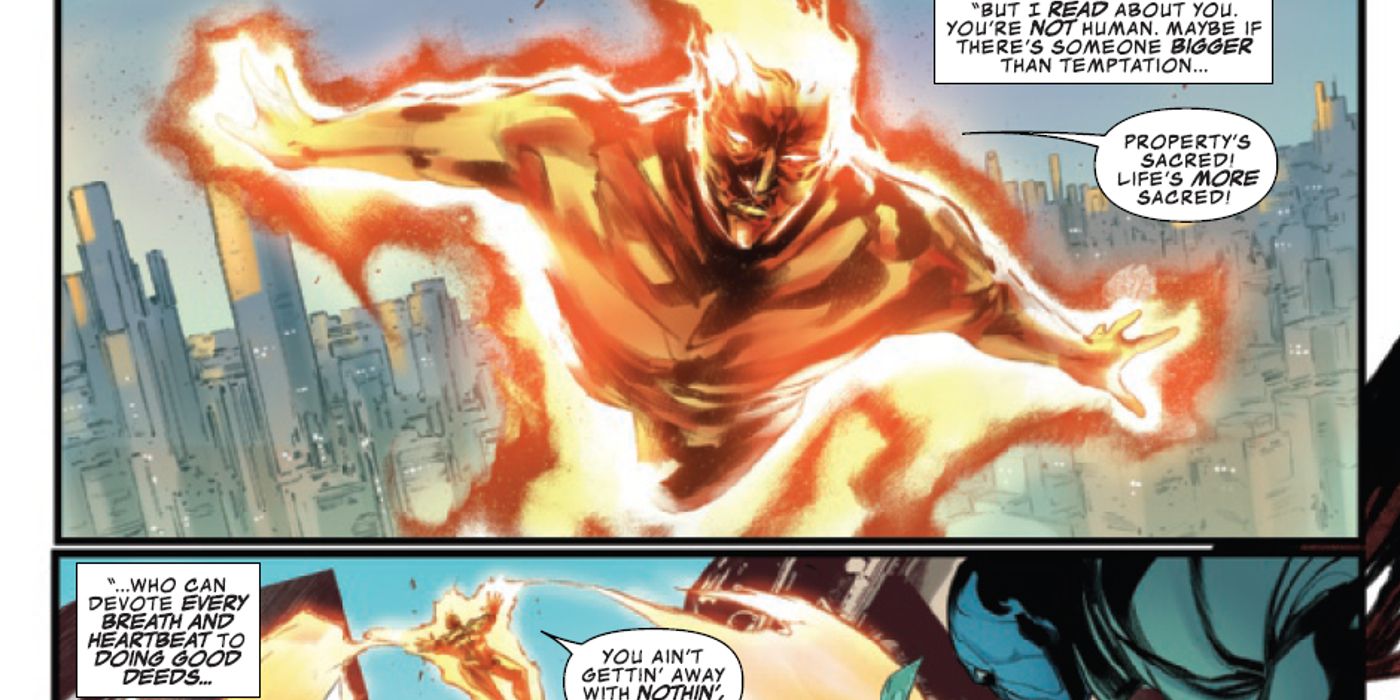 As blatantly black and white as the Human Torch's early moral code might be, it is his staunch refusal to be made into a consumer product that pushes his development beyond the question of whether sentience equals life. By drawing a line between what is right and what is profitable, the original Human Torch both elevated himself above many of his contemporaries and established that he is legitimately unflinching in his mission. Even better, the Human Torch was able to avoid much of the mass marketing and media tie-ins that other Marvel superheroes helped to usher in by way of toys, television, and commercial products.
With so many fans feeling burnt out by the rate at which new comic book properties are adapted and produced, it would make perfect sense for them to flock to a character who stands as anathema to the tropes of the industry. More importantly, those same bouts of renewed (albeit short-lived) popularity serve to further highlight how far removed the original Human Torch is from the rest of pop culture, all while maintaining his place as the progenitor of numerous archetypes that have become staples of today.
on bbc news
on hindi news
on the news today
on channel 7 news
ôrf news
campo grande news ônibus
ôpera news
campo grande news greve de ônibus
l1 news horário dos ônibus
l1 news ônibus
lago azul news ônibus
news österreich
news österreich heute
news österreich aktuell
news öffentlicher dienst
news österreich corona
news öl
news österreich orf
news ö3
news österreich heute aktuell
news österreich sport
ö24 news
ölpreis news
öbb news
ösv news
österreich news krone
övp news
özil news
öffentlicher dienst news 2023
österreich promi news