Logitech's no stranger to racing peripherals, with their G29 racing wheel being a budget mainstay since the PS4 days – and earlier racing wheels being a popular choice since the turn of the millennium. What is new is a focus on higher-end sim racing gear, which this year includes a direct drive Pro Racing Wheel ($1000/£1000), load cell Pro Racing Pedals ($350/£350) and a branded Logitech G Edition Playseat Trophy racing cockpit ($600/£529). This combination basically ticks all the boxes for an enthusiast-grade setup, and at $1950 all-in it's definitely priced like one too – though you can certainly spend far more on racing setups if you want.
I've been testing Logitech's pro racing setup for the past few months on both PC and PS5, so it's time to share some thoughts – with a focus on how Logitech's offerings compare to other direct drive wheels I've tested from Fanatec and Thrustmaster, and how the Trophy compares to other mid-level cockpits like the Playseat Challenge folding seat and NextLevelRacing GTTrack cockpit I reviewed last year.
First, let's take on the Pro Racing Wheel, as I was curious to see whether this $1000 option measured up to the two other direct drive wheels I've tested so far: Fanatec's $700/€700 GT DD Pro direct drive wheel (and pedals) and Thrustmaster's $1100/£928 T818 Ferrari SF1000 setup.
The Pro Racing Wheel package contains the wheel ("rim") itself, the motorised base, a desk clamp and the necessary USB and power cables to connect it to a console or PC, all neatly wrapped in recyclable materials. It's worth noting that the Pro Racing Wheel is available in PS/PC and Xbox/PC iterations, so you'll need to choose the model that fits your console of choice. (Other wheel ecosystems, like Fanatec, allow you to mix Xbox wheels with PlayStation bases to get universal compatibility, but having to choose between the two consoles is otherwise fairly common.)
The wheel base is vaguely trapezoidal in shape, with a wide base and narrower top that fits perfectly on the racing cockpits I had available (unlike the narrow-based Thrustmaster T818 I tested last). With its plastic construction, it looks a little less high-end than Fanatec's GT DD Pro wheel base and Thrustmaster's T818, but the 11NM motor inside actually outperforms both options (5NM and 10NM, respectively). (Logitech does have prior form in peripherals that go to 11, with the Logitech Z-5500 speaker system I've used since 2005 maxing out as 'boost 11′.) USB and AC connections are found on the back of the base, allowing the connection of accessories (like pedals and shifters), power and your PC/console.
Meanwhile, the rim's stitched plastic and faux-leather perimeter wrapping represents an improvement in look and feel over the more plasticky, toy-like Fanatec GT wheel (and the cheaper Logitech G29/G920 wheels), while being easier to learn than the Ferrari SF1000 wheel and its authentic (but unhelpful) F1 control labels.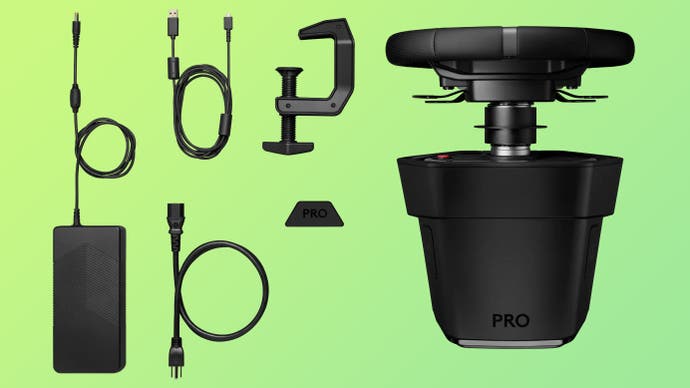 There are coloured rev counter LEDs at the top of the wheel, with a small monochrome display below that allows you to change wheel settings, switch between five profiles and see your inputs (good for calibrating your load cell brake). This screen doesn't appear able to show in-game stats like speed or available ERS reserves like the T818's display does – though a 'dynamic' screen setting does hint that this functionality could be available in the future.
The Logitech wheel features four paddles, with two gloriously tactile Hall effect shifters and two analogue paddles that could be used for the clutch or even brake/accelerate if you aren't able to use foot pedals. The wheel has a good number of additional buttons and dials, all of which are properly labelled to allow for easy menu navigation and access to all of the common racing sim functions (eg for F1: brake bias and differential adjustment, DRS/ERS deployment, pit speed limiters, race engineer communication, etc).
Out of the box in F1 23, I found the Racing Wheel a bit… weird. A kind of strange grinding noise accompanied the force feedback while driving. I initially assumed this was a necessary function of the 11NM direct drive motor, but eventually figured out this noise was an optional extra layer of feedback called TrueForce. To disable it, you need to turn down the TrueForce Audio ("TF AUDIO") setting from 10/100 to 0/100 in the wheel base, which I found made using the wheel much less aggravating to others in the house.

To see this content please enable targeting cookies.


With the wheel thus set up, I found it incredibly engaging – even at its default 5.5NM setting, it provides a ton of force feedback, allowing you to clearly differentiate each stepped section of kerb and judge how far you can push the car before it will lose traction. Shifting gears was a delight, especially if you're working the clutch, and I felt significantly faster than I did with the Fanatec wheel – though it's hard to say whether that's because of the improved feel of the rim, the higher-NM wheel base or something else entirely. Overall, I felt the level of feedback was similar to that of the T818, maybe slightly better, with more comfortably placed controls too – though of course the SF1000 wheel I used with the T818 is undoubtedly more high-end.
The only negative experience I had with the wheel was early on, when I absent-mindedly pulled the wheel closer with my hand between the wheel and base. I was inadvertently holding the quick release mechanism open, so the wheel shot out and clocked me in the face. It seems that there's no proper lock here, as there are on the Fanatec (which can be screwed tight) and Thrustmaster wheels (which lock tight), which would have been nice to prevent the aforementioned face-smashing!
One interesting feature is the dual clutch setting, which allows you to set up both analogue paddles to serve as the clutch for faster starts. By experimenting in a practice mode, you can find the exact bite point of the clutch with 100 percent throttle, then in a race fully release the right side clutch – automatically at the bite point you've discovered – then gradually release the left side clutch paddle to move off the line with maximum traction…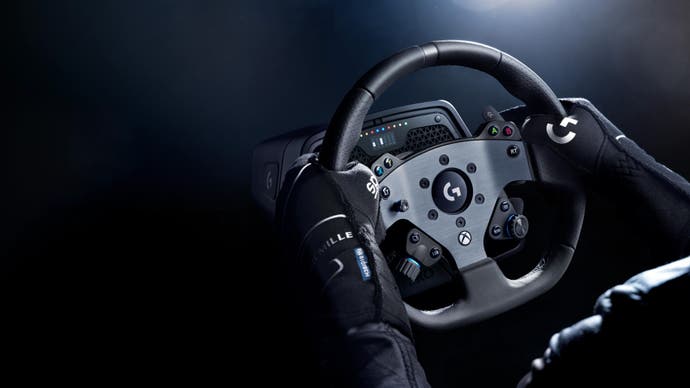 Overall, a top wheel and base combination, and it's nice to see that it comes with both a desk mount and bolt holes for a hard mount into a racing cockpit, something I lambasted Thrustmaster for not including with the T818.
Next up, the matching Pro Racing Pedals. The main draw here is that this three-pedal set includes a load cell brake pedal, which applies the brakes based on the force with which you push the pedal, rather than just how far the pedal travels. This subtle difference makes it easier to apply brake pressure consistently each time you arrive at a given braking zone, potentially saving you some lap time in the long run and feeling more realistic to boot.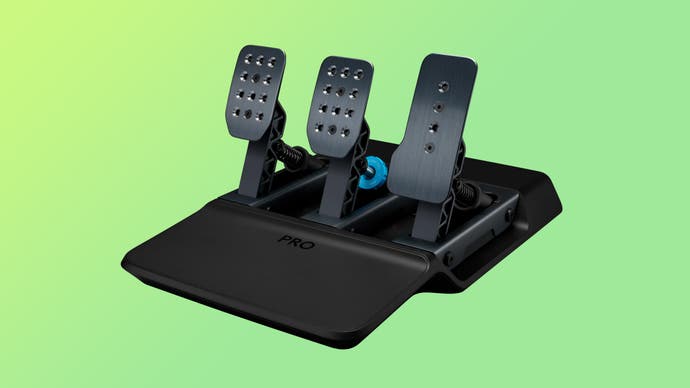 The pressure required is adjustable in both hardware (by swapping out the springs/foam), firmware (in the wheel's on-board settings) and software (in the Logitech G Hub software or in your game of choice), so you don't have to slam the pedal aggressively – but if you're driving a (famously intensely braking) F1 car with the wheel and game on default settings, you'll probably want to wear shoes to protect your feet from bruising while you're getting to grips with things.
The upside to this high force requirement is that you have plenty of room for more gradual application of the brakes, which in turn makes it easier to play with ABS disabled without locking up into every corner. This won't make you faster for free, but should allow you to eke out a small advantage under braking as your skill level improves.
Beyond the load cell brake, the Pro Pedals worked as expected. Adjusting the position of each pedal was straightforward, the accelerator and clutch felt smooth and natural, and the set looks hard-wearing and professional with a largely metal construction (for the pedals) and high-grade plastic (for the chassis). Connecting them up was easy too, requiring just a simple USB-A cable between the pedals and wheel base. The metal design, blue accents and black/silver construction meant that the wheels, pedals and seat all felt visually cohesive.
Speaking of the seat, the PlaySeat Trophy in this Logitech G Edition is stellar. I found it offered a lighter, more easily movable and adjustable design than the NLR GTTrack I used before, while being significantly more robust than the folding PlaySeat Challenge I tested – as you'd hope given that this option is about double the price. Despite being a metal frame wrapped with a fabric seat, it's comfortable, durable and not quite so confining as the Challenge, which is good for those that simply prefer a bit of extra space for cooling or comfort.
The Logitech G Edition includes highlighted bolt-holes that line up with the Logitech Pro Racing wheel and pedals, making installation a little more straight-forward – although mounting the wheel base onto the metal frame was a bit fiddly, with some bolts going in just above a metal bar that blocked convenient access. Still, it was all achievable in the end, and the wheel positioning felt comfortable enough – though you don't have the ability here to freely adjust the wheel forward/back or up/down as some other cockpits allow; you can only tilt the wheel base frame forward or back, or flip the frame back-to-front to move the wheel slightly farther away.
The pedals offer a good range of position and angle adjustment via blue, tool-less knobs, allowing me to mount them at a bit of an angle to prevent the achilles pain I often get with racing cockpits due to childhood surgeries. Similarly, the length of the cockpit can be adjusted by pulling the pole just below the seat in and out, though I did find this gradually loosened over time, even with the bolts done up reasonably tight.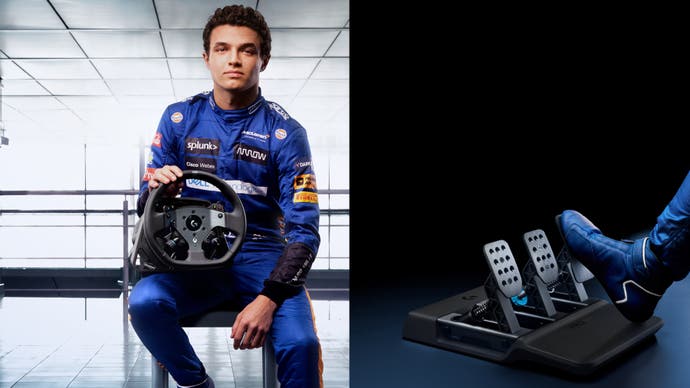 As a set, this is undoubtedly the best combination of wheel, pedals and cockpit that I've ever tested in terms of force feedback, comfort and ease of use. The whole assortment works brilliantly together, and looks like a cohesive package too. With that in mind, if you have the requisite $1950 to spend on a wheel, pedals and cockpit or $1350 for the wheels and pedals alone ($1262 when bought together at Logitech's US store), this is a pretty outstanding choice that outperforms the other options I've tested from Fanatec and Thrustmaster.
The only major downside I identified during my testing was that Logitech's ecosystem isn't yet as developed as that of Fanatec, Thrustmaster or even Moza, all of which offer a wider range of wheel rims and pedals suitable for different racing series and player preferences, beyond Logitech's only expansion option, a single H-pattern shifter. Presumably we will see more rim, pedal and shifter options in future, but for now you're buying into what feels like a limited, early ecosystem.
While Logitech's pro offering does impress, right now it feels like there's a fairly massive gulf between the high-end setup reviewed here and the company's entry-level (£289/$350) G923 gear-driven racing wheel and pedals set that debuted in 2020. A more budget-oriented direct drive wheel with a cheaper set of pedals around the $600/£500 mark would allow Logitech to offer a true competitor to Fanatec's GT DD Pro bundle and Moza's R5 bundle, which combine each firm's cheapest direct drive wheel base, a simple rim and two pedals. Hopefully Logitech is thinking on similar lines, as bringing the core qualities of the G Pro lineup to a lower price point could make it the go-to choice for new sim racers…
---
More Digital Foundry sim racing reviews

on bbc news
on hindi news
on the news today
on channel 7 news
ôrf news
campo grande news ônibus
ôpera news
campo grande news greve de ônibus
l1 news horário dos ônibus
l1 news ônibus
lago azul news ônibus
news österreich
news österreich heute
news österreich aktuell
news öffentlicher dienst
news österreich corona
news öl
news österreich orf
news ö3
news österreich heute aktuell
news österreich sport
ö24 news
ölpreis news
öbb news
ösv news
österreich news krone
övp news
özil news
öffentlicher dienst news 2023
österreich promi news